2011.12.01
A DIY Disc Golf Basket
22.55.50 - Mark
A few years ago I really go into disc golf, it's fun and relaxing, but unless I want to bang the discs against trees it makes sense to go to an established course. The baskets are better targets than the trees, and usually you get some decent obstacles. Similar targets can be purchased, however as a being a frugal shopper and as someone who likes making things, I was always a bit drawn to building one myself. There are some people who sell plans online, blogs that post various kludges , as well as Instructables on baskets and youtube videos on how to make disc golf baskets. The two I linked to probably gave me the most information, and to quell my occasional urge to build something I started looking for low cost parts for my - as close to PDGA target standards as possible.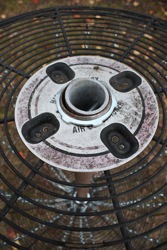 However I've learned some tricks well. The main pipe was to-be scrap when I took down an old fence, and thanks to the make your own basket video, parts of The Iron Giant, and a MAKE post on "Scrap-Fu" a few years ago, and I decided getting a couple of former fan guards from a scrapyard would be cheap and effective (it was). Walking though Lowes Hardware and I collected the 1/4" steel rods and some electrical conduit to act as a collet. The only remaining part, the chains, were the slowest to acquire, because metal chain is expensive. While I was hoping for 2/0 Single link chain, when I found 100 feet of 4/0 single link chain for $30 I ran with it.

Over time other tools need to be collected, a suitable hole saw and time with an angle grinder and a welder. While I know people and places where I can access that equipment, a mild bit of tool-mongering added to a bit of craigslist shopping. Bits and pieces started being assembled, but over Thanksgiving Weekend, I had enough time to put everything together.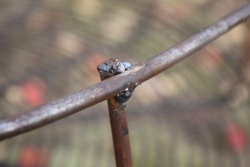 All in all, it was a fun project (and with the left over parts may build a second) and while it may not have the quality of say Innova DISCatcher Pro, with its various hacks, a number of poor welds, and a few little flaws, my basket is fine at catching discs and at about $50 for materials I'm quite happy with my work.
Feedback for A DIY Disc Golf Basket
Leave Feedback on A DIY Disc Golf Basket