2008.01.31
Icy Mountain
00.42.39 - Mark
I saw a comment online today (and I forget where) wondering if High Dynamic Range Photography was cheating or cheesy. I don't think either is a fair statement. Yes if you browse flickr for HDR photos then yes there's a lot of dreak - ugly over processed uninteresting photos, which, yes, probably fall into the cheesy category quite well. On the other hand, there's also plenty of well composed, planned out, carefully executed HDR stuff that is excellent. Yes, you can achieve some of the same results with simpler methods, but sometimes you can't. I've spent 20 or 30 minutes playing with HDR files trying to get great results, only to give up and turn to a single exposure that captured the shot just as well (and with out the signs of post processing)

The nice thing about HDR, and maybe one of the reasons that it's caught on, is that its a software problem and not a hardware one. What I can do in camera with my S3, and do well enough for printable results is limited compared to what a high end DSLR with premium optics and a full frame sensor can do in camera. HDR by merging and blending images lets you extend past what you can do with the camera hardware. Layer stacking is a similar example. Is it "cheating"? Only if you want to be a stuck up prick and call it that

A photographer who knows what they're doing can produce great images with any camera they arm themselves with - it doesn't matter if they made it out of a shoebox, electrical tape, and a pinprick, or if it's an example of precision European engineering. The tool is only as good as the user, and I suspect that there are a lot of people that skipped Photography 101 before buying a DSLR. These same people, who tend to argue that the cameras they buy are smarter then they are, are out there seeking out ways to take cool looking photos and the wide ranges allowed by HDR makes an easy target (as a guess these people also lean towards the overuse of photoshop to correct their photos)

It's kind of like "Grunge" graphic design. Some people did it well and created some amazing work, and then a slew of imitators popped up and were imitating without any foundation knowledge of what they were doing and drove the style into the ground. It's not the technique or style's fault that it's misused/overused/horribly distorted, it's the "artist's" fault.

Or we could just incite the long tail and agree that these things will find their own markets. Some people obviously like extreme HDR work with little scraps of reality clinging onto the image, while some people will use it to good effect, and others still will hold true to conventional photography or other random techniques.

Personally, I'll still shoot what I think is fun, and what I think will work, and when things turn out well I'll continue to post them here or on my flickr account and be satisfied. Speaking of HDRs: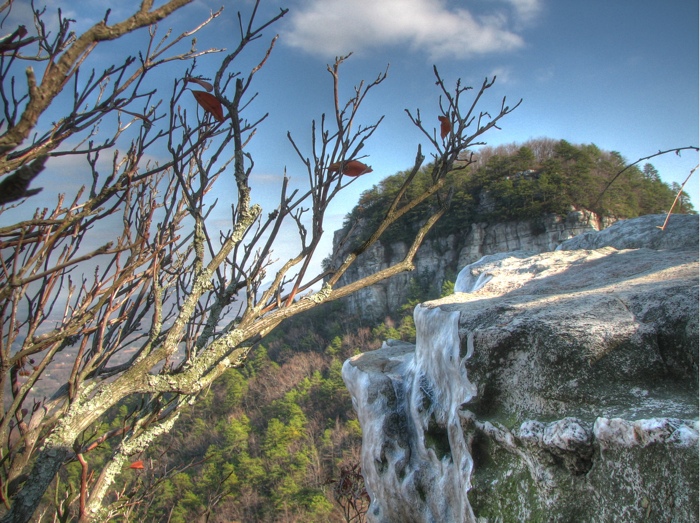 Pilot Mountain back in December. It's only been in the last few weeks that I've sat down and processed a large chunk of photographic back log, and part of that was getting a copy of photomatix to use instead of photoshop's HDR tools (which aren't that nice) or layer masking and blending (which is what I had been doing to decent effect) This one is a photo that wouldn't have worked nearly as well as a single exposure.
Feedback for Icy Mountain
Leave Feedback on Icy Mountain