2010.05.25
Intervalometer Version 1.3
16.44.40 - Mark
I've been working on my home made intervalometer on and off for well over a month now. I bought the parts for it in early April, bounced between building the original version based on it's schematic and reading up and learning how to actually use 555 ICs in mid April. Finally got the first working version packed into an Altoids sized tin in a frantic morning on April 20th (written inside the tin since I was pulling it off between going to a class then driving 6 hours to go camping for a weekend) About a week after finishing it I got around to putting together a semi-decent time lapse video.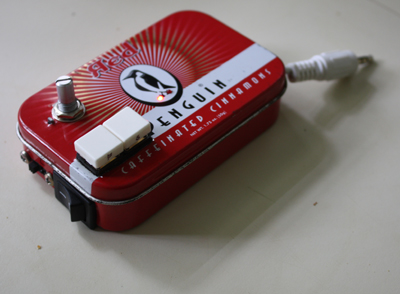 Part of the reason I had held off on the time lapse is because I wanted this to work as a wired remote for my camera, rather than having to carry around a couple candy tins with switches and cables attached. This however has been my big problem.

The original schematic calls for a NPN transistor to work as the switch for the shutter release. When it's base is getting power, the emitter and collector are bridged and the circuit for the shutter is closed. Since the manual switches are wired in parallel, they can't override a closed circuit and are blocked until the base looses power - be it the few moments the 555 drops power or when the battery is disconnected. If I had gone this way I probably wouldn't have had a problem using it as a wired remote, but it is mentioned as a glitch in the original write up.

In my build however I used a PNP transistor, originally for no reason other than I had a bunch more of them than NPNs and they worked in the breadboard prototype. It's emitter and collector are still the connections for the shutter release loop, but those points are only bridged when the base is grounded. Unfortunately this was a somewhat massive problem for me. It not only blocked me from using it as a wired remote when powered off, the second it was plugged into the camera was the second it would take the first exposure. I could jerry rig it into working in my favor, but I wanted full control all the time.

At that point I started thinking about how to get that control. I first thought of using multiple transistors, looking into Darlington transistors or Sziklai pair, even started thinking of Logic Gates and building them with transistors. All it needed to do would be isolate the transistor from the circuit when the power was off. As I got frustrated with the complex schemes of using transistors to control transistors, I started to rethink the simplest approach of isolating the key PNP transistor.

A quick test on the breadboarded version, and just unplugging the PNP's base made it work with the parallel switches when the power was off. While I could have wired in and mounted another switch, I preferred simplicity, and a DPST switch was purchased to replace the SPST power switch. One side still for power, the other between the 555 and the PNP base. It's a good fix, and I finally feel good documenting my version.

In addition to my use of a DPST switch and a PNP, there are a few other changes I made. The first is the different selection of resistors. While the potentiometer and paired 100k ohm resistors remain the same as the original, I changed the LED resistors to 10 ohm (I wanted some more light coming off the LEDs).

Since I wanted a time lapse mode faster than once every 30 seconds or so, the fastest given by the 220uF capacitor (up to about 4 and a half minutes as its slowest), so I used a SPDT switch and 22uF capacitor to add in a second mode that can shoot as fast as one exposure every 9 seconds (which goes up to ~30 seconds).

I also changed the .1uF with 33k Ohm resistor to a 10uF capacitor and 470k resistor. The original design didn't allow my Canon XSi enough time to run the shutter. This my change is a particularly long break for the shutter trigger, about a full second. While I originally only changed the resistor for a sufficient delay, I realized that the SPDT switch with the key capacitors, really had three positions.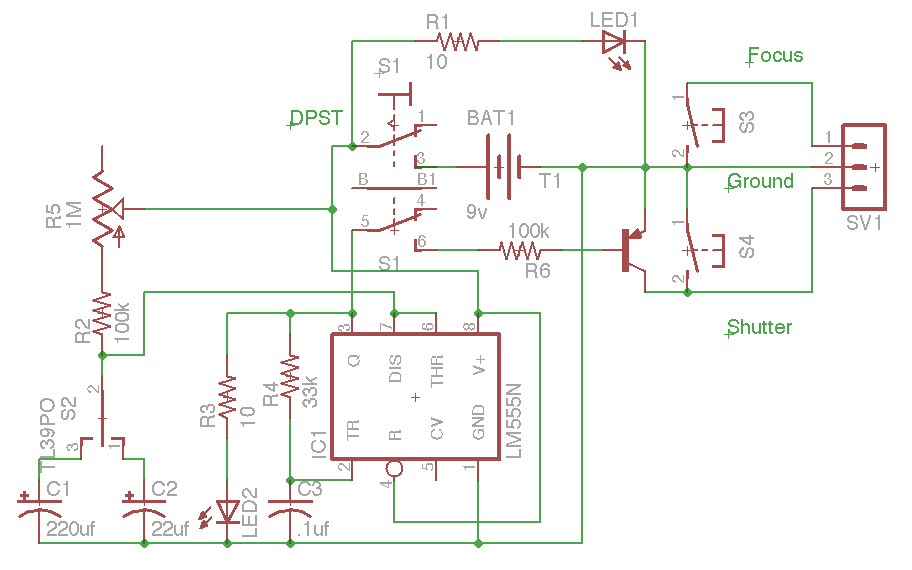 This switch happens to have ON - OFF - ON positions. While I only cared about being able to switch the 2 key capacitors, when testing it I accidentally had it on the off position. When I powered it on it started running the shutter faster than once a second. While I may not be getting this right, when the one of the 2 larger capacitors are connected the circuit is monostable, a quick burst for the transistor, then starts over. When neither large capacitor is connected however, it starts running as a bistable, or flip-flow, circuit, opening the shutter loop for a second, then closing it for a second, with it's pace set by the small capacitor and resistor. While I have yet to find a real reason for this feature, I decided to take advantage of it and added the 10uF capacitor. So, if you follow this design, this gives the camera shutter a full second or so to run when it's in Monostable mode, and get an exposure every 2 seconds or so when in Bistable mode.

While I'm sure there are other changes that could be made, I think I'm done with this one (with the possible exception of designing a real circuit board for it). Between arduinos boards and the parts for building a Camera Axe, I think this will suit me well for a carry around wired remote and intervalometer.

If you want to build one for yourself, feel free to work off my schematic (image above, enlarged, or EAGLE Schematic) put it's still a good idea to refer to the article I worked from in Make Volume 15 or the extremely useful discusion thread on it's Instructables page.

The components are all from Mouser, but I got the perf board from Radio Shack. You can get all the parts there as well (in theory) but they charge a lot for the things they do stock, and sadly my local Radio Shack's component area is a sad disorganized mess. Of course Digikey is on par with Mouser (just a bit harder to navigate) and in this case everything you need (including perfboards) can be purchased at All Electronics (which just takes a good bit of hunting) It's worth nothing however that you can scrounge together a lot of these parts from old electronics.
Feedback for Intervalometer Version 1.3
Leave Feedback on Intervalometer Version 1.3