2010.03.29
Inked all over
23.27.32 - Mark
Last week I posted Inking, part of it my history with screen printing shirts, part as attempting a short timelapse video of preparing the negatives for a few screens on some vellum paper. Aside from my own screw ups, the the DIY Screen Printing Instructable was a good resource I used though the entire project. However if it's your first attempt, don't start with your favorite project.

The first of the four screens I did ended up with a lot of pinholes in the screen's mask after washing it up after exposure. I was also stupid enough to ignore the pinholes and do a test print.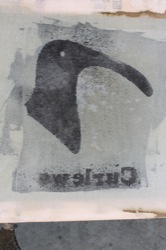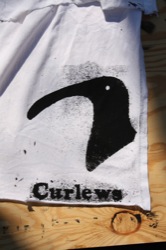 A small art-style paint brush and more of the photo emulsion goo I was more or less able to remove the pinholes with a couple passes. Once it was done I started preparing the other three screens. However these I either spread on the wrong amount of goo and fell though, or the goo had been partially processed with light and didn't expose. In either case I only noticed it after I checked the dried screens, and the holes were too great to bother repairing, so they all got a heavy bleach water wash and a fresh round of photo sensitive emulsion (this sort of screw up and I was extremely pleased with using the homemade mix of Potassium Dichromate and Elmer's Glue instead of buying commercial products.)

The second batch worked and I applied the art, then set off to printing, and learned another lesson (or three).

First don't print them by yourself. In the past, I didn't print more than one or two on my own. I either paid for a company to do the prints or worked with a friend to make the prints. In this case I did 36 prints (9 of each screen), and it would have gone a lot faster if I had an extra set of hands to handle either the fabric or manage the screen and ink.

The other lessons would be a good workplace with good tools. Since I didn't have a table that could be used, and raining like crazy outside, I made the prints on the floor. Works well enough for small runs, but as many prints as I did it wasn't comfortable. Same sort of goes with tools. While the kit I had / made was fine, I needed the ink to dry before I could stack it. Without suitable shelves the "solution" I should have worked on setting up a drying rack or a heat treating system. C'est la vie.

Despite all these problems and lessons, and a couple mistakes on the flags I was printing, all 36 are good enough to use, since the friend who asked me to do all this work was half expecting to loose 5 or 6.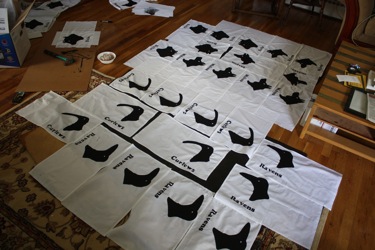 Feedback for Inked all over
Leave Feedback on Inked all over