2010.01.27
Scrapheap Table
23.54.02 - Mark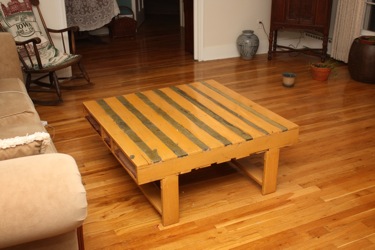 While scraps of this post once made it into my facebook accoun, it feels more like a time to write up a real post. More than a year ago I saw a DIY table project link on MAKE that caught my attention. The Pallet Coffee Table article offers some good advice on converting the shipping pallet with some cheap wood and a bit of concrete.

I thought about it for a couple weeks, but since I needed another table then, already had a couple unused shipping pallets, some unused concrete mix, and enough time to play with it, I decided to attempt it. Unfortunately I didn't take work in progress photos, so this isn't a great instructions page. I didn't keep a log book either, and this project, which started sometime in December 2008, still isn't really "finished" yet (I need to find a decent looking stain for the drawers I made for it)

The basics start with the pallet I choose. The smallest one I owned had boards extending past the main rails on both sides. Works when used for shipping stuff, but not so much for a table so the first step was to trim then down with a jig saw, then sand down all the visible parts well. In the inspiring article they didn't sand it much, but since my primary pallet was well covered with old paint and I was loosely aiming for an unstained, unpainted finish I sanded them until they were smooth (excluding the assorted damage it had taken)

Once sanded down, I cut and attached strips of 1/8" board in the empty spaces on top of the pallet. These were a little shorter than the entire pallet since I wanted them to be hidden in the concrete. I also added larger pieces of 1/8" in between the 1" x 4" rails under the top boards to increase the strength of the strip boards I added, as well as limit the amount of concrete falling though a few remaining gaps (I'll point out however, that I have a tendency to over engineer)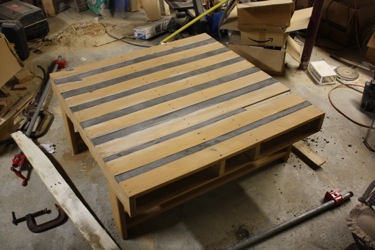 While it was ready for concrete I decided to add legs first. I tore apart the other pallet I had to use it's 1" x 4" rails to make four legs and two cross beams. Sanding them down and sawed them to size, then used a router to round off the corners. The tops of the legs were then trimmed to fit into gaps between boards on the bottom of the pallet. Since I'm not a great woodworker, a few angle brackets were all I needed to keep them in place.

About that time I started reconsidering the finished look of the table. While I would have been wine with the bare wood alone, adding harker grey concrete wouldn't look so nice, so I browsed though the unused stains I had access to, and settled on an orange stain. As best as I can remember I didn't want to accidentally paint or stain the concrete, so choose to stain the wood before adding the concrete. This works, but you need to make it a point to clean up that concrete as fast as possible when adding it.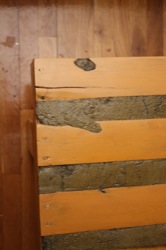 Once it was all stained it was time to add the concrete. I use a couple table clamps some of the scraps from the other dissected pallet to cap the sides of the empty spaces, mixed up some concrete, and then packed it in.

The concrete was a little challenging. While I've worked with it some before, I needed to use a good amount of pressure to make it wasn't leaving air pockets and in there enough that it wouldn't come out when I smoothed it. Even with my best attempts at smoothing it out, some of the concrete I applied is still a little rough, not enough than I feel like redoing yet again, but it may be worth looking into mixing your own mortar than using a bag of quickcrete for this kind of project.

With the concrete added I just left the table alone for a couple weeks, letting the concrete cure as best as possible. Off to the side I used some more 1/8" board and square dowels to make some drawers that fit where the fork spacers.

When I was about to call it finished (minus the drawers) it was suggested to put a few coats of polyurethane. On wood alone it seals and protects it, but since the cement, even in it's best places, still felt a little rough, we tested it some (away from the table) and decided it would help smooth the table top. A few coats and it at least dissipated the worst places and blends the appearance with wood a little.

Overall it's a worthwhile project. Keep some stuff out of the junk yards, learn some new building techniques, come away with a one of a kind table you enjoy. I'm even playing with the idea of making a couple more furniture items out of wooden pallets and assorted leftovers.
Feedback for Scrapheap Table
Leave Feedback on Scrapheap Table