2007.10.01
Blink on, Blink off
01.08.29 - Mark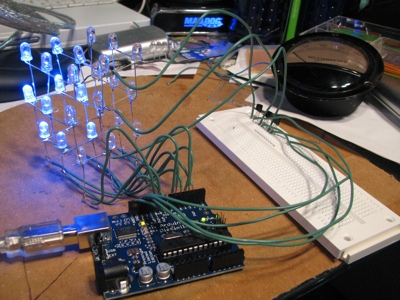 This afternoon / evening, after a great weekend of camping, I finished up the Arduino powered 3x3x3 LED Cube I started on last week. I ended up making a run out to the local Radio Shack to get some transistors since I was too lazy to try and re-purpose some from the junk pile, then ended up walking out of the store with a breadboard and a jumper wire kit. Spent more than I would have liked to but I think it will end up being a sanity preserver.

The way I ended up wiring it is each column of LEDs gets a connection to an output pin of the Arduino board, and each level shares a cathode connection. Each level has a transistor being used as a switch that controls if the circuit is closed.

Now I'm into the programming part of the project. I'm setting up simple animations and I'm slowly exploring the control structures. Arduino is C based, so I'm recognizing a lot of similar syntaxes to PHP, but I'm getting used to the forced camelCasing (which is something I hate)

As I get more ambitious with the programming I think I'm going to try and add some random functions to it and see about connecting a microphone to one of the analog inputs and make it more of a light organ. I want to get a few more animation sequences developed first.
Feedback for Blink on, Blink off
Leave Feedback on Blink on, Blink off