2007.05.16
Tourist in your own town
23.48.07 - Mark
A couple years ago Mount Airy had some consultants come in to state the obvious for piles of money, one of the obvious (at least to an objective observer) things that they suggested Mount Airy do to increase tourism was to promote tourism within the the city limits to citizens. I think their words were "to be a tourist in your own town" at least for a day or two. Like all reports from outside consultants it was never widely circulated, but I had been interviewed in their research and knew enough to pay attention to the public meetings.

The idea is a good one. Most people who live in one area for a long period of time never realize what their area offers, more so if you live your whole life in the same geographic area.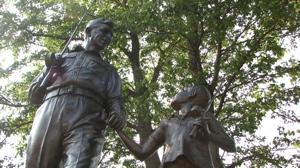 I haven't forgotten this fact (being a non-native helps that) but stay in one place long enough and even the most aware people loose track of little joys. Yesterday I happened to to go the local art council's photography club and as part of their meeting they conducted a brief photowalk. It didn't take time for locals to "welcome" us to Mayberry (can't blame them, what else do you assume a dozen, mostly older, people with cameras are?) I'm not a fan of the whole Mount Airy Mayberry connection, but I can't deny it and too many baby boomers are too nostalgic for Mayberry for it to fade away anytime soon. The walk reminded me of that, but it also reminded me of some of the other little joys the area offers.

So, don't forget to take some time to be a tourist in your own area. Chance are you'll find something interesting.
Feedback for Tourist in your own town
Leave Feedback on Tourist in your own town