2010.04.27
Bluecheese Burgers and 555 ICs
16.55.08 - Mark
Ah, the combination of technology and food.

Well sortof. After dusting off my Canon S3is for it's timelapse feature for Inkinga few weeks ago, and then in the same post complaining about not getting anything faster than 1 shot a minute out of it, I decided to try and make the 555 IC based camera trigger.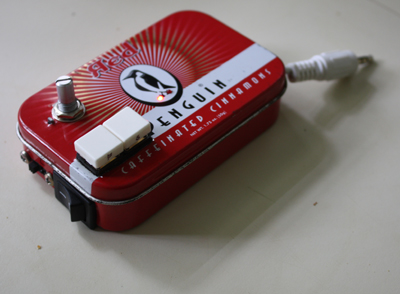 The version I build was covered in MAKE Magazine Issue 15, as well as a bit more detailed on it's Instructables page. When I described it as "crude" in the Inking rant, I was surprisingly accurate.

While I tried to follow the schematics exactly the first two attempts (the first soldering, the second by breadboarding) I still wasn't getting a working device. Perhaps by my mistakes, but perhaps by design flaws. However after going over it's comments on instructables, I managed to hack together a working solution as well as a couple upgrades to the original design. While it's a bit tempting to document my changes, I'll hold off until I either debug it or create another version.

However, after assembling the components, and shoehorning it into an altoids-esqe case, I wanted to use it. While I've come close to using it a few times over the last week or so, I finally used it last night when I made some Bluecheese Burgers.

The photo rate was about 1 exposure every 9 seconds, Canon XSi camera on tripod, lens set on manual focus but camera shooting in Program mode. I turned off the trigger a couple times (like when the burgers were on the grill) but the whole series works pretty well. And since it's food, written ingredients and instructions are included (both here and in the video)


Bluecheese Burgers

2 lbs Hamburger (85/15 lean or better)
1/8 teaspoon Ground Cayenne Red Pepper
1/4 teaspoon Ground Cumin
1/4 teaspoon Garlic Powder
1/4 teaspoon Salt
1/4 teaspoon freshly milled Black Pepper
2-3 oz. Crumbled Bluecheese
Hot Grill
(All measurements approximate - Cook to your taste, not mine)

Mix all spices and hamburger together.
Divide hamburger and form 8 thin paddies.
Put crumbled blue cheese onto 4 paddies, leaving open space on the edges.
Place remaining paddies onto the blue cheese piles and "seal" the edges of the two paddies together.
Cook burgers on the grill to taste. Roughly 7-8 minutes per side for Medium

Bluecheese Burgers are great on their own, but I prefer them with some Red Onion, slice of Tomato, some Lettus, and a bit of Mayo, but enjoy it however you want to.

Bluecheese Burger Timelapse
(2MB 320 x 480 H.264 Quicktime)
This
work
is licensed under a
Creative Commons Attribution-Noncommercial 3.0 License
.
2010.03.18
Inking
20.34.11 - Mark
A few years ago, one of my brothers bought a screen printing kit, the two of us figured out how to print some t-shirts, and planned on doing more with screen printing. Didn't quite happen. The parts have been reused to projects, but screen printing fell off to the side. The cloth prints since then were either one-off with freezer paper stencils and spray paint (similar to this project), experiments for other techniques, to simply being large enough that a professional lab felt more practical than an attempt at DIY printing on a short time table. However, about two weeks ago a friend asked me about printing some flags.

He'd used professional printers before, but the low number and small size meant it would have been pretty pricy, and while at first I figured stencils and spray paint would work (and it would) the numbers are enough that DIY screen printing would be easier. So I started working on the kit.

Unfortunately parts of it didn't age well. The screen, ink, and tools are in good enough shape, although quite probably not enough, and the photo sensitive emulsion chemicals were either missing, or used. I was also missing the manual. I know, oft ignored, but if you're playing with chemicals its wise to do your research. In this case I turned to Instructables, and landed on the true DIYers screen printing project. While it isn't the most precise article, it's a great guideline, both for people doing it themselves and those who want to save money.

So while I was waiting for the Potassium Dichromate / Elmer's glue photo emulsion to dry onto the screen, I started working on the art. In the past I'd dig up a piece of transparency sheet and use that for the mask, but finding any, and not liking the price I deiced to try vellum paper (in large part due to the DIY screen printer instructable). Which gets me to this video.

Since I'm working off a vector art piece, I wanted to print it on to the vellum. However my printers don't run on cheap ink, so I only printed out the outline, and would fill it in by hand. Right before I started filling it in I pulled out my old point and shoot and set it up for time-lapse.

Nice short and simple video, in many ways very similar to the Pennies video I. [wow, over 4 years ago!] The slight difference is I had the camera set on time lapse, in one shot a minute factory issued mode, so this ends up being choppier than I'd prefer. I'm not sure if I want to blame my lack of (good) camcorder, better knowledge of the CHDK hack for my point and shoots, or the extended lack of a intervalometer controller for my DSLR (be it commercial product, graphing calculator, arduino based project, or a crude but simple 555 electronic circuit)

In any case

Inking (4.4MB 320 x 240 H.264 Quicktime)


This work is licensed under a Creative Commons Attribution-Noncommercial 3.0 License.
2007.12.25
Holiday Bird
09.57.14 - Mark
I can get lazy sometimes. When I was out and about taking photos two weeks ago (when it was 70 degrees and sunny) I ran across this bird who has a habit of showing up around the Greenway Trail in Mount Airy, I'm pretty sure it's a Great Blue Heron, but I'm not a bird expert. The herons (there are a few that like the creek) tend to show up when I'm either without a camera or they fly away before I can make a photo. For whatever reason this one wasn't disturbed, and allowed me to watch and record for about 10 minutes before moving on.

It took me a week to get around to editing to find some music I liked for the bird and edit together the video clips and photos I took, and then it's taken me an additional week to getting around to fighting with compression settings and file formats, so after all that time I'm finally getting around to posting the video as a sort of holiday gift. Maybe later I'll get around to adding some sort of flash player so you don't have to download my, anymore large, video files.

The music under my video is "Clouds Fly as I Smile" by SaReGaMa the Artist who released it under a Creative Commons Noncommercial Sampling Plus 1.0 License. My video (like most of my content) is CC Attribution Non-commercial 3.0.

The Bird (158MB 320 x 240 H.264 Quicktime)


This work is licensed under a Creative Commons Attribution-Noncommercial 3.0 License.

Oh yeah, Happy Holidays.
2007.05.21
The Airshow
23.29.22 - Mark
It's been about 53 weeks since I last posted a video, and that's far too long to neglect the Media feed, so I present The Airshow.

I took all of the video in it at the Mayberry Air Race a few weeks ago with my Canon S3IS, and finally got around to editing it together today. There wasn't much I could do with the audio (it was at an air show after all, and windy day on top of that) but hopefully the visual style makes up for it. The first part of the movie is from the R/C demonstrators throughout the day, followed by the heavy duty aviation. The last five minutes is from the two shows preformed by The Flying Farmer an 82 year old stunt pilot. His performance is worth the download on its own. The edits are pieced together from the two shows, but I tried to maintain some semblance of continuity. Enjoy (and I promise not to wait another 53 weeks to post another video)

The Airshow (47MB, 320x240 Quicktime, 9 Minutes, 40 Seconds)




This work is licensed under a Creative Commons Attribution-Noncommercial 3.0 License.
2006.05.15
The Morning Commute
22.27.31 - Mark
Since my iBook has been out of service for a few weeks, I've built up a small supply of raw video, and this little movie is the result of it. Last fall, when the leaves were finally changing colors I pointed my camera out the window of my car on my evening commute home then set the footage to music in Leaves as a first attempt at video blogging. Since then I've gotten a little better at manipulating iMovie and with my iBook kind of fixed (and a massive external hard drive attached) I figured it was a good a time as any to make a new video.

The footage was shot on a beautiful cold wet rainy morning most people despise (or at least constantly complain about) on my way to school a couple weeks ago, and I tired to edit it so its not entirely obvious that I reused several segments (unlike Leaves). For the record, using a Mac to edit video is so much easier than on Linux (which I tried doing this video with)

Anyways, the music is Clouds or Smoke? by Derek K. Miller (PenMachine Podcast) which was released under a Creative Commons Attribution, ShareAlike 2.5 license - same as the video itself.

Morning Commute (55MB 320 x 240 H.264 Quicktime)




This work is licensed under a Creative Commons Attribution-ShareAlike 2.5 License.


And sorry about the large file size. The compression really kills off a lot of the details I like in the video but H.264 makes it bearable at 320x240. I was really tempted to post a high resolution quality, but I figured 120+ Megs for a 4 minute video is too selfish.
2006.02.02
And now for a commercial break
20.20.09 - Mark
Last week one of my brothers was assigned to do some form of commercial for a book (The Kite Runner) for a class. Somehow he got it in his head to do an animated commercial and drop it to tape. Well with his laptops screwed, and a lack of A/V abilities on it anyways, he borrowed me and my iBook to help him do his video. I helped him figure out how to use photoshop, iMovie and Garageband, and did some of the editing, but it's mostly his work. However he did trick me into pulling a technically unnecessary all-nighters to finish it, and cause me a bit of pain when dropping it to VHS, so I'm taking out revenge by posting it onto the interweb.

The Kite Runner Commercial (9.3MB, 320x240 Quicktime, 2 minutes 11 seconds)

This is the same project that the photoshop doodles came from.

Don't mistake this for an endorsement. I haven't read it and his tastes are usually significantly different from mine. I'm only posting it because 1) revenge, and 2) I think I remember laughing the first time he pitched it. That was many many hours of work ago so who knows I still laugh at bits and pieces of it, but those could be memories from recording parts at 3 AM on a Sunday Morning...
2006.01.17
Fun with Loose Change Pt. 1
16.59.33 - Mark
I was taking a quick look at Boing Boing this morning during class and noticed building bridges with pennies (and the Boing Boing Link). I was a) bored b) looking for something to do a time lapse video of and c) holding on to a few dollars worth of pennies for no reason other than to have a cup full of loose change. So mix in a little time and a steady hand and about 160 some pennies latter you get Pennies. (150kb 320x240 Quicktime)



This work is licensed under a Creative Commons Attribution-ShareAlike 2.5 License.

I would have done some more with it but my camera battery died and while it was recharging someone bumped into the table something fierce and knocked it over. I like the idea of small time lapse type videos so I'll probably do another on at some point.

Just as a side note for anyone getting my videos though RSS, the markw.us/rss feed does not currently support enclosures, it's main purpose is to provide the source for the feedburner feed (which does provide enclosures). Unlike some 'casters I don't have preference for which feed you use, but just be aware that RSS enclosures in the on-site feed will be added on a when-it-happens basis.
2006.01.13
Podcastercon Video
16.39.29 - Mark
I've been working on this on and off during my free time all week (with a surprising amount of time taken to make room on my laptop's hard drive) I've finished my Podcastercon 2006 Video (48.3MB 320x240 Quicktime). There are other (higher quality) videos out there, thanks for taking the time to watch this one.



This work is licensed under a Creative Commons Attribution-NonCommercial 2.5 License.

Other Thanks to
Steve Eley - Escape Pod
Barbara Sawhill - Language Lab Unleashed
David Ranii from the News and Observer (his article on the event)
Brian Russell - Audio Activisum
Chris MacDonald - IndieFeed
Ed Cone
Corey Pudhorodsky - 501c3cast
Kevin Lewis and Beau Wright - Attack of the Nerds
Joseph Nilo and Daniel Judson - Macpropodcast
David Warlick - Connect Learning
Lynn Eades


2005.11.21
Irony
15.44.00 - Mark
Driving from NC to Chicago then coming back all in three days is almost suicidal. It can be done, but its by no stretch of the imagination fun or easy. However, it was important to make this trip this weekend since it was for my Great Grandmother's Memorial service (She lived to be 104 - so don't feel the need to express false sympathies).

While we didn't have a lot of free time in Chicago, one thing I was really itching for was a real deep dish pizza (I take pizza seriously) but for a variety of reasons we didn't get one while we were in Chicago. However I did get a Chicago Style Pizza out of the trip, just not from an expected place....

Irony (2.8MB 320x240 Quicktime Movie)




This work is licensed under a Creative Commons Attribution-ShareAlike 2.5 License.

2005.11.03
Leaves, or Wandering Minds
01.51.00 - Mark
Its November, and since we're having unusually temperate weather it means the leaves are really starting to show their colors (ironically about two weeks after the areas "Autumn Leaves Festival") so since I've had a hacked up CVS one time use disposable camcorder, a marvelous little goodie that only cost me $30 I decided to start shooting some of the trees. Some of the 15 minutes I took was really good, most of it was rancid to a level far beyond just shaky cam. The 1 and a half minutes that were useable have been edited into a 2 and a three forth minute movie clip with some music.

The music is Thoughts, by Phil Cooper which is released under a Creative Commons Attribution Share Alike 2.5 license. Since I'm a good copyfighter the movie is also released under that license

Leaves (17.1MB 320x240 Quicktime Movie)




This work is licensed under a Creative Commons Attribution-ShareAlike 2.5 License.


Forgive the cruddy editing in the second half, after the first 90 seconds got edited I wanted to finish the sucker and publish it. I think it still floats around like my mind when I'm thinking, so I doubt I'll go in to recut it if/when I get some more footage.

However, right now its 2 AM and I have every intention of falling asleep once this is up. If feedburner doesn't catch it and make it an enclosure, that can come later much later, like not 2 in the morning later..

Edit (at not 2 am in the morning): Feed burner made enclosures, of the CC logo. I've shuffled them around and when feedburner updates it should (i hope) make the movie, and not the logo the enclosure.