2008.02.20
Once again, my life is an XKCD comic
10.53.37 - Mark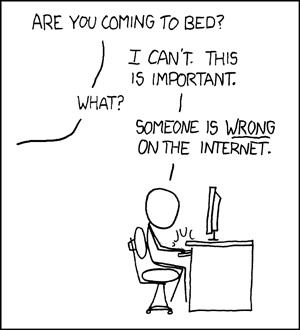 I was told by someone to stop engaging on message boards with idiots yesterday, advise that I'm ignoring because I enjoy the threads and I do a more or less alright job of not letting the flame wars bug me offline. However it's a little weird having that discussion yesterday, and then seeing this comic today. xkcd is wonderful.
2007.04.22
The Dark Side of Snopes
11.40.12 - Mark


I love fact checking via Snopes. Depending on who sends me the urban legend email, I usually hit them over the head with a link to the relevant snopes pages. I also love xkcd's webcomics.