2008.01.17
Lines in the Gardens
20.35.32 - Mark
Taking Pictures of gardens in the winter time tend not to yield the best results. Dead things but their very nature don't photograph well, but one thing I really like about this image is being able to see the way the walking paths merge and divide. I should probably trim up the right side some for symmetry, but I'll do that if and when I try printing it. I'm looking forward to spring when some of the plants start coming out of their winter stasis.



Lines in the Gardens
View Medium (4375 x 1024) Suitable for your High Definition viewing pleasure.
View Massive (11527 x 2698) Suitable for Excessive Definition viewing pleasure
2008.01.07
Icicles at Mabry Mill
21.48.21 - Mark
This panoramic was a total pain in the ass, from being so cold the day I took the image series, my fingers went a bit numb, to taking forever to save when I was editing. Not to mention having to digitally edit out another photographer I was shooting with or the fact that it wasn't exactly being level when I stitched it together (hurray for the measuring tool and rotate canvass commands in Photoshop).

Despite being a tough photo to assemble, I love it. The icicles dripping off the waterways to leaves on the ground, the old buildings matching the leafless trees. Just beautiful. I'll be printing up a couple of these when I get around to ordering some large prints.



Icicles at Mabry Mill
View Medium (3677 x 1024) Suitable for looking at icicles.
View Massive (8848 x 2464) Suitable for counting the boards on the drying rack in the background.
2007.12.11
Dear Midwesterners, Sorry
18.46.19 - Mark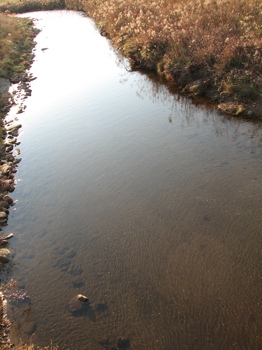 While the Midwest is getting slammed by a winter storm, I've spent the afternoon riding my bike around Mount Airy in shorts and a t-shirt taking photos of things that don't feel like winter. Although I wish winter would arrive in North Carolina. As nice as it is to be riding my bike in mid December, it's also weird. December is supposed to be cold.

I love to take photos in winter. As amazing as fall colors are, there's nothing quite like taking the camera out after a fresh snow, or taking some macro photos of branches and bushes after an ice storm and everything looks like it's encased in glass. Plus the sky never seems clearer than in the dead of winter. Unfortunately, I'm going to have to wait until the new year for much chance at winter photography. There's a 3% chance of a white Christmas (and there's a good chance that's very optimistic), and I suspect that those odds don't improve much the last week of December.
2007.01.15
Someone please turn down the heat
22.19.33 - Mark
Right now, its about 63 degrees Fahrenheit outside. 10PM in the middle of January and its as warm now as it was six months ago. Earlier today I was riding my bike in a t-shirt and shorts because it was at least 70. In the last three months I don't think that the temperature here has dipped below freezing except for about two days a month ago.

In the same period of time, I've only seen snow twice once for maybe 15 minutes last week and the other time I wasn't even in North Carolina (Georgia back in November)

As much as I hate people complaining about how its "too cold", I expect it to be cold in the middle of January. I like how taking a deep breath of cold winter air bites at your sinuses, and you can taste the purity of the air. I love how when my lungs are taking in cold air I can look up and the sky is so crystal clear even the regional light pollution can't dim the night sky.

Can we please turn down the heat?
2006.12.01
Welcome to December?
23.22.25 - Mark
While it isn't something I consistently miss about the midwest, like the availability of good pizza, I occasionally miss having more than three seasons. A couple weeks ago I thought winter was finally starting to creep in. Well that was then, this past week the temperature has been hovering around 70 degree fahrenheit. The first of December, I want it to be cold. Every part of my body and my genetic heritage is screaming at me to stay in a warm bed in the morning or take in a little more fat to last me the winter. Instead I'm regretting not wearing shorts or thinking about taking my bike out for a ride. We should have seen snow by now, and I'm still waiting for a decent freeze.
2006.11.15
Second Sign of Winter
23.47.35 - Mark
The signs that winter is fianlly coming in vary from place to place, and even person to person. For me, I just passed the second major sign of winter today.

The first is the need to actually pull out a long sleeved shirt and wear it all day. I can make it for most of wall with tshirts and a light jacket, but a couple weeks ago we had a cold front that got me to slip on a long sleeved shirt for a few days.

The second sign I passed today when driving to and from class. That sign is enjoying the directional blast of dry, stale scented heat generated by a car's heater in the middle of the day. I can live without an AC unit in the car, but growing up with Iowan winters, you always checked to make sure the car's heater worked well.

I suppose the third sign is ice and/or snow. I suspect that that will hit my part of North Carolina in a few weeks. At least I hope.

The one thing I really miss about the Midwest (other than good pizza) is Winter. Mount Airy has more than one season, but I like to have something more than a week inbetween Fall and Spring.