2007.05.16
Tourist in your own town
23.48.07 - Mark
A couple years ago Mount Airy had some consultants come in to state the obvious for piles of money, one of the obvious (at least to an objective observer) things that they suggested Mount Airy do to increase tourism was to promote tourism within the the city limits to citizens. I think their words were "to be a tourist in your own town" at least for a day or two. Like all reports from outside consultants it was never widely circulated, but I had been interviewed in their research and knew enough to pay attention to the public meetings.

The idea is a good one. Most people who live in one area for a long period of time never realize what their area offers, more so if you live your whole life in the same geographic area.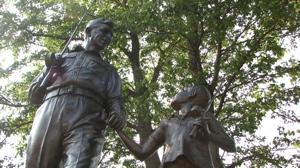 I haven't forgotten this fact (being a non-native helps that) but stay in one place long enough and even the most aware people loose track of little joys. Yesterday I happened to to go the local art council's photography club and as part of their meeting they conducted a brief photowalk. It didn't take time for locals to "welcome" us to Mayberry (can't blame them, what else do you assume a dozen, mostly older, people with cameras are?) I'm not a fan of the whole Mount Airy Mayberry connection, but I can't deny it and too many baby boomers are too nostalgic for Mayberry for it to fade away anytime soon. The walk reminded me of that, but it also reminded me of some of the other little joys the area offers.

So, don't forget to take some time to be a tourist in your own area. Chance are you'll find something interesting.
2006.09.24
In hiding
00.58.07 - Mark
This weekend is the overwhelmingly fun ::) Mayberry days. Hence, I've been happily hiding at home playing with my Macs. I've argued before on here why Mayberry driven tourism is bad for the area, but the simplest fact is that it is slowly dying, and I'm not just talking about the fans. The fact is one of the "official" events for this year's Mayberry Days is a showing of the Da Vanci Code (because it was directed by Ron Howard). Trivially stupid things like pie eating contests, kid sized train rides, and various brunches make up the majority of the festival. These attractions are better suited for the county fair (which, coincidentally, is taking place this weekend as well).

It would not be so bad if they did some thing creative, like Hannibal, Missouri does with it's Mark Twain Days but we don't. All we have are a handful of businesses that slapped some Mayberry reference into their names.

I'm not against using tourism to improve the community's economy, in fact I'm in favor of it. In a few weeks another festival will bring in hoards of tourists and a sea of people will form on mainstreet. Fried foods will scent the air and you'll hear bluegrass and old time music all around town. Autumn leaves is the type of tourism Mount Airy needs. Rather than cater to a small group of people, autumn leaves attracts people from miles around, drawing on the natural beauty of the area and its culture. Lifestyle and environmental tourism is sustainable, since it attracts more than geriatric TV watchers and nostalgic baby boomers.
2006.06.25
Just say no
10.56.18 - Mark
Since I'm never one to pass up a story about how Mayberry is ruining the wonderful city of Mount Airy. This whole mess involving a coulpe of short sighted idiots trying to build a Don Knotts/Barney Fife statue to compliment our Andy Griffith Statue (which I'm also not a big fan of) is just wrong.

First, TV Land (who paid for the Andy Statue) did not want it to be in Mount Airy, they wanted it to be in Raleigh as the show represented the state and not the city of Mount Airy. The only reason we actually got the Andy statue was because we're the home town of Andy Griffith and he asked TV land to put one here. Lastly this effort is a bunch of fans, the Andy state was given to us by a CBS/Viacom company.

Don Knotts is not related to Mount Airy in any tangable way, and was actually very dedicated to his own hometown in West Virginia. This effort is not part of a fan movement, it is a short sighted attempt at getting a few more tourist dollars out of the Mayberry theme before all of the real fans die off.

Yesterday I was downtown hanging out at a comple of shops (including my new favorite Mac Reseller Cybergear) and very few people in the community, as best as I can tell, want to keep milking the Mayberry Theme. It's a monster that has hit its prime and now that it has, it is very quickly going downhill. In 5 or 10 years these statues will be all but meaningless, and either the community will have moved on to other forms of tourism, taking advantages of the universal themes that we have in this area, such as the natural beauty we're privleged to be surrounded by (see also my posts on Raven Knob) or the fast growing Wine industry.

I'm sorry, but on this issue, I'm with CBS and the Don Knotts' estate. No.
2006.03.26
Leaving Mayberry
11.30.57 - Mark
Mount Airy is a good town. Boring as hell and ignorant at times, but over all its a good place for families. It rests in the Piedmont near the Blue ridge Mountains and the area surrounding Mount Airy is stunning, which I was reminded of while spending some time at Raven Knob yesterday.

It's also somewhat well known as the hometown of Andy Griffith and a recognized inspiration for Mayberry.

Ever since I moved here a few years ago being Mayberry has been a big deal for the town, since tourism has taken over as the main industry since the textiles moved out of the country. I can understand that, however a year or two ago the city brought in some economic consultants and after talking to various people in the community they came to the conclusion that while Mayberry was a good tourism launch pad , the city needed to divirisy its tourism appeal into "lifestyle tourism" focusing on simple living, outdoor activities, arts, crafts, music, etc. But for whatever reason this study hasn't been widely circulated in town.

Insted of pushing those other avenues, we have everyone and their dog trying to capatilize on Mayberry. Mayberry Square, Mayberry Motor Inn, Mayberry Courthouse, Opie's Candy Store, Snappy Lunch, Floyd's Barber Shop, Mayberry Auto, Aunt Bea's (resteraunt), Mayberry Weadding Chapel, Squad Car Tours, Wally's Service Station, the list goes on. Even the main website for the chamber of commerce is VisitMayberry.com. There's even a business called Mayberry Internet Auctions on the outskirts of town.

Rather than trying to move past Mayberry as the actors who stared in the show die off (the latest being Don Knotts about a month ago) we're seeing more and more business come in trying to cater to the Mayberry Sect, some successfully like Snappy Lunch and Floyd's, others not so much (Mayberry Pet Store), and when we disappoint fans, its major news, like a pair of fans from Georgia came to visit Snappy Lunch, only to discover its closed for renovations to bring it up to code. They might not get their desired meal, but they'll get into the local newspapers (I don't want to know how the paper discoverd that story).

It's all a bit disappointing, and I really want to see more people in the community try to move past Mayberry, because in 5 or 10 years, I don't think its going to be as successful as it is now.