2010.04.27
Bluecheese Burgers and 555 ICs
16.55.08 - Mark
Ah, the combination of technology and food.

Well sortof. After dusting off my Canon S3is for it's timelapse feature for Inkinga few weeks ago, and then in the same post complaining about not getting anything faster than 1 shot a minute out of it, I decided to try and make the 555 IC based camera trigger.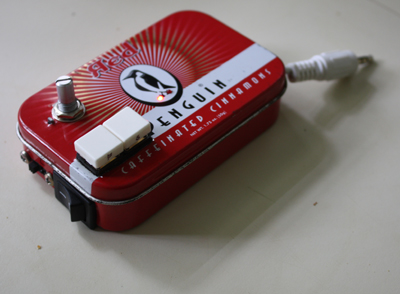 The version I build was covered in MAKE Magazine Issue 15, as well as a bit more detailed on it's Instructables page. When I described it as "crude" in the Inking rant, I was surprisingly accurate.

While I tried to follow the schematics exactly the first two attempts (the first soldering, the second by breadboarding) I still wasn't getting a working device. Perhaps by my mistakes, but perhaps by design flaws. However after going over it's comments on instructables, I managed to hack together a working solution as well as a couple upgrades to the original design. While it's a bit tempting to document my changes, I'll hold off until I either debug it or create another version.

However, after assembling the components, and shoehorning it into an altoids-esqe case, I wanted to use it. While I've come close to using it a few times over the last week or so, I finally used it last night when I made some Bluecheese Burgers.

The photo rate was about 1 exposure every 9 seconds, Canon XSi camera on tripod, lens set on manual focus but camera shooting in Program mode. I turned off the trigger a couple times (like when the burgers were on the grill) but the whole series works pretty well. And since it's food, written ingredients and instructions are included (both here and in the video)


Bluecheese Burgers

2 lbs Hamburger (85/15 lean or better)
1/8 teaspoon Ground Cayenne Red Pepper
1/4 teaspoon Ground Cumin
1/4 teaspoon Garlic Powder
1/4 teaspoon Salt
1/4 teaspoon freshly milled Black Pepper
2-3 oz. Crumbled Bluecheese
Hot Grill
(All measurements approximate - Cook to your taste, not mine)

Mix all spices and hamburger together.
Divide hamburger and form 8 thin paddies.
Put crumbled blue cheese onto 4 paddies, leaving open space on the edges.
Place remaining paddies onto the blue cheese piles and "seal" the edges of the two paddies together.
Cook burgers on the grill to taste. Roughly 7-8 minutes per side for Medium

Bluecheese Burgers are great on their own, but I prefer them with some Red Onion, slice of Tomato, some Lettus, and a bit of Mayo, but enjoy it however you want to.

Bluecheese Burger Timelapse
(2MB 320 x 480 H.264 Quicktime)
This
work
is licensed under a
Creative Commons Attribution-Noncommercial 3.0 License
.
2010.03.18
Inking
20.34.11 - Mark
A few years ago, one of my brothers bought a screen printing kit, the two of us figured out how to print some t-shirts, and planned on doing more with screen printing. Didn't quite happen. The parts have been reused to projects, but screen printing fell off to the side. The cloth prints since then were either one-off with freezer paper stencils and spray paint (similar to this project), experiments for other techniques, to simply being large enough that a professional lab felt more practical than an attempt at DIY printing on a short time table. However, about two weeks ago a friend asked me about printing some flags.

He'd used professional printers before, but the low number and small size meant it would have been pretty pricy, and while at first I figured stencils and spray paint would work (and it would) the numbers are enough that DIY screen printing would be easier. So I started working on the kit.

Unfortunately parts of it didn't age well. The screen, ink, and tools are in good enough shape, although quite probably not enough, and the photo sensitive emulsion chemicals were either missing, or used. I was also missing the manual. I know, oft ignored, but if you're playing with chemicals its wise to do your research. In this case I turned to Instructables, and landed on the true DIYers screen printing project. While it isn't the most precise article, it's a great guideline, both for people doing it themselves and those who want to save money.

So while I was waiting for the Potassium Dichromate / Elmer's glue photo emulsion to dry onto the screen, I started working on the art. In the past I'd dig up a piece of transparency sheet and use that for the mask, but finding any, and not liking the price I deiced to try vellum paper (in large part due to the DIY screen printer instructable). Which gets me to this video.

Since I'm working off a vector art piece, I wanted to print it on to the vellum. However my printers don't run on cheap ink, so I only printed out the outline, and would fill it in by hand. Right before I started filling it in I pulled out my old point and shoot and set it up for time-lapse.

Nice short and simple video, in many ways very similar to the Pennies video I. [wow, over 4 years ago!] The slight difference is I had the camera set on time lapse, in one shot a minute factory issued mode, so this ends up being choppier than I'd prefer. I'm not sure if I want to blame my lack of (good) camcorder, better knowledge of the CHDK hack for my point and shoots, or the extended lack of a intervalometer controller for my DSLR (be it commercial product, graphing calculator, arduino based project, or a crude but simple 555 electronic circuit)

In any case

Inking (4.4MB 320 x 240 H.264 Quicktime)


This work is licensed under a Creative Commons Attribution-Noncommercial 3.0 License.