2008.02.27
Atopsy of a Photoshop Demo
01.08.26 - Mark
Photoshop is a tricky program, I've been using it for years and I'm still learning stuff. Part of the problem is how massive it is, part of it is your numerous options for doing any one trick, even the level of customization it offers and then there's the lack of a "right" answer when you edit a photo. Those elements are why it's such an indispensable powerful, and praised program. It's also why it's a real bitch to teach.

The question quickly becomes where do you start? Do you do an overview of the tool pallet, talk about the info and layer boxes? Attack the menus? Memorize hot keys and command strokes? Or do we assume the learner can figure out the icons and run though the concepts behind the program and go over darkroom technique? Or should we plunge into the deep end and tackle photo manipulation? Classrooms, demonstrations, books, websites, and adventurous individuals have all tackled these questions and there's no one answer, just like everything photoshop.

I've been playing with some of these questions for over a month now, since my local photo club asked/drafted me and another photoshop user to do some demonstrations tonight, and I'm thinking about what i did right, and what I fumbled on.

Lesson one: Plan on getting there early, then show up even earlier than you planned. At the very least you're going to need to drop files to the computer you're using. If they're big files, and the system can handle it open them up in advance. That's why you get there early. The reason you show up earlier than that is the technical snafu you're going to face. Murphy loves photoshop demos. If you're using a projector, check the screen resolution and calibrate the thing - don't trust the display profiles. Photoshop needs a lot of screenspace and not all projectors adapt well. And if you're using photoshop and don't know why you calibrate the colors on your display, I'm sorry but I can't help you - go back to Microsoft Paint, you'll be much happier. Then there's everything else you may need to fix, from scratch disks to mouse tracking. It sucks when you have to do a half assed fix in the middle of the presentation, especially if people start throwing out suggestions

Lesson two: Have files prepared in advance, have a cheat sheet prepared in advance, have talking points prepared in advance. Multitasking is hard. Multitasking two tasks that both require a large part of your attention is near impossible, and despite what you may think about instruction, to do it well you need to concentrate on what you're saying/doing and how the audience is reacting to what you're saying /doing. As for photoshop, you'll be juggling hot keys, menu locations, and the image files themselves around in your head. Even if you know that you want to hit V to bring up the move tool, B for the brush, and E for the eraser and [ or ] to scale the tool sizes, the audience doesn't know that and you'll be working magic while the audience is 10 steps back. Or you'll be trying to talk while drawing a vector path and completely blank on the modifier key you need. Help yourself. Prepare the files and notes in advance then use them.

Lesson three: Practice, Practice, Practice. Yes, you know how to use photoshop, great. You probably know how to talk too. But would you give an important speech without practicing it a few times? I didn't think so. Using your prepared files and notes run though the demonstrations a few times. You may feel like you're going nuts, and you may well be, but practice the steps working with your files. Take a break and go postal if necessary but you need to practice with the files you'll be using.

Tip one: Have a few prepared ideas. That means more than one The one thing I'm really glad I did the way I did was I had three things to sets prepared. Stitching a panorama, creating a dynamic range increase photo from two exposures, and using paths and layer masks to remove the background. That's two more than I had been planning on, and ended up being one less than I needed. If I only had one of those prepped I would have flopped bad and the demo would have gotten tedious for everyone involved. By having three distinct demos ready I got to run though several concepts and was able to impart some of my knowledge, and hopefully a skill onto everyone there - from the "I don't own photoshop" guy to someone who's taken a class. It also gave me a degree of flexibility to improvise.

Tip two: Expect to improvise, and be able to improvise. Stealing one from the teaching textbooks the time when anyone, young or old, is most receptive to learning is when they're asking questions. Unfortunately that's probably the one time you're least able to teach. That's why some teacher's hate questions, and other's love them. Shortly after I arrived I was asked if I could show how to put in "ghosts" of people into a landscape. I didn't have a photo of people but because I knew how to do it a couple of ways I figured something out (a giant ghost of a cellphone floating over a greenhouse) and got to make some good points about photoshop. Thank you improvisation.

Tip three: Advanced tools for the experienced, fundamental concepts for the beginners. As pointed out above I had the whole range of photoshop users in the audience, and my demos were intermediate and up, but a lot of the concepts were on the face pretty simple. How do you make a selection? You've got the selection tools in the tool box, but let me show you the paths tool, which we can use to get better results... How do you remove the background? You could use the eraser, but that's a destructive method, and you'll loose all that extra information when you save the files. Let's use a layer mask instead, that's nondestructive. The seasoned pros get a how to on using the tool, the beginners get a better understanding of the tools and why they should ramp up their skills, and you have something to talk about when you're trying to remember what modifier key you need or why that menu item, which should be working, isn't working.

Tip four: Final product, in advance because you're not getting a good copy from the demo. Have your final product ready and separate from the demonstration files. The middle of a demonstration is not the time to be indulging in perfectionist tendencies so you will not get a good example of a finished product unless you're stupid (ignoring the audience) or lucky (self-explanatory). Your target is "good enough" because your focus should be on your audience as much as possible. If you're trying to decide if the red output level needs to be 240 or 230 your attention is not on the audience. Show them the extremes then settle in on a happy medium and move on to the next step. If you don't like that idea, have those numbers in advance so you can plop them in as needed.

Tip five: Don't worry too much, unless you're out of your league. Chances are if you're doing a demo you know what you're doing, and it's a good bit more than the audience, so don't get too hung up on your screw ups. If it's really bad they'll correct you, if it needs repeating they'll ask (just make sure to let them know questions and comments are welcome when you start) if you're moving too fast there's a better than good chance that they will let you know before their brains shut down from information overload.

Last tip: Have fun, and find your own way to teach. Seriously.What worked for me may or may not work for you. This has just been my thoughts on what I did right and what I needed to improve on when demonstrating photoshop. Just like people learn best in different ways, people teach in different ways. If you've got the skills to teach find a way you can share that knowledge and get to it. Maybe you can prepare an insanely good pdf howto, or maybe you can create a kick ass video series, or maybe its one on one tutoring.
2008.02.10
A Collection of Thoughts
22.54.59 - Mark
I've been lazy this past week. There have been things I've wanted to say, but nothing that really deserved it's own post So I'm going to lump a few together. There's some other stuff that I want to get out, but deserve more thought and longer posts - like how "old media" still can't produce a useful website, even after 15 years of the world wide web and a solid five years since "new media" platforms like blogging started appearing in a big way.

First up I finished George Carlin's When Will Jesus Bring the Pork Chops last week, and while I enjoy Carlin's material it felt like binge reading a thing-a-day calendar. I'm pretty sure they formatted it so it was easy to stop after 5 or 10 pages, which in a way helps but for a book that has a list price of $24 (I was given the hard cover edition as a gift) you would hope there's at least a little continuity.

Next, Voice actors are amazing. Period. Almost entirely unrecognized and it's a true shame. I love animation and have been chewing though some "old" cartoons from the mid to late 90's (back before the FCC's Educational and Informational rules kicked in, when Saturday morning cartoons still existed and didn't totally suck) as well as some more recent stuff (like Futurama) and it's amazing when you watch these shows and realize that in a recording booth somewhere, these guys are having conversations with themselves. It's great when you can just see (or hear) these people working - like the Simpsons episode of Inside the Actors Studio or some of the DVD extras - The live reading of the comic on Bender's Big Score comes to mind. It's a shame that more and more animated movies want to fill ranks with celebrity voices. Afro Samurai strikes a good balance - a few big name voices supported by some voice actors.

Third, and kind of similar to voice acting I never realized how amazing Who Framed Rodger Rabbit? was, and how it's the sort of movie that would never get made today. Intellectual property lawyers, standards and practices, animators, and celebrity voices would totally ruin the thing before it got started. You would never see alcoholic detectives helping cartoons, kids with cigarettes, social commentary (the description of freeways is far from positive) the same level of animated violence, or some of the more sexual scenes and obfuscated language in the easter eggs. Maybe some of them, but not all of them. It's a treat
2008.01.31
Icy Mountain
00.42.39 - Mark
I saw a comment online today (and I forget where) wondering if High Dynamic Range Photography was cheating or cheesy. I don't think either is a fair statement. Yes if you browse flickr for HDR photos then yes there's a lot of dreak - ugly over processed uninteresting photos, which, yes, probably fall into the cheesy category quite well. On the other hand, there's also plenty of well composed, planned out, carefully executed HDR stuff that is excellent. Yes, you can achieve some of the same results with simpler methods, but sometimes you can't. I've spent 20 or 30 minutes playing with HDR files trying to get great results, only to give up and turn to a single exposure that captured the shot just as well (and with out the signs of post processing)

The nice thing about HDR, and maybe one of the reasons that it's caught on, is that its a software problem and not a hardware one. What I can do in camera with my S3, and do well enough for printable results is limited compared to what a high end DSLR with premium optics and a full frame sensor can do in camera. HDR by merging and blending images lets you extend past what you can do with the camera hardware. Layer stacking is a similar example. Is it "cheating"? Only if you want to be a stuck up prick and call it that

A photographer who knows what they're doing can produce great images with any camera they arm themselves with - it doesn't matter if they made it out of a shoebox, electrical tape, and a pinprick, or if it's an example of precision European engineering. The tool is only as good as the user, and I suspect that there are a lot of people that skipped Photography 101 before buying a DSLR. These same people, who tend to argue that the cameras they buy are smarter then they are, are out there seeking out ways to take cool looking photos and the wide ranges allowed by HDR makes an easy target (as a guess these people also lean towards the overuse of photoshop to correct their photos)

It's kind of like "Grunge" graphic design. Some people did it well and created some amazing work, and then a slew of imitators popped up and were imitating without any foundation knowledge of what they were doing and drove the style into the ground. It's not the technique or style's fault that it's misused/overused/horribly distorted, it's the "artist's" fault.

Or we could just incite the long tail and agree that these things will find their own markets. Some people obviously like extreme HDR work with little scraps of reality clinging onto the image, while some people will use it to good effect, and others still will hold true to conventional photography or other random techniques.

Personally, I'll still shoot what I think is fun, and what I think will work, and when things turn out well I'll continue to post them here or on my flickr account and be satisfied. Speaking of HDRs: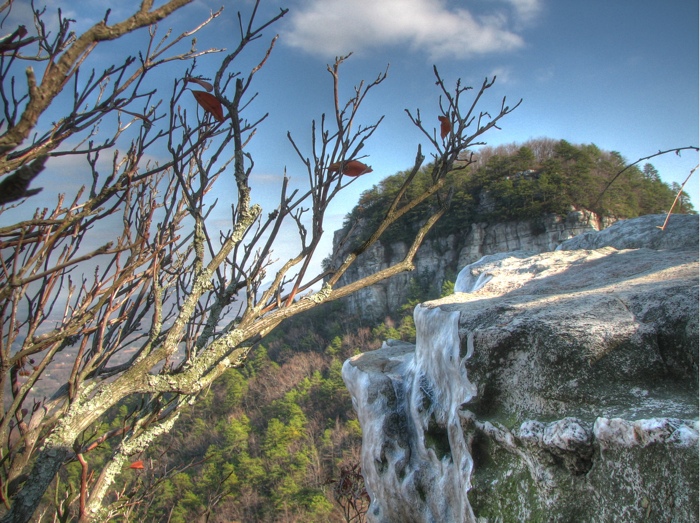 Pilot Mountain back in December. It's only been in the last few weeks that I've sat down and processed a large chunk of photographic back log, and part of that was getting a copy of photomatix to use instead of photoshop's HDR tools (which aren't that nice) or layer masking and blending (which is what I had been doing to decent effect) This one is a photo that wouldn't have worked nearly as well as a single exposure.
2008.01.09
A Year of Rating Stuff
22.10.20 - Mark
For the last year I've been rating the books and movies I've read or watched (and then bothered looking up on Amazon) and I just entered the last book I finished (Scalzi's The Android's Dream) and I skimmed over the 25 books and 100 or so movies I've rated in the last year and started thinking about how I actually rate them.

Books I tend to rate higher. I'm using an 10 point scale (5 stars in half star increments) and I tend to rate high. The lowest rating I've given was 3 stars to William Gibson's Spook County which was lower than the 3.5 I gave to Children of Men (the book, not the movie) which is off because I liked Spook Country a whole lot more than Children of Men.

I think part of the reason is I was comparing Spook County to other Gibson works that I love, and felt that Spook Country wasn't hitting the same pace. In a similar vein I was comparing Children of Men to the movie. The movie was amazing (and is one of the few that I've bought since getting Netflix) but the book was slow and had a lot less action, I'm not the type who likes reading scenes that take place in Bed and Breakfasts. The other part is that I have a low tolerance for bad books if something is less than average - like the books you're forced to read in High School English class, or ill advised college textbooks that get selected because there was a great sales pitch from the publisher - I don't finish it.

To an extent the same is true with movies. If I managed to sit though the Dukes of Hazzard with out massive brain damage I'd probably rate it under 1 star (I've got the common sense to walk away when it's on) but I've got a higher tolerance for bad movies that only eat up an hour or two of my life (I managed to walk away from The Fast and the Furious 3 - Toyko Drift more or less unharmed and it got 2.5 stars) Overall though, I rate movies more on enjoyment than cinematography or story, or plot, or acting. Snakes on a Plane (which got points for campiness) is a whole different beast than Helvetica (a smart visual documentary about fonts) and they don't have anything in common with The Last King of Scotland (which had great acting) but I gave all three 5 stars.

Something to think about if you ever look at my ratings.
2007.12.25
Holidays, Everyday
23.36.09 - Mark
It seems like no matter how long the shopping season gets stretched out, the holidays themselves get shorter, and people loose all perspective of the world. It's worth remembering that every day of the year should be spent doing something neat. Make something, seek out a new experience, help someone, or just make a complete fool out of yourself to make someone smile. No matter your faith or beliefs life is pretty pointless if you go around hating it, yourself, or others.

2007.12.22
An Atheist Christmas
00.48.57 - Mark
My family (and the friends that may as well be) is a mix bag of Religions, from atheists and agnostics to Christians from several denominations and even a would be Jew, and that's just our affiliations - there is a religious tolerance and acceptance and true appreciation for varied faiths that goes much further than intellectual knowledge or passive acknowledgments. Most of us have studied more than one faith - my brothers and I were all brought up in a Methodist Church while attending a Catholic School - and we've all settled on something we believe.

So when Christmas comes around and some extremist "Christian" goes off on ignorant rants on the "True meaning of Christmas" and makes attempts at protecting the Christian faith (The overwhelming majority faith in the United States) by trampling less well represented faiths we have a tendency to step up and defend. I've been doing it a lot this season and there are scattered traces floating around this site.

It's not an easy conversation to keep a conversation and quickly degenerates into lies and misconceptions so deeply rooted it's impossible to correct, then more bigotry, and with an end result of those of a "faith" arguing that if non-Christians don't like Christmas then they shouldn't celebrate it or any other "holy days".

There's a sad commentary in that.

I, as an extremely secular person, have spent most of this evening with friends celebrating the holidays. I've wrapped gifts to put under a decorated Christmas Tree (one nicknamed our heathen tree, and another we're calling the Hanukkah Bush), we've decorated sugar cookies, listened to seasonal music from half a dozen versions of the 12 Days of Christmas to Weird Al's "The Night Santa Went Crazy", we were eating some good food and drank some egg nog. All in all it was a wonderful evening spent with friends and family. It's been true several other nights this week, such as last Monday when we visited a festival of lights in Winston Salem

Yet by some twisted version "Christian" logic, I and a couple others involved, should be barred from such festivities because we weren't Christian. You have to imagine that anyone who would deny other's a good time because of something as trivial as a difference in religious beliefs, must be pretty unsure of their own convictions.
2007.12.10
Not if but when
23.20.20 - Mark
I release almost all of my content (text, photos, videos) under some form of Creative Commons license or something in the same vein if the receiving party isn't familiar with Creative Commons. I do this for two main reasons. One is that I really like seeing people find uses for the things I create. The second is that I feel that current copyright law is better suited to protecting corporation than it is to protecting creators, all while screwing the general public. Creative Commons lets me allow people to expand on my creations while, at least in a legal sense, protecting the rights I really care about like proper attribution and prohibiting commercial uses.

Except... It doesn't seem to be respected. In the last 6 months, I've seen at least four instances where my stuff was used sans credit. One was honest mistake, but two should know better and the last infringement could be called commercial use (plus it was misattribution, not missing attribution). All of the infringements bug me, but at the same time I would have given the OK to credit-less use in the noncommercial stuff, and probably would have only required correct attribution for the commercial use.

I know I don't want to waste time and make myself into an asshole by putting archaic anti-copying code onto my site, and I don't want to plaster copyright notices all over the place but at the same time I want some sort of credit for the content I've created (which is only fair). Something to think about.
2007.10.22
Converge South 2007
16.01.11 - Mark
Ignoring some of the advice given in the Better Blogging Session yesterday at Converge South, I'm not going to try and write a great lead in. There's too many great things to say about the event to even attempt to try and cram it into a single paragraph.

I've been going to ConvergeSouth since it's first year, and this year has been the best by far, the only regret I have is not making the effort to go up Friday for the Journalism and Music.


I found the morning alright as a whole, to me Converge South has always been more about the discussion, and not lectures, and the morning just felt like a series of lectures. There were enough good points raised, and enough scraps of conversations to make waking up at 6:30 worthwhile, but I think that a lot of great questions and conversations were lost to the monologues.

It's established that people are sharing their lives online, how they're sharing their kids lives online from conception on, and how we have golden age grandmas getting their life story online with the help of their families. But what's to say this data will last? Elisa Camahort from BlogHer was talking about how the online content being created now will be the source material for documentarians 100 years for now, but last I checked the standard advice is to upgrade your backups formats every 5 years or so - that's a bit of a difference that in past years probably would have started a discussion and prompted questions like who's done this? How do we archive this stuff, how do we record these stories?

Another topic I think got left by the wayside was activism. There's no doubt in my mind that blogs, social networks, and the internet in general has changed the way activists work. It's reasonable to say the internet is producing bigger, louder, and stronger movements than anything created before the web took off in the 90's, but how does the amount of influence compare? 100,000 emails is easier to ignore than 100,000 people at a protest march.

As silly as the group sing-along was last year, maybe that's what's needed to get the audience talking first thing in the morning.


I am glad that someone mentioned the demographics of the audience, and that it did get a group conversation started for a while. One of the great things about Converge South is that it brings in everyone, men and women of different ethnic and social backgrounds. Someone asked why the "missing" group was the twenty-somethings. There were a few of us there, but I think the reason that age group is underrepresented is that blogging and new media is approached differently. The audience at Convergesouth is using higher end tools, Wordpress, Movable type, Typepad, Drupal, etc, and topics they want to cover. People under 30 or so (as a guess), are using free tools like livejournal, xanga, facebook, myspace, and use the same general technology as a journal for a closed network of friends and online acquaintances.


The split sessions after the first break didn't do anything for me. I started the hour in J-School and B-School mainly hoping for some insight on how newspapers and journalism should see themselves in relation to the audience. I saw some promise at the start, one of the panelists started out with the question along the lines of What should we be teaching journalism students about blogs and new media? But by halfway though it didn't seem like they weren't really looking for those answers and I walked out. I don't like walking out on sessions, but between what I saw and this description of the session I think I made the right choice.

The alternative session, Images and Video on the Web wasn't much better. I guess it was pretty focused on what Current TV is and why it's different from youtube. At least that sticks out in my mind more than the few notes I jotted down in my notebook. As I understand it they control it and try to filter for "quality" - they're looking for high production standards and facts, but one of the panelists (I think one of the ones from Current) pointed out that the most compelling video in the last 10 years has been pretty bad quality. Cameraphone video clips, stuff shot in movie mode on a digital camera, maybe some lucky guy who had a home video camera on hand at the right moment. The other thing was that the real power is when you turn it over to the audience and let them rework it.


Lunch brought on some good discussions, nothing really worth commenting on but it provided a good break. Once that was over I went to the Why Most Web Video Stinks. I'm probably echoing the crowd at this point, but it's easily the best session I can remember attending at any Converge South. Tom Lassiter did a great job of balancing being a moderator and being the designated expert. Within the hour we covered everything needed for a good web video, from hardware to scripting and planning to getting good audio and video quality, to editing and publishing. I've posted a few videos and would say I've got intermediate video production skills, so I mainly tried to answer questions and offer tips, but I still picked up a handful of ideas to try out.

Last session I went to was Better Blogging, which had some good tips. Most of them I knew but I sat in and chimed in on some topics. I think that the timing was pretty good on this session. By the end of the day the vibe I was getting is that we're moving beyond the discussions of how do we define what a blogger is, what's this or that technology, and people's obsession with monetization. Those topics still pop up, but they're bullet points rather than chapter headings. The new conversation, and I think more interesting conversation, is "How can I do cool stuff online?", "How do we get other people to do cool stuff too?", and "How do we connect this all together?" If Converge South keeps moving in that direction, and from the wrap up session it sounds like it will, I'll keep looking forward to attending.


After the conference ended there were a number of people loitering around talking. One of the people I talked with was Brian Russell, who organized Podcastercon, and I'm a little disappointed that it sounds dead for now. It had some overlap with Converge South, but brought in a different group of people. Talked with a few other people, but it didn't take long before Jeff Martin suggested regrouping at Natty Greene's on Elm Street, and about 6 of us went over. Beer and drinks until 6 when we broke up to go to dinners. I ended up at the Table 16 dinner, which had an interesting group of people. Upscale place with good food, but next time I'll probably seek out a cheaper dinner. Our table talked for a while and by the time we got out of the restaurant the Film Festival was at least an hour in. The films and vlogs were a mixed bag (true of any film festival) but the event was worth sticking around for. Andy Coon did a great job of putting on the event and had some hilarious films mixed in with some serious stuff. While there wasn't anything I really wanted to get a personal copy of, I've got a handful of ideas kicking around in my head that now need exploring.
2006.03.03
Long time coming
19.25.48 - Mark
I've been wondering for several years how long it was going to take for my former high school to get around to complaining about blogs, turnes out several years. They're holding their first informational session about "the internet and your child" next week. Part of me abhors the idea of returning to that wretched stink hole, but another part of me wants to know how much misinformation they'll be feeding parents about the internet. This would be the same computer education department that tried to pass Hypercard off as Apple's less capable answer to Powerpoint. Sure...

The part of me that wants to be tortured wouldn't be doing it just to gain plesure from mass media induced ignorance, its been kicking around the idea of doing a new media workshop like several other communities around NC have done. I'm fairly sure there are a number of people in the area interested in blogging, audio and video podcasts, wikis, etc. it would be nice to shed some light on those subjects and help shave away some of the digital divide.

See, I don't hate all forms of education (just the overly organized I'm right you're wrong model)

Anyways My CDs are burned (I miss the ability to update my iPod with fresh podcasts) I'm going to go see if I can't collect my brother's boat anchor of a laptop from CompUSA.