2011.10.09
A Respect for Cross Platform Developers
02.52.30 - Mark
I long time self declared geek, I'm a little surprised I've never really sat down and learned C++. I mean I've played around with a variety of programming languages, and I've had a copy of CodeWarrior for the Mac for a decade or so. So while I remember doing some "Hello World!" and tutorial work on it, I'm only now learning it between I'm taking a college course on it. While a lot of the basics are similar to the PHP and Arduino I already work with, the fact is I'm learning a bit more than I expected.

Specifically, as a happy Mac user, I'm comfortable with banging away in Apple's Xcode. Unfortunately, the course prefers Microsoft's Visual C++ Express, which no, does not play well with WINE like many other Windows apps do. So while I'm quickly picking up on the syntax of C++, defining my own rosetta stone comparing and contrasting the languages I know, I'm also working on the art of cross platform development.

Ten years ago when OS X was new and shiny and Macs still ran PPC processors, cross platform development was pretty rare. Only a few, like Adobe, Blizzard and Bungie would actually make an effort to straddle the fence. It always annoyed me that only the big (or at least Mac based ) companies would go cross platform, after all they were almost all using C, C++, maybe some PASCAL, so why not cross over? Was the Mac really that daunting?

Well, while I still don't considering the Mac daunting, translating even a "common" language can be a gauntlet. While I'm not going to claim to be a programming prodigy, it only took about an hour to read over the requirements and bang out a working program in Xcode. Add another hour to write up the documentation, and it was time to handle it on the Windows side. At which point I spent another 90 minutes trying to figure out what the windows side needed, rereading my code and googling the error codes. In the end I had repeatedly ignored the rather simple solution, one that probably should have been required on the Mac side, but the fact is, the people who manage to port software deserve a lot of respect, especially those who add linux into the mix...
2010.04.27
Bluecheese Burgers and 555 ICs
16.55.08 - Mark
Ah, the combination of technology and food.

Well sortof. After dusting off my Canon S3is for it's timelapse feature for Inkinga few weeks ago, and then in the same post complaining about not getting anything faster than 1 shot a minute out of it, I decided to try and make the 555 IC based camera trigger.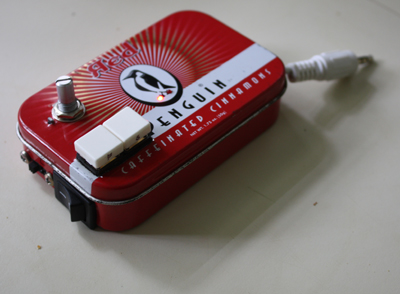 The version I build was covered in MAKE Magazine Issue 15, as well as a bit more detailed on it's Instructables page. When I described it as "crude" in the Inking rant, I was surprisingly accurate.

While I tried to follow the schematics exactly the first two attempts (the first soldering, the second by breadboarding) I still wasn't getting a working device. Perhaps by my mistakes, but perhaps by design flaws. However after going over it's comments on instructables, I managed to hack together a working solution as well as a couple upgrades to the original design. While it's a bit tempting to document my changes, I'll hold off until I either debug it or create another version.

However, after assembling the components, and shoehorning it into an altoids-esqe case, I wanted to use it. While I've come close to using it a few times over the last week or so, I finally used it last night when I made some Bluecheese Burgers.

The photo rate was about 1 exposure every 9 seconds, Canon XSi camera on tripod, lens set on manual focus but camera shooting in Program mode. I turned off the trigger a couple times (like when the burgers were on the grill) but the whole series works pretty well. And since it's food, written ingredients and instructions are included (both here and in the video)


Bluecheese Burgers

2 lbs Hamburger (85/15 lean or better)
1/8 teaspoon Ground Cayenne Red Pepper
1/4 teaspoon Ground Cumin
1/4 teaspoon Garlic Powder
1/4 teaspoon Salt
1/4 teaspoon freshly milled Black Pepper
2-3 oz. Crumbled Bluecheese
Hot Grill
(All measurements approximate - Cook to your taste, not mine)

Mix all spices and hamburger together.
Divide hamburger and form 8 thin paddies.
Put crumbled blue cheese onto 4 paddies, leaving open space on the edges.
Place remaining paddies onto the blue cheese piles and "seal" the edges of the two paddies together.
Cook burgers on the grill to taste. Roughly 7-8 minutes per side for Medium

Bluecheese Burgers are great on their own, but I prefer them with some Red Onion, slice of Tomato, some Lettus, and a bit of Mayo, but enjoy it however you want to.

Bluecheese Burger Timelapse
(2MB 320 x 480 H.264 Quicktime)
This
work
is licensed under a
Creative Commons Attribution-Noncommercial 3.0 License
.
2010.02.02
Green USPS
22.42.02 - Mark
Last week I learned about an interesting bill called e-Drive [oddly discovered via Hacking Netflix] that was introduced to the national House of Representatives late last December. It's basic pitch is to convert or replace 20,000 US Postal Service's local delivery vehicles into full electric and hybrid electric vehicles.

While it's a little murky having the US government go back to fiscally supporting the USPS to, among other things, help lower the cost of operations, I think that getting this bill passed would further push electric vehicles into our culture, as well as help us learn if it can be practical on a corporate level. Even if it fails at those points, it's helping reduce pollution. I've been told that the USPS uses something like 800 Million Gallons of gasoline each year, which I think translates to about .6% of all the gasoline used in the US. While written out it's not an enormous change, but it's enough to take note. I'm going to think about it some more, but it maybe worth sending a letter to my generally useless congress critter.
2010.02.01
Walking past Front Row
22.29.36 - Mark
While I still live in a house with a subscription to a satellite TV network, even with an included DVR, I really could do without it. While I was skeptical about the success and value of streaming video when it really started appearing it's grown on me a lot - to the point where I almost only watch streaming videos. I can watch it when I want to, love having to deal with fewer commercials, and being able to rewatch things that have been off the air for years (and some which never made it to DVD) Yes, it's a little hard to watch some things I miss from the plethora of TV stations, but there are solutions to those problems.

For almost all of these streaming videos, I've been tolerant of my MacBook's screen. One person watching a 13" screen from a foot or two away works fine - battery powered and completely portable can even make it favorable. Using a decent 22" LCD desktop screen and a set of speakers and you can make it work for 2, occasionally 3 people. Not the most comfortable, but it works.

So recently I went back and got the Mini-DVI to Video adapter for my MacBook, dug out the Apple remote that came with it, twiddled with some of my cable solution and now enjoy using all these full screen streaming videos on a decent sized TV. Navigating around to find the right video however, has become a bit annoying.

The browser and Finder are work fine when you're at the computer, but if you want to use a remote from across the room control you need to keep it simplified. At one point, Apple's Front Row (which no, doesn't require a remote) along with a plug in called Understudy let you get to Netflix and hulu though FrontRow. It worked, but was a bit of a hack. When Hulu had to start actively preventing people from putting the streaming video onto their TVs, Understudy doesn't work with it anymore. While it still works with Netflix, it's more of a kludge than a useful tool.

Boxee's software, which is sort of like Front Row on steroids. While it's a beta, it's open source, cross platform, and a few weeks ago announced it was releasing a hardware solution at CES. At one point I actually preferred it over Front Row. More power, easier navigation, and no hacks needed to get to some streaming video content providers - including Netflix. It's useful, particularly for navigating around Netflix via remote, but I never really enjoyed it enough to find a way of making the Apple Remote open it in place of Front Row. I also wanted a good way of getting into Hulu over remote.

The only non-browser approach to hulu streams is Hulu Desktop. After they had to block boxee (and other applications) they developed their own desktop player. To their credit it provides better navigation and works with my Apple remote, but it's all it does. No other streams, no messing with local files.

So my question became, how can I get to all these tools by using my Remote. Understudy plugin instantly picked up on Hulu Desktop's presence, and while it's a little buried, I was able to "switch" from Front Row to Hulu, but since it was off the path, and wouldn't open Boxee I turned around to dig. and sure enough it was out there.

Hole in the Ceiling figured it out and posted Front Row plugins to launch several applications including Hulu Desktop and Boxee.

So while there's no single application that lets me watch what I want to controlled by a simple remote, at least I don't have to walk across the room to run one commands.
2009.12.27
Wearable Displays
23.45.31 - Mark
Over 10 years ago I got a bit hooked on the idea of wearable computers. One handed keyboard+mouse devices, lightweight CPUs that work for hours, maybe with the speech recognition software, and a display that "floats" in front of the eye. Being in high school at the time I managed to scrounge together some pieces, with mixed degrees of success. I was given some semi-dead mac laptops and got some of them to work. Bought one of those one handed keyboards but never got it to work with my assorted Apple hardware, and even got a couple wearable displays.

While I gave up / sold / repurposed a lot of that stuff, the displays are about the closest I got to success. It was older gadgets, but I adapted it to take better, less expensive batteries, and when I got a second display I carefully took it apart and tried to convert it to a more discrete monocular version based on a few of the hacks I found online. While I managed to kludge together a "working" model, it was loosely assembled on a chopped up pair of sunglasses, a few pieces from an old erector set, scraps of plexiglass, and a zip tie or two. It showed me the amazing effect of monocular displays, but made me look like a massive idiot.

However with technology getting smaller, and these micro-displays getting less expensive and somewhat more common I'm playing around with the idea of getting one to hack. When I started taking another look at the commercially available ones, I found A Monocular Myvu hack. These Myvus, along with many of the other modern wearable displays, are geared for videos from iPods and other portable video players, and easily found for $100 or so. Not great resolutions for a computer, but could be a nice tool for some of my camera work or getting videos off my iPod.


2008.03.17
Frankenphoto
22.44.26 - Mark
I was shooting photos out at Hanging Rock State Park last week, taking a few panoramic series, a handful of HDR sets, long exposures of waterfalls and similar stuff. I also started experimenting with Vertical Panoramas and sets that involved a little more than just the x-axis. One of the sets I took was coming up to the main rock face of Hanging Rock Mountain itself, and for lack of a wide angle lens (or a DSLR that can take a wide angle lens) I took about 40 photos trying to get the whole mountain. Now not wanting to try and stitch it together myself, last night I opened up the files, told photoshop to stitch them together itself (something I don't do on my regular panoramas) and let it do it's thing.

Now I've already discovered that Photoshop CS3's photomerge function doesn't do vertical merges well on it's own, so I finished up the last few chapters of The Anansi Boys checking to make sure it could handle the set before going to bed. It didn't spit up any errors so I let it work into the night, and when I woke up I found it showing off a pretty distorted, and absolutely massive stitched pano, in addition to a few system error messages that were effectively screaming for more RAM.

The 14172 pixel wide by 30634 pixel high image is so big, Photoshop is incapable of saving it as a photoshop file, let alone a jpeg. The only way I could feasible save it was a 3.91GB tiff file, that takes 30 minutes to open on my 1ghz ibook.

I'm in the process of downsizing the file to a more manageable 10000px high, but at the rate photoshop is going it may be a couple hours. Until then, here's a screen shot of the monster photo.


2007.12.28
Saving in slow motion
15.52.34 - Mark
It's been a years since I've had to wait on Photoshop for long periods of time to process a single command, but I've wasted an hour waiting on it to just between the save as and resize commands, which is insane since it only took about 90 minutes to stitch together. Maybe that's just a commentary on how large of files I'm working on, or maybe my old ibook g4 needs replaced...
2007.12.23
Bad Ratios
16.20.24 - Mark
As much as I love taking good photos, and happily spend time tweaking them in Photoshop, the rewards are cut short if you don't share the images. There are lots of ways to do this from in camera viewing to websites, to getting some decent quality prints made. I love this site, but good prints are far more useful. I've still got boxes and boxes of old 3x4 and 4x5 prints, and have walls decorated with enlargements I had made when I entered photography contests (some of which I really need to digitize)

As I've picked up my cameras again, I've started printing again. From at home printing on consumer level hardware - which despite what printer manufactures claim is wicked expensive and gives at best mediocre quality - to instant print kiosks and onwards and upwards to professional photo labs.

The thing is, the "standard" photo sizes are based off the aspect ratio of 35mm film (3:2) while nearly all digital cameras shoot 4:3, and many are starting to adopt 16:9 as a shooting option, if not the native sensor size. Most printing places recognize these and similar ratios (this isn't scientific, but I think the SOL point is is you want something narrower than 2:1), but these machines will refuse to print them correctly, and make stupid assumptions rather than ask the user how to handle each image. In a smallish sample I've had images condensed, expanded, and cropped, and only when I get it manually forced into zooming out is there a chance it will print correctly, and then I had to manually trim half an inch or more of white space off all four edges.

The real sad part is that everyone seems stuck with bad ratios and terrible metrics. The industry seems happy with it's standards and simply suggests digital photographers "plan to crop digital images". Should you find a printer who doesn't mind a different aspect ratio, they hand out DPI numbers that you'll need to meet, except it's hard to translate pixel counts into useful DPI numbers, since it's not the straight 1 to 1 ratio many people claim. Depending on print method and inks used you might have half a dozen dots working to represent the color value of a single pixel.

No wonder you can still buy polaroid 600 film...
2007.11.08
You're having a bad day when...
22.48.54 - Mark
I've spent a few hours today looking for some digital photos I know I should have somewhere. There should working copies on one of my main computers (buried somewhere in my distributed Terabyte or so of storage space), and at least one sufficiently current backup, but so far I've been having absolutely zero luck. On the other hand I'm finding some (completely useless) files over and over and over and over again. Add on top of this a couple systems that have some really obnoxious operating system quirks and all of a sudden adopting a Scorched Earth policy followed by a week or two ground up network rebuilding doesn't look too bad.

As Terabyte+ storage solutions becoming more common, backups alone aren't going to cut it, people will have to learn some heavy duty data management skills. That or move everything online and let google try to sort it all out...
2007.11.04
Groundhog Hour
01.33.30 - Mark
Physically it feels like it's 2:30 am, but the United States Naval Observatory says it's 1:30am. Gotta love these damned day light savings time changes. The geek in me says cool, free hour, but the fact is it's useless.

While we may have started daylight savings time as a way of conserving energy use, today's society doesn't give a damn. Sure there's the green movement, but look at your average home, office, or school. Chances are you're using artificial light, unless you work outdoors in which case you don't need the government to tell you when to start working anyways.

Shifting around DST this year doesn't add anything to the case for DST either. In fact it probably shows how asinine it really is. I can't count how many devices have gotten fubared by the change, and for no useful reason either. We should have either not changed the time for DST (therefore not fouling up a bunch of devices that had the old dates preprogrammed) or simply get rid of DST (since any device that changes itself allows your to disable DST)

Finally, in our 24/7 world wide economy, I think people know how to make a schedule work for themselves. We don't need to mess with our clocks twice a year when not everyone does the same thing (DST isn't even universally accepted in the USA)
2007.10.19
Loud RF
01.14.22 - Mark
I don't need many more reasons to hate Cingular. Lousy coverage, lousy service, and painful RF noise. Chasing down audio problems is not one of my strong points, but I've been hearing loud obnoxious, painful ear piercing noises coming out of my various speakers. While browsing tonight I actually came across my answer on accident. The noise I've been hearing has been Cingular cellphone signals bleeding over into my speakers. Fun.

Apparently it's also enough to completely blow out a speaker, which isn't all that surprising if you've heard that noise and lived to tell about it. Somehow I doubt Cingular would replace that hardware.

Figured out while reading Bunnie Huang's blog (He's the guy that hacked the original xbox), where there's a link to an amusing Cingular/Apple parody video.
2007.08.21
I want an iPhone, sort of
20.38.07 - Mark
For an Apple geek, I haven't said much about the iPhone. I mean this is a device I've been wanting to see for nearly a decade (I used to sketch my own iPhone mock ups during study hall as a high school freshman about 7 years ago) Sure the fact that it exists is pretty damned amazing, but I've long since realized that until I have a chance to really try it out there's not a lot of stuff to add to the discussion, that said, I've now had the chance to briefly use a couple of iPhones, and to be concise, they're freaking amazing.

To be a bit more detailed, I love the interface. While I didn't do any text entry, I have played with a couple of the more advertised features, like the amazing photo abilities built into the phone, and had a short chance to play with the Google maps applet. I honestly wish I had a solid case for getting an iPhone, but I've got to many problems to really get one.

For one thing the cost is pretty steep, and while I could probably make a good argument for needing it's utility, I'd rather have a full blown laptop for a couple hundred dollars more (It's going to be a while before I qualify for a new Cingular / AT&T contract) or a couple hundred dollars less for a PSP or midrange PDA. Secondly AT&T is the same old Cingular, which means service in Northwest North Carolina sucks. Outside of population centers with more than 5000 people or on the interstates (and even then...) Cingular just doesn't provide service around here, let along more advanced connections like mobile broadband. Even in population centers you walk indoors and you pray your signal doesn't disappear.

I also really want it for the features I didn't get to try, such as the nonlinear access to voicemail, or are mind numbingly obvious like the ability to easily lock the phone (something I've learned is nigh impossible to do with Motorola's phone interface)

Apple has yet another amazing product under it's belt, but locking it up with Cingular service, is just plain ass dumb. If I could use it with Verizon and their EVDO networks (who despite the dumb commercials actually carry about coverage areas), I'd probably find a way of converting
2007.03.16
...it's a feature.
08.04.37 - Mark
After weeks of research and shopping, my Mom and brother upgraded from a long line of dead or dying low end Motorola cell phones to a couple of Sony Ericssons (
w300 and w810i respectively). If I wasn't perfectly happy with the (unlocked and unbranded) Motorola L6 RAZR I bought a few months ago I'd be tempted to get the W810i for myself, because seems to be a well balanced multitasker. The phone quality is good, the OS is fast, responsive, and more or less organized, its got a 2MP camera that actually acts like a camera (to an extent) rather than a camera phone (the phone's form factor reflects this, too), it even supports up to 4GB memory sticks. Except...

...the thing reeks of DRM. Everything that this phone is designed to do, and do well, is locked up in a bastard combination of Sony and Cingular DRM. I'm not big on ringtones, neither is my brother, but the included ringtones almost explained why the ringtone industry is worth $3 billion a year. Being that the 810i is an MP3 phone we loaded a couple of songs off his computer and tried selecting them as ringtones. Didn't work. Turns out Cingular, in all its money grubbing anti-consumer glory disabled the feature. There are four ways of getting around the block.

1) You can buy the ringtone from Cingular - which won't work because the MP3s in question are all small indy artists (plus, even if he would want "My Humps" he'd have to pay for it)

2) You can chop out a clip that's less than ~1MB and use that. This one just seems stupid, its an MP3 phone, it would play full unencumbered MP3s as music, alarms, and ringtones. It also requires being a little technical and wasting a shitload of space on the phone (one version for a ringtone, one version for listening to)

3) The third option is to hack the phone's firmware and unbrand the device. Carrier's add a bunch of extra "features" like Cingular's MediaNet, Mail, and a handful of other things (including disabling full MP3 ringtones and themes options). This has the possible side effects of killing the phone and voiding the warranty. Not something I want to do because cell phones are commonly junk and need fixing or replacing every few months

4) We can throw DRM at it. Sony has a free program available (Mac and Windows, but they also mention Linux in the developer notes) that takes perfectly good, unencumbered MP3s and wraps them in good old fashioned DRM. Let's just take a moment to recognize just how ass-backwards this is.

They want you, the a perfectly legitimate user, to take your own non-DRMed MP3s and they want you to add a bunch of DRM to it, just so you can use those files on a device which doesn't actually need any special formats, DRM, or add ons to play the files in a way you the consumer wants to be able to use those files.

Last time I checked, DRM was a tool for Content publishers and owners to control their media and by extension crack down on piracy. I don't recall it being a tool for consumers.

I don't think Sony is actually to blame here, the fact that they're making the DRM Packager available to everyone and the fact that the unbranded unlocked phones don't have the bullshit limitations should prove that the carriers are to blame (if you actually need proof that the phone companies hate you the consumer).

There are a couple other things that I've read in reviews and haven't had a chance to look at yet, like disabling the "shutter" sound when taking pictures, and I personally like standard connections on my phones (standard mini-USB for docking/charging is great) but the Cingular imposed DRM bullshit makes me want to avoid dealing with locked and branded devices. I'd rather pay retail than have a crippled tool.
2007.02.27
Bits and Words
23.15.02 - Mark
While I can appreciate Direct TV wanting to save some bandwidth when customers are requesting interactive menus, I really question the trade off here. Does randomly dropping words and letters from show titles really save that much bandwidth, and does that savings really outweigh the amount of customer frustration it breeds?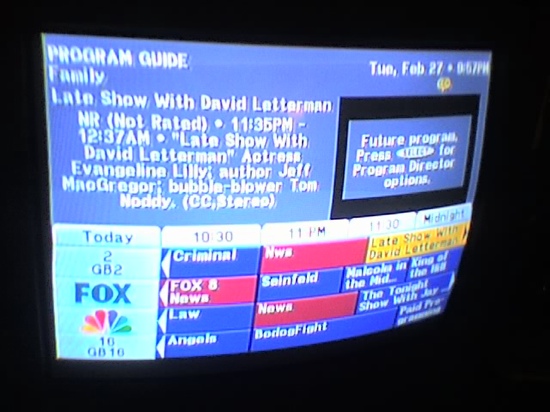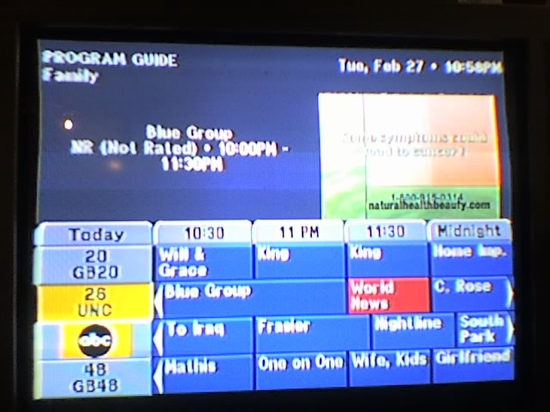 2007.02.24
Electric Cars (POTUS Edition)
19.43.50 - Mark
After watching Who Killed the Electric Car? the other day, and posting about it, seeing this story about President Bush looking at some plug-in hybrid electric vehicles is too funny. When we have production ready electric vehicles from major automotive manufacturers, Bush is citing it as an example of entrepreneurs rushing in to solve our nation's oil addiction while calling on Congress to fund research into alternative energy sources. I especially like how he avoids the questions about whether or not he'll be getting an electric vehicle for his ranch. Classic Bush.

In the past I might have accepted the fact that he is a "busy" man, and that he may not be aware of the feasibility of commercial, market ready, electric vehicles and associated technologies, however Bush has repeatedly proven that he actively ignores science and technology advisers, especially those who don't come from with glowing recommendations from oil industry executives or prominent religious leaders. This is just a dog and pony show, and that's a true shame.

Story and photo via Treehugger
2007.02.22
Electric Cars
12.26.08 - Mark
Who Killed the Electric Car? is a pretty strong documentary about the appearance of commercial electric vehicles in the mid 1990s from GM, Ford, and others, and explores why these vehicles were quickly and quietly phased out. It also makes me wish I had the money and mechanical aptitude to do an electric conversion.

The main documentary (there's a second documentary in the DVD's special features) focuses entirely on the life and death of General Motor's EV1 It takes a fair look at the various complaints about electric vehicles, such as the lack of consumer acceptance, the interests of Oil manufacturers, the shortcomings of battery technologies, competing technologies, and various government mandates that affected electric vehicles. While the movie tends to sway off into tangential topics most of the time the subject remains interesting, and only starts to feel long in one or two places.

One of the things that can bother me with, for lack of a better term, activist documentaries like WAL-MART: The High Cost of Low Price (that post) or An Inconvenient Truth is that they're great on starting conversations, and exposing facts, but can easily come up short on solid suggestions for creating change. Who Killed the Electric Car, almost fails here. The last few minutes of the film make comments about plug-in hybrid electric vehicles as well as DIY conversions, but there's very little about these in the actual movie, and I think that detracts from it a little.

They recover a little ground by adding a 15 minute piece in the special features that explore several potential actions people can take to encourage the industry to start producing more electric vehicles, but when the main film has a running time of around 90 minutes, I don't think it would have hurt them to add the extra footage.

Still, its a solid film, and it makes me wish I had the money to attempt an electric conversion. The technology and infrastructure is here today, there's no reason we don't have commercially available plugin electric vehicles.
2006.11.05
Five Years in waiting
01.51.38 - Mark
Five years ago when Apple released the first iPods and I was still really active with Applefritter I remember the first comments being about how fast it would be hacked, and I was personally itching for someone to do a clear iPod mod. At the time, I had a wicked obsession with Apple's design, from the box you get it in to the parts you probably should never see (like the smiley face on the bottom of the 7200 motherboards). I also liked clear cases. To a lesser extent both are still true today.

Unfortunatly, the clear case mod idea was shot down pretty quickly when I was in a chat room while someone else was doing a live discetion/review of their brand new First gen and commented on how the white portion was molded into the clear outer plastics. At least, it was until today.

iPodmods.com has made an announcement that it will be selling Clear front panels for iPods. 4G, nanos and video iPods are first up. I won't be modding the video I own (not yet at least) but my existing 4th gen actually needs a new front panel (at least I think that's whats broken this time) so I may be jumping all over this in a few weeks.
2006.09.14
Current Opinion...
00.39.44 - Mark
Computers Suck.

In my unending war on technology failures I've reached some meager high points, followed by plummeting low points.

The slight bit of good news in my computer woes is that a rather nice Pismo that was given to me - in pieces - has been rebuilt. I couldn't make him better than before, as I lack the budget for it right now (I think) but the fact is I literally took a pile of powerbook parts and reassembled it into a quasi-working machine. The CD/DVD drive won't read CDs and it doesn't have wifi or a working battery, but the fact that it boots is more than I can say for most of my computers, because...

Ubuntu crapped out on me, and now refuses to boot. Last week before I helped move my brother into college I started the process of upgrading to the latest version of Ubuntu (my DSL is painfully slow these days). Eventually it claimed it was done upgrading, restarted itself, and hung. For the last few days its been delightfully staring at me refusing to boot. Now I can deal with botched installs, usually I can even bite the bullet and do a full reformatting and reload off a backup. Too bad I have nearly all my backups on part of the drive a reinstall wants to reformat. Apparently linux, or at least Ubuntu is damned near impossible to reinstall from scratch without reformatting. I'm working on it but its a pain in the neck.

Of course there are more problems (both ongoing and new) than I care to recount, but I'm guessing I need to get some of the tech out of my life - since maintaining the computers around the house is feeling a lot like a bad IT support job, minus the pay.

Now, back to fighting with linux...
2006.08.20
Bleh.
09.47.08 - Mark
Right now I hate technology. Not just computers mind you, I'm very quickly heading towards becoming a luddite due to the sheer frustration of having every little bit of technology around me fail almost completly and (increasingly) inexplicably. From DVD players to bedside lamps - everything I touch seems to be breaking down. You can bet I'll be in a charming mood when I return to High School University tomorrow for one of the courses I should have been able to take last year so I wouldn't be there for 2.5 years.
2006.05.19
Network Neutrality
12.06.52 - Mark
Since I've brought my iBook back online I've been catching up on some of the news circulating the tech world, and aside from the MacBooks (which I certainly want) Network Neutrality seems to be one of the dominating topics. I've seen a lot of people spouting off the "Information want's to be free" line without remembering that it's only part of the dynamic Stewart Brand was talking about when he stung the words together.


On the one hand information wants to be expensive, because it's so valuable. The right information in the right place just changes your life. On the other hand, information wants to be free, because the cost of getting it out is getting lower and lower all the time. So you have these two fighting against each other
Network providers are of course going to want to charge more for bandwidth as the amount of information traveling over the networks. They know that your information - no matter which end of the transmission you're on - is valuable to you in some way. They want the quickest, easiest way to turn the largest profit on those little bits of information and because most executives seem to be shortsighted penny pinching technically illiterate baboons the answer is to simply charge more for premium service, conveniently dropping those that they offer as other products if you the customer don't want to pony up the extra cash.
Now look at the other side. Information wants to be free. We have the technology to put a laptop into the hands of every kid in the world if we were so inclined, and we have networks where the overwhelming majority of traffic is free in nature, and the simple fact is that the internet has spent it's entire lifetime as a free and unregulated entity. We're dealing with something that was designed to withstand nuclear war. Meager attempts at building a pay wall between a handful of nodes will not be enough to stop the traffic. Unless I'm wrong it's essentially the same type of mentality that goes into web-blockers. Erect them all you want, but the internet and it's ever adapting nature will quickly cut off the parts that don't work and find alternative routes that do.
What this gets to is network neutrality, and the fights going on over it won't be solving anything. In the end, it's all about the bandwidth. Data doesn't need to be sorted and prioritized when you have a big enough pipe, and based on the the miserably low standard America accepts as "broadband" this country is in serious need of some good bandwidth (admittedly, not as much as Africa)
Links (because I'm too lazy to fit them into the body)
Net Neutrality and High Def Video -- Considering Alternative Views
Information wants to be free
Cost of internet access in Africa
---
---