2008.03.11
Submitted Photos
19.48.42 - Mark
Two days, two different papers, 3 or 4 published photos (the forth was one I may have taken, but with someone else's camera) all with a "submitted photo" credit which I hate, especially since some of them are published online, but it's better than wrong credit (which one of the paper's did). The reproduction isn't as good as it could be either. Still it's publication which is nice in a way.

All the photos are scouting related but they're good photos for a paper. e.g. They're not line-'em-up-against-a-wall-mugshot type pictures which most people submit to newspapers, well one is but I wasn't in charge of that set up and I at least got something other than a face forward angle. My only real gripe with trying to take photos with the goal of newspaper publication is getting names. As soon as you start taking names people start posing or running away, or think you're with the paper, or think that because you're taking names they'll automatically be in the paper. When I do that it starts becoming work (usually unpaid and unjustified work) and stops being "just fun"

Anyways, here's two of the published photos: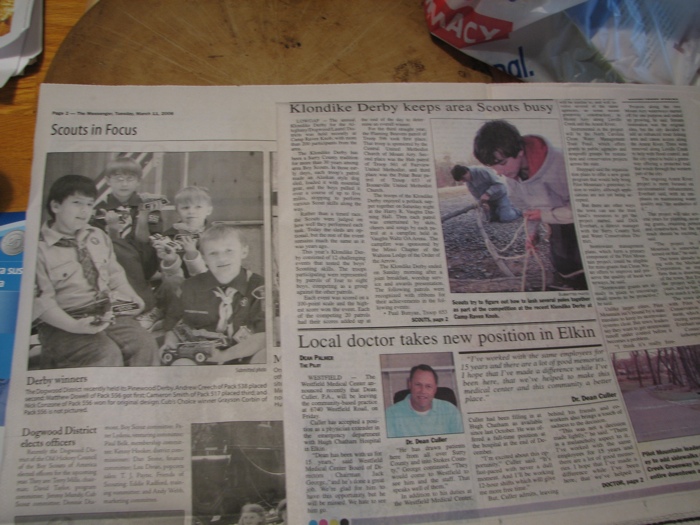 Left: Cub scout Pinewood Derby Winners in Tuesday March 11th's Surry Messenger (page 2).
Right: Boy scouts lashing poles together in Monday, March 10th's Mount Airy News (front page) Large version
2006.10.21
A BSA the BSA would be proud of
00.46.19 - Mark
I'm going to preface this with the fact that I am a Scout. Eagle rank and I've spent three wonderful summers working at a nearby Boy Scout camp.

I'm also an avid computer user and proudly release works under creative commons because I feel that copyright law in this country and around the world is very horribly corrupted by groups like the MPAA, RIAA, and Business Software Alliance. I regularly use what thouse groups would consider "Piracy Tools" like bittorrent and other peer to peer networks.

The idea of the Boy Scouts of America being used to combat piracy by the MPAA and RIAA absolutely disgusts me.

On the local levels scouting is a wonderful thing. It teaches valuable life skills, helps youth find subjects and hobbies that can lead to careers, and in some areas does a better job of educating kids than public schools. Not to mention giving back to the community.

While I severly disagree with the national scouting organization on matters like allowing "gays" and atheists to participate in scouting I'll live with the fact that it is a private club (by some definitions at least). But allowing industry associations to exploit it for commercial gain is far beyond reason. What's next product endorsements in Salesmanship merit badge and partisan politics in Citizenship in the Nation?

Sometimes scouting actually deserves the bad reputation it has developed in today's culture.