2010.12.31
Respectably Devious
19.59.29 - Mark
Last night I sat down to watch Scott Pilgrim Vs The World on DVD though Netflix. An enjoyable visual overload with a good bit of humor, and as it finished I'm glad I received it on DVD, because after all DVDs come with Extra Features and with a movie like this, I was anxious to see what treasures this DVD came with. After the credits ran (no I didn't skip the credits) and the standard DVD Publisher logo (in this case Deluxe Digital Studios) aired it moved right into the Extra Features menu.

As I clicked into the Deleted Scenes I was delighted that this standard DVD came backed with extras, rather than the somewhat common practice of "Deluxe" editions where all these extras were burned onto a separate DVD. With Netflix, it's easy enough to rent out both discs, but for the right movies you don't want to wait or gamble on the value of those assorted extras.

So as I turned off the commentary and moved onto "Play All." I clicked, but video did not play. In it's place a notice that said that as a Rental DVD, all the extras were disabled, and to access them I would need to buy a DVD or Blu-Ray copy. A second attempt produced the same result. The first though I had was another strike against the consumers the producers depend on.

I've felt for a long time that DVD productions tend to treat the honest consumers, buyers and renters, as criminals-to-be with Region Codes, forced viewings of FBI Anti-Piracy Warnings, or even MPAA's own Anti-Piracy ads. Things so easily bypassed you never see on stolen versions, only the legal copies. I understand the threat the corporations are attempting to prevent, but as an honest consumer we hope for at least a little trust and respect. While these has been an issue since VHS cassettes were the Big New Thing, to the way it's dealt with on DVDs, Blu-Ray, or the next generation of physical media for video distribution we'll probably see in 10 years, it's going to get worse, not better.

After further thought however, I came around. In this case, I'm not being treated as a criminal, yes the FBI warning as usual, but none of the MPAA anti-piracy ads. Upon taking a second look they were not secretive about the rental status. Well labeled on the disc, and on loading made it clear that those extra features were disabled. In the pre-movie trailers the distributer, Universal Pictures, placed an ad about the benefits of the different medias, even covered the ways you can get those extras from the different technologies. While it remained a bit of a slap in the face, it's actually rather good marketing.

They show us the menu, give an idea of what we'd receive. It's no different than receiving the desert menus after finishing dinner at a decent restaurant. The balanced combination makes it all pretty clever, and I'll admit I'll a bit tempted to buy it rather than rent it again. While I may not enjoy the well advertised movie deserts if I pay for the privileges, I think in the end it's a respectable tactic. Don't label consumers as threats, respect the consumer's choices but offer rewards for moving to a higher tier. If the content is valuable enough, the companies get to charge multiple times with no (or at least minimal) bad feelings.
2010.11.05
A disconnect.
00.13.05 - Mark
Stupid on so many levels.

My old homepage.mac.com/g3head website is about to die. Not by my choice, rather, Apple's choice to pull the plug on the public websites hosted by Apple. When Apple released iTools as "Free for Life" I was hooked, and while I had other email addresses (then and now) the idea of a free webhost ment a lot to me at the time. iTools Homepage feature helped me really get myself online and hacking HTML code. While they designed for it to use their publication tools, I learned the tricks of code, and built my own site, and hosted files for a few others. After a couple of years, Apple took away the free part, and turned iTools into .Mac, and the high rate of $100 a year.

I bit the bullet and stayed onboard. While I didn't like the not-free part, I was using that email address a good amount at the time, and I knew I wasn't going to be looking for free hosting for mywebsite, as they all added ads, and had a far less cool domain name.

I've stayed onboard, as while the website part of .Mac became less important ("replaced" by using Blogger, and then real hosting), other features, maintained it's value. Plus, you know, my first site would stay online.

While I love how it helps me sync my computers and iPod touch, and to a degree still use the email account, I think we started seeing the death of hoempage.mac.com last year. In July 2009, Apple took down the HomePage publication tools they had developed. Supposedly, at that point websites could not be added or edited. While I had been planning on moving the content to my current servers and giving them a domain, but because of some things that happened to me at that time, that never happened, and as July 7th came and went, I figured they would be no more changes to that old website.

Tonight however, as I was backing up the site and putting thought into reworking the code to keep the site online, I figured I'd kick the tires one more time. I figured it wouldn't work, but sadly, it did. I still had full read/write access to that website part of my iDisk, and within seconds of adding it, a burried test page could be viewed online.

So much for a year of coded redirects. Now so much for the site. I always loved it when someone linked to homepage.mac.com/g3head even when I haven't touched it in years. So in a few days, I'll be feeling the same pain as other users of homepage.mac.com, who built a bit of an online reputation over the last 10 years.
2009.12.24
Making Shortcuts
21.25.53 - Mark
Recently I've been helping on putting together a couple websites for a couple local businesses, one as a hired web developer, the other where I'm somewhere between being a website advisor and lowly website janitor (which is a needed site but has been a mess for 9 months and counting). So while I may or may not be the code monkey on both these sites, my skills as a decent photographer have been called on for content.

However both these projects piled up to a couple hundred images needing some tweaks or edits in photoshop, and generally not the changes that a batch process would do without mistakes. I didn't even have a problem with doing this work, 95% of those changes were easy, and the rest were fun little challenges. My problem was the lack of keyboard shortcuts for most of the tools I was using in Photoshop.

Some I could understand not having shortcuts (same tool in several places), others unused enough to not receive one, some merely annoying to a Mac user due to Adobe's universal standards, and on top of the fact that lots of people don't seem to use shortcuts other than copy, paste, print and save. So I just whispered curses over my lack of shortcuts.

What I missed however was being oblivious. I've tweaked Photoshop's preference settings for almost as long as I've used it, and never in it's preference setting area did it have anything about controlling shortcuts. However the other day I found a little link to one of Adobe's blogs about how they're Doing the right thing with Cmd-H for us Mac users. Mostly the write up talks about how CS5 will make Photoshop a little easier for the user to make it a bit more OS friendly. It also talks some about why it's been avoided for so long.

Since I'm still hacking away with CS3, the changes in CS4 and the upcoming CS5 don't matter a lot for me (at least not yet...), but within that write up a little gold nugget hit me just right (my emphasis):


With regard to Cmd-H, Photoshop's keyboard shortcut editor has long made it possible to assign Cmd-H to hiding the app. Doing so takes just a few seconds, yet many people are unaware of this or unwilling to invest the time.
While some of the shortcut combinations (both the ones given and the ones you can create ) can be a bit big and cumbersome, they're a hell of a lot nicer than reverting to nothing more than moving around the mouse and clicking like crazy.
2008.03.31
Aborted Discussions
22.14.58 - Mark
The abortion issue is an ugly one for a lot of reasons, the obvious one is because the core issue is talking about ending the life of a something* that has a potential to be a living, breathing, contributing member of the human race. The topic only gets uglier there when you start looking at the physically disturbing subtopics like how a something* is aborted, the final minutes of a something*'s "life", the psychological trauma of those directly involved, the political maneuvering around the issues, the ethical questions that always get phrased with a steep bias then left unanswered, the history of violence around the subject, and the blatant (often intentional) ignorance of people who talk about this issue.

This last point isn't helped by the fact that both sides use language so carefully selected it puts most marketing departments and spin doctors to shame, which combined with a lack of clear cut definitions of the unloaded language makes it extremely hard to find unbiased information. Add in a heaping pile of religious extremists and you have such an ugly mess that most people won't look at the topic, let alone touch it with a 30 foot pole.

Those who try are usually blasted from the other side, and moderates tend to get yelled at from everyone. This is an old issue (abortion was mentioned in the original Hippocratic oath) but it's become so politically and morally charged the level of discourse has plummeted. Even smart people who love talking about politics and policy want to avoid the topic. It's infuriating before you even attempt to drag politics into the matter.

Just like in "civil" conversation, the abortion issue is a topic politicians don't want to spend time with. Unlike in civil conversation however they have a harder time ignoring it. So rather than holding intelligent debates on the subject they craft utterly useless legislation designed to appease the anti-abortionists (I voted for XYZ bill) without creating a law that dose anything new and only vaguely reinforces things already on the books so they don't piss off the other side. Or, if they're feeling confident (or don't mind being self-serving assholes), craft the language of the bill in a way that everyone who reads the thing knows that it will fail at some other level of government.

There are a lot of people who claim that if we "respect life" the problems of our world will go away. Aside from that fact that this is code for "believe in my god and you'll be saved" many of these people are the same ones who almost instantly called for this country to go to war after 9/11/01, and who don't see a little racism or homophobia as wrong - even when it means some unlucky people get beaten to death by hicks. We don't need to "respect life", we need to be more open minded, push for better communication, less radically religious opinions, and most of all more accepting of others and the decisions they make. Until we all agree to stop using loaded language and stop attempts at legislating according to some moral guidelines written over 2000 years ago, we're not going to find an acceptable solution to a topic that is in despite need of a fair, unbiased position.

* About the "something*": fetus, embryo, baby, and infant are all too often interchangeable terms in the abortion issue, and none of them seem to really do a good job of accurately describing a potential life. I'm tired of the loaded language used by both sides of the argument and in this post I tried to avoid using politically charged terms
2008.03.22
Unasked and Unanswered
18.59.08 - Mark
We've had a few dozen presidential candidate debates (with a plenty more being scheduled or planned or are simply inevitable) but aside from some questions based on whatever new campaign tactics have popped up since the last "debate" the things are the same old political show and tell, except all show and little told.

I get that the economy is a bit issue, with subtopics like NAFTA and free trade, and China, and tax refunds, and the recession. The War on Terror has been a hot topic since 2002, and once you add immigration and health care you have a pretty stable set of issues that just about any one can find something to cheer or chastise, except it really doesn't tell us much about a candidate, which is probably why they happily blather on about "experience" and who's more "qualified".

Here's a hint, unless you've already been a president of the US, or the governor of a state you have nothing close relevant experience or qualifications. Even then being a Governor doesn't help much - case in point: the current POTUS. So let's cut out this experience and qualified BS and move on to real issues, as many of them as possible. This county has more problems than illegal immigrants, taxes, and a handful of terrorists who "terrorize" us because of our foreign policy decisions (and we're not just talking Iraq).

In no particular order let's have a reasonable talk (preferably multi-partisian) science's influence on policy, technology, education, cost of college, the war on drugs, position on tobacco and alcohol and the legal age, sex education, religion in government, non-existence of viable third parties, election (and specifically electoral college) reform, civil rights, green technology, nuclear energy, sensible energy independence (which is more than "no foreign oil"), transparency in government, lobbyist and PAC reform, abolishing ear marks, how we'll fix our global reputation, our lack of participation in numerous global treaties (like the antilandmine treaty, or the one opposing child slavery, etc), ethics in government, the role of the average citizen in government, gay rights, minority rights, moving past petty social labels (like black, Hispanic, etc), controlling the FCC's influence on content, getting rid of the national debt, whether or not we're taking the right course of action in regards to China, Cuba, Iran, North Korea, how we'll fix our relation or at least get past our difference with the United Nations, this list goes on...

The guilt isn't entirely on the candidates, the news networks no longer want to ask these hard questions, not that the candidates would answer them but if everyone is serious about "change" let's stop playing politics as usual with it's selected and vetted clean cut party line issues and tackle real problems big and small, long standing and dormant to the near future and extremely pressing.

Of course this is only going to get worse as we start getting into congressional and gubernatorial races.
2008.03.17
Frankenphoto
22.44.26 - Mark
I was shooting photos out at Hanging Rock State Park last week, taking a few panoramic series, a handful of HDR sets, long exposures of waterfalls and similar stuff. I also started experimenting with Vertical Panoramas and sets that involved a little more than just the x-axis. One of the sets I took was coming up to the main rock face of Hanging Rock Mountain itself, and for lack of a wide angle lens (or a DSLR that can take a wide angle lens) I took about 40 photos trying to get the whole mountain. Now not wanting to try and stitch it together myself, last night I opened up the files, told photoshop to stitch them together itself (something I don't do on my regular panoramas) and let it do it's thing.

Now I've already discovered that Photoshop CS3's photomerge function doesn't do vertical merges well on it's own, so I finished up the last few chapters of The Anansi Boys checking to make sure it could handle the set before going to bed. It didn't spit up any errors so I let it work into the night, and when I woke up I found it showing off a pretty distorted, and absolutely massive stitched pano, in addition to a few system error messages that were effectively screaming for more RAM.

The 14172 pixel wide by 30634 pixel high image is so big, Photoshop is incapable of saving it as a photoshop file, let alone a jpeg. The only way I could feasible save it was a 3.91GB tiff file, that takes 30 minutes to open on my 1ghz ibook.

I'm in the process of downsizing the file to a more manageable 10000px high, but at the rate photoshop is going it may be a couple hours. Until then, here's a screen shot of the monster photo.


2008.03.04
Backdated
14.59.16 - Mark
It's one thing to wonder why the newspaper industry is dying. It's another thing entirely to wonder why the newspaper industry is dying when a local 5-day daily can print a huge 1/2 page photo as the top half of the front page. Particularly when this half page photo is a week and a half old, poorly composed, no color correction, has a terrible headline, craptacular layout and no accompanying story, and the only information is in a 3 sentence long caption which implies that the photo was taken 3 days ago, not 10. Further more the lazy ass reporter/editor/photographer who "covered" the event was too lazy to stick around to get the conclusion of the event and report on the winners, or even use his 10 day window to do a follow up call.
2008.02.22
Hillary Care
18.31.43 - Mark
While I wish the US Presidential campaigns would give some airtime to something other than Iraq, Immigration, the economy, and health care the last one is really getting on my nerves.

Hillary Clinton is out of touch with reality on the issue in her continued insistence on every single American buying a health insurance package or facing fines. It's almost like she's getting kickbacks from the insurance industry as a whole.

I'm not disagreeing with improving the heath care system in this country, but forcing people to buy insurance is not an ideal solution. From my perspective as a healthy (and uninsured) young adult paying for my own insurance would be far more than my current medical expenses. The national average for individual health coverage is about $220 a month. My medical bills for the last two years might total up to $600. That works out to something paying over $5,200 for $600 of expenses, and that's not accounting for deductibles and makes the assumption that the plan would cover the cost of contacts.

I know that insurance is supposed to be there for the unexpected, but for now keeping that same money in a rainy-day savings account makes more sense than letting an insurance company sit on the money. I don't need the government telling me I have to spend that $2600 a year "or else"
2008.01.31
Icy Mountain
00.42.39 - Mark
I saw a comment online today (and I forget where) wondering if High Dynamic Range Photography was cheating or cheesy. I don't think either is a fair statement. Yes if you browse flickr for HDR photos then yes there's a lot of dreak - ugly over processed uninteresting photos, which, yes, probably fall into the cheesy category quite well. On the other hand, there's also plenty of well composed, planned out, carefully executed HDR stuff that is excellent. Yes, you can achieve some of the same results with simpler methods, but sometimes you can't. I've spent 20 or 30 minutes playing with HDR files trying to get great results, only to give up and turn to a single exposure that captured the shot just as well (and with out the signs of post processing)

The nice thing about HDR, and maybe one of the reasons that it's caught on, is that its a software problem and not a hardware one. What I can do in camera with my S3, and do well enough for printable results is limited compared to what a high end DSLR with premium optics and a full frame sensor can do in camera. HDR by merging and blending images lets you extend past what you can do with the camera hardware. Layer stacking is a similar example. Is it "cheating"? Only if you want to be a stuck up prick and call it that

A photographer who knows what they're doing can produce great images with any camera they arm themselves with - it doesn't matter if they made it out of a shoebox, electrical tape, and a pinprick, or if it's an example of precision European engineering. The tool is only as good as the user, and I suspect that there are a lot of people that skipped Photography 101 before buying a DSLR. These same people, who tend to argue that the cameras they buy are smarter then they are, are out there seeking out ways to take cool looking photos and the wide ranges allowed by HDR makes an easy target (as a guess these people also lean towards the overuse of photoshop to correct their photos)

It's kind of like "Grunge" graphic design. Some people did it well and created some amazing work, and then a slew of imitators popped up and were imitating without any foundation knowledge of what they were doing and drove the style into the ground. It's not the technique or style's fault that it's misused/overused/horribly distorted, it's the "artist's" fault.

Or we could just incite the long tail and agree that these things will find their own markets. Some people obviously like extreme HDR work with little scraps of reality clinging onto the image, while some people will use it to good effect, and others still will hold true to conventional photography or other random techniques.

Personally, I'll still shoot what I think is fun, and what I think will work, and when things turn out well I'll continue to post them here or on my flickr account and be satisfied. Speaking of HDRs: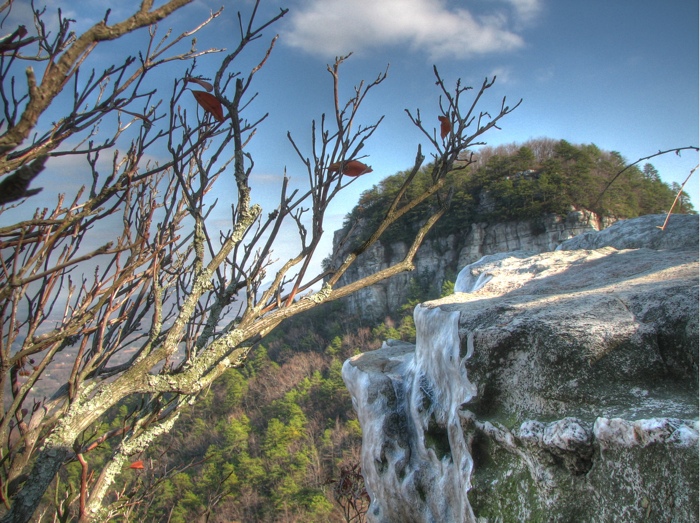 Pilot Mountain back in December. It's only been in the last few weeks that I've sat down and processed a large chunk of photographic back log, and part of that was getting a copy of photomatix to use instead of photoshop's HDR tools (which aren't that nice) or layer masking and blending (which is what I had been doing to decent effect) This one is a photo that wouldn't have worked nearly as well as a single exposure.
2008.01.19
Stuck in the middle
18.35.04 - Mark
One of the only things I don't like about photography is how bipolar it makes me feel. One day I'll be feeling great about my ability with a camera. I'll have a photo that gets great compliments, and it even if it doesn't it's something moving and powerful and that looks amazing. It may even print well and I can sell a print or 30.

Then some days I feel pretty low end and hackish. I start seeing what other photographers are doing - taking photos I want to take - but doing it far better than I can. People with the time and patience and ability to get exactly the right photos and then processes them into a refined gem to my injection molded transparent plastic toy. And some of that's before you get into details like better equipment.

Then I start thinking about it rationally and dissect the photos I'm admiring. I realize that those photographers probably take as many photos as I do, and then sort out the good from the bad, and play around in photoshop just like I do, and then post the best of the best online.

And then I try new techniques, and experiment, and start creating some cool images that someone notices and comments on, and...

The whole cycle repeats itself. Combined with some equipment envy (a good DSLR kit would be very nice) it's a pretty infuriating cycle.
2008.01.13
Giving into Twitter
00.34.25 - Mark
I've been more or less ignoring Twitter since it's start up buzz at SXSW last March, partially because I didn't see it as being useful, but also because I'm a big fan of keeping control over my content. Getting onto facebook several months ago to keep in touch with some friends started to show me the usefulness of "microblogs". When my cell phone got upgraded to a text messaging plan a few weeks ago I started a twitter account (maybe the last geek on earth to do so...), and I've started playing with twitter. I'm really starting to like it. Sort of.

Being able to send off short what I'm thinking kind of messages is great, and sometimes I have something I want to share without writing out a lot of detail (or filler content) For that purpose Twitter is great. I need to upgrade some code, but I'll probably tie my twitter account into this site, and I'll be even happier.

What I don't like is seeing this rehashing of the A blog is this, a blogger is that, here's a commenter, and over on that stone tablet is a list of things you now can and can't do. I've seen this same useless diatribe in Are you Twit or Twerp and the 10 Commandments of Twitter (both via Dave Slusher)

I've sat through insanely boring meet ups at blogging / new media conferences where a handful of orating idiots argue definitions and language, and use, and whatnot for hours on end and three things happen. 1) Nothing is decided or agreed upon 2) Nothing useful is said 3) Everything is ignored by everyone (especially by the general public, and except the orating idiots)

Rather than pay attention to stupid arguments over usage and language, or the seemingly regular attempts at analyzing twitter from the outside, I'm going to use a free online tool in a manner that suits me.
2008.01.04
Some people
00.07.16 - Mark
Somedays I'm amazed at the stupid things the local paper does on it's blog. Some threads they let dangle on into full blown flame wars with border line libel material (which they then inserted into the print edition), some times they'll kill a thread because it got too popular (and leave out comments they disagree with), other days they ask random questions and hope for an intelligent response like the latest post "Leap Year Babies!".

I'm fond of weird dates and offbeat holidays, but they're asking what leap year babies do for their birthdays (Feb. 29) It's a neat question, it even caused me to look up when leap year babies are considered a year older (most celebrate on February 28th, some pick their own date to celebrate, but the law says their legal birthday on non-leap years is March 1st)

However you really have to question why you would be asking a small audience (we'll be generous and say 1000 people read the blog) for a statistical minority (all things being equal - 1 in 1461 people) to step forward and describe their birthday plans two months in advance.
2007.12.28
Saving in slow motion
15.52.34 - Mark
It's been a years since I've had to wait on Photoshop for long periods of time to process a single command, but I've wasted an hour waiting on it to just between the save as and resize commands, which is insane since it only took about 90 minutes to stitch together. Maybe that's just a commentary on how large of files I'm working on, or maybe my old ibook g4 needs replaced...
2007.12.23
Bad Ratios
16.20.24 - Mark
As much as I love taking good photos, and happily spend time tweaking them in Photoshop, the rewards are cut short if you don't share the images. There are lots of ways to do this from in camera viewing to websites, to getting some decent quality prints made. I love this site, but good prints are far more useful. I've still got boxes and boxes of old 3x4 and 4x5 prints, and have walls decorated with enlargements I had made when I entered photography contests (some of which I really need to digitize)

As I've picked up my cameras again, I've started printing again. From at home printing on consumer level hardware - which despite what printer manufactures claim is wicked expensive and gives at best mediocre quality - to instant print kiosks and onwards and upwards to professional photo labs.

The thing is, the "standard" photo sizes are based off the aspect ratio of 35mm film (3:2) while nearly all digital cameras shoot 4:3, and many are starting to adopt 16:9 as a shooting option, if not the native sensor size. Most printing places recognize these and similar ratios (this isn't scientific, but I think the SOL point is is you want something narrower than 2:1), but these machines will refuse to print them correctly, and make stupid assumptions rather than ask the user how to handle each image. In a smallish sample I've had images condensed, expanded, and cropped, and only when I get it manually forced into zooming out is there a chance it will print correctly, and then I had to manually trim half an inch or more of white space off all four edges.

The real sad part is that everyone seems stuck with bad ratios and terrible metrics. The industry seems happy with it's standards and simply suggests digital photographers "plan to crop digital images". Should you find a printer who doesn't mind a different aspect ratio, they hand out DPI numbers that you'll need to meet, except it's hard to translate pixel counts into useful DPI numbers, since it's not the straight 1 to 1 ratio many people claim. Depending on print method and inks used you might have half a dozen dots working to represent the color value of a single pixel.

No wonder you can still buy polaroid 600 film...
2007.11.07
Law of Hollywood #22
18.12.39 - Mark
All remakes suck, it's almost a law of movie making, a corollary to the rule all sequels suck. Yes there are exceptions, but they're generally few and tend not to use a lot of the source material. They certainly don't start with classic examples of great movies either, so I'm really not looking forward to this news about a Day the Earth Stood Still remake, and I somehow doubt the monster that is Hollywood will stop making it if I start yelling Klaatu barada nikto
2007.11.04
Groundhog Hour
01.33.30 - Mark
Physically it feels like it's 2:30 am, but the United States Naval Observatory says it's 1:30am. Gotta love these damned day light savings time changes. The geek in me says cool, free hour, but the fact is it's useless.

While we may have started daylight savings time as a way of conserving energy use, today's society doesn't give a damn. Sure there's the green movement, but look at your average home, office, or school. Chances are you're using artificial light, unless you work outdoors in which case you don't need the government to tell you when to start working anyways.

Shifting around DST this year doesn't add anything to the case for DST either. In fact it probably shows how asinine it really is. I can't count how many devices have gotten fubared by the change, and for no useful reason either. We should have either not changed the time for DST (therefore not fouling up a bunch of devices that had the old dates preprogrammed) or simply get rid of DST (since any device that changes itself allows your to disable DST)

Finally, in our 24/7 world wide economy, I think people know how to make a schedule work for themselves. We don't need to mess with our clocks twice a year when not everyone does the same thing (DST isn't even universally accepted in the USA)
2007.11.02
Political Statements
00.37.41 - Mark
Normally I only rant about national politics, but in the upcoming elections I'm really focused on the local races. My experience has always been that local elections suck. Low turn outs and few races, but for some reason what would normally be a pretty quiet low turn out local election has become a furious wave of ignorance and lies (and a fair bit of namecalling). If you're willing to stretch the truth it's almost as entertaining as a Californian gubernatorial race. We might not have a stripper, but one of the candidates is a belly dancer.

Like California's races, majority of the six candidates for the three city council seats are so ignorant of what their powers would be that it's downright scary, and the few that seem to have a clue about what is involved in city government are proposing ideas that are either totally dangerous dangerous, or your average political promise of change to gain a few votes.

One candidate has proposed closing down a water plant when our surplus of water (even in the current drought conditions) is one of the city's strongest economic selling points, while another (the only incumbent) is proposing an economic development czar, someone who would likely just wine and dine potential employers, when we already have a competent economic development partnership.

At the candidates forum a few weeks ago, many of these potential leaders were under prepared, from not knowing what roles council members play in relation to other boards and commissions receiving city funding. All but one (who lost in a primary election a week later) didn't have any idea about a referendum that would appear on the same ballot they would (those comments boiled down to "I support schools" and "I don't support taxes").

The only thing more frighting than the politicians are the supporters. While it's a little hard to get good information out of either local newspaper, the blog that the Surry Messenger is running makes for some amusing comments, from allegations that candidate A is incapable of working, to regular comments that voting for candidate C is a vote for business as usual. They're demanding the city being in jobs, water prices get reduced, cancer be cured and world piece established. The citizens, just like the candidates have no idea where limit of the government lies. City councilmen don't author the budget, they don't bring in businesses, they don't have much say in big projects. They make formal proclamations and approve rezoning requests (after being advised by the city manager). Their big decisions are about what bagels to order or who makes the first closing remark at the biweekly meeting.

If these supporters put a fraction of the effort they're exerting to elect so-so candidates towards effecting actual change it wouldn't matter if a dog was elected. I'm fairly convinced that Government doesn't solve problems, people solve problems.
2007.09.23
Refuse to be Terrorised
23.41.39 - Mark
I was about to post Bruce Schneier's "Refuse to be Terrorized" essay on my Intersting Links Page, but I think it deserves a little more comment that I like to place with links. Despite what you maybe hearing from the Government or Media the Terrorists have won - our country is living in fear. Maybe not all of us, but enough of us that we regularly see articles about "hoax devices" in Boston, or the random racist woman who keep flights grounded for 10 hours while some non-white guy(s) get questioned by Homeland Security.

We now put up with invasive security checks at airports while some other screener is taking away all but 6oz of liquid, since someone decided Hydrogen Dioxide can be used to blow up airplanes.

Its insane with no end in sight. We as a nation need to move past 9/11 (we didn't use the Oklahoma City bombing as a righteous cause, we don't bring it up to win arguments like we do with 9/11), past our invasion of the middle, and strive towards building a country were we acknowledge legitimate security issues and address them rationally. We need to start living in the real world, and not in some fantasy land where a guy with a gun and a cell phone can foil any terrorist plot (or three) you can throw at him while dealing with personal issues all in 24 hours

Just stop being afraid.
2007.09.20
Grindhouse
23.29.38 - Mark
There aren't that many movies that I want to see in theaters anymore, too many horror movies trying to induce involuntary bowel movements, tired parodies of those horror films, and cheesy comedies that while they might not be bad, they're not $10 price of admission good either, however I really wanted to see Grindhouse in theaters. Unfortunately for me the local cinema axed it after a week and I couldn't quite bring myself to driving around 3 hours to see a movie that was 3 hours.

Time passes and movies come to DVD, and yesterday Netflix provided me with a copy of disc 1 of Grindhouse Presents, Death Proof. I liked it, it was fun with everything that was promised - well at least promised by Death Proof fast cars, good explosions, weird plot ideas, classic B movie turn off your brain and enjoy entertainment.

Too bad that the enjoyment of the movie is cut off by all the stuff the distributors left out. While I liked watching the movie, I was interested in Grindhouse because it was offing a whole package. Two movies, cheesy fake trailers, everything. They're trying to screw up this release in every way possible from the near non-existent theatrical release, splitting the damned thing, doing that annoying as hell "exclusively at blockbuster" deal, and overall trying to get customers to pay upwards of $100 to get the movie as originally intended ($25 for Death Proof, $25 for Planet Terror, and probably ~50 for super special un-retarded, trailers and everything edition you know they're planning on releasing). It's almost enough to make me want to go and DL a pirated copy of the theatrical version.
2007.09.14
Microrants
00.08.34 - Mark
Ubuntu's handling of network printing sucks. Apple has proven that network printing doesn't need to be rocket science, so how come a similar "User Friendly" Linux can't get it working without 5+ hours of research and working? It may get fixed after I update to the latest version of Ubuntu, but somehow, I doubt it.

Firewire is amazing, simply amazing. It's the ultimate multitasker when it comes to computer interfaces, handing every thing from printers and scanners to networking to video to mass storage (and yes, you could make random fans, lights and desktop missile launchers too, just like USB). Too bad Steve Jobs had to go and enforce a B**LSHIT trademark, pissing Intel off enough that they dumped Firewire in favor of USB, thereby making it the computer interface standard and dooming Firewire to smaller markets and higher costs. Thank you Steve Jobs. Now to find a IDE to Firewire adapter that doesn't cost more than $30.
---
---