2006.10.12
Video Games
11.13.47 - Mark
I'm curretly drooling over various MAME Cabinets, deciding if I can make an arcade cabinet that I would be happy with without blowing all of my limited funds on it.

That said, it was inevitable that I'd find some video game character quiz to distract me for a few minutes.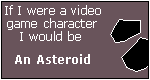 I am an Asteroid.


I am a drifter. I go where life leads, which makes me usually a very calm and content sort of person. That or thoroughly apathetic. Usually I keep on doing whatever I'm doing, and it takes something special to make me change my mind. What Video Game Character Are You?