2008.01.14
Test Prints
23.23.23 - Mark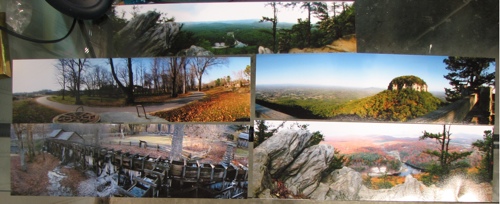 I've been wanting some high quality sample sized prints of my panoramas for a while, but between the inflexibility of non professional photo labs (read: big box store photo kiosks) and some technical stupidity on my part (said photo kiosks don't understand CMYK color, and for some bizarre reason that's what photoshop saved the samples as) but I've sorted out the details and had these printed off as two 8x10's (I'm just waiting for walmart to claim I'm ripping off a professional photographer)

I've also got a small order for large prints at snapfish, but that's because the price was right (40% off). I'm unsure of the quality however. I had problems sending off high resolution files, and they specialize in cheap so we'll see how they do when that order shows up in a week or so...
2008.01.07
Icicles at Mabry Mill
21.48.21 - Mark
This panoramic was a total pain in the ass, from being so cold the day I took the image series, my fingers went a bit numb, to taking forever to save when I was editing. Not to mention having to digitally edit out another photographer I was shooting with or the fact that it wasn't exactly being level when I stitched it together (hurray for the measuring tool and rotate canvass commands in Photoshop).

Despite being a tough photo to assemble, I love it. The icicles dripping off the waterways to leaves on the ground, the old buildings matching the leafless trees. Just beautiful. I'll be printing up a couple of these when I get around to ordering some large prints.



Icicles at Mabry Mill
View Medium (3677 x 1024) Suitable for looking at icicles.
View Massive (8848 x 2464) Suitable for counting the boards on the drying rack in the background.
2007.12.29
In over my head
21.40.56 - Mark
Despite my copy of Photoshop resisting work by moving as slow as possible I'm slowly working my way though the mass of photos I've taken this month, and I'm developing a backlog of images I want to put online, and it's going to grow some more when I feel like dealing with photoshop again.

On a similar note I'm getting closer to ordering some large prints (eg bigger, or at least wider, than those 8x10's you pick up at the 1 hour photo booth), in case anyone out there is interested in getting a nice print of one of my photos while kicking a few coins in my direction. Comments are fine, but there's also a contact form on the goodies page



Lovill Creek, Mount Airy
View Medium (3677 x 1024) Suitable for looking at river rocks.
View Massive (9569 x 2665) Suitable for looking at water droplets on river rocks.
2007.12.23
Bad Ratios
16.20.24 - Mark
As much as I love taking good photos, and happily spend time tweaking them in Photoshop, the rewards are cut short if you don't share the images. There are lots of ways to do this from in camera viewing to websites, to getting some decent quality prints made. I love this site, but good prints are far more useful. I've still got boxes and boxes of old 3x4 and 4x5 prints, and have walls decorated with enlargements I had made when I entered photography contests (some of which I really need to digitize)

As I've picked up my cameras again, I've started printing again. From at home printing on consumer level hardware - which despite what printer manufactures claim is wicked expensive and gives at best mediocre quality - to instant print kiosks and onwards and upwards to professional photo labs.

The thing is, the "standard" photo sizes are based off the aspect ratio of 35mm film (3:2) while nearly all digital cameras shoot 4:3, and many are starting to adopt 16:9 as a shooting option, if not the native sensor size. Most printing places recognize these and similar ratios (this isn't scientific, but I think the SOL point is is you want something narrower than 2:1), but these machines will refuse to print them correctly, and make stupid assumptions rather than ask the user how to handle each image. In a smallish sample I've had images condensed, expanded, and cropped, and only when I get it manually forced into zooming out is there a chance it will print correctly, and then I had to manually trim half an inch or more of white space off all four edges.

The real sad part is that everyone seems stuck with bad ratios and terrible metrics. The industry seems happy with it's standards and simply suggests digital photographers "plan to crop digital images". Should you find a printer who doesn't mind a different aspect ratio, they hand out DPI numbers that you'll need to meet, except it's hard to translate pixel counts into useful DPI numbers, since it's not the straight 1 to 1 ratio many people claim. Depending on print method and inks used you might have half a dozen dots working to represent the color value of a single pixel.

No wonder you can still buy polaroid 600 film...