2009.12.24
Making Shortcuts
21.25.53 - Mark
Recently I've been helping on putting together a couple websites for a couple local businesses, one as a hired web developer, the other where I'm somewhere between being a website advisor and lowly website janitor (which is a needed site but has been a mess for 9 months and counting). So while I may or may not be the code monkey on both these sites, my skills as a decent photographer have been called on for content.

However both these projects piled up to a couple hundred images needing some tweaks or edits in photoshop, and generally not the changes that a batch process would do without mistakes. I didn't even have a problem with doing this work, 95% of those changes were easy, and the rest were fun little challenges. My problem was the lack of keyboard shortcuts for most of the tools I was using in Photoshop.

Some I could understand not having shortcuts (same tool in several places), others unused enough to not receive one, some merely annoying to a Mac user due to Adobe's universal standards, and on top of the fact that lots of people don't seem to use shortcuts other than copy, paste, print and save. So I just whispered curses over my lack of shortcuts.

What I missed however was being oblivious. I've tweaked Photoshop's preference settings for almost as long as I've used it, and never in it's preference setting area did it have anything about controlling shortcuts. However the other day I found a little link to one of Adobe's blogs about how they're Doing the right thing with Cmd-H for us Mac users. Mostly the write up talks about how CS5 will make Photoshop a little easier for the user to make it a bit more OS friendly. It also talks some about why it's been avoided for so long.

Since I'm still hacking away with CS3, the changes in CS4 and the upcoming CS5 don't matter a lot for me (at least not yet...), but within that write up a little gold nugget hit me just right (my emphasis):


With regard to Cmd-H, Photoshop's keyboard shortcut editor has long made it possible to assign Cmd-H to hiding the app. Doing so takes just a few seconds, yet many people are unaware of this or unwilling to invest the time.
While some of the shortcut combinations (both the ones given and the ones you can create ) can be a bit big and cumbersome, they're a hell of a lot nicer than reverting to nothing more than moving around the mouse and clicking like crazy.
2008.03.17
Frankenphoto
22.44.26 - Mark
I was shooting photos out at Hanging Rock State Park last week, taking a few panoramic series, a handful of HDR sets, long exposures of waterfalls and similar stuff. I also started experimenting with Vertical Panoramas and sets that involved a little more than just the x-axis. One of the sets I took was coming up to the main rock face of Hanging Rock Mountain itself, and for lack of a wide angle lens (or a DSLR that can take a wide angle lens) I took about 40 photos trying to get the whole mountain. Now not wanting to try and stitch it together myself, last night I opened up the files, told photoshop to stitch them together itself (something I don't do on my regular panoramas) and let it do it's thing.

Now I've already discovered that Photoshop CS3's photomerge function doesn't do vertical merges well on it's own, so I finished up the last few chapters of The Anansi Boys checking to make sure it could handle the set before going to bed. It didn't spit up any errors so I let it work into the night, and when I woke up I found it showing off a pretty distorted, and absolutely massive stitched pano, in addition to a few system error messages that were effectively screaming for more RAM.

The 14172 pixel wide by 30634 pixel high image is so big, Photoshop is incapable of saving it as a photoshop file, let alone a jpeg. The only way I could feasible save it was a 3.91GB tiff file, that takes 30 minutes to open on my 1ghz ibook.

I'm in the process of downsizing the file to a more manageable 10000px high, but at the rate photoshop is going it may be a couple hours. Until then, here's a screen shot of the monster photo.


2008.02.28
Photo Chaser
23.41.09 - Mark
After yesterday's long essay you just want something simple to look at, and since I haven't been posting many photos here recently (hint: I've been posting to my flickr account) I figured I'd throw up this one from last week's lunar eclipse. I had been hoping to take this series with the moon traveling to totality over pilot mountain, but being cold, windy, and insanely cloudy that didn't happen. There was about an hour reprieve in the cloud cover however, which let me shoot a couple dozen photos of the moon, from which I picked the 7 best and blended them in photoshop to create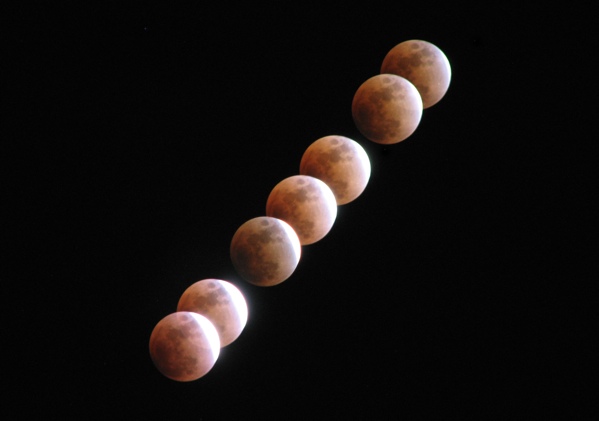 2008.02.27
Atopsy of a Photoshop Demo
01.08.26 - Mark
Photoshop is a tricky program, I've been using it for years and I'm still learning stuff. Part of the problem is how massive it is, part of it is your numerous options for doing any one trick, even the level of customization it offers and then there's the lack of a "right" answer when you edit a photo. Those elements are why it's such an indispensable powerful, and praised program. It's also why it's a real bitch to teach.

The question quickly becomes where do you start? Do you do an overview of the tool pallet, talk about the info and layer boxes? Attack the menus? Memorize hot keys and command strokes? Or do we assume the learner can figure out the icons and run though the concepts behind the program and go over darkroom technique? Or should we plunge into the deep end and tackle photo manipulation? Classrooms, demonstrations, books, websites, and adventurous individuals have all tackled these questions and there's no one answer, just like everything photoshop.

I've been playing with some of these questions for over a month now, since my local photo club asked/drafted me and another photoshop user to do some demonstrations tonight, and I'm thinking about what i did right, and what I fumbled on.

Lesson one: Plan on getting there early, then show up even earlier than you planned. At the very least you're going to need to drop files to the computer you're using. If they're big files, and the system can handle it open them up in advance. That's why you get there early. The reason you show up earlier than that is the technical snafu you're going to face. Murphy loves photoshop demos. If you're using a projector, check the screen resolution and calibrate the thing - don't trust the display profiles. Photoshop needs a lot of screenspace and not all projectors adapt well. And if you're using photoshop and don't know why you calibrate the colors on your display, I'm sorry but I can't help you - go back to Microsoft Paint, you'll be much happier. Then there's everything else you may need to fix, from scratch disks to mouse tracking. It sucks when you have to do a half assed fix in the middle of the presentation, especially if people start throwing out suggestions

Lesson two: Have files prepared in advance, have a cheat sheet prepared in advance, have talking points prepared in advance. Multitasking is hard. Multitasking two tasks that both require a large part of your attention is near impossible, and despite what you may think about instruction, to do it well you need to concentrate on what you're saying/doing and how the audience is reacting to what you're saying /doing. As for photoshop, you'll be juggling hot keys, menu locations, and the image files themselves around in your head. Even if you know that you want to hit V to bring up the move tool, B for the brush, and E for the eraser and [ or ] to scale the tool sizes, the audience doesn't know that and you'll be working magic while the audience is 10 steps back. Or you'll be trying to talk while drawing a vector path and completely blank on the modifier key you need. Help yourself. Prepare the files and notes in advance then use them.

Lesson three: Practice, Practice, Practice. Yes, you know how to use photoshop, great. You probably know how to talk too. But would you give an important speech without practicing it a few times? I didn't think so. Using your prepared files and notes run though the demonstrations a few times. You may feel like you're going nuts, and you may well be, but practice the steps working with your files. Take a break and go postal if necessary but you need to practice with the files you'll be using.

Tip one: Have a few prepared ideas. That means more than one The one thing I'm really glad I did the way I did was I had three things to sets prepared. Stitching a panorama, creating a dynamic range increase photo from two exposures, and using paths and layer masks to remove the background. That's two more than I had been planning on, and ended up being one less than I needed. If I only had one of those prepped I would have flopped bad and the demo would have gotten tedious for everyone involved. By having three distinct demos ready I got to run though several concepts and was able to impart some of my knowledge, and hopefully a skill onto everyone there - from the "I don't own photoshop" guy to someone who's taken a class. It also gave me a degree of flexibility to improvise.

Tip two: Expect to improvise, and be able to improvise. Stealing one from the teaching textbooks the time when anyone, young or old, is most receptive to learning is when they're asking questions. Unfortunately that's probably the one time you're least able to teach. That's why some teacher's hate questions, and other's love them. Shortly after I arrived I was asked if I could show how to put in "ghosts" of people into a landscape. I didn't have a photo of people but because I knew how to do it a couple of ways I figured something out (a giant ghost of a cellphone floating over a greenhouse) and got to make some good points about photoshop. Thank you improvisation.

Tip three: Advanced tools for the experienced, fundamental concepts for the beginners. As pointed out above I had the whole range of photoshop users in the audience, and my demos were intermediate and up, but a lot of the concepts were on the face pretty simple. How do you make a selection? You've got the selection tools in the tool box, but let me show you the paths tool, which we can use to get better results... How do you remove the background? You could use the eraser, but that's a destructive method, and you'll loose all that extra information when you save the files. Let's use a layer mask instead, that's nondestructive. The seasoned pros get a how to on using the tool, the beginners get a better understanding of the tools and why they should ramp up their skills, and you have something to talk about when you're trying to remember what modifier key you need or why that menu item, which should be working, isn't working.

Tip four: Final product, in advance because you're not getting a good copy from the demo. Have your final product ready and separate from the demonstration files. The middle of a demonstration is not the time to be indulging in perfectionist tendencies so you will not get a good example of a finished product unless you're stupid (ignoring the audience) or lucky (self-explanatory). Your target is "good enough" because your focus should be on your audience as much as possible. If you're trying to decide if the red output level needs to be 240 or 230 your attention is not on the audience. Show them the extremes then settle in on a happy medium and move on to the next step. If you don't like that idea, have those numbers in advance so you can plop them in as needed.

Tip five: Don't worry too much, unless you're out of your league. Chances are if you're doing a demo you know what you're doing, and it's a good bit more than the audience, so don't get too hung up on your screw ups. If it's really bad they'll correct you, if it needs repeating they'll ask (just make sure to let them know questions and comments are welcome when you start) if you're moving too fast there's a better than good chance that they will let you know before their brains shut down from information overload.

Last tip: Have fun, and find your own way to teach. Seriously.What worked for me may or may not work for you. This has just been my thoughts on what I did right and what I needed to improve on when demonstrating photoshop. Just like people learn best in different ways, people teach in different ways. If you've got the skills to teach find a way you can share that knowledge and get to it. Maybe you can prepare an insanely good pdf howto, or maybe you can create a kick ass video series, or maybe its one on one tutoring.
2007.12.29
In over my head
21.40.56 - Mark
Despite my copy of Photoshop resisting work by moving as slow as possible I'm slowly working my way though the mass of photos I've taken this month, and I'm developing a backlog of images I want to put online, and it's going to grow some more when I feel like dealing with photoshop again.

On a similar note I'm getting closer to ordering some large prints (eg bigger, or at least wider, than those 8x10's you pick up at the 1 hour photo booth), in case anyone out there is interested in getting a nice print of one of my photos while kicking a few coins in my direction. Comments are fine, but there's also a contact form on the goodies page



Lovill Creek, Mount Airy
View Medium (3677 x 1024) Suitable for looking at river rocks.
View Massive (9569 x 2665) Suitable for looking at water droplets on river rocks.
2007.12.28
If you bend your neck just right...
22.44.00 - Mark
This screenshot is an example of why you should use a tripod when making panoramic photos, but I'm not that good at taking my own advice. With a couple of exceptions most of my panoramic photos have been done by hand, but that's because I don't have a tripod I like that works well when the camera is in portrait mode. The tripod stabilized sets are pretty good about being level or close to it (angles under 2 degrees). My hand held shots tend to drift around 5 degrees, but this one is angled at 11 degrees partially because I'm shooting from above. I'm pretty sure I can save it tho' photoshop is a wonderful tool.


Saving in slow motion
15.52.34 - Mark
It's been a years since I've had to wait on Photoshop for long periods of time to process a single command, but I've wasted an hour waiting on it to just between the save as and resize commands, which is insane since it only took about 90 minutes to stitch together. Maybe that's just a commentary on how large of files I'm working on, or maybe my old ibook g4 needs replaced...
2007.10.24
Dynamic
18.49.20 - Mark
I've been wanting to play with High Dynamic Range photography for a few months now. Every once in a while I put my Canon S3 into exposure bracketing mode and shoot a few sets, and when I get motivated I try out some software that merges them. At that point I normally get frustrated when I don't get results like I've seen in the HDR flickr group, and then table the idea again.

At least now I'm getting to the point where I'm starting to understand how much more there is to HDR photography than simply taking a series, merging them, and admiring the results. I spend over a couple hours working though HDR tutorials and playing with images in Photoshop last night, but the results I got illustrate the point.



Left: Average exposure from camera. [View Fullsize]
Center: HDR image created with Photoshop CS3's Merge to HDR feature. [View Fullsize]
Right: HDR image created manually in Photoshop CS3 (following this tutorial) [View Fullsize]
The pictures are from
The Cathedral of Saint John the Baptist
in Savannah, GA. I've got a couple more HDR sets from the church, but I may try out some more local scenes first. I think I want to try and match what I can actually see before I use HDR for surreal effects.
2007.09.17
Me2
08.31.46 - Mark
So it's late, you get bored, you have a little technology and next thing you know you've cloned yourself...

Actually I was helping a friend figure out how a photo was taken, and got sucked into the DIY approach. Fairly simple, take multiple photos of the subject, add each image to a new layer in Photoshop, align them, then mask off or erase unwanted background in each image (except the base image). Little more detail, and a lot of example can be found in this Flickr discussion thread. All I have to say is you have got to love the power of Photoshop.
2006.01.26
Photoshop Doodles
01.44.01 - Mark
My brother needed some scans and light photoshop work done on a couple drawings he pencil traced / inked from photos he found online, and while I don't care about pop culture figures like Paris Hilton and Joan Rivers, I started doing some colorization on the scans. I spent about an hour kicking them around photoshop colorizing and smoothing the edges. I think they turned out extremely well. I might need to try my hand at some more.