2010.09.16
Old Meet Older
17.40.51 - Mark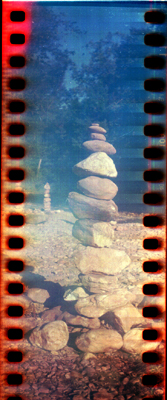 A couple weeks ago, I was bored and was taking another look at an old Kodak Jiffy Six-20, and was, for a while, looking for a way of acquiring some suitable 620 film and a way of getting it recycled. The 620 film is out there, but $10 for a single roll is a more than I'd care to pay for a camera made in the 1930s and certainly hasn't been used in at least 20. However a little side tracking on Google and I stumbled across a a little how to use 35mm film in a Holga 120 page, and posted that link here. Having read that 120 film and 620 film were extremely similar - particularly that 120 film can be re-spun for 620, the idea of cramming a 35mm roll of film into the old Jiffy appealed to me. It would be cheap, I could do it immediately, and, if I could somehow scan the image, could get some neat results.

So I quickly dug around the house and found some old expired, but unused roll that sure enough, could be jammed in. Another hunt for a plastic bound manual, electrical tape and a knife and soon enough I was ready to shoot some photos.


The question was where. At first I felt the yard would be sufficient, but soon chose to ride my bike out and revisit some of my preferred photo walking locations. Within an hour I had spent my roll and took it home. Once it was dark I cobbled together a "darkroom" and stumbled my way though opening the Jiffy, unbuilding my clicker, and re-spooling the film. The next day, I took it into a 1 hour photo lab.

Of all my mistakes, the lab was the biggest. I hadn't spent the time to not have them attempt to print it, nor did I request they did not cut the film into lengths. While I've trusted that lab with digital prints, I suppose it was too much to assume they would look at the exposures themselves. Their equipment was obviously geared for the traditional 35mm frame shots, not near panoramic exposures. The mistake was free however, with useless prints I was allowed to skip the prints and keep the negatives for free.

A week later I met up with a friend to see about using a higher quality film scanner he had acquired for digitizing his medium sized camera negatives. A little playing around, and I was able to "save" a few exposures from expired film, mangeled in processing, and all shot in an antique camera in the hands of a photographer who hasn't really shot film in over 5 years. The technique has some potential.

I think I'll be doing it again.

Photo Left: Stacked
Photo Right: Four Columns
2010.03.29
Inked all over
23.27.32 - Mark
Last week I posted Inking, part of it my history with screen printing shirts, part as attempting a short timelapse video of preparing the negatives for a few screens on some vellum paper. Aside from my own screw ups, the the DIY Screen Printing Instructable was a good resource I used though the entire project. However if it's your first attempt, don't start with your favorite project.

The first of the four screens I did ended up with a lot of pinholes in the screen's mask after washing it up after exposure. I was also stupid enough to ignore the pinholes and do a test print.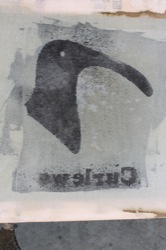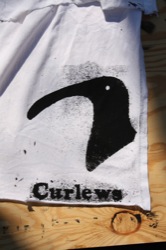 A small art-style paint brush and more of the photo emulsion goo I was more or less able to remove the pinholes with a couple passes. Once it was done I started preparing the other three screens. However these I either spread on the wrong amount of goo and fell though, or the goo had been partially processed with light and didn't expose. In either case I only noticed it after I checked the dried screens, and the holes were too great to bother repairing, so they all got a heavy bleach water wash and a fresh round of photo sensitive emulsion (this sort of screw up and I was extremely pleased with using the homemade mix of Potassium Dichromate and Elmer's Glue instead of buying commercial products.)

The second batch worked and I applied the art, then set off to printing, and learned another lesson (or three).

First don't print them by yourself. In the past, I didn't print more than one or two on my own. I either paid for a company to do the prints or worked with a friend to make the prints. In this case I did 36 prints (9 of each screen), and it would have gone a lot faster if I had an extra set of hands to handle either the fabric or manage the screen and ink.

The other lessons would be a good workplace with good tools. Since I didn't have a table that could be used, and raining like crazy outside, I made the prints on the floor. Works well enough for small runs, but as many prints as I did it wasn't comfortable. Same sort of goes with tools. While the kit I had / made was fine, I needed the ink to dry before I could stack it. Without suitable shelves the "solution" I should have worked on setting up a drying rack or a heat treating system. C'est la vie.

Despite all these problems and lessons, and a couple mistakes on the flags I was printing, all 36 are good enough to use, since the friend who asked me to do all this work was half expecting to loose 5 or 6.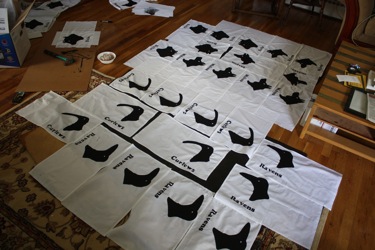 2008.03.17
Frankenphoto
22.44.26 - Mark
I was shooting photos out at Hanging Rock State Park last week, taking a few panoramic series, a handful of HDR sets, long exposures of waterfalls and similar stuff. I also started experimenting with Vertical Panoramas and sets that involved a little more than just the x-axis. One of the sets I took was coming up to the main rock face of Hanging Rock Mountain itself, and for lack of a wide angle lens (or a DSLR that can take a wide angle lens) I took about 40 photos trying to get the whole mountain. Now not wanting to try and stitch it together myself, last night I opened up the files, told photoshop to stitch them together itself (something I don't do on my regular panoramas) and let it do it's thing.

Now I've already discovered that Photoshop CS3's photomerge function doesn't do vertical merges well on it's own, so I finished up the last few chapters of The Anansi Boys checking to make sure it could handle the set before going to bed. It didn't spit up any errors so I let it work into the night, and when I woke up I found it showing off a pretty distorted, and absolutely massive stitched pano, in addition to a few system error messages that were effectively screaming for more RAM.

The 14172 pixel wide by 30634 pixel high image is so big, Photoshop is incapable of saving it as a photoshop file, let alone a jpeg. The only way I could feasible save it was a 3.91GB tiff file, that takes 30 minutes to open on my 1ghz ibook.

I'm in the process of downsizing the file to a more manageable 10000px high, but at the rate photoshop is going it may be a couple hours. Until then, here's a screen shot of the monster photo.


2008.03.11
Submitted Photos
19.48.42 - Mark
Two days, two different papers, 3 or 4 published photos (the forth was one I may have taken, but with someone else's camera) all with a "submitted photo" credit which I hate, especially since some of them are published online, but it's better than wrong credit (which one of the paper's did). The reproduction isn't as good as it could be either. Still it's publication which is nice in a way.

All the photos are scouting related but they're good photos for a paper. e.g. They're not line-'em-up-against-a-wall-mugshot type pictures which most people submit to newspapers, well one is but I wasn't in charge of that set up and I at least got something other than a face forward angle. My only real gripe with trying to take photos with the goal of newspaper publication is getting names. As soon as you start taking names people start posing or running away, or think you're with the paper, or think that because you're taking names they'll automatically be in the paper. When I do that it starts becoming work (usually unpaid and unjustified work) and stops being "just fun"

Anyways, here's two of the published photos: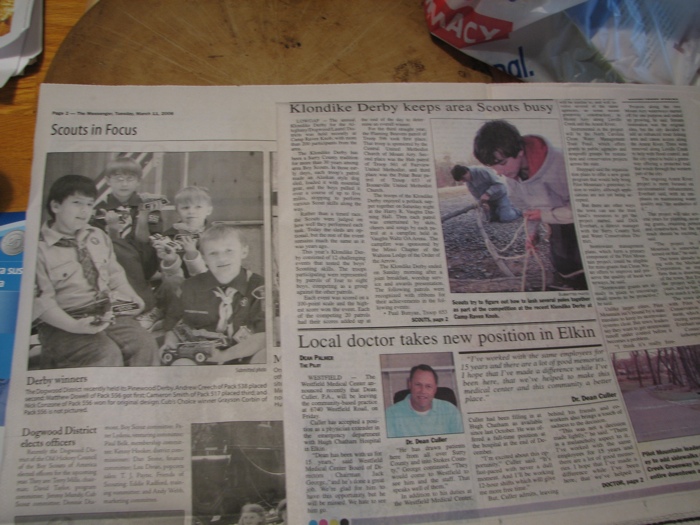 Left: Cub scout Pinewood Derby Winners in Tuesday March 11th's Surry Messenger (page 2).
Right: Boy scouts lashing poles together in Monday, March 10th's Mount Airy News (front page) Large version
2008.02.28
Photo Chaser
23.41.09 - Mark
After yesterday's long essay you just want something simple to look at, and since I haven't been posting many photos here recently (hint: I've been posting to my flickr account) I figured I'd throw up this one from last week's lunar eclipse. I had been hoping to take this series with the moon traveling to totality over pilot mountain, but being cold, windy, and insanely cloudy that didn't happen. There was about an hour reprieve in the cloud cover however, which let me shoot a couple dozen photos of the moon, from which I picked the 7 best and blended them in photoshop to create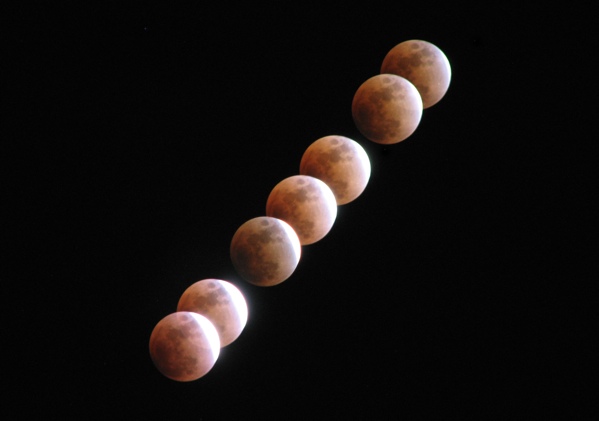 2008.02.05
Free Flowing
23.56.18 - Mark
For a while I was doing a good job of posting something daily, a link, a movie review, a post - something. Then the weekend came and I dropped off the interwebs while I went to Raven Knob and spent the weekend in good company wandering around taking photos and having fun.

I didn't ever realize it but I was in need of a recharge. Even if things seem slow it's amazing how crazy life can get, between hobbies, projects, and the information overload that is the modern era. A weekend unplugged and a couple more days mostly off-line does wonders for the body and soul.

I think the early morning hike Sunday morning was the key. There's nothing like an cool morning (or late night) hike though woods almost entirely untouched by civilization. Particularly when the trip includes climbing around a beautiful waterfall taking long exposure photos.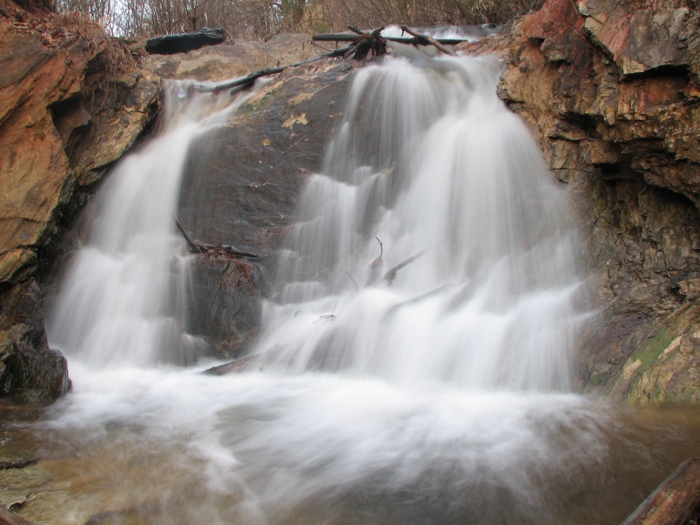 2008.01.31
Icy Mountain
00.42.39 - Mark
I saw a comment online today (and I forget where) wondering if High Dynamic Range Photography was cheating or cheesy. I don't think either is a fair statement. Yes if you browse flickr for HDR photos then yes there's a lot of dreak - ugly over processed uninteresting photos, which, yes, probably fall into the cheesy category quite well. On the other hand, there's also plenty of well composed, planned out, carefully executed HDR stuff that is excellent. Yes, you can achieve some of the same results with simpler methods, but sometimes you can't. I've spent 20 or 30 minutes playing with HDR files trying to get great results, only to give up and turn to a single exposure that captured the shot just as well (and with out the signs of post processing)

The nice thing about HDR, and maybe one of the reasons that it's caught on, is that its a software problem and not a hardware one. What I can do in camera with my S3, and do well enough for printable results is limited compared to what a high end DSLR with premium optics and a full frame sensor can do in camera. HDR by merging and blending images lets you extend past what you can do with the camera hardware. Layer stacking is a similar example. Is it "cheating"? Only if you want to be a stuck up prick and call it that

A photographer who knows what they're doing can produce great images with any camera they arm themselves with - it doesn't matter if they made it out of a shoebox, electrical tape, and a pinprick, or if it's an example of precision European engineering. The tool is only as good as the user, and I suspect that there are a lot of people that skipped Photography 101 before buying a DSLR. These same people, who tend to argue that the cameras they buy are smarter then they are, are out there seeking out ways to take cool looking photos and the wide ranges allowed by HDR makes an easy target (as a guess these people also lean towards the overuse of photoshop to correct their photos)

It's kind of like "Grunge" graphic design. Some people did it well and created some amazing work, and then a slew of imitators popped up and were imitating without any foundation knowledge of what they were doing and drove the style into the ground. It's not the technique or style's fault that it's misused/overused/horribly distorted, it's the "artist's" fault.

Or we could just incite the long tail and agree that these things will find their own markets. Some people obviously like extreme HDR work with little scraps of reality clinging onto the image, while some people will use it to good effect, and others still will hold true to conventional photography or other random techniques.

Personally, I'll still shoot what I think is fun, and what I think will work, and when things turn out well I'll continue to post them here or on my flickr account and be satisfied. Speaking of HDRs: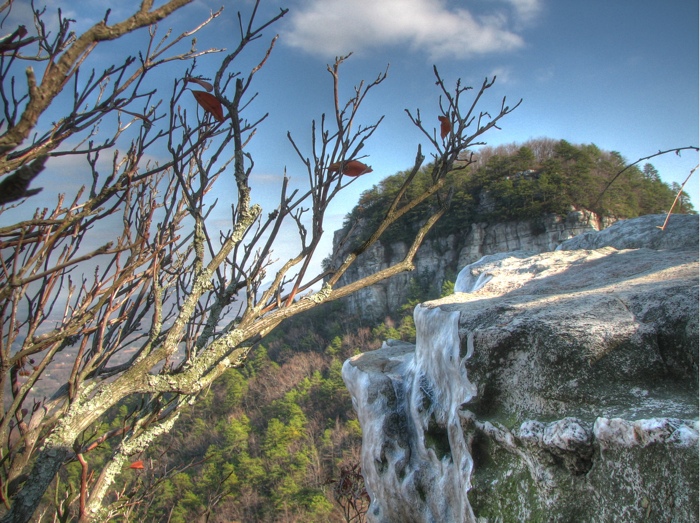 Pilot Mountain back in December. It's only been in the last few weeks that I've sat down and processed a large chunk of photographic back log, and part of that was getting a copy of photomatix to use instead of photoshop's HDR tools (which aren't that nice) or layer masking and blending (which is what I had been doing to decent effect) This one is a photo that wouldn't have worked nearly as well as a single exposure.
2008.01.25
Night Pilots
00.16.11 - Mark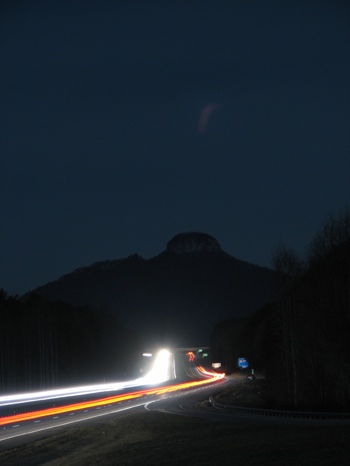 I've been meaning to try and do some long exposures with traffic for a long time, but Monday night coming back from the Piedmont Photography Club in Winston-Salem Monday night there was a full moon, so on my way home I pulled off onto an overlook of Pilot Mountain and took a few 15 seconds exposures. Some of them I'm going to try and blend, some are alright as standalones. The 15 second maximum exposure of my S3 really isn't enough to do really great long exposure photography, but it's sort of workable. Still it's one of those limits I've been really running into lately. I know that you can take great photos with a homemade pinhole camera and all that, and I'm still really happy with the Canon S3's (Hell, I've bought two of them, and I've sold 3 friends on them, 4 if you count the asshole that stole my first one) but I can think of a lot of cool things I can do with a DSLR I can't do with what in the end is still a point and shoot.

2008.01.17
Lines in the Gardens
20.35.32 - Mark
Taking Pictures of gardens in the winter time tend not to yield the best results. Dead things but their very nature don't photograph well, but one thing I really like about this image is being able to see the way the walking paths merge and divide. I should probably trim up the right side some for symmetry, but I'll do that if and when I try printing it. I'm looking forward to spring when some of the plants start coming out of their winter stasis.



Lines in the Gardens
View Medium (4375 x 1024) Suitable for your High Definition viewing pleasure.
View Massive (11527 x 2698) Suitable for Excessive Definition viewing pleasure
2008.01.14
Test Prints
23.23.23 - Mark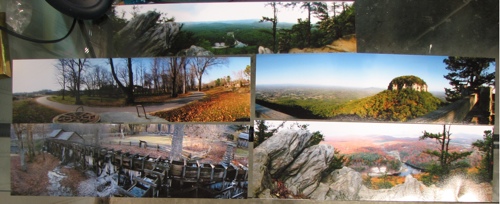 I've been wanting some high quality sample sized prints of my panoramas for a while, but between the inflexibility of non professional photo labs (read: big box store photo kiosks) and some technical stupidity on my part (said photo kiosks don't understand CMYK color, and for some bizarre reason that's what photoshop saved the samples as) but I've sorted out the details and had these printed off as two 8x10's (I'm just waiting for walmart to claim I'm ripping off a professional photographer)

I've also got a small order for large prints at snapfish, but that's because the price was right (40% off). I'm unsure of the quality however. I had problems sending off high resolution files, and they specialize in cheap so we'll see how they do when that order shows up in a week or so...
2008.01.10
More Natural
23.25.39 - Mark
I've been posting a lot of edited photos recently - panoramic photos, HDRs, things that needed correction in Photoshop. Here's a reminder that I can still take good photos that can be pulled right from the camera. I don't shoot a lot of wildlife photos, but I don't turn down a chance when it presents itself. Once of my favorite things to do it run out to Pilot Mountain, hike out to the eastern side of the mountain, lay down in the sun, and try to shoot the hawks that nest on top of the big pinnacle. This Heron was a fun, unexpected subject. He usually flys away whenever I have my camera, and I think he migrates south for the winter, but he hung around for a few minutes letting me take a few videos of him in addition to allowing me to shoot a bunch of stills before flying away (I posted an edited video of him a few weeks ago)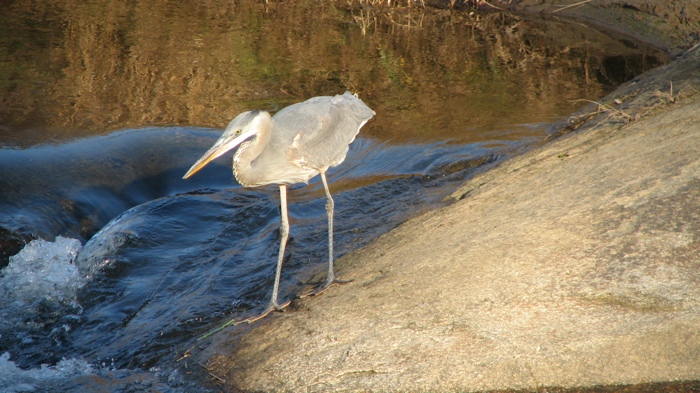 This panoramic was a total pain in the ass, from being so cold the day I took the image series, my fingers went a bit numb, to taking forever to save when I was editing. Not to mention having to digitally edit out another photographer I was shooting with or the fact that it wasn't exactly being level when I stitched it together (hurray for the measuring tool and rotate canvass commands in Photoshop).

Despite being a tough photo to assemble, I love it. The icicles dripping off the waterways to leaves on the ground, the old buildings matching the leafless trees. Just beautiful. I'll be printing up a couple of these when I get around to ordering some large prints.



Icicles at Mabry Mill
View Medium (3677 x 1024) Suitable for looking at icicles.
View Massive (8848 x 2464) Suitable for counting the boards on the drying rack in the background.
2008.01.02
Let's try this again.
00.45.56 - Mark
Every once in a while I get it in my head that I'm going to do something useful with my flickr account. This tends to result in a bunch of photos being uploaded over a day or two, followed by months of casual disregard. Its not that I don't like flickr, just that I was using the limits of a free account to justify not uploading there. I'm going to try and do better because I've now upgraded to a "pro" account, and I'm not a fan of wasting money.

I've been making it a pretty regular feature to post a photo on these pages, and that will continue since I like doing it, but this isn't a photo of the day sort of site. Life aggregator would be a good term since I've been posting the movies I've watched, the books I've read, and occasional links I think are worth sharing.

We'll see if this works. I love sharing photos, but there's that feeling that posting my stuff onto flickr helps flickr (and by extension, Yahoo) and not this site (and by extension, Me)
2008.01.01
Pilot from the Parkway
22.20.45 - Mark
Somehow I've been in North Carolina for over 5 years and have only really be on the Blue Ridge Parkway once despite being mere miles away. I'll be correcting that in the future. Still sorting out my mess of photos, but for now here's a HDR photo of Pilot Mountain from an overlook on the Parkway in Virginia.


2007.12.29
In over my head
21.40.56 - Mark
Despite my copy of Photoshop resisting work by moving as slow as possible I'm slowly working my way though the mass of photos I've taken this month, and I'm developing a backlog of images I want to put online, and it's going to grow some more when I feel like dealing with photoshop again.

On a similar note I'm getting closer to ordering some large prints (eg bigger, or at least wider, than those 8x10's you pick up at the 1 hour photo booth), in case anyone out there is interested in getting a nice print of one of my photos while kicking a few coins in my direction. Comments are fine, but there's also a contact form on the goodies page



Lovill Creek, Mount Airy
View Medium (3677 x 1024) Suitable for looking at river rocks.
View Massive (9569 x 2665) Suitable for looking at water droplets on river rocks.
2007.12.25
Holidays, Everyday
23.36.09 - Mark
It seems like no matter how long the shopping season gets stretched out, the holidays themselves get shorter, and people loose all perspective of the world. It's worth remembering that every day of the year should be spent doing something neat. Make something, seek out a new experience, help someone, or just make a complete fool out of yourself to make someone smile. No matter your faith or beliefs life is pretty pointless if you go around hating it, yourself, or others.

2007.12.20
White Water
02.19.43 - Mark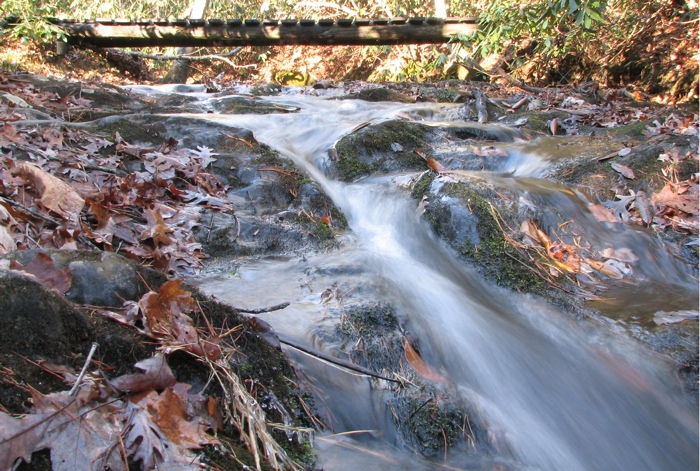 I've been taking a bunch of photos recently, I think over 1000 in 10 days, and enough to start tripping up my install of iPhoto. All of those photos will need sorted and a lot will need some significant post processing of some flavor (there are a number of HDR and panorama sets in that thousand) but I wanted to get this one up. It almost took more time to get photoshop up and running than it did to edit the photo so I don't feel too bad about throwing it up real quick. I'm half lucky the image turned out so well, it's a longish exposure and I was too lazy to use a tripod.
5 extra special bonus points if you can tell me where I took this photo (within ~1km)
2007.12.13
Down to Earth
16.35.31 - Mark
If you haven't guessed by now I'm having a lot of fun making panoramic images. I'm starting to move past cool vistas however, and starting to work on composition. This one is on the Greenway Trail that runs next to Lovill Creek in Mount Airy.


2007.12.11
Dear Midwesterners, Sorry
18.46.19 - Mark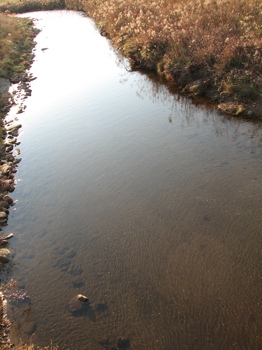 While the Midwest is getting slammed by a winter storm, I've spent the afternoon riding my bike around Mount Airy in shorts and a t-shirt taking photos of things that don't feel like winter. Although I wish winter would arrive in North Carolina. As nice as it is to be riding my bike in mid December, it's also weird. December is supposed to be cold.

I love to take photos in winter. As amazing as fall colors are, there's nothing quite like taking the camera out after a fresh snow, or taking some macro photos of branches and bushes after an ice storm and everything looks like it's encased in glass. Plus the sky never seems clearer than in the dead of winter. Unfortunately, I'm going to have to wait until the new year for much chance at winter photography. There's a 3% chance of a white Christmas (and there's a good chance that's very optimistic), and I suspect that those odds don't improve much the last week of December.
2007.12.08
From the Department of Lost Files
20.38.35 - Mark
I don't know why I didn't post this one back in August closer to when I took it, or when I ran it though noise reduction, but I was reminded of it while talking with a friend the other day. This pre-dawn photo of Raven Knob is one of my favorite pictures period (even if I woke up at 4:30AM to take it) and it's a shame that it's near impossible to make a good print of it, even after noise reduction, but it's still a treat to look at (it's one of the few photos I've slipped into my desktop images folder).

No flash, no lights, just a tripod, a near full moon to my back, and a 15 second exposure.


---
---