2008.01.17
Lines in the Gardens
20.35.32 - Mark
Taking Pictures of gardens in the winter time tend not to yield the best results. Dead things but their very nature don't photograph well, but one thing I really like about this image is being able to see the way the walking paths merge and divide. I should probably trim up the right side some for symmetry, but I'll do that if and when I try printing it. I'm looking forward to spring when some of the plants start coming out of their winter stasis.



Lines in the Gardens
View Medium (4375 x 1024) Suitable for your High Definition viewing pleasure.
View Massive (11527 x 2698) Suitable for Excessive Definition viewing pleasure
2008.01.14
Test Prints
23.23.23 - Mark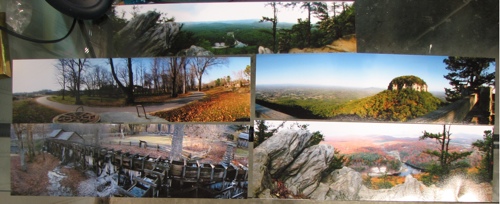 I've been wanting some high quality sample sized prints of my panoramas for a while, but between the inflexibility of non professional photo labs (read: big box store photo kiosks) and some technical stupidity on my part (said photo kiosks don't understand CMYK color, and for some bizarre reason that's what photoshop saved the samples as) but I've sorted out the details and had these printed off as two 8x10's (I'm just waiting for walmart to claim I'm ripping off a professional photographer)

I've also got a small order for large prints at snapfish, but that's because the price was right (40% off). I'm unsure of the quality however. I had problems sending off high resolution files, and they specialize in cheap so we'll see how they do when that order shows up in a week or so...
2008.01.07
Icicles at Mabry Mill
21.48.21 - Mark
This panoramic was a total pain in the ass, from being so cold the day I took the image series, my fingers went a bit numb, to taking forever to save when I was editing. Not to mention having to digitally edit out another photographer I was shooting with or the fact that it wasn't exactly being level when I stitched it together (hurray for the measuring tool and rotate canvass commands in Photoshop).

Despite being a tough photo to assemble, I love it. The icicles dripping off the waterways to leaves on the ground, the old buildings matching the leafless trees. Just beautiful. I'll be printing up a couple of these when I get around to ordering some large prints.



Icicles at Mabry Mill
View Medium (3677 x 1024) Suitable for looking at icicles.
View Massive (8848 x 2464) Suitable for counting the boards on the drying rack in the background.
2007.12.29
In over my head
21.40.56 - Mark
Despite my copy of Photoshop resisting work by moving as slow as possible I'm slowly working my way though the mass of photos I've taken this month, and I'm developing a backlog of images I want to put online, and it's going to grow some more when I feel like dealing with photoshop again.

On a similar note I'm getting closer to ordering some large prints (eg bigger, or at least wider, than those 8x10's you pick up at the 1 hour photo booth), in case anyone out there is interested in getting a nice print of one of my photos while kicking a few coins in my direction. Comments are fine, but there's also a contact form on the goodies page



Lovill Creek, Mount Airy
View Medium (3677 x 1024) Suitable for looking at river rocks.
View Massive (9569 x 2665) Suitable for looking at water droplets on river rocks.
2007.12.28
If you bend your neck just right...
22.44.00 - Mark
This screenshot is an example of why you should use a tripod when making panoramic photos, but I'm not that good at taking my own advice. With a couple of exceptions most of my panoramic photos have been done by hand, but that's because I don't have a tripod I like that works well when the camera is in portrait mode. The tripod stabilized sets are pretty good about being level or close to it (angles under 2 degrees). My hand held shots tend to drift around 5 degrees, but this one is angled at 11 degrees partially because I'm shooting from above. I'm pretty sure I can save it tho' photoshop is a wonderful tool.


2007.12.13
Down to Earth
16.35.31 - Mark
If you haven't guessed by now I'm having a lot of fun making panoramic images. I'm starting to move past cool vistas however, and starting to work on composition. This one is on the Greenway Trail that runs next to Lovill Creek in Mount Airy.


2007.11.30
Blue Skys
22.01.28 - Mark
The best part about living in a mountainous area is that there is no shortage of beautiful vistas. That said I'm sure I'll run out of stunning panoramic images. However that day is not today. This one was taken at Pilot Mountain a week or two before peak color, but there are a few trees that offered some color. I may crop this image whenever I get it printed (the left fence rail bugs me a little bit), but I'm having a hard time deciding where to make the crop, so for now I'm posting the cleaned up, squared off version.


A couple weeks ago I made my way up to Raven Knob for some fall photography. I was a few days late for peak color so a lot of the photos I took around camp don't have those stunning fall colors, there were a lot of leaves already down. I have a few photos that still have some great color (and I still need to play with them some in Photoshop) and I still got some beautiful photos, but hiking up to 1860 feet (give or take some elevation) gave me a stunning view of the area, in aggregate fall was still in full swing. This panoramic doesn't come close to doing the scene justice. I sat down on the rocks taking the view in for about 15 minutes before I even bothered unpacking the camera. I'll probably print up some copies of this image like I did the summer Raven Knob Panoramic but it's going to be a while before I order more panoramas, they're not cheap to print. Anyways, enough talk, no point in trying to create 1000 words when the image is worth more than that.



2007.05.22
Seeing the big picture
17.35.02 - Mark
Today's adventure in photography is panoramic photography. This is a photo of Camp Raven Knob (from the upper knob) that I've been wanting to take for years, but have more or less lacked the experience, tools, and skills to pull it off. That's changed - when I was at the local art council's photography club I knew one of the members had some experience with digital panoramas and asked for some tips after the meeting. The tips were take the photos on full manual controls, take the series in the portrait orientation, then stitch them together in Photoshop by hand - aligning them in layers, then using layer masks to smooth out sharp lines and other misalignments. I have to say that his tips worked out really well, and the results are worth the extra time and effort involved.

Here's the first stitched image, A 15 or 16 image series forming one horizontal row. It's not particularly well suited to serve as a desktop (unless your desktop is a flight simulator or you have 3 or 4 wide screen monitors as your workspace). I took a series with two horizontal rows, but I might try and get a 3 or 4 row series later on. I'll stitch the two row series together next, and if it turns out well that may make a better candidate for desktop images and prints. I also might have to dig around for some QTVR software and use one of the 360 series to make a panoramic movie. For now, I really want to make a panoramic photo into a poster, but I want to have the image first (then worry about finding a reasonably priced large format printer...)