2008.03.11
Submitted Photos
19.48.42 - Mark
Two days, two different papers, 3 or 4 published photos (the forth was one I may have taken, but with someone else's camera) all with a "submitted photo" credit which I hate, especially since some of them are published online, but it's better than wrong credit (which one of the paper's did). The reproduction isn't as good as it could be either. Still it's publication which is nice in a way.

All the photos are scouting related but they're good photos for a paper. e.g. They're not line-'em-up-against-a-wall-mugshot type pictures which most people submit to newspapers, well one is but I wasn't in charge of that set up and I at least got something other than a face forward angle. My only real gripe with trying to take photos with the goal of newspaper publication is getting names. As soon as you start taking names people start posing or running away, or think you're with the paper, or think that because you're taking names they'll automatically be in the paper. When I do that it starts becoming work (usually unpaid and unjustified work) and stops being "just fun"

Anyways, here's two of the published photos: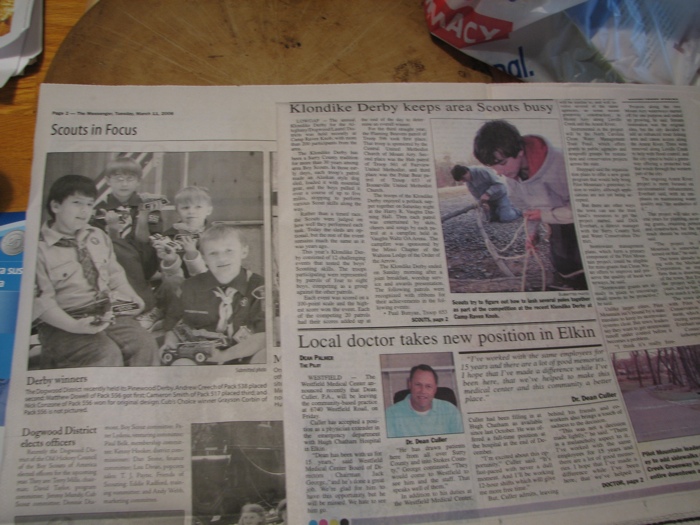 Left: Cub scout Pinewood Derby Winners in Tuesday March 11th's Surry Messenger (page 2).
Right: Boy scouts lashing poles together in Monday, March 10th's Mount Airy News (front page) Large version
2008.03.04
Backdated
14.59.16 - Mark
It's one thing to wonder why the newspaper industry is dying. It's another thing entirely to wonder why the newspaper industry is dying when a local 5-day daily can print a huge 1/2 page photo as the top half of the front page. Particularly when this half page photo is a week and a half old, poorly composed, no color correction, has a terrible headline, craptacular layout and no accompanying story, and the only information is in a 3 sentence long caption which implies that the photo was taken 3 days ago, not 10. Further more the lazy ass reporter/editor/photographer who "covered" the event was too lazy to stick around to get the conclusion of the event and report on the winners, or even use his 10 day window to do a follow up call.
2006.05.15
Local "News"
14.40.42 - Mark
There's a reason Local news paper's are suffering in the technology age, and its not just blogs and citizen media:




It's the fact that stuff like this is showing up on the front page of smaller newspapers. This example is the bottom half of the Mount Airy News' front page for Saturday May 13th. We have 1) a standard end of the year/spring brawl at a local high school 2) Information about a teddy bear "festival" where some shop will be selling $100 + teddy bears and 3) a primer on the history and origins of the Teddy Bear - as ripped off a corporate site and rewritten by some PR person in charge of the festival.

Earlier in the week the same local paper reported on how our city schools are in the "Top ten". They're not quite sure what the top ten list is for, but we're on it (and we're going to dismiss the fact that we're one of the worst school districts in the state - you know, go with the flow.)

Like I said, its not just citizen media that's bringing about the death of local newspapers.