2008.02.28
Photo Chaser
23.41.09 - Mark
After yesterday's long essay you just want something simple to look at, and since I haven't been posting many photos here recently (hint: I've been posting to my flickr account) I figured I'd throw up this one from last week's lunar eclipse. I had been hoping to take this series with the moon traveling to totality over pilot mountain, but being cold, windy, and insanely cloudy that didn't happen. There was about an hour reprieve in the cloud cover however, which let me shoot a couple dozen photos of the moon, from which I picked the 7 best and blended them in photoshop to create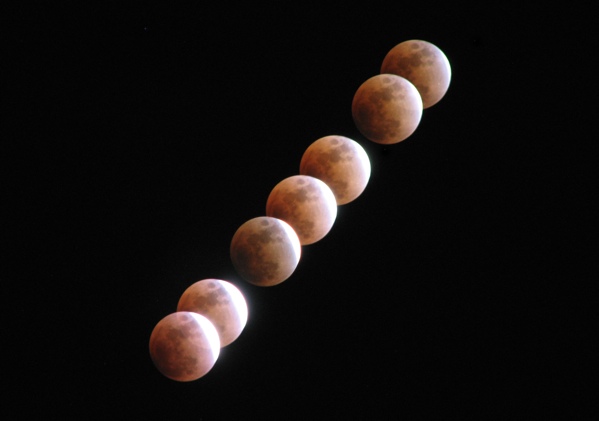 2008.02.05
Free Flowing
23.56.18 - Mark
For a while I was doing a good job of posting something daily, a link, a movie review, a post - something. Then the weekend came and I dropped off the interwebs while I went to Raven Knob and spent the weekend in good company wandering around taking photos and having fun.

I didn't ever realize it but I was in need of a recharge. Even if things seem slow it's amazing how crazy life can get, between hobbies, projects, and the information overload that is the modern era. A weekend unplugged and a couple more days mostly off-line does wonders for the body and soul.

I think the early morning hike Sunday morning was the key. There's nothing like an cool morning (or late night) hike though woods almost entirely untouched by civilization. Particularly when the trip includes climbing around a beautiful waterfall taking long exposure photos.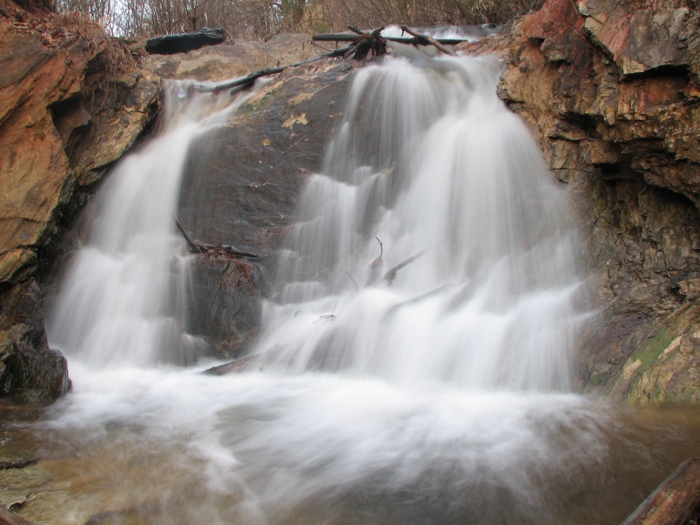 2008.01.10
More Natural
23.25.39 - Mark
I've been posting a lot of edited photos recently - panoramic photos, HDRs, things that needed correction in Photoshop. Here's a reminder that I can still take good photos that can be pulled right from the camera. I don't shoot a lot of wildlife photos, but I don't turn down a chance when it presents itself. Once of my favorite things to do it run out to Pilot Mountain, hike out to the eastern side of the mountain, lay down in the sun, and try to shoot the hawks that nest on top of the big pinnacle. This Heron was a fun, unexpected subject. He usually flys away whenever I have my camera, and I think he migrates south for the winter, but he hung around for a few minutes letting me take a few videos of him in addition to allowing me to shoot a bunch of stills before flying away (I posted an edited video of him a few weeks ago)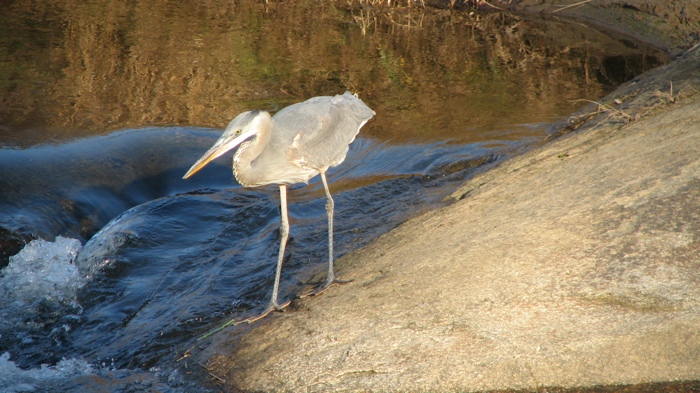 Somehow I've been in North Carolina for over 5 years and have only really be on the Blue Ridge Parkway once despite being mere miles away. I'll be correcting that in the future. Still sorting out my mess of photos, but for now here's a HDR photo of Pilot Mountain from an overlook on the Parkway in Virginia.


2007.12.25
Holiday Bird
09.57.14 - Mark
I can get lazy sometimes. When I was out and about taking photos two weeks ago (when it was 70 degrees and sunny) I ran across this bird who has a habit of showing up around the Greenway Trail in Mount Airy, I'm pretty sure it's a Great Blue Heron, but I'm not a bird expert. The herons (there are a few that like the creek) tend to show up when I'm either without a camera or they fly away before I can make a photo. For whatever reason this one wasn't disturbed, and allowed me to watch and record for about 10 minutes before moving on.

It took me a week to get around to editing to find some music I liked for the bird and edit together the video clips and photos I took, and then it's taken me an additional week to getting around to fighting with compression settings and file formats, so after all that time I'm finally getting around to posting the video as a sort of holiday gift. Maybe later I'll get around to adding some sort of flash player so you don't have to download my, anymore large, video files.

The music under my video is "Clouds Fly as I Smile" by SaReGaMa the Artist who released it under a Creative Commons Noncommercial Sampling Plus 1.0 License. My video (like most of my content) is CC Attribution Non-commercial 3.0.

The Bird (158MB 320 x 240 H.264 Quicktime)


This work is licensed under a Creative Commons Attribution-Noncommercial 3.0 License.

Oh yeah, Happy Holidays.
2007.12.20
White Water
02.19.43 - Mark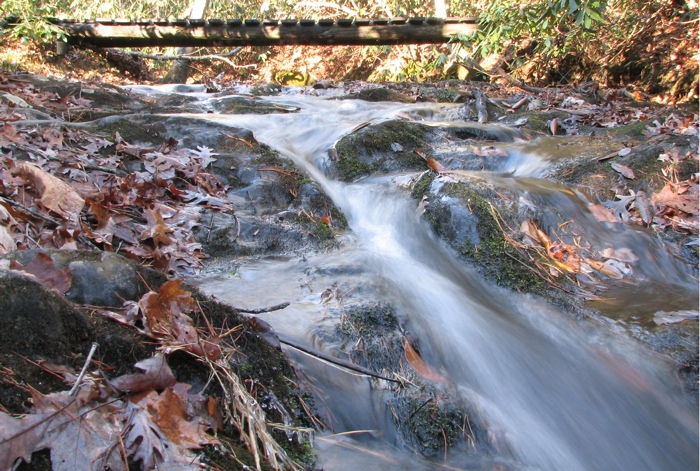 I've been taking a bunch of photos recently, I think over 1000 in 10 days, and enough to start tripping up my install of iPhoto. All of those photos will need sorted and a lot will need some significant post processing of some flavor (there are a number of HDR and panorama sets in that thousand) but I wanted to get this one up. It almost took more time to get photoshop up and running than it did to edit the photo so I don't feel too bad about throwing it up real quick. I'm half lucky the image turned out so well, it's a longish exposure and I was too lazy to use a tripod.
5 extra special bonus points if you can tell me where I took this photo (within ~1km)
2007.12.03
Hunting for something
10.27.13 - Mark
Yesterday my family went Christmas tree hunting. It still feels too early to start celebrating Christmas, but my mom wanted to get the trees yesterday so we drove up to Santa's Delight Christmas Tree Forest in Virginia. The place lets you pick and cut (and drag) your own tree, and picking and cutting down our Christmas tree is an old family tradition going back farther than I can remember. The farm and Virginia is nested in between a few mountain peaks, and is really photogenic so I armed myself with my camera. I took a few good photos, mostly family, but towards the end of our hunting a colorful sunset started forming.

It's probably the mountains, but truly beautiful sunsets are rare in North Carolina, and I've yet to see one that really matches the sunsets we had in Iowa where dirt and debris provided deep rich sunsets. Last night in Virginia however, something was working right, so I turned on exposure bracketing and snapped a few series. I was hoping to get a short HDR panoramic series, but for some reason Canon doesn't allow exposure bracketing when shooting in manual so unless I can work some major photoshop magic I'm not getting a panoramic. I did however get a good single frame set, and after playing with it in photoshop for an hour, I've managed one rich HDR photo from the farm: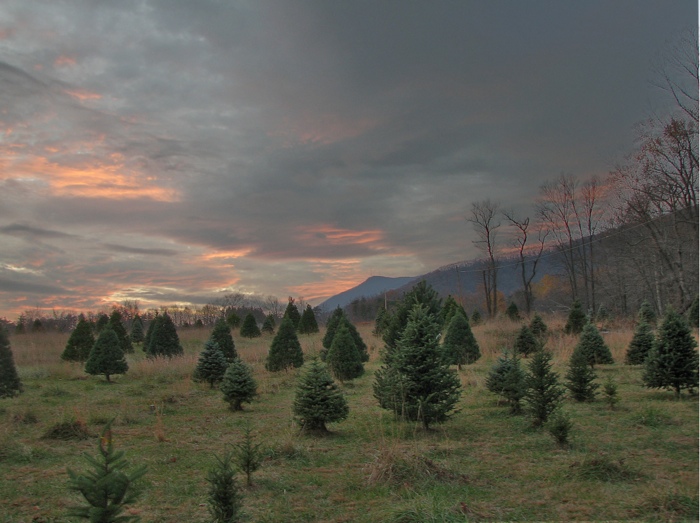 2006.03.13
Hmmm...
23.58.43 - Mark
I think they're onto something with this study on how playing in the "wild" as a kid influences enviromental opinions as an adult

[via Boing Boing]