2008.01.10
More Natural
23.25.39 - Mark
I've been posting a lot of edited photos recently - panoramic photos, HDRs, things that needed correction in Photoshop. Here's a reminder that I can still take good photos that can be pulled right from the camera. I don't shoot a lot of wildlife photos, but I don't turn down a chance when it presents itself. Once of my favorite things to do it run out to Pilot Mountain, hike out to the eastern side of the mountain, lay down in the sun, and try to shoot the hawks that nest on top of the big pinnacle. This Heron was a fun, unexpected subject. He usually flys away whenever I have my camera, and I think he migrates south for the winter, but he hung around for a few minutes letting me take a few videos of him in addition to allowing me to shoot a bunch of stills before flying away (I posted an edited video of him a few weeks ago)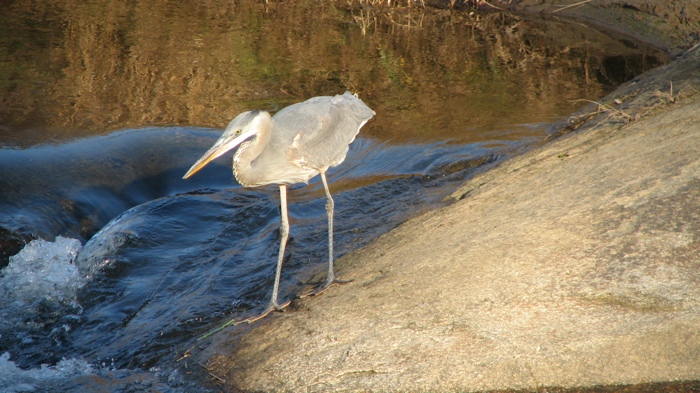 Despite my copy of Photoshop resisting work by moving as slow as possible I'm slowly working my way though the mass of photos I've taken this month, and I'm developing a backlog of images I want to put online, and it's going to grow some more when I feel like dealing with photoshop again.

On a similar note I'm getting closer to ordering some large prints (eg bigger, or at least wider, than those 8x10's you pick up at the 1 hour photo booth), in case anyone out there is interested in getting a nice print of one of my photos while kicking a few coins in my direction. Comments are fine, but there's also a contact form on the goodies page



Lovill Creek, Mount Airy
View Medium (3677 x 1024) Suitable for looking at river rocks.
View Massive (9569 x 2665) Suitable for looking at water droplets on river rocks.
2007.12.25
Holiday Bird
09.57.14 - Mark
I can get lazy sometimes. When I was out and about taking photos two weeks ago (when it was 70 degrees and sunny) I ran across this bird who has a habit of showing up around the Greenway Trail in Mount Airy, I'm pretty sure it's a Great Blue Heron, but I'm not a bird expert. The herons (there are a few that like the creek) tend to show up when I'm either without a camera or they fly away before I can make a photo. For whatever reason this one wasn't disturbed, and allowed me to watch and record for about 10 minutes before moving on.

It took me a week to get around to editing to find some music I liked for the bird and edit together the video clips and photos I took, and then it's taken me an additional week to getting around to fighting with compression settings and file formats, so after all that time I'm finally getting around to posting the video as a sort of holiday gift. Maybe later I'll get around to adding some sort of flash player so you don't have to download my, anymore large, video files.

The music under my video is "Clouds Fly as I Smile" by SaReGaMa the Artist who released it under a Creative Commons Noncommercial Sampling Plus 1.0 License. My video (like most of my content) is CC Attribution Non-commercial 3.0.

The Bird (158MB 320 x 240 H.264 Quicktime)


This work is licensed under a Creative Commons Attribution-Noncommercial 3.0 License.

Oh yeah, Happy Holidays.
2007.12.13
Down to Earth
16.35.31 - Mark
If you haven't guessed by now I'm having a lot of fun making panoramic images. I'm starting to move past cool vistas however, and starting to work on composition. This one is on the Greenway Trail that runs next to Lovill Creek in Mount Airy.


2007.12.11
Dear Midwesterners, Sorry
18.46.19 - Mark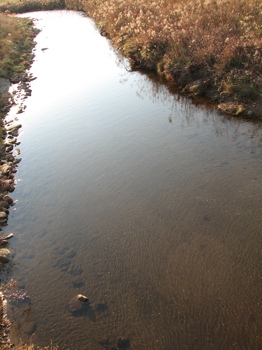 While the Midwest is getting slammed by a winter storm, I've spent the afternoon riding my bike around Mount Airy in shorts and a t-shirt taking photos of things that don't feel like winter. Although I wish winter would arrive in North Carolina. As nice as it is to be riding my bike in mid December, it's also weird. December is supposed to be cold.

I love to take photos in winter. As amazing as fall colors are, there's nothing quite like taking the camera out after a fresh snow, or taking some macro photos of branches and bushes after an ice storm and everything looks like it's encased in glass. Plus the sky never seems clearer than in the dead of winter. Unfortunately, I'm going to have to wait until the new year for much chance at winter photography. There's a 3% chance of a white Christmas (and there's a good chance that's very optimistic), and I suspect that those odds don't improve much the last week of December.
2007.11.29
Apple Store Greensboro
20.42.15 - Mark
Apple is opening up an Apple store in Greensboro next year, which is a bit more than an hour away. I might go to the opening whenever that is, but the first thought I had wasn't "cool" it was more along the lines of "I wonder what this will do to Cybergear?" (an Apple Authorized Retailer / Service Provider in Mount Airy).

2007.11.02
Political Statements
00.37.41 - Mark
Normally I only rant about national politics, but in the upcoming elections I'm really focused on the local races. My experience has always been that local elections suck. Low turn outs and few races, but for some reason what would normally be a pretty quiet low turn out local election has become a furious wave of ignorance and lies (and a fair bit of namecalling). If you're willing to stretch the truth it's almost as entertaining as a Californian gubernatorial race. We might not have a stripper, but one of the candidates is a belly dancer.

Like California's races, majority of the six candidates for the three city council seats are so ignorant of what their powers would be that it's downright scary, and the few that seem to have a clue about what is involved in city government are proposing ideas that are either totally dangerous dangerous, or your average political promise of change to gain a few votes.

One candidate has proposed closing down a water plant when our surplus of water (even in the current drought conditions) is one of the city's strongest economic selling points, while another (the only incumbent) is proposing an economic development czar, someone who would likely just wine and dine potential employers, when we already have a competent economic development partnership.

At the candidates forum a few weeks ago, many of these potential leaders were under prepared, from not knowing what roles council members play in relation to other boards and commissions receiving city funding. All but one (who lost in a primary election a week later) didn't have any idea about a referendum that would appear on the same ballot they would (those comments boiled down to "I support schools" and "I don't support taxes").

The only thing more frighting than the politicians are the supporters. While it's a little hard to get good information out of either local newspaper, the blog that the Surry Messenger is running makes for some amusing comments, from allegations that candidate A is incapable of working, to regular comments that voting for candidate C is a vote for business as usual. They're demanding the city being in jobs, water prices get reduced, cancer be cured and world piece established. The citizens, just like the candidates have no idea where limit of the government lies. City councilmen don't author the budget, they don't bring in businesses, they don't have much say in big projects. They make formal proclamations and approve rezoning requests (after being advised by the city manager). Their big decisions are about what bagels to order or who makes the first closing remark at the biweekly meeting.

If these supporters put a fraction of the effort they're exerting to elect so-so candidates towards effecting actual change it wouldn't matter if a dog was elected. I'm fairly convinced that Government doesn't solve problems, people solve problems.
2007.10.23
Good Night Mayberry
00.34.26 - Mark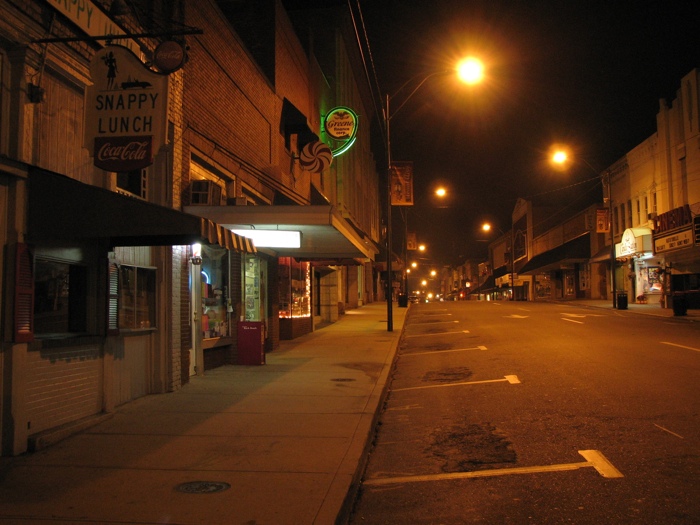 Good Night Mayberry
Here's the other photo I mentioned last week in
Orange Night
. Main Street Mount Airy, looking at Snappy Lunch, Floyd's City Barber Shop, and Opie's Candy Store.
2007.10.17
Orange Night
17.31.22 - Mark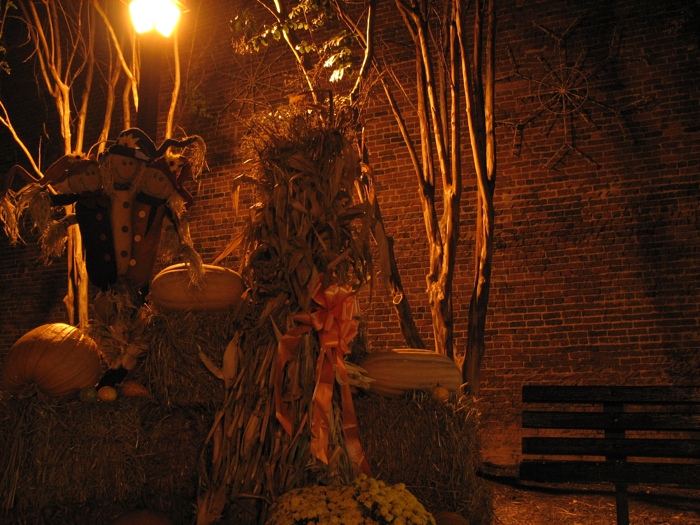 Orange Night - Fall is here
Last night I was the monthly meeting of Mount Airy's Photography Club, I on my way home I drove past a small park at the end of main street, and the lighting and arrangement of stuff looked cool in the orange glow of the street lamp, at least more interesting to me than in broad daylight. So I circled around Main Street, parked at the end of the otherwise deserted street, and grabbed my camera and a tripod and snapped away. I really like manual settings. I couldn't have taken this image with automatic white balance and unadjusted exposures.
I've got some good evening images of Main Street (at the Mayberry end of Main) I'll post later. Mayberry at night has an interesting feel to it.
2007.05.16
Tourist in your own town
23.48.07 - Mark
A couple years ago Mount Airy had some consultants come in to state the obvious for piles of money, one of the obvious (at least to an objective observer) things that they suggested Mount Airy do to increase tourism was to promote tourism within the the city limits to citizens. I think their words were "to be a tourist in your own town" at least for a day or two. Like all reports from outside consultants it was never widely circulated, but I had been interviewed in their research and knew enough to pay attention to the public meetings.

The idea is a good one. Most people who live in one area for a long period of time never realize what their area offers, more so if you live your whole life in the same geographic area.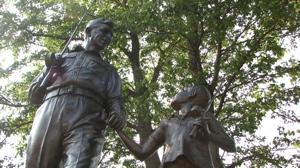 I haven't forgotten this fact (being a non-native helps that) but stay in one place long enough and even the most aware people loose track of little joys. Yesterday I happened to to go the local art council's photography club and as part of their meeting they conducted a brief photowalk. It didn't take time for locals to "welcome" us to Mayberry (can't blame them, what else do you assume a dozen, mostly older, people with cameras are?) I'm not a fan of the whole Mount Airy Mayberry connection, but I can't deny it and too many baby boomers are too nostalgic for Mayberry for it to fade away anytime soon. The walk reminded me of that, but it also reminded me of some of the other little joys the area offers.

So, don't forget to take some time to be a tourist in your own area. Chance are you'll find something interesting.
2007.05.10
Disc Golf
23.42.53 - Mark
I'm happy, Mount Airy now has a disc golf course - which means I won't have to drive 30-40 minutes to the other public courses (Raven Knob is a bit closer, but technically private and besides I play it frequently during the summers). The new course, installed sometime in the last three weeks, feels short to me, at least when considering the pars, but they're a fun enough 9 holes. I went out today with my youngest brother and Dad, and did alright. I'm rusty but still shot one under, and my brother didn't do too bad for his first time. From what I'm told it was sort of last minute, but if there's enough interest they'll expand it to 18 holes, which would be nice (especially if there's more planing and distance involved with the back nine). My brother and I are already planning on regular excursions

The course is at Westwood Park (google map), just take a right at the entrance and drive to the end of the parking lot, when you're facing the shelter, the course is in the field off to the right. Here are the pars (at least they ones they told me)

| | | | | | | | | | | |
| --- | --- | --- | --- | --- | --- | --- | --- | --- | --- | --- |
| Hole | 1 | 2 | 3 | 4 | 5 | 6 | 7 | 8 | 9 | Total |
| Par | 3 | 4 | 4 | 4 | 5 | 3 | 4 | 3 | 4 | 34 |
2006.12.01
Welcome to December?
23.22.25 - Mark
While it isn't something I consistently miss about the midwest, like the availability of good pizza, I occasionally miss having more than three seasons. A couple weeks ago I thought winter was finally starting to creep in. Well that was then, this past week the temperature has been hovering around 70 degree fahrenheit. The first of December, I want it to be cold. Every part of my body and my genetic heritage is screaming at me to stay in a warm bed in the morning or take in a little more fat to last me the winter. Instead I'm regretting not wearing shorts or thinking about taking my bike out for a ride. We should have seen snow by now, and I'm still waiting for a decent freeze.
2006.09.24
In hiding
00.58.07 - Mark
This weekend is the overwhelmingly fun ::) Mayberry days. Hence, I've been happily hiding at home playing with my Macs. I've argued before on here why Mayberry driven tourism is bad for the area, but the simplest fact is that it is slowly dying, and I'm not just talking about the fans. The fact is one of the "official" events for this year's Mayberry Days is a showing of the Da Vanci Code (because it was directed by Ron Howard). Trivially stupid things like pie eating contests, kid sized train rides, and various brunches make up the majority of the festival. These attractions are better suited for the county fair (which, coincidentally, is taking place this weekend as well).

It would not be so bad if they did some thing creative, like Hannibal, Missouri does with it's Mark Twain Days but we don't. All we have are a handful of businesses that slapped some Mayberry reference into their names.

I'm not against using tourism to improve the community's economy, in fact I'm in favor of it. In a few weeks another festival will bring in hoards of tourists and a sea of people will form on mainstreet. Fried foods will scent the air and you'll hear bluegrass and old time music all around town. Autumn leaves is the type of tourism Mount Airy needs. Rather than cater to a small group of people, autumn leaves attracts people from miles around, drawing on the natural beauty of the area and its culture. Lifestyle and environmental tourism is sustainable, since it attracts more than geriatric TV watchers and nostalgic baby boomers.
2006.06.25
Just say no
10.56.18 - Mark
Since I'm never one to pass up a story about how Mayberry is ruining the wonderful city of Mount Airy. This whole mess involving a coulpe of short sighted idiots trying to build a Don Knotts/Barney Fife statue to compliment our Andy Griffith Statue (which I'm also not a big fan of) is just wrong.

First, TV Land (who paid for the Andy Statue) did not want it to be in Mount Airy, they wanted it to be in Raleigh as the show represented the state and not the city of Mount Airy. The only reason we actually got the Andy statue was because we're the home town of Andy Griffith and he asked TV land to put one here. Lastly this effort is a bunch of fans, the Andy state was given to us by a CBS/Viacom company.

Don Knotts is not related to Mount Airy in any tangable way, and was actually very dedicated to his own hometown in West Virginia. This effort is not part of a fan movement, it is a short sighted attempt at getting a few more tourist dollars out of the Mayberry theme before all of the real fans die off.

Yesterday I was downtown hanging out at a comple of shops (including my new favorite Mac Reseller Cybergear) and very few people in the community, as best as I can tell, want to keep milking the Mayberry Theme. It's a monster that has hit its prime and now that it has, it is very quickly going downhill. In 5 or 10 years these statues will be all but meaningless, and either the community will have moved on to other forms of tourism, taking advantages of the universal themes that we have in this area, such as the natural beauty we're privleged to be surrounded by (see also my posts on Raven Knob) or the fast growing Wine industry.

I'm sorry, but on this issue, I'm with CBS and the Don Knotts' estate. No.
2006.05.15
Local "News"
14.40.42 - Mark
There's a reason Local news paper's are suffering in the technology age, and its not just blogs and citizen media:




It's the fact that stuff like this is showing up on the front page of smaller newspapers. This example is the bottom half of the Mount Airy News' front page for Saturday May 13th. We have 1) a standard end of the year/spring brawl at a local high school 2) Information about a teddy bear "festival" where some shop will be selling $100 + teddy bears and 3) a primer on the history and origins of the Teddy Bear - as ripped off a corporate site and rewritten by some PR person in charge of the festival.

Earlier in the week the same local paper reported on how our city schools are in the "Top ten". They're not quite sure what the top ten list is for, but we're on it (and we're going to dismiss the fact that we're one of the worst school districts in the state - you know, go with the flow.)

Like I said, its not just citizen media that's bringing about the death of local newspapers.
2006.03.26
Leaving Mayberry
11.30.57 - Mark
Mount Airy is a good town. Boring as hell and ignorant at times, but over all its a good place for families. It rests in the Piedmont near the Blue ridge Mountains and the area surrounding Mount Airy is stunning, which I was reminded of while spending some time at Raven Knob yesterday.

It's also somewhat well known as the hometown of Andy Griffith and a recognized inspiration for Mayberry.

Ever since I moved here a few years ago being Mayberry has been a big deal for the town, since tourism has taken over as the main industry since the textiles moved out of the country. I can understand that, however a year or two ago the city brought in some economic consultants and after talking to various people in the community they came to the conclusion that while Mayberry was a good tourism launch pad , the city needed to divirisy its tourism appeal into "lifestyle tourism" focusing on simple living, outdoor activities, arts, crafts, music, etc. But for whatever reason this study hasn't been widely circulated in town.

Insted of pushing those other avenues, we have everyone and their dog trying to capatilize on Mayberry. Mayberry Square, Mayberry Motor Inn, Mayberry Courthouse, Opie's Candy Store, Snappy Lunch, Floyd's Barber Shop, Mayberry Auto, Aunt Bea's (resteraunt), Mayberry Weadding Chapel, Squad Car Tours, Wally's Service Station, the list goes on. Even the main website for the chamber of commerce is VisitMayberry.com. There's even a business called Mayberry Internet Auctions on the outskirts of town.

Rather than trying to move past Mayberry as the actors who stared in the show die off (the latest being Don Knotts about a month ago) we're seeing more and more business come in trying to cater to the Mayberry Sect, some successfully like Snappy Lunch and Floyd's, others not so much (Mayberry Pet Store), and when we disappoint fans, its major news, like a pair of fans from Georgia came to visit Snappy Lunch, only to discover its closed for renovations to bring it up to code. They might not get their desired meal, but they'll get into the local newspapers (I don't want to know how the paper discoverd that story).

It's all a bit disappointing, and I really want to see more people in the community try to move past Mayberry, because in 5 or 10 years, I don't think its going to be as successful as it is now.