2011.01.27
My thought process
18.29.05 - Mark
Just a look at my own line of thought
...
My Cordless drill battery won't charge.
Shoot, neither one works.
I guess I new replacement batteries.
(checks google shopping)
Wait, DeWalt ones are expensive.
(checks ebay)
They're not cheap on ebay either.
How about recell the batteries?
Yep, there are businesses for that.
Is there a local one?
Better yet, could I do that?
There's a youtube video for that.
That doesn't look too hard.
But how do weld batteries tabs?
OK, You need a spot welder.
Can I build one of those?
Yep, I even have the transformer for that!
(scans hack-a-day article)
Bookmark it and look at that idea later.
So what type of battery cells do I need for the battery pack?
No luck online.
Although they'll see me the information.
Not paying $10 for that knowlege
(goes off an measures battery cells)
Where are my torx screwdrivers?
(finds them in tool box)
(take apart battery)
Should I peel the plastic off and see how are they wired?
No, let's price the parts first.
What battery is about .873" diameter and 1.375" tall?
How much will they cost?
Err, I probably need that in millimeters
So about 22mm diameter and about 35mm height
(converts in google searches)
(digs on digikey)
Ouch $5 for a single 4/5 sub-C NiCad, too much.
Mouser?
No better, unless I order hundreds of them.
Google Shopping?
Still a little pricey.
How about on ebay?
Ok, that's better, and they already have tabs
Darn, no need for a spot welder.
Hmm, no inexpensive battery suppliers in North America.
Several from Hong Kong / China.
Can I wait 3 weeks to 4 weeks?
Am I sure I can recover the parts from the batteries I have?
Do I recell one or two?
...

While I haven't decided if I'll try the rebuild battery route or not, but it occurred to me that our thoughts are processed as quickly as the evolution of a live conversation. The changes in pace, direction, focus, and more. We often realize that these changes happen (unless you have an extremely high tolerance for boring conversations), but we rarely look at the trails our minds blaze. For a "small" project like this it's kind of interesting recording the sequence of ideas touched on, both distractions and propellents. I'll admit there were a couple "ohhh shinny" moments I left out, but most of the related process is now written down. I doubt it holds any value to anyone else out there, but you might try this little exercise. It's a little enlightening.
2008.04.28
Truancy
16.43.10 - Mark
Put simply, this month has simply been weird and a little confusing, and decently busy. I've been online less, and between photos on flickr and messages on twitter posting stuff here has just fallen off on the side. It's not lack of content, it's a simple lack of time. Other things have fallen off to the side as well, like watching movies (I've had the same Netflix rentals for a month), random web surfing and reading books all of which provides occasional add ons to the site. Why? Several reasons.

Part of it has been traveling. In the last two weeks I've been out and about far more than I've been in. Three days for Savannah GA, a day or two futzing around Surry County with camera in tow, a weekend in and around Brevard, NC, three days in Morganton, NC, and another day going to and from Lexington and Winston Salem, NC. Travel adds up quickly

Another thing has been photography related, well above and beyond the traveling with camera. I've taken tons of photos and didn't exactly stay on top of the processing, so that's added up. I've also been working on a photo printing comparison (20 some sets of the same 15 photos) which ordering and organizing alone ate up a working week faster than I expected. I'm also working on entering a couple prints into a judged photography competition and those prints needed ordered, and framed (which looks like it eats up time tomorrow.) Then there's some small attempts at shooting non "art" photos for profit.

Some of it's just life. Why bother with the website where there's stuff to hear/see/do/experiance. I like having this site, I like posting content, I even feel a little "bad" when I don't post in a while, so the sites not going away. Hopefully I'll get back in the habbit and post some more stuff as I start clearing out the backlog of content, or start finishing projects worth writing about. Until then...
2008.02.27
Atopsy of a Photoshop Demo
01.08.26 - Mark
Photoshop is a tricky program, I've been using it for years and I'm still learning stuff. Part of the problem is how massive it is, part of it is your numerous options for doing any one trick, even the level of customization it offers and then there's the lack of a "right" answer when you edit a photo. Those elements are why it's such an indispensable powerful, and praised program. It's also why it's a real bitch to teach.

The question quickly becomes where do you start? Do you do an overview of the tool pallet, talk about the info and layer boxes? Attack the menus? Memorize hot keys and command strokes? Or do we assume the learner can figure out the icons and run though the concepts behind the program and go over darkroom technique? Or should we plunge into the deep end and tackle photo manipulation? Classrooms, demonstrations, books, websites, and adventurous individuals have all tackled these questions and there's no one answer, just like everything photoshop.

I've been playing with some of these questions for over a month now, since my local photo club asked/drafted me and another photoshop user to do some demonstrations tonight, and I'm thinking about what i did right, and what I fumbled on.

Lesson one: Plan on getting there early, then show up even earlier than you planned. At the very least you're going to need to drop files to the computer you're using. If they're big files, and the system can handle it open them up in advance. That's why you get there early. The reason you show up earlier than that is the technical snafu you're going to face. Murphy loves photoshop demos. If you're using a projector, check the screen resolution and calibrate the thing - don't trust the display profiles. Photoshop needs a lot of screenspace and not all projectors adapt well. And if you're using photoshop and don't know why you calibrate the colors on your display, I'm sorry but I can't help you - go back to Microsoft Paint, you'll be much happier. Then there's everything else you may need to fix, from scratch disks to mouse tracking. It sucks when you have to do a half assed fix in the middle of the presentation, especially if people start throwing out suggestions

Lesson two: Have files prepared in advance, have a cheat sheet prepared in advance, have talking points prepared in advance. Multitasking is hard. Multitasking two tasks that both require a large part of your attention is near impossible, and despite what you may think about instruction, to do it well you need to concentrate on what you're saying/doing and how the audience is reacting to what you're saying /doing. As for photoshop, you'll be juggling hot keys, menu locations, and the image files themselves around in your head. Even if you know that you want to hit V to bring up the move tool, B for the brush, and E for the eraser and [ or ] to scale the tool sizes, the audience doesn't know that and you'll be working magic while the audience is 10 steps back. Or you'll be trying to talk while drawing a vector path and completely blank on the modifier key you need. Help yourself. Prepare the files and notes in advance then use them.

Lesson three: Practice, Practice, Practice. Yes, you know how to use photoshop, great. You probably know how to talk too. But would you give an important speech without practicing it a few times? I didn't think so. Using your prepared files and notes run though the demonstrations a few times. You may feel like you're going nuts, and you may well be, but practice the steps working with your files. Take a break and go postal if necessary but you need to practice with the files you'll be using.

Tip one: Have a few prepared ideas. That means more than one The one thing I'm really glad I did the way I did was I had three things to sets prepared. Stitching a panorama, creating a dynamic range increase photo from two exposures, and using paths and layer masks to remove the background. That's two more than I had been planning on, and ended up being one less than I needed. If I only had one of those prepped I would have flopped bad and the demo would have gotten tedious for everyone involved. By having three distinct demos ready I got to run though several concepts and was able to impart some of my knowledge, and hopefully a skill onto everyone there - from the "I don't own photoshop" guy to someone who's taken a class. It also gave me a degree of flexibility to improvise.

Tip two: Expect to improvise, and be able to improvise. Stealing one from the teaching textbooks the time when anyone, young or old, is most receptive to learning is when they're asking questions. Unfortunately that's probably the one time you're least able to teach. That's why some teacher's hate questions, and other's love them. Shortly after I arrived I was asked if I could show how to put in "ghosts" of people into a landscape. I didn't have a photo of people but because I knew how to do it a couple of ways I figured something out (a giant ghost of a cellphone floating over a greenhouse) and got to make some good points about photoshop. Thank you improvisation.

Tip three: Advanced tools for the experienced, fundamental concepts for the beginners. As pointed out above I had the whole range of photoshop users in the audience, and my demos were intermediate and up, but a lot of the concepts were on the face pretty simple. How do you make a selection? You've got the selection tools in the tool box, but let me show you the paths tool, which we can use to get better results... How do you remove the background? You could use the eraser, but that's a destructive method, and you'll loose all that extra information when you save the files. Let's use a layer mask instead, that's nondestructive. The seasoned pros get a how to on using the tool, the beginners get a better understanding of the tools and why they should ramp up their skills, and you have something to talk about when you're trying to remember what modifier key you need or why that menu item, which should be working, isn't working.

Tip four: Final product, in advance because you're not getting a good copy from the demo. Have your final product ready and separate from the demonstration files. The middle of a demonstration is not the time to be indulging in perfectionist tendencies so you will not get a good example of a finished product unless you're stupid (ignoring the audience) or lucky (self-explanatory). Your target is "good enough" because your focus should be on your audience as much as possible. If you're trying to decide if the red output level needs to be 240 or 230 your attention is not on the audience. Show them the extremes then settle in on a happy medium and move on to the next step. If you don't like that idea, have those numbers in advance so you can plop them in as needed.

Tip five: Don't worry too much, unless you're out of your league. Chances are if you're doing a demo you know what you're doing, and it's a good bit more than the audience, so don't get too hung up on your screw ups. If it's really bad they'll correct you, if it needs repeating they'll ask (just make sure to let them know questions and comments are welcome when you start) if you're moving too fast there's a better than good chance that they will let you know before their brains shut down from information overload.

Last tip: Have fun, and find your own way to teach. Seriously.What worked for me may or may not work for you. This has just been my thoughts on what I did right and what I needed to improve on when demonstrating photoshop. Just like people learn best in different ways, people teach in different ways. If you've got the skills to teach find a way you can share that knowledge and get to it. Maybe you can prepare an insanely good pdf howto, or maybe you can create a kick ass video series, or maybe its one on one tutoring.
2008.02.22
Hillary Care
18.31.43 - Mark
While I wish the US Presidential campaigns would give some airtime to something other than Iraq, Immigration, the economy, and health care the last one is really getting on my nerves.

Hillary Clinton is out of touch with reality on the issue in her continued insistence on every single American buying a health insurance package or facing fines. It's almost like she's getting kickbacks from the insurance industry as a whole.

I'm not disagreeing with improving the heath care system in this country, but forcing people to buy insurance is not an ideal solution. From my perspective as a healthy (and uninsured) young adult paying for my own insurance would be far more than my current medical expenses. The national average for individual health coverage is about $220 a month. My medical bills for the last two years might total up to $600. That works out to something paying over $5,200 for $600 of expenses, and that's not accounting for deductibles and makes the assumption that the plan would cover the cost of contacts.

I know that insurance is supposed to be there for the unexpected, but for now keeping that same money in a rainy-day savings account makes more sense than letting an insurance company sit on the money. I don't need the government telling me I have to spend that $2600 a year "or else"
2008.02.20
Once again, my life is an XKCD comic
10.53.37 - Mark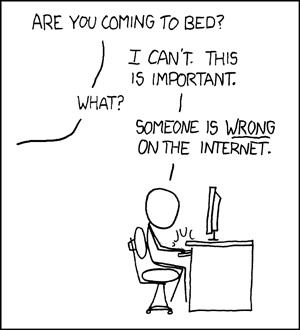 I was told by someone to stop engaging on message boards with idiots yesterday, advise that I'm ignoring because I enjoy the threads and I do a more or less alright job of not letting the flame wars bug me offline. However it's a little weird having that discussion yesterday, and then seeing this comic today. xkcd is wonderful.
2008.02.10
A Collection of Thoughts
22.54.59 - Mark
I've been lazy this past week. There have been things I've wanted to say, but nothing that really deserved it's own post So I'm going to lump a few together. There's some other stuff that I want to get out, but deserve more thought and longer posts - like how "old media" still can't produce a useful website, even after 15 years of the world wide web and a solid five years since "new media" platforms like blogging started appearing in a big way.

First up I finished George Carlin's When Will Jesus Bring the Pork Chops last week, and while I enjoy Carlin's material it felt like binge reading a thing-a-day calendar. I'm pretty sure they formatted it so it was easy to stop after 5 or 10 pages, which in a way helps but for a book that has a list price of $24 (I was given the hard cover edition as a gift) you would hope there's at least a little continuity.

Next, Voice actors are amazing. Period. Almost entirely unrecognized and it's a true shame. I love animation and have been chewing though some "old" cartoons from the mid to late 90's (back before the FCC's Educational and Informational rules kicked in, when Saturday morning cartoons still existed and didn't totally suck) as well as some more recent stuff (like Futurama) and it's amazing when you watch these shows and realize that in a recording booth somewhere, these guys are having conversations with themselves. It's great when you can just see (or hear) these people working - like the Simpsons episode of Inside the Actors Studio or some of the DVD extras - The live reading of the comic on Bender's Big Score comes to mind. It's a shame that more and more animated movies want to fill ranks with celebrity voices. Afro Samurai strikes a good balance - a few big name voices supported by some voice actors.

Third, and kind of similar to voice acting I never realized how amazing Who Framed Rodger Rabbit? was, and how it's the sort of movie that would never get made today. Intellectual property lawyers, standards and practices, animators, and celebrity voices would totally ruin the thing before it got started. You would never see alcoholic detectives helping cartoons, kids with cigarettes, social commentary (the description of freeways is far from positive) the same level of animated violence, or some of the more sexual scenes and obfuscated language in the easter eggs. Maybe some of them, but not all of them. It's a treat
2008.02.05
Free Flowing
23.56.18 - Mark
For a while I was doing a good job of posting something daily, a link, a movie review, a post - something. Then the weekend came and I dropped off the interwebs while I went to Raven Knob and spent the weekend in good company wandering around taking photos and having fun.

I didn't ever realize it but I was in need of a recharge. Even if things seem slow it's amazing how crazy life can get, between hobbies, projects, and the information overload that is the modern era. A weekend unplugged and a couple more days mostly off-line does wonders for the body and soul.

I think the early morning hike Sunday morning was the key. There's nothing like an cool morning (or late night) hike though woods almost entirely untouched by civilization. Particularly when the trip includes climbing around a beautiful waterfall taking long exposure photos.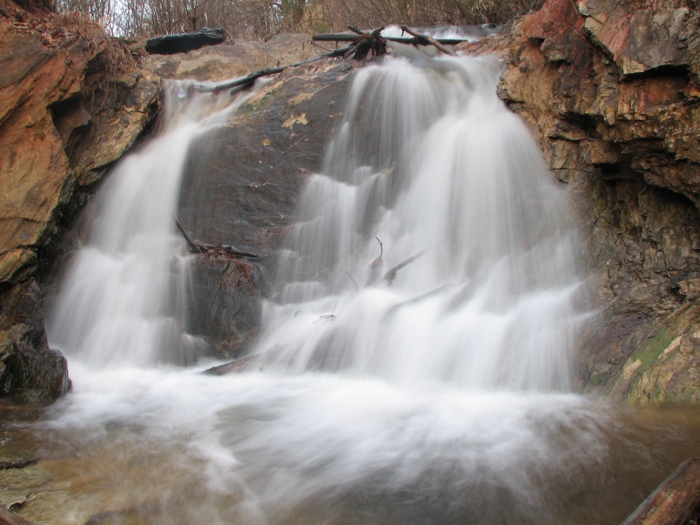 2008.01.19
Stuck in the middle
18.35.04 - Mark
One of the only things I don't like about photography is how bipolar it makes me feel. One day I'll be feeling great about my ability with a camera. I'll have a photo that gets great compliments, and it even if it doesn't it's something moving and powerful and that looks amazing. It may even print well and I can sell a print or 30.

Then some days I feel pretty low end and hackish. I start seeing what other photographers are doing - taking photos I want to take - but doing it far better than I can. People with the time and patience and ability to get exactly the right photos and then processes them into a refined gem to my injection molded transparent plastic toy. And some of that's before you get into details like better equipment.

Then I start thinking about it rationally and dissect the photos I'm admiring. I realize that those photographers probably take as many photos as I do, and then sort out the good from the bad, and play around in photoshop just like I do, and then post the best of the best online.

And then I try new techniques, and experiment, and start creating some cool images that someone notices and comments on, and...

The whole cycle repeats itself. Combined with some equipment envy (a good DSLR kit would be very nice) it's a pretty infuriating cycle.
2008.01.14
Test Prints
23.23.23 - Mark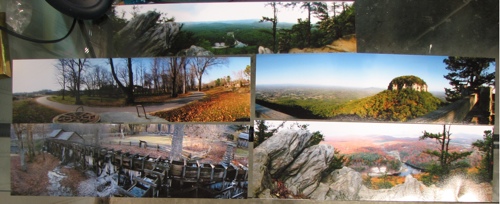 I've been wanting some high quality sample sized prints of my panoramas for a while, but between the inflexibility of non professional photo labs (read: big box store photo kiosks) and some technical stupidity on my part (said photo kiosks don't understand CMYK color, and for some bizarre reason that's what photoshop saved the samples as) but I've sorted out the details and had these printed off as two 8x10's (I'm just waiting for walmart to claim I'm ripping off a professional photographer)

I've also got a small order for large prints at snapfish, but that's because the price was right (40% off). I'm unsure of the quality however. I had problems sending off high resolution files, and they specialize in cheap so we'll see how they do when that order shows up in a week or so...
2007.12.28
Saving in slow motion
15.52.34 - Mark
It's been a years since I've had to wait on Photoshop for long periods of time to process a single command, but I've wasted an hour waiting on it to just between the save as and resize commands, which is insane since it only took about 90 minutes to stitch together. Maybe that's just a commentary on how large of files I'm working on, or maybe my old ibook g4 needs replaced...
2007.12.25
Holidays, Everyday
23.36.09 - Mark
It seems like no matter how long the shopping season gets stretched out, the holidays themselves get shorter, and people loose all perspective of the world. It's worth remembering that every day of the year should be spent doing something neat. Make something, seek out a new experience, help someone, or just make a complete fool out of yourself to make someone smile. No matter your faith or beliefs life is pretty pointless if you go around hating it, yourself, or others.

Holiday Bird
09.57.14 - Mark
I can get lazy sometimes. When I was out and about taking photos two weeks ago (when it was 70 degrees and sunny) I ran across this bird who has a habit of showing up around the Greenway Trail in Mount Airy, I'm pretty sure it's a Great Blue Heron, but I'm not a bird expert. The herons (there are a few that like the creek) tend to show up when I'm either without a camera or they fly away before I can make a photo. For whatever reason this one wasn't disturbed, and allowed me to watch and record for about 10 minutes before moving on.

It took me a week to get around to editing to find some music I liked for the bird and edit together the video clips and photos I took, and then it's taken me an additional week to getting around to fighting with compression settings and file formats, so after all that time I'm finally getting around to posting the video as a sort of holiday gift. Maybe later I'll get around to adding some sort of flash player so you don't have to download my, anymore large, video files.

The music under my video is "Clouds Fly as I Smile" by SaReGaMa the Artist who released it under a Creative Commons Noncommercial Sampling Plus 1.0 License. My video (like most of my content) is CC Attribution Non-commercial 3.0.

The Bird (158MB 320 x 240 H.264 Quicktime)


This work is licensed under a Creative Commons Attribution-Noncommercial 3.0 License.

Oh yeah, Happy Holidays.
2007.12.22
An Atheist Christmas
00.48.57 - Mark
My family (and the friends that may as well be) is a mix bag of Religions, from atheists and agnostics to Christians from several denominations and even a would be Jew, and that's just our affiliations - there is a religious tolerance and acceptance and true appreciation for varied faiths that goes much further than intellectual knowledge or passive acknowledgments. Most of us have studied more than one faith - my brothers and I were all brought up in a Methodist Church while attending a Catholic School - and we've all settled on something we believe.

So when Christmas comes around and some extremist "Christian" goes off on ignorant rants on the "True meaning of Christmas" and makes attempts at protecting the Christian faith (The overwhelming majority faith in the United States) by trampling less well represented faiths we have a tendency to step up and defend. I've been doing it a lot this season and there are scattered traces floating around this site.

It's not an easy conversation to keep a conversation and quickly degenerates into lies and misconceptions so deeply rooted it's impossible to correct, then more bigotry, and with an end result of those of a "faith" arguing that if non-Christians don't like Christmas then they shouldn't celebrate it or any other "holy days".

There's a sad commentary in that.

I, as an extremely secular person, have spent most of this evening with friends celebrating the holidays. I've wrapped gifts to put under a decorated Christmas Tree (one nicknamed our heathen tree, and another we're calling the Hanukkah Bush), we've decorated sugar cookies, listened to seasonal music from half a dozen versions of the 12 Days of Christmas to Weird Al's "The Night Santa Went Crazy", we were eating some good food and drank some egg nog. All in all it was a wonderful evening spent with friends and family. It's been true several other nights this week, such as last Monday when we visited a festival of lights in Winston Salem

Yet by some twisted version "Christian" logic, I and a couple others involved, should be barred from such festivities because we weren't Christian. You have to imagine that anyone who would deny other's a good time because of something as trivial as a difference in religious beliefs, must be pretty unsure of their own convictions.
2007.12.20
White Water
02.19.43 - Mark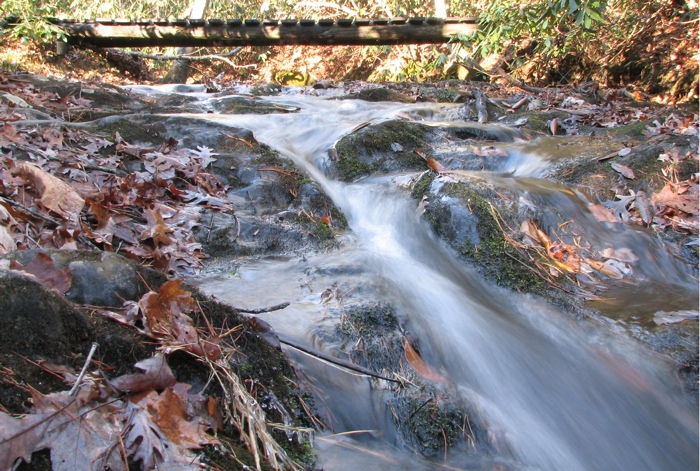 I've been taking a bunch of photos recently, I think over 1000 in 10 days, and enough to start tripping up my install of iPhoto. All of those photos will need sorted and a lot will need some significant post processing of some flavor (there are a number of HDR and panorama sets in that thousand) but I wanted to get this one up. It almost took more time to get photoshop up and running than it did to edit the photo so I don't feel too bad about throwing it up real quick. I'm half lucky the image turned out so well, it's a longish exposure and I was too lazy to use a tripod.
5 extra special bonus points if you can tell me where I took this photo (within ~1km)
2007.12.17
Life at 2x
23.38.48 - Mark
I feel like I'm trying to cram two weeks into one right now, and it's not because of the holidays.

We've got a family friend visiting for the week and the plan has been going around the area doing quasi-touristy things, and I'm the main host for a few days. Today the guest and I went out shooting photos in the Mountains more or less until the sun went down (and then some) and then the family unit plus friend went to the Tanglewood Festival of Lights in the Winston Salem area, which while amazing, but it has taken up a large chunk of the day (~5 hours) and I'm typing this while waiting for some pasta to cook. The photography has the added side effect of adding more images and movies to my need to process and want to process queues (expect some new HDRs and Panos)

At the same time as all of this I've got a list of people I need to call for various reasons from tech support to photographs to web work. I though people were supposed to slow down and enjoy the holidays?
2007.12.11
Dear Midwesterners, Sorry
18.46.19 - Mark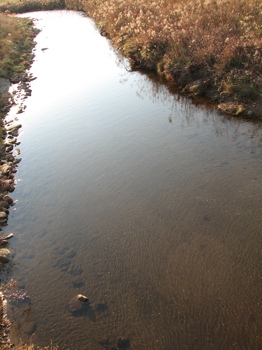 While the Midwest is getting slammed by a winter storm, I've spent the afternoon riding my bike around Mount Airy in shorts and a t-shirt taking photos of things that don't feel like winter. Although I wish winter would arrive in North Carolina. As nice as it is to be riding my bike in mid December, it's also weird. December is supposed to be cold.

I love to take photos in winter. As amazing as fall colors are, there's nothing quite like taking the camera out after a fresh snow, or taking some macro photos of branches and bushes after an ice storm and everything looks like it's encased in glass. Plus the sky never seems clearer than in the dead of winter. Unfortunately, I'm going to have to wait until the new year for much chance at winter photography. There's a 3% chance of a white Christmas (and there's a good chance that's very optimistic), and I suspect that those odds don't improve much the last week of December.
2007.12.10
Not if but when
23.20.20 - Mark
I release almost all of my content (text, photos, videos) under some form of Creative Commons license or something in the same vein if the receiving party isn't familiar with Creative Commons. I do this for two main reasons. One is that I really like seeing people find uses for the things I create. The second is that I feel that current copyright law is better suited to protecting corporation than it is to protecting creators, all while screwing the general public. Creative Commons lets me allow people to expand on my creations while, at least in a legal sense, protecting the rights I really care about like proper attribution and prohibiting commercial uses.

Except... It doesn't seem to be respected. In the last 6 months, I've seen at least four instances where my stuff was used sans credit. One was honest mistake, but two should know better and the last infringement could be called commercial use (plus it was misattribution, not missing attribution). All of the infringements bug me, but at the same time I would have given the OK to credit-less use in the noncommercial stuff, and probably would have only required correct attribution for the commercial use.

I know I don't want to waste time and make myself into an asshole by putting archaic anti-copying code onto my site, and I don't want to plaster copyright notices all over the place but at the same time I want some sort of credit for the content I've created (which is only fair). Something to think about.
2007.12.03
Hunting for something
10.27.13 - Mark
Yesterday my family went Christmas tree hunting. It still feels too early to start celebrating Christmas, but my mom wanted to get the trees yesterday so we drove up to Santa's Delight Christmas Tree Forest in Virginia. The place lets you pick and cut (and drag) your own tree, and picking and cutting down our Christmas tree is an old family tradition going back farther than I can remember. The farm and Virginia is nested in between a few mountain peaks, and is really photogenic so I armed myself with my camera. I took a few good photos, mostly family, but towards the end of our hunting a colorful sunset started forming.

It's probably the mountains, but truly beautiful sunsets are rare in North Carolina, and I've yet to see one that really matches the sunsets we had in Iowa where dirt and debris provided deep rich sunsets. Last night in Virginia however, something was working right, so I turned on exposure bracketing and snapped a few series. I was hoping to get a short HDR panoramic series, but for some reason Canon doesn't allow exposure bracketing when shooting in manual so unless I can work some major photoshop magic I'm not getting a panoramic. I did however get a good single frame set, and after playing with it in photoshop for an hour, I've managed one rich HDR photo from the farm: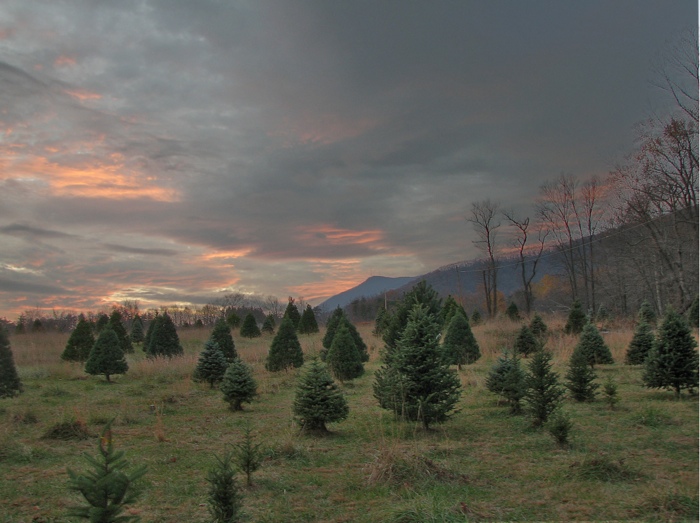 2007.11.28
A voice for pictures
01.29.24 - Mark
Very rarely do I feel like recording my own voice, but when I made my latest panoramic I had a shell script running in the background taking a screen shot every 15 seconds for the 2 hours or so I was working on the image (minus the 15 minutes where I ran out of space to store the screen shots). Stitched together like a time lapse video it provides the basis for a short how to video, just add some narration and maybe some detailed video capture clips and I might have a decent video. In theory not that hard.

Except I'm quickly remembering why every other time I've done a narration, I've started with scripted, practiced, and edited audio, and then cut the video to fit the audio. Going the other way around and trying to coherently narrate a video as it's steamrolling past you and whatever thought you're trying to express doesn't work so well (and is probably why a lot of DVD commentary tracks suck)
2007.11.23
I Came, I Saw, I Shopped
08.21.47 - Mark
Black Friday has come and gone for me. I went out about 4:30am this morning and made my way though walmart, staples, and Lowe's for a few deals. I didn't see any really impressive deals like last year. No $20 hard drives, crazy cheap portable DVD players, or anything exceptionally special. Well aside from the $100 TomToms and other cheap in car GPS navigation systems. If I had money I would have been very tempted to get one. Today's deals weren't a whole lot better than what some good internet shopping yields. Instead I got another (much needed) 500GB external hard drive ($80), a 4GB USB Drive ($18), a couple gift items, and a few DVDs. Nothing special or exceptionally cheap, but hard to beat deals. If you're fast like I am it's pretty easy to move though the crowds and get in and out quickly.

There is something to be said for going out at least half an hour early (as opposed to last year's "on time"). I could have picked up nearly anything I wanted at Walmart without too much fighting, and I was early enough in the Staples line to have had my pick of goodies.

My only real complaint this year is that some people are morally bankrupt at 6am. At staples there were some people who showed up at 5:50 then started acting like they had been standing in line since 5am (or earlier. I showed up at staples at 5:10 and there were a couple dozen people before me) not to mention people who were jumping the gates or trying to get a free upgrade on an already amazing deal.
---
---