2010.05.25
Intervalometer Version 1.3
16.44.40 - Mark
I've been working on my home made intervalometer on and off for well over a month now. I bought the parts for it in early April, bounced between building the original version based on it's schematic and reading up and learning how to actually use 555 ICs in mid April. Finally got the first working version packed into an Altoids sized tin in a frantic morning on April 20th (written inside the tin since I was pulling it off between going to a class then driving 6 hours to go camping for a weekend) About a week after finishing it I got around to putting together a semi-decent time lapse video.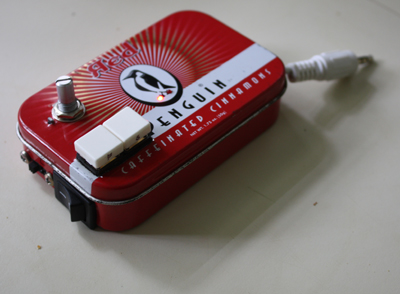 Part of the reason I had held off on the time lapse is because I wanted this to work as a wired remote for my camera, rather than having to carry around a couple candy tins with switches and cables attached. This however has been my big problem.

The original schematic calls for a NPN transistor to work as the switch for the shutter release. When it's base is getting power, the emitter and collector are bridged and the circuit for the shutter is closed. Since the manual switches are wired in parallel, they can't override a closed circuit and are blocked until the base looses power - be it the few moments the 555 drops power or when the battery is disconnected. If I had gone this way I probably wouldn't have had a problem using it as a wired remote, but it is mentioned as a glitch in the original write up.

In my build however I used a PNP transistor, originally for no reason other than I had a bunch more of them than NPNs and they worked in the breadboard prototype. It's emitter and collector are still the connections for the shutter release loop, but those points are only bridged when the base is grounded. Unfortunately this was a somewhat massive problem for me. It not only blocked me from using it as a wired remote when powered off, the second it was plugged into the camera was the second it would take the first exposure. I could jerry rig it into working in my favor, but I wanted full control all the time.

At that point I started thinking about how to get that control. I first thought of using multiple transistors, looking into Darlington transistors or Sziklai pair, even started thinking of Logic Gates and building them with transistors. All it needed to do would be isolate the transistor from the circuit when the power was off. As I got frustrated with the complex schemes of using transistors to control transistors, I started to rethink the simplest approach of isolating the key PNP transistor.

A quick test on the breadboarded version, and just unplugging the PNP's base made it work with the parallel switches when the power was off. While I could have wired in and mounted another switch, I preferred simplicity, and a DPST switch was purchased to replace the SPST power switch. One side still for power, the other between the 555 and the PNP base. It's a good fix, and I finally feel good documenting my version.

In addition to my use of a DPST switch and a PNP, there are a few other changes I made. The first is the different selection of resistors. While the potentiometer and paired 100k ohm resistors remain the same as the original, I changed the LED resistors to 10 ohm (I wanted some more light coming off the LEDs).

Since I wanted a time lapse mode faster than once every 30 seconds or so, the fastest given by the 220uF capacitor (up to about 4 and a half minutes as its slowest), so I used a SPDT switch and 22uF capacitor to add in a second mode that can shoot as fast as one exposure every 9 seconds (which goes up to ~30 seconds).

I also changed the .1uF with 33k Ohm resistor to a 10uF capacitor and 470k resistor. The original design didn't allow my Canon XSi enough time to run the shutter. This my change is a particularly long break for the shutter trigger, about a full second. While I originally only changed the resistor for a sufficient delay, I realized that the SPDT switch with the key capacitors, really had three positions.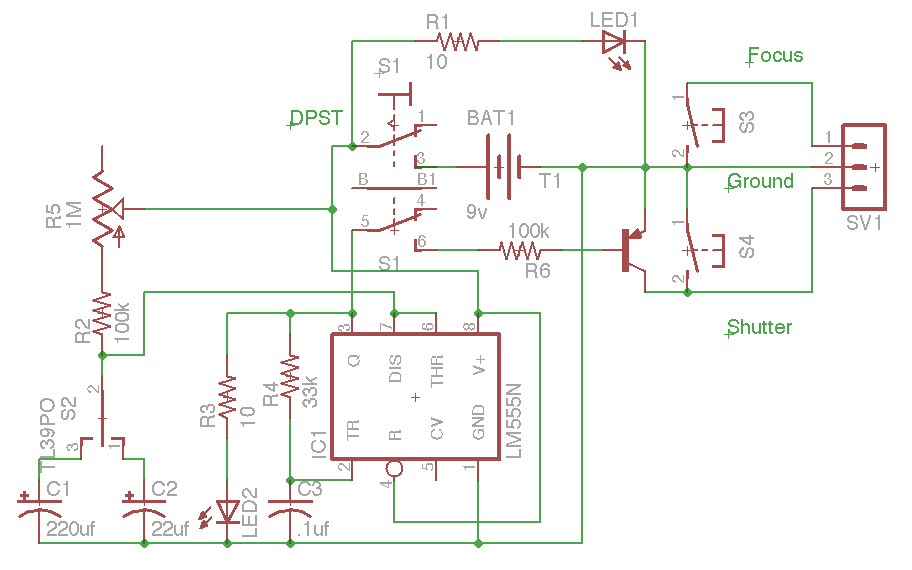 This switch happens to have ON - OFF - ON positions. While I only cared about being able to switch the 2 key capacitors, when testing it I accidentally had it on the off position. When I powered it on it started running the shutter faster than once a second. While I may not be getting this right, when the one of the 2 larger capacitors are connected the circuit is monostable, a quick burst for the transistor, then starts over. When neither large capacitor is connected however, it starts running as a bistable, or flip-flow, circuit, opening the shutter loop for a second, then closing it for a second, with it's pace set by the small capacitor and resistor. While I have yet to find a real reason for this feature, I decided to take advantage of it and added the 10uF capacitor. So, if you follow this design, this gives the camera shutter a full second or so to run when it's in Monostable mode, and get an exposure every 2 seconds or so when in Bistable mode.

While I'm sure there are other changes that could be made, I think I'm done with this one (with the possible exception of designing a real circuit board for it). Between arduinos boards and the parts for building a Camera Axe, I think this will suit me well for a carry around wired remote and intervalometer.

If you want to build one for yourself, feel free to work off my schematic (image above, enlarged, or EAGLE Schematic) put it's still a good idea to refer to the article I worked from in Make Volume 15 or the extremely useful discusion thread on it's Instructables page.

The components are all from Mouser, but I got the perf board from Radio Shack. You can get all the parts there as well (in theory) but they charge a lot for the things they do stock, and sadly my local Radio Shack's component area is a sad disorganized mess. Of course Digikey is on par with Mouser (just a bit harder to navigate) and in this case everything you need (including perfboards) can be purchased at All Electronics (which just takes a good bit of hunting) It's worth nothing however that you can scrounge together a lot of these parts from old electronics.
2010.03.29
Inked all over
23.27.32 - Mark
Last week I posted Inking, part of it my history with screen printing shirts, part as attempting a short timelapse video of preparing the negatives for a few screens on some vellum paper. Aside from my own screw ups, the the DIY Screen Printing Instructable was a good resource I used though the entire project. However if it's your first attempt, don't start with your favorite project.

The first of the four screens I did ended up with a lot of pinholes in the screen's mask after washing it up after exposure. I was also stupid enough to ignore the pinholes and do a test print.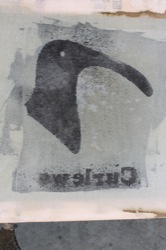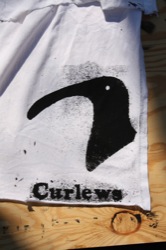 A small art-style paint brush and more of the photo emulsion goo I was more or less able to remove the pinholes with a couple passes. Once it was done I started preparing the other three screens. However these I either spread on the wrong amount of goo and fell though, or the goo had been partially processed with light and didn't expose. In either case I only noticed it after I checked the dried screens, and the holes were too great to bother repairing, so they all got a heavy bleach water wash and a fresh round of photo sensitive emulsion (this sort of screw up and I was extremely pleased with using the homemade mix of Potassium Dichromate and Elmer's Glue instead of buying commercial products.)

The second batch worked and I applied the art, then set off to printing, and learned another lesson (or three).

First don't print them by yourself. In the past, I didn't print more than one or two on my own. I either paid for a company to do the prints or worked with a friend to make the prints. In this case I did 36 prints (9 of each screen), and it would have gone a lot faster if I had an extra set of hands to handle either the fabric or manage the screen and ink.

The other lessons would be a good workplace with good tools. Since I didn't have a table that could be used, and raining like crazy outside, I made the prints on the floor. Works well enough for small runs, but as many prints as I did it wasn't comfortable. Same sort of goes with tools. While the kit I had / made was fine, I needed the ink to dry before I could stack it. Without suitable shelves the "solution" I should have worked on setting up a drying rack or a heat treating system. C'est la vie.

Despite all these problems and lessons, and a couple mistakes on the flags I was printing, all 36 are good enough to use, since the friend who asked me to do all this work was half expecting to loose 5 or 6.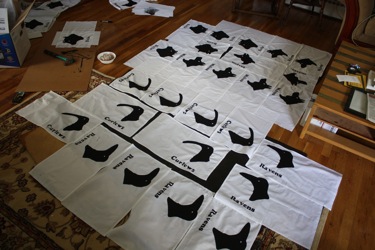 2010.01.27
Scrapheap Table
23.54.02 - Mark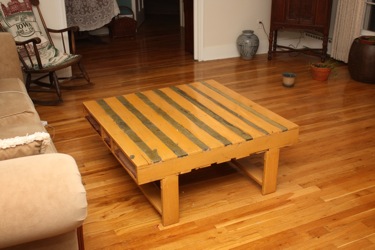 While scraps of this post once made it into my facebook accoun, it feels more like a time to write up a real post. More than a year ago I saw a DIY table project link on MAKE that caught my attention. The Pallet Coffee Table article offers some good advice on converting the shipping pallet with some cheap wood and a bit of concrete.

I thought about it for a couple weeks, but since I needed another table then, already had a couple unused shipping pallets, some unused concrete mix, and enough time to play with it, I decided to attempt it. Unfortunately I didn't take work in progress photos, so this isn't a great instructions page. I didn't keep a log book either, and this project, which started sometime in December 2008, still isn't really "finished" yet (I need to find a decent looking stain for the drawers I made for it)

The basics start with the pallet I choose. The smallest one I owned had boards extending past the main rails on both sides. Works when used for shipping stuff, but not so much for a table so the first step was to trim then down with a jig saw, then sand down all the visible parts well. In the inspiring article they didn't sand it much, but since my primary pallet was well covered with old paint and I was loosely aiming for an unstained, unpainted finish I sanded them until they were smooth (excluding the assorted damage it had taken)

Once sanded down, I cut and attached strips of 1/8" board in the empty spaces on top of the pallet. These were a little shorter than the entire pallet since I wanted them to be hidden in the concrete. I also added larger pieces of 1/8" in between the 1" x 4" rails under the top boards to increase the strength of the strip boards I added, as well as limit the amount of concrete falling though a few remaining gaps (I'll point out however, that I have a tendency to over engineer)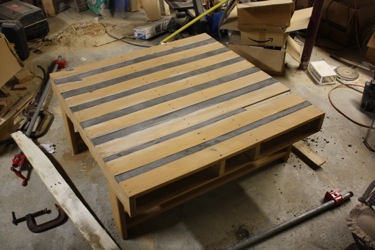 While it was ready for concrete I decided to add legs first. I tore apart the other pallet I had to use it's 1" x 4" rails to make four legs and two cross beams. Sanding them down and sawed them to size, then used a router to round off the corners. The tops of the legs were then trimmed to fit into gaps between boards on the bottom of the pallet. Since I'm not a great woodworker, a few angle brackets were all I needed to keep them in place.

About that time I started reconsidering the finished look of the table. While I would have been wine with the bare wood alone, adding harker grey concrete wouldn't look so nice, so I browsed though the unused stains I had access to, and settled on an orange stain. As best as I can remember I didn't want to accidentally paint or stain the concrete, so choose to stain the wood before adding the concrete. This works, but you need to make it a point to clean up that concrete as fast as possible when adding it.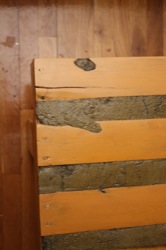 Once it was all stained it was time to add the concrete. I use a couple table clamps some of the scraps from the other dissected pallet to cap the sides of the empty spaces, mixed up some concrete, and then packed it in.

The concrete was a little challenging. While I've worked with it some before, I needed to use a good amount of pressure to make it wasn't leaving air pockets and in there enough that it wouldn't come out when I smoothed it. Even with my best attempts at smoothing it out, some of the concrete I applied is still a little rough, not enough than I feel like redoing yet again, but it may be worth looking into mixing your own mortar than using a bag of quickcrete for this kind of project.

With the concrete added I just left the table alone for a couple weeks, letting the concrete cure as best as possible. Off to the side I used some more 1/8" board and square dowels to make some drawers that fit where the fork spacers.

When I was about to call it finished (minus the drawers) it was suggested to put a few coats of polyurethane. On wood alone it seals and protects it, but since the cement, even in it's best places, still felt a little rough, we tested it some (away from the table) and decided it would help smooth the table top. A few coats and it at least dissipated the worst places and blends the appearance with wood a little.

Overall it's a worthwhile project. Keep some stuff out of the junk yards, learn some new building techniques, come away with a one of a kind table you enjoy. I'm even playing with the idea of making a couple more furniture items out of wooden pallets and assorted leftovers.
2009.12.24
Making Shortcuts
21.25.53 - Mark
Recently I've been helping on putting together a couple websites for a couple local businesses, one as a hired web developer, the other where I'm somewhere between being a website advisor and lowly website janitor (which is a needed site but has been a mess for 9 months and counting). So while I may or may not be the code monkey on both these sites, my skills as a decent photographer have been called on for content.

However both these projects piled up to a couple hundred images needing some tweaks or edits in photoshop, and generally not the changes that a batch process would do without mistakes. I didn't even have a problem with doing this work, 95% of those changes were easy, and the rest were fun little challenges. My problem was the lack of keyboard shortcuts for most of the tools I was using in Photoshop.

Some I could understand not having shortcuts (same tool in several places), others unused enough to not receive one, some merely annoying to a Mac user due to Adobe's universal standards, and on top of the fact that lots of people don't seem to use shortcuts other than copy, paste, print and save. So I just whispered curses over my lack of shortcuts.

What I missed however was being oblivious. I've tweaked Photoshop's preference settings for almost as long as I've used it, and never in it's preference setting area did it have anything about controlling shortcuts. However the other day I found a little link to one of Adobe's blogs about how they're Doing the right thing with Cmd-H for us Mac users. Mostly the write up talks about how CS5 will make Photoshop a little easier for the user to make it a bit more OS friendly. It also talks some about why it's been avoided for so long.

Since I'm still hacking away with CS3, the changes in CS4 and the upcoming CS5 don't matter a lot for me (at least not yet...), but within that write up a little gold nugget hit me just right (my emphasis):


With regard to Cmd-H, Photoshop's keyboard shortcut editor has long made it possible to assign Cmd-H to hiding the app. Doing so takes just a few seconds, yet many people are unaware of this or unwilling to invest the time.
While some of the shortcut combinations (both the ones given and the ones you can create ) can be a bit big and cumbersome, they're a hell of a lot nicer than reverting to nothing more than moving around the mouse and clicking like crazy.
2008.02.27
Atopsy of a Photoshop Demo
01.08.26 - Mark
Photoshop is a tricky program, I've been using it for years and I'm still learning stuff. Part of the problem is how massive it is, part of it is your numerous options for doing any one trick, even the level of customization it offers and then there's the lack of a "right" answer when you edit a photo. Those elements are why it's such an indispensable powerful, and praised program. It's also why it's a real bitch to teach.

The question quickly becomes where do you start? Do you do an overview of the tool pallet, talk about the info and layer boxes? Attack the menus? Memorize hot keys and command strokes? Or do we assume the learner can figure out the icons and run though the concepts behind the program and go over darkroom technique? Or should we plunge into the deep end and tackle photo manipulation? Classrooms, demonstrations, books, websites, and adventurous individuals have all tackled these questions and there's no one answer, just like everything photoshop.

I've been playing with some of these questions for over a month now, since my local photo club asked/drafted me and another photoshop user to do some demonstrations tonight, and I'm thinking about what i did right, and what I fumbled on.

Lesson one: Plan on getting there early, then show up even earlier than you planned. At the very least you're going to need to drop files to the computer you're using. If they're big files, and the system can handle it open them up in advance. That's why you get there early. The reason you show up earlier than that is the technical snafu you're going to face. Murphy loves photoshop demos. If you're using a projector, check the screen resolution and calibrate the thing - don't trust the display profiles. Photoshop needs a lot of screenspace and not all projectors adapt well. And if you're using photoshop and don't know why you calibrate the colors on your display, I'm sorry but I can't help you - go back to Microsoft Paint, you'll be much happier. Then there's everything else you may need to fix, from scratch disks to mouse tracking. It sucks when you have to do a half assed fix in the middle of the presentation, especially if people start throwing out suggestions

Lesson two: Have files prepared in advance, have a cheat sheet prepared in advance, have talking points prepared in advance. Multitasking is hard. Multitasking two tasks that both require a large part of your attention is near impossible, and despite what you may think about instruction, to do it well you need to concentrate on what you're saying/doing and how the audience is reacting to what you're saying /doing. As for photoshop, you'll be juggling hot keys, menu locations, and the image files themselves around in your head. Even if you know that you want to hit V to bring up the move tool, B for the brush, and E for the eraser and [ or ] to scale the tool sizes, the audience doesn't know that and you'll be working magic while the audience is 10 steps back. Or you'll be trying to talk while drawing a vector path and completely blank on the modifier key you need. Help yourself. Prepare the files and notes in advance then use them.

Lesson three: Practice, Practice, Practice. Yes, you know how to use photoshop, great. You probably know how to talk too. But would you give an important speech without practicing it a few times? I didn't think so. Using your prepared files and notes run though the demonstrations a few times. You may feel like you're going nuts, and you may well be, but practice the steps working with your files. Take a break and go postal if necessary but you need to practice with the files you'll be using.

Tip one: Have a few prepared ideas. That means more than one The one thing I'm really glad I did the way I did was I had three things to sets prepared. Stitching a panorama, creating a dynamic range increase photo from two exposures, and using paths and layer masks to remove the background. That's two more than I had been planning on, and ended up being one less than I needed. If I only had one of those prepped I would have flopped bad and the demo would have gotten tedious for everyone involved. By having three distinct demos ready I got to run though several concepts and was able to impart some of my knowledge, and hopefully a skill onto everyone there - from the "I don't own photoshop" guy to someone who's taken a class. It also gave me a degree of flexibility to improvise.

Tip two: Expect to improvise, and be able to improvise. Stealing one from the teaching textbooks the time when anyone, young or old, is most receptive to learning is when they're asking questions. Unfortunately that's probably the one time you're least able to teach. That's why some teacher's hate questions, and other's love them. Shortly after I arrived I was asked if I could show how to put in "ghosts" of people into a landscape. I didn't have a photo of people but because I knew how to do it a couple of ways I figured something out (a giant ghost of a cellphone floating over a greenhouse) and got to make some good points about photoshop. Thank you improvisation.

Tip three: Advanced tools for the experienced, fundamental concepts for the beginners. As pointed out above I had the whole range of photoshop users in the audience, and my demos were intermediate and up, but a lot of the concepts were on the face pretty simple. How do you make a selection? You've got the selection tools in the tool box, but let me show you the paths tool, which we can use to get better results... How do you remove the background? You could use the eraser, but that's a destructive method, and you'll loose all that extra information when you save the files. Let's use a layer mask instead, that's nondestructive. The seasoned pros get a how to on using the tool, the beginners get a better understanding of the tools and why they should ramp up their skills, and you have something to talk about when you're trying to remember what modifier key you need or why that menu item, which should be working, isn't working.

Tip four: Final product, in advance because you're not getting a good copy from the demo. Have your final product ready and separate from the demonstration files. The middle of a demonstration is not the time to be indulging in perfectionist tendencies so you will not get a good example of a finished product unless you're stupid (ignoring the audience) or lucky (self-explanatory). Your target is "good enough" because your focus should be on your audience as much as possible. If you're trying to decide if the red output level needs to be 240 or 230 your attention is not on the audience. Show them the extremes then settle in on a happy medium and move on to the next step. If you don't like that idea, have those numbers in advance so you can plop them in as needed.

Tip five: Don't worry too much, unless you're out of your league. Chances are if you're doing a demo you know what you're doing, and it's a good bit more than the audience, so don't get too hung up on your screw ups. If it's really bad they'll correct you, if it needs repeating they'll ask (just make sure to let them know questions and comments are welcome when you start) if you're moving too fast there's a better than good chance that they will let you know before their brains shut down from information overload.

Last tip: Have fun, and find your own way to teach. Seriously.What worked for me may or may not work for you. This has just been my thoughts on what I did right and what I needed to improve on when demonstrating photoshop. Just like people learn best in different ways, people teach in different ways. If you've got the skills to teach find a way you can share that knowledge and get to it. Maybe you can prepare an insanely good pdf howto, or maybe you can create a kick ass video series, or maybe its one on one tutoring.
2007.12.28
If you bend your neck just right...
22.44.00 - Mark
This screenshot is an example of why you should use a tripod when making panoramic photos, but I'm not that good at taking my own advice. With a couple of exceptions most of my panoramic photos have been done by hand, but that's because I don't have a tripod I like that works well when the camera is in portrait mode. The tripod stabilized sets are pretty good about being level or close to it (angles under 2 degrees). My hand held shots tend to drift around 5 degrees, but this one is angled at 11 degrees partially because I'm shooting from above. I'm pretty sure I can save it tho' photoshop is a wonderful tool.


2007.11.28
A voice for pictures
01.29.24 - Mark
Very rarely do I feel like recording my own voice, but when I made my latest panoramic I had a shell script running in the background taking a screen shot every 15 seconds for the 2 hours or so I was working on the image (minus the 15 minutes where I ran out of space to store the screen shots). Stitched together like a time lapse video it provides the basis for a short how to video, just add some narration and maybe some detailed video capture clips and I might have a decent video. In theory not that hard.

Except I'm quickly remembering why every other time I've done a narration, I've started with scripted, practiced, and edited audio, and then cut the video to fit the audio. Going the other way around and trying to coherently narrate a video as it's steamrolling past you and whatever thought you're trying to express doesn't work so well (and is probably why a lot of DVD commentary tracks suck)
2007.09.17
Me2
08.31.46 - Mark
So it's late, you get bored, you have a little technology and next thing you know you've cloned yourself...

Actually I was helping a friend figure out how a photo was taken, and got sucked into the DIY approach. Fairly simple, take multiple photos of the subject, add each image to a new layer in Photoshop, align them, then mask off or erase unwanted background in each image (except the base image). Little more detail, and a lot of example can be found in this Flickr discussion thread. All I have to say is you have got to love the power of Photoshop.