2008.04.12
I Fear Change - Appease Me!
02.48.46 - Mark
Earlier this week Flickr added the ability to post short (90 seconds or less) videos to the site for it's pro users (people that fork over $25 a year for the service) and now a while bunch of people are up in arms saying that by adding video the site is going to turn into youtube, which is complete crock, and are boycotting groups that allow video, block people that post video, and some claim they'll be defecting from the site or otherwise demanding the new feature be taken offline and thrown into a deep dark dungeon and never be allowed to see the light of day again.

They may as well be chanting "I fear change - appease me!", which would be preferable since it would 1) do just as much for their "cause" 2) would tell you more about how far along they are in terms of mental and emotional development and 3) would simply be more entertaining.

For one thing Flickr is a business. Sure it's a business that makes you feel like it's all warm and soft and friendly and that it's totally hip to it's friends customers interests, and to be fair it does to a lot to be customer friendly (it is a community site after all) but it's still a business, and this is a business move.

Videos uploads are only open to those with pro accounts, so to upload video you have to pay. New pro membership benefit == more members == more money. Then there's the fact that yahoo (which owns flickr) doesn't exactly have a strong video presence, and flickr is a closer fit than a lot of things it could have tried.

Second, comparing Flickr to YouTube is pretty silly when you look at it. YouTube is free to all, and after a few family friendly parental type controls the site is pretty much a free for all. YouTube also isn't exactly interested in quality. Flickr seems to be sort of the opposite. The video clip I uploaded to flickr looks almost as good there as it does when I play it locally, and the player interface isn't bloated or bland. So you don't have the total dreck we've all come to expect from youtube clips.

The third thing is since you have to pay to use the service, you're setting a good barrier to entry. Everyone has seen a myspace page that made you want to suck your own eyes out with a drinking straw, and look at all the number of craptacular free blogs and websites out there. Now how many sites have you seen with a registered domain name (and I'm not talking a .tk or some other free domain) and real paid hosting? Nowhere near as many. Pay walls keep a certain level of junk out, so again, none of the youtube free for all.

Should flickr added a "Don't show me video" option? Probably, and it would surprise me if they don't (or if someone fails to come up with a no video hack) but I'm finding it a useful feature. I've got a bunch of short clips that are neat, and worth sharing, but nothing I really care to piece together into a video. So while things like youtube and blip (another video service) fail, flickr video works, and gives me more of a reason to keep up my pro account.
2008.01.31
Icy Mountain
00.42.39 - Mark
I saw a comment online today (and I forget where) wondering if High Dynamic Range Photography was cheating or cheesy. I don't think either is a fair statement. Yes if you browse flickr for HDR photos then yes there's a lot of dreak - ugly over processed uninteresting photos, which, yes, probably fall into the cheesy category quite well. On the other hand, there's also plenty of well composed, planned out, carefully executed HDR stuff that is excellent. Yes, you can achieve some of the same results with simpler methods, but sometimes you can't. I've spent 20 or 30 minutes playing with HDR files trying to get great results, only to give up and turn to a single exposure that captured the shot just as well (and with out the signs of post processing)

The nice thing about HDR, and maybe one of the reasons that it's caught on, is that its a software problem and not a hardware one. What I can do in camera with my S3, and do well enough for printable results is limited compared to what a high end DSLR with premium optics and a full frame sensor can do in camera. HDR by merging and blending images lets you extend past what you can do with the camera hardware. Layer stacking is a similar example. Is it "cheating"? Only if you want to be a stuck up prick and call it that

A photographer who knows what they're doing can produce great images with any camera they arm themselves with - it doesn't matter if they made it out of a shoebox, electrical tape, and a pinprick, or if it's an example of precision European engineering. The tool is only as good as the user, and I suspect that there are a lot of people that skipped Photography 101 before buying a DSLR. These same people, who tend to argue that the cameras they buy are smarter then they are, are out there seeking out ways to take cool looking photos and the wide ranges allowed by HDR makes an easy target (as a guess these people also lean towards the overuse of photoshop to correct their photos)

It's kind of like "Grunge" graphic design. Some people did it well and created some amazing work, and then a slew of imitators popped up and were imitating without any foundation knowledge of what they were doing and drove the style into the ground. It's not the technique or style's fault that it's misused/overused/horribly distorted, it's the "artist's" fault.

Or we could just incite the long tail and agree that these things will find their own markets. Some people obviously like extreme HDR work with little scraps of reality clinging onto the image, while some people will use it to good effect, and others still will hold true to conventional photography or other random techniques.

Personally, I'll still shoot what I think is fun, and what I think will work, and when things turn out well I'll continue to post them here or on my flickr account and be satisfied. Speaking of HDRs: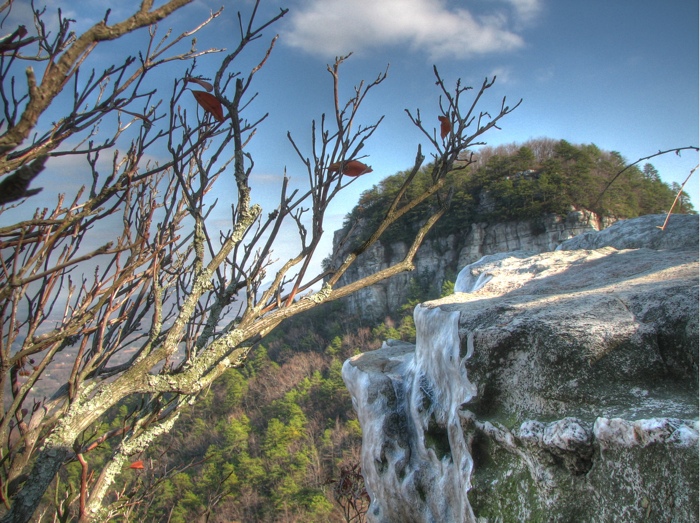 Pilot Mountain back in December. It's only been in the last few weeks that I've sat down and processed a large chunk of photographic back log, and part of that was getting a copy of photomatix to use instead of photoshop's HDR tools (which aren't that nice) or layer masking and blending (which is what I had been doing to decent effect) This one is a photo that wouldn't have worked nearly as well as a single exposure.
2008.01.19
Stuck in the middle
18.35.04 - Mark
One of the only things I don't like about photography is how bipolar it makes me feel. One day I'll be feeling great about my ability with a camera. I'll have a photo that gets great compliments, and it even if it doesn't it's something moving and powerful and that looks amazing. It may even print well and I can sell a print or 30.

Then some days I feel pretty low end and hackish. I start seeing what other photographers are doing - taking photos I want to take - but doing it far better than I can. People with the time and patience and ability to get exactly the right photos and then processes them into a refined gem to my injection molded transparent plastic toy. And some of that's before you get into details like better equipment.

Then I start thinking about it rationally and dissect the photos I'm admiring. I realize that those photographers probably take as many photos as I do, and then sort out the good from the bad, and play around in photoshop just like I do, and then post the best of the best online.

And then I try new techniques, and experiment, and start creating some cool images that someone notices and comments on, and...

The whole cycle repeats itself. Combined with some equipment envy (a good DSLR kit would be very nice) it's a pretty infuriating cycle.
2008.01.02
Let's try this again.
00.45.56 - Mark
Every once in a while I get it in my head that I'm going to do something useful with my flickr account. This tends to result in a bunch of photos being uploaded over a day or two, followed by months of casual disregard. Its not that I don't like flickr, just that I was using the limits of a free account to justify not uploading there. I'm going to try and do better because I've now upgraded to a "pro" account, and I'm not a fan of wasting money.

I've been making it a pretty regular feature to post a photo on these pages, and that will continue since I like doing it, but this isn't a photo of the day sort of site. Life aggregator would be a good term since I've been posting the movies I've watched, the books I've read, and occasional links I think are worth sharing.

We'll see if this works. I love sharing photos, but there's that feeling that posting my stuff onto flickr helps flickr (and by extension, Yahoo) and not this site (and by extension, Me)
2007.09.17
Me2
08.31.46 - Mark
So it's late, you get bored, you have a little technology and next thing you know you've cloned yourself...

Actually I was helping a friend figure out how a photo was taken, and got sucked into the DIY approach. Fairly simple, take multiple photos of the subject, add each image to a new layer in Photoshop, align them, then mask off or erase unwanted background in each image (except the base image). Little more detail, and a lot of example can be found in this Flickr discussion thread. All I have to say is you have got to love the power of Photoshop.
2007.05.06
Flickr Reloaded
22.42.17 - Mark
So I finally got around to connecting my flickr account to a yahoo ID (and got past how stupid Yahoo/Flickr is for forcing that on users) and dug out some of the Raven Knob Photos from last summer (just in time for this summer...) and uploaded them to my account. Anyone who was reading last year has probably seen them, but I wanted to put them up on flickr anyways. I need to stow some other stuff on there, but I'd really like an upload solution that lets me upload full resolution versions to my site, and then forward scaled down versions onto flickr. Its not that I don't like web apps, its that I've got Gigs to spare on my server, and Flickr limits me in a number of ways that fail to justify $25/year (at least to me).