2007.12.11
Dear Midwesterners, Sorry
18.46.19 - Mark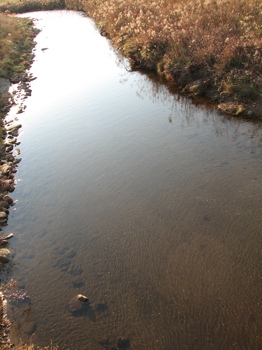 While the Midwest is getting slammed by a winter storm, I've spent the afternoon riding my bike around Mount Airy in shorts and a t-shirt taking photos of things that don't feel like winter. Although I wish winter would arrive in North Carolina. As nice as it is to be riding my bike in mid December, it's also weird. December is supposed to be cold.

I love to take photos in winter. As amazing as fall colors are, there's nothing quite like taking the camera out after a fresh snow, or taking some macro photos of branches and bushes after an ice storm and everything looks like it's encased in glass. Plus the sky never seems clearer than in the dead of winter. Unfortunately, I'm going to have to wait until the new year for much chance at winter photography. There's a 3% chance of a white Christmas (and there's a good chance that's very optimistic), and I suspect that those odds don't improve much the last week of December.
2007.11.25
The Panoramic: Season 2
23.36.39 - Mark
A couple weeks ago I made my way up to Raven Knob for some fall photography. I was a few days late for peak color so a lot of the photos I took around camp don't have those stunning fall colors, there were a lot of leaves already down. I have a few photos that still have some great color (and I still need to play with them some in Photoshop) and I still got some beautiful photos, but hiking up to 1860 feet (give or take some elevation) gave me a stunning view of the area, in aggregate fall was still in full swing. This panoramic doesn't come close to doing the scene justice. I sat down on the rocks taking the view in for about 15 minutes before I even bothered unpacking the camera. I'll probably print up some copies of this image like I did the summer Raven Knob Panoramic but it's going to be a while before I order more panoramas, they're not cheap to print. Anyways, enough talk, no point in trying to create 1000 words when the image is worth more than that.



2007.10.17
Orange Night
17.31.22 - Mark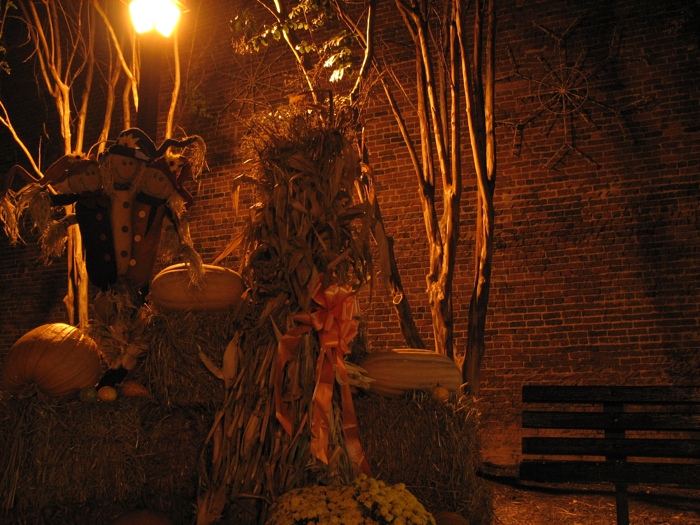 Orange Night - Fall is here
Last night I was the monthly meeting of Mount Airy's Photography Club, I on my way home I drove past a small park at the end of main street, and the lighting and arrangement of stuff looked cool in the orange glow of the street lamp, at least more interesting to me than in broad daylight. So I circled around Main Street, parked at the end of the otherwise deserted street, and grabbed my camera and a tripod and snapped away. I really like manual settings. I couldn't have taken this image with automatic white balance and unadjusted exposures.
I've got some good evening images of Main Street (at the Mayberry end of Main) I'll post later. Mayberry at night has an interesting feel to it.
2006.10.13
Good Afternoon
22.42.58 - Mark
I love early fall. When the weather is good, there's a contrast between the deep blue of a cloudless sky contrasting the crisp browns, reds, yellows, and lingering greens that is so much more satisfying than winter, spring or summer days. Today, without question was one of those ideal fall days.

This afternoon I managed to drag myself out of the house to help a friend fix a computer but, selfservingly used it as an excuse to run down to Yadkinville for a round of disc golf. It was good to play a round after having my discs sit around doing nothing for over a month. While there aren't that many well developed parks in the area the Yadkin park was pretty nice, and had a nice course layout. Unfortunatly I don't know what par was, but I' sure I didn't come very close (65-ish)

Finally, I just got out and drove. I'm far from being a motorhead, but it's hard to deny that cruising around North Carolina's backroads isn't a pleasure all its own. Smooth roads bending around the hills painted by autumn is almost breath taking. Add some good tunes and life is simply put, very satisfying.