2008.01.10
More Natural
23.25.39 - Mark
I've been posting a lot of edited photos recently - panoramic photos, HDRs, things that needed correction in Photoshop. Here's a reminder that I can still take good photos that can be pulled right from the camera. I don't shoot a lot of wildlife photos, but I don't turn down a chance when it presents itself. Once of my favorite things to do it run out to Pilot Mountain, hike out to the eastern side of the mountain, lay down in the sun, and try to shoot the hawks that nest on top of the big pinnacle. This Heron was a fun, unexpected subject. He usually flys away whenever I have my camera, and I think he migrates south for the winter, but he hung around for a few minutes letting me take a few videos of him in addition to allowing me to shoot a bunch of stills before flying away (I posted an edited video of him a few weeks ago)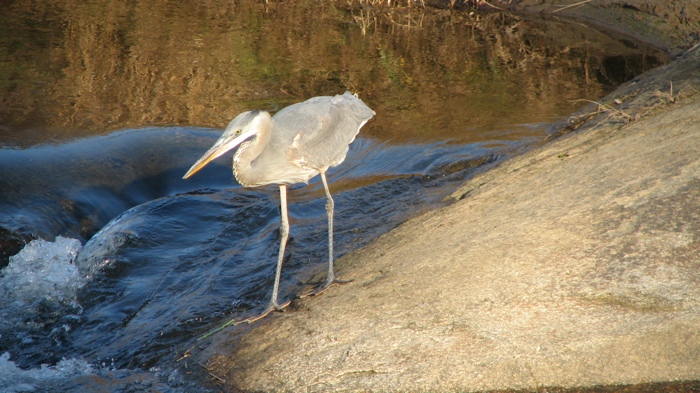 I can get lazy sometimes. When I was out and about taking photos two weeks ago (when it was 70 degrees and sunny) I ran across this bird who has a habit of showing up around the Greenway Trail in Mount Airy, I'm pretty sure it's a Great Blue Heron, but I'm not a bird expert. The herons (there are a few that like the creek) tend to show up when I'm either without a camera or they fly away before I can make a photo. For whatever reason this one wasn't disturbed, and allowed me to watch and record for about 10 minutes before moving on.

It took me a week to get around to editing to find some music I liked for the bird and edit together the video clips and photos I took, and then it's taken me an additional week to getting around to fighting with compression settings and file formats, so after all that time I'm finally getting around to posting the video as a sort of holiday gift. Maybe later I'll get around to adding some sort of flash player so you don't have to download my, anymore large, video files.

The music under my video is "Clouds Fly as I Smile" by SaReGaMa the Artist who released it under a Creative Commons Noncommercial Sampling Plus 1.0 License. My video (like most of my content) is CC Attribution Non-commercial 3.0.

The Bird (158MB 320 x 240 H.264 Quicktime)


This work is licensed under a Creative Commons Attribution-Noncommercial 3.0 License.

Oh yeah, Happy Holidays.
2007.04.24
For the birds
18.07.35 - Mark
One of several photos of Hawks in flight that I took at Pilot Mountain last week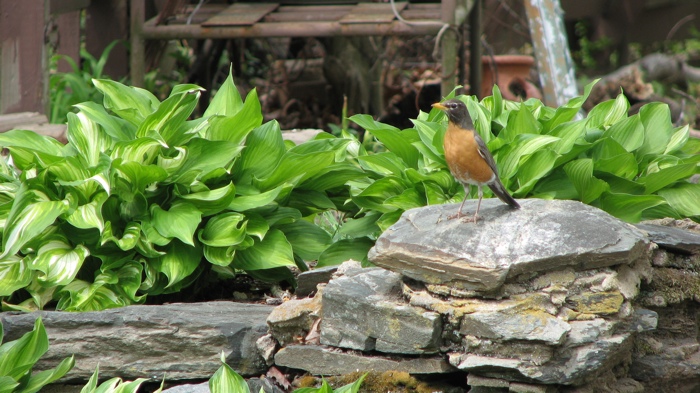 A Robin that happened to perch on a stone retaining wall in the backyard earlier today
I love my zoom lens, but I really need to find a better way of posting photos online. Maybe time to fire up the flickr account again...