2007.11.25
The Panoramic: Season 2
23.36.39 - Mark
A couple weeks ago I made my way up to Raven Knob for some fall photography. I was a few days late for peak color so a lot of the photos I took around camp don't have those stunning fall colors, there were a lot of leaves already down. I have a few photos that still have some great color (and I still need to play with them some in Photoshop) and I still got some beautiful photos, but hiking up to 1860 feet (give or take some elevation) gave me a stunning view of the area, in aggregate fall was still in full swing. This panoramic doesn't come close to doing the scene justice. I sat down on the rocks taking the view in for about 15 minutes before I even bothered unpacking the camera. I'll probably print up some copies of this image like I did the summer Raven Knob Panoramic but it's going to be a while before I order more panoramas, they're not cheap to print. Anyways, enough talk, no point in trying to create 1000 words when the image is worth more than that.



2007.10.17
Orange Night
17.31.22 - Mark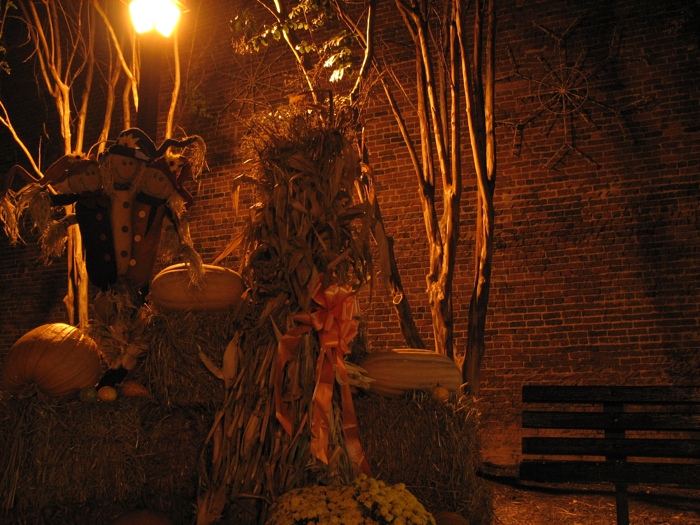 Orange Night - Fall is here
Last night I was the monthly meeting of Mount Airy's Photography Club, I on my way home I drove past a small park at the end of main street, and the lighting and arrangement of stuff looked cool in the orange glow of the street lamp, at least more interesting to me than in broad daylight. So I circled around Main Street, parked at the end of the otherwise deserted street, and grabbed my camera and a tripod and snapped away. I really like manual settings. I couldn't have taken this image with automatic white balance and unadjusted exposures.
I've got some good evening images of Main Street (at the Mayberry end of Main) I'll post later. Mayberry at night has an interesting feel to it.
2005.11.03
Leaves, or Wandering Minds
01.51.00 - Mark
Its November, and since we're having unusually temperate weather it means the leaves are really starting to show their colors (ironically about two weeks after the areas "Autumn Leaves Festival") so since I've had a hacked up CVS one time use disposable camcorder, a marvelous little goodie that only cost me $30 I decided to start shooting some of the trees. Some of the 15 minutes I took was really good, most of it was rancid to a level far beyond just shaky cam. The 1 and a half minutes that were useable have been edited into a 2 and a three forth minute movie clip with some music.

The music is Thoughts, by Phil Cooper which is released under a Creative Commons Attribution Share Alike 2.5 license. Since I'm a good copyfighter the movie is also released under that license

Leaves (17.1MB 320x240 Quicktime Movie)




This work is licensed under a Creative Commons Attribution-ShareAlike 2.5 License.


Forgive the cruddy editing in the second half, after the first 90 seconds got edited I wanted to finish the sucker and publish it. I think it still floats around like my mind when I'm thinking, so I doubt I'll go in to recut it if/when I get some more footage.

However, right now its 2 AM and I have every intention of falling asleep once this is up. If feedburner doesn't catch it and make it an enclosure, that can come later much later, like not 2 in the morning later..

Edit (at not 2 am in the morning): Feed burner made enclosures, of the CC logo. I've shuffled them around and when feedburner updates it should (i hope) make the movie, and not the logo the enclosure.