2011.04.02
Modern Sandbenders
11.00.35 - Mark
"I like your computer," she said. "It looks like it was made by Indians or something."

Chia looked down at her sandbenders. Turned off the red switch. "Coral," she said. "These are turquoise. The ones that look like ivory are the inside of a kind of nut. Renewable."

"The rest is silver?"

"Aluminum," Chia said. "They melt old cans they dig up on the beach cast it in sand molds. These panels are micarta. That's linen with this resin in it."

Years ago I read that bit of text in William Gibson's
Idoru
, and it's been an idea kicking around in my head ever since. I love the idea of casting a 3d circuit holding itself together in the air. The joy of functional art, from recleamed materials and repurposed parts.
It's not the sole reason I bought an
Arduino to build a 3x3x3 LED cube
, but the whole idea was rekindled by seeing an
Arduino Skeleton
[
via HackADay
]. While it's not the aluminum cast circuit Gibson talked about, a steel wire framed arduino is pretty close. I also like how there are some hints on how to make your own substrate less circuit. So tempting...
2010.09.16
Old Meet Older
17.40.51 - Mark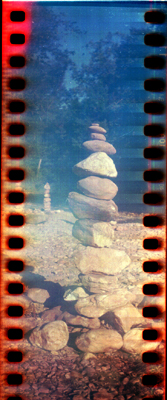 A couple weeks ago, I was bored and was taking another look at an old Kodak Jiffy Six-20, and was, for a while, looking for a way of acquiring some suitable 620 film and a way of getting it recycled. The 620 film is out there, but $10 for a single roll is a more than I'd care to pay for a camera made in the 1930s and certainly hasn't been used in at least 20. However a little side tracking on Google and I stumbled across a a little how to use 35mm film in a Holga 120 page, and posted that link here. Having read that 120 film and 620 film were extremely similar - particularly that 120 film can be re-spun for 620, the idea of cramming a 35mm roll of film into the old Jiffy appealed to me. It would be cheap, I could do it immediately, and, if I could somehow scan the image, could get some neat results.

So I quickly dug around the house and found some old expired, but unused roll that sure enough, could be jammed in. Another hunt for a plastic bound manual, electrical tape and a knife and soon enough I was ready to shoot some photos.


The question was where. At first I felt the yard would be sufficient, but soon chose to ride my bike out and revisit some of my preferred photo walking locations. Within an hour I had spent my roll and took it home. Once it was dark I cobbled together a "darkroom" and stumbled my way though opening the Jiffy, unbuilding my clicker, and re-spooling the film. The next day, I took it into a 1 hour photo lab.

Of all my mistakes, the lab was the biggest. I hadn't spent the time to not have them attempt to print it, nor did I request they did not cut the film into lengths. While I've trusted that lab with digital prints, I suppose it was too much to assume they would look at the exposures themselves. Their equipment was obviously geared for the traditional 35mm frame shots, not near panoramic exposures. The mistake was free however, with useless prints I was allowed to skip the prints and keep the negatives for free.

A week later I met up with a friend to see about using a higher quality film scanner he had acquired for digitizing his medium sized camera negatives. A little playing around, and I was able to "save" a few exposures from expired film, mangeled in processing, and all shot in an antique camera in the hands of a photographer who hasn't really shot film in over 5 years. The technique has some potential.

I think I'll be doing it again.

Photo Left: Stacked
Photo Right: Four Columns
2007.10.05
My Corner of the Universe
02.10.11 - Mark
I got around to hanging some of the art I own tonight. The art from right to left: A framed copy of my Raven Knob Panoramic (which I've been selling), one of Troop 109's lithograph prints of Raven Knob by Richard Tumbleston, and a personalized copy of Willard Gayheart's "Raven Knob" print.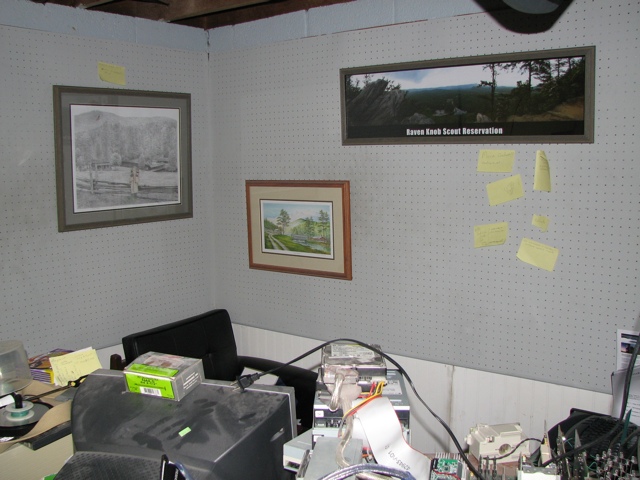 2007.04.22
Earth Day
13.18.41 - Mark
I completely forgot that today was Earth Day until Google's logo caught my eye. I think its one of the best Google Doodles I've seen in a while, maybe ever. I think I'll go back outside and enjoy the near perfect weather now.