2008.02.05
Free Flowing
23.56.18 - Mark
For a while I was doing a good job of posting something daily, a link, a movie review, a post - something. Then the weekend came and I dropped off the interwebs while I went to Raven Knob and spent the weekend in good company wandering around taking photos and having fun.

I didn't ever realize it but I was in need of a recharge. Even if things seem slow it's amazing how crazy life can get, between hobbies, projects, and the information overload that is the modern era. A weekend unplugged and a couple more days mostly off-line does wonders for the body and soul.

I think the early morning hike Sunday morning was the key. There's nothing like an cool morning (or late night) hike though woods almost entirely untouched by civilization. Particularly when the trip includes climbing around a beautiful waterfall taking long exposure photos.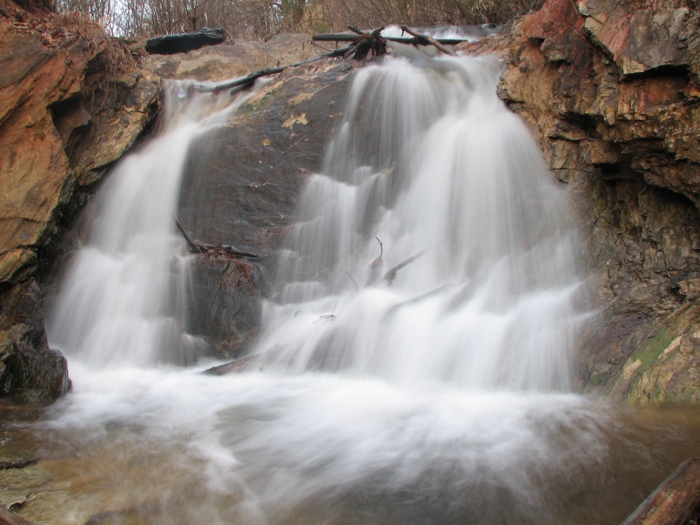 2007.12.20
White Water
02.19.43 - Mark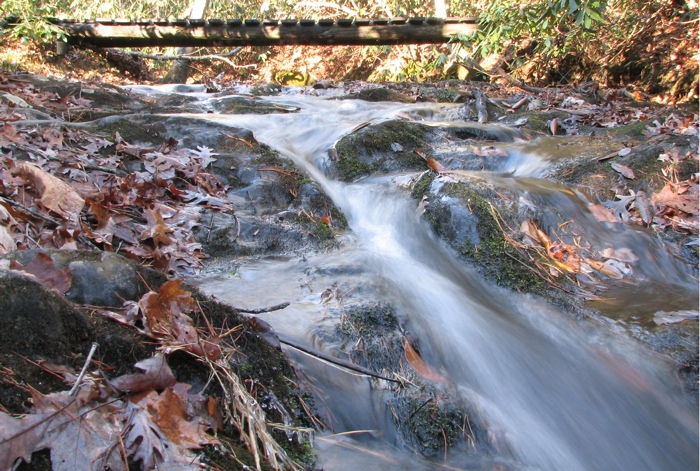 I've been taking a bunch of photos recently, I think over 1000 in 10 days, and enough to start tripping up my install of iPhoto. All of those photos will need sorted and a lot will need some significant post processing of some flavor (there are a number of HDR and panorama sets in that thousand) but I wanted to get this one up. It almost took more time to get photoshop up and running than it did to edit the photo so I don't feel too bad about throwing it up real quick. I'm half lucky the image turned out so well, it's a longish exposure and I was too lazy to use a tripod.
5 extra special bonus points if you can tell me where I took this photo (within ~1km)
2007.12.08
From the Department of Lost Files
20.38.35 - Mark
I don't know why I didn't post this one back in August closer to when I took it, or when I ran it though noise reduction, but I was reminded of it while talking with a friend the other day. This pre-dawn photo of Raven Knob is one of my favorite pictures period (even if I woke up at 4:30AM to take it) and it's a shame that it's near impossible to make a good print of it, even after noise reduction, but it's still a treat to look at (it's one of the few photos I've slipped into my desktop images folder).

No flash, no lights, just a tripod, a near full moon to my back, and a 15 second exposure.


2007.11.25
The Panoramic: Season 2
23.36.39 - Mark
A couple weeks ago I made my way up to Raven Knob for some fall photography. I was a few days late for peak color so a lot of the photos I took around camp don't have those stunning fall colors, there were a lot of leaves already down. I have a few photos that still have some great color (and I still need to play with them some in Photoshop) and I still got some beautiful photos, but hiking up to 1860 feet (give or take some elevation) gave me a stunning view of the area, in aggregate fall was still in full swing. This panoramic doesn't come close to doing the scene justice. I sat down on the rocks taking the view in for about 15 minutes before I even bothered unpacking the camera. I'll probably print up some copies of this image like I did the summer Raven Knob Panoramic but it's going to be a while before I order more panoramas, they're not cheap to print. Anyways, enough talk, no point in trying to create 1000 words when the image is worth more than that.



2007.10.05
My Corner of the Universe
02.10.11 - Mark
I got around to hanging some of the art I own tonight. The art from right to left: A framed copy of my Raven Knob Panoramic (which I've been selling), one of Troop 109's lithograph prints of Raven Knob by Richard Tumbleston, and a personalized copy of Willard Gayheart's "Raven Knob" print.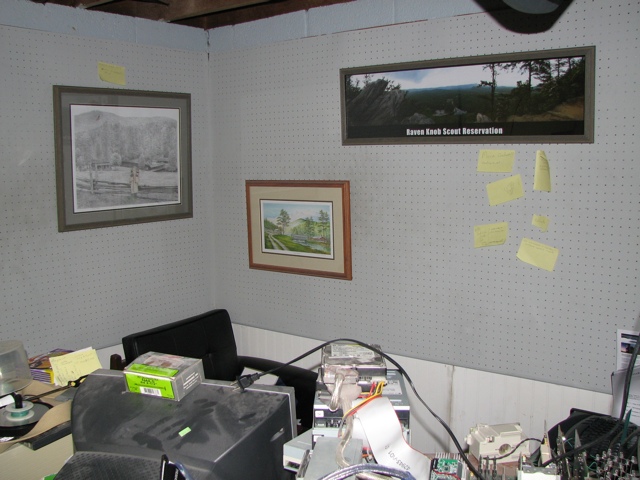 2007.08.11
Some weeks later
23.31.48 - Mark
Camp is done once again, and I've been painfully thrust back into the real world kicking and screaming. Well maybe not kicking and screaming, but Raven Knob is not something you really want to leave behind. Fortunately I've got a few camp related projects that should keep me free from a full blown withdrawal. Among other things I did get around to ordering the panoramic photo I took at the beginning of the summer (only about 11 weeks ago...) and sorting out the 4000+ photos I took during the already mentioned 11 weeks. Once some of the chores get finished up (unpacking, catching up on 3 months of news, other random shit) I'll pick up the posting rate. I might have gone to camp, but the rest of the world didn't take the same 3 month vacation I did.
2007.06.24
Taken Out
10.56.07 - Mark
Camp has taken a lot out of me (I've been up there for about a month, a solid two weeks more than most people). While I had every intention of making periodic posts here, the time involved with finding something to write about, writing it, lugging the laptop to a place it can connect to the internet, and then posting it is a slightly higher price than I'd like to pay. Instead, I'm enjoying camp as best I can, dealing with tons (~100 in my regular sessions) of bored scouts, making sure the staff I'm responsible for doesn't mess up, taking every opportunity to take photos, and of course, finding every opportunity to catch up on some much needed rest.

One thing I am working on in my little spare time however is making prints of the Panoramic photo I took from the Knob. There's been a near universally positive response to the image, and many of the people who have seen the image want to own a copy.

Anyways, it's about time to go back to camp...
2007.06.07
Moonrise
10.44.26 - Mark
Moonrise over Lake Sobotta
The worst part of camp...
00.01.27 - Mark
I've been up at camp for about two weeks on and off, and despite working hard it's a rewarding experience (as always)

It's biggest attraction, isolation from the "real world" is also a severe weakness. The camp doesn't place a strong emphasis on outside communication. No TV, impeded radio signals, irregular newspaper deliveries, and practically being a cell phone free zone make regular news a rarity. Fortunately we have a couple of wifi hotspots scattered about camp but the signals aren't great and you have to make it a point to access them and even then news isn't a matter of great importance.

Had it not been for a friend who came up for a night, I could have easily missed the drama brewing between the Bush administration and Russia and I certainly don't have enough knowlege to make any decent comment about the mess.

Ph, and in case you haven't figured it out, this is a semi-formal note to let you know posting will be extremely light for a couple of months. I'm going to try and post a couple times a week, but I doubt that will happen.

2007.05.22
Seeing the big picture
17.35.02 - Mark
Today's adventure in photography is panoramic photography. This is a photo of Camp Raven Knob (from the upper knob) that I've been wanting to take for years, but have more or less lacked the experience, tools, and skills to pull it off. That's changed - when I was at the local art council's photography club I knew one of the members had some experience with digital panoramas and asked for some tips after the meeting. The tips were take the photos on full manual controls, take the series in the portrait orientation, then stitch them together in Photoshop by hand - aligning them in layers, then using layer masks to smooth out sharp lines and other misalignments. I have to say that his tips worked out really well, and the results are worth the extra time and effort involved.

Here's the first stitched image, A 15 or 16 image series forming one horizontal row. It's not particularly well suited to serve as a desktop (unless your desktop is a flight simulator or you have 3 or 4 wide screen monitors as your workspace). I took a series with two horizontal rows, but I might try and get a 3 or 4 row series later on. I'll stitch the two row series together next, and if it turns out well that may make a better candidate for desktop images and prints. I also might have to dig around for some QTVR software and use one of the 360 series to make a panoramic movie. For now, I really want to make a panoramic photo into a poster, but I want to have the image first (then worry about finding a reasonably priced large format printer...)


2007.05.06
Flickr Reloaded
22.42.17 - Mark
So I finally got around to connecting my flickr account to a yahoo ID (and got past how stupid Yahoo/Flickr is for forcing that on users) and dug out some of the Raven Knob Photos from last summer (just in time for this summer...) and uploaded them to my account. Anyone who was reading last year has probably seen them, but I wanted to put them up on flickr anyways. I need to stow some other stuff on there, but I'd really like an upload solution that lets me upload full resolution versions to my site, and then forward scaled down versions onto flickr. Its not that I don't like web apps, its that I've got Gigs to spare on my server, and Flickr limits me in a number of ways that fail to justify $25/year (at least to me).
2007.03.25
Recharged
23.59.00 - Mark
Didn't quite manage Shutdown Day, but then again I didn't say I would (funny how that site has gone to hell). My brother needed some tech support and that slid into the 24th, however I did go more than 24 hours without using a computer. Wasn't hard, wasn't jonesing for an email fix.

In addition to getting away from computers, I got up to Raven Knob for the first time in months. I've mentioned in the past about how going to Raven Knob refreshes me. Doesn't matter if its a matter of hours or weeks, it is simultaneously relaxing and invigorating. Easily one of the most beautiful places I know of, its also a regular meeting spot for a number of good friends. The best tangible evidence of these statements. I've slept a less than five hours since Friday Morning (about 40 hours ago) and I'm perfectly awake. That or my circadian cycle is so fucked up I'm accidentally falling into a Core sleep variant of Polyphasic Sleep. It might be both.
2006.08.27
Flying High
23.45.18 - Mark
Due to ongoing technical troubles with the iBook it's taken forever and a day to actually get around to posting these photos (from mid July). They are however extremely cool. Links go to the full size images. Maybe one day when I have my iBook working again I'll stich together the video of the flyover taken on another one of the trips over camp, because that's a real treat.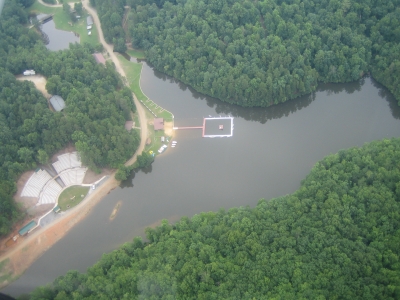 Ariel photo of Camp Raven Knob. Lake Sabotta, Lake Watson, the Vaugn-Woltz OA Arena, and a few camp buildings



Flying in over Lake Sabotta towards the aquatics area and OA Arena - just to give you an idea of how low we were flying :)
2006.07.01
Paid Vacation
14.12.51 - Mark
I was stupid enough to have several people take photos of me this week at Raven Knob, and unlike 99.99% of all pictures of me, I don't entirely hate these. So lets see...

Some one trusted me with a black powder rifle Wednesday. If nothing else camp has significantly changed my views on gun laws.




Thursday some of the staff members took a camp truck on some of the dirt trails. I'm not big on motor sports, but the occassional offroad excursion is a treat (and is probably one of the only times I'll admit I probably shouldn't be driving)




Last one isn't of me, but it shows you how stunningly beautiful my workplace is. (Camp's dining hall right after a massive thunderstorm blew though Wednesday night)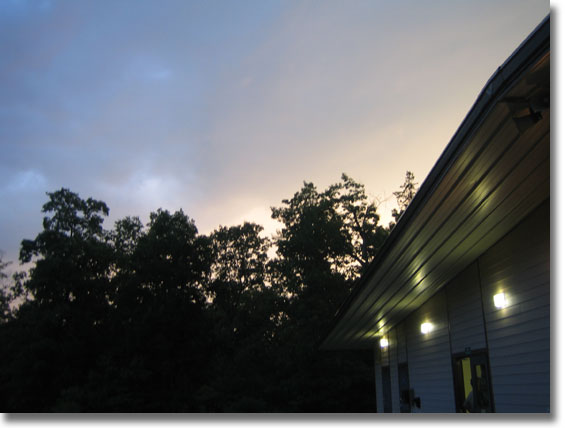 Of course, I've been putting up other photos from camp here
2006.06.25
Better than alive
10.37.25 - Mark
I've been at the Raven Knob for nearly 3 weeks and for the first time in recent memory I really feel alive. I've had blisters on my feet, cuts and scrapes all over my arms and legs, and I wake up some mornings with my body acking all over, and I love it.

Right now my iBook and the camp's wifi network aren't getting along so well, so I haven't been posting things here (duh) or anywhere else and I've effectivly been cut off with some parts of the world, but hopefully I will fix that problem soon and start sharing some of my photo's here.

For now I'm putting a few images up on the camp's photo site (starting with Cub week) but like all camera men, I've very well hidden...
2006.06.08
Warning...
02.36.25 - Mark
I think blogging here is going to be light for the next couple of months baring a nice surprise (and I'm hoping for that surprise) Raven Knob is calling and I have every intention of answering that call. I'm packed up and planning on leaving in the morning to start working on staff for the summer and doing something I truly enjoy as opposed to the miserable life experiences I've been on the receiving end since I started attending High School University.

As much as I would love for this little warning to fall into my archives, if connectivity falls tough, and this site looks inactive, it's because most trees don't come with power and ethernet. Not that I'm complaining about that. Part of the reason I'm looking forward to the next few weeks is to get off life's interstate for a while.

Aaaaaaaahhhhhh.....