2008.03.17
Frankenphoto
22.44.26 - Mark
I was shooting photos out at Hanging Rock State Park last week, taking a few panoramic series, a handful of HDR sets, long exposures of waterfalls and similar stuff. I also started experimenting with Vertical Panoramas and sets that involved a little more than just the x-axis. One of the sets I took was coming up to the main rock face of Hanging Rock Mountain itself, and for lack of a wide angle lens (or a DSLR that can take a wide angle lens) I took about 40 photos trying to get the whole mountain. Now not wanting to try and stitch it together myself, last night I opened up the files, told photoshop to stitch them together itself (something I don't do on my regular panoramas) and let it do it's thing.

Now I've already discovered that Photoshop CS3's photomerge function doesn't do vertical merges well on it's own, so I finished up the last few chapters of The Anansi Boys checking to make sure it could handle the set before going to bed. It didn't spit up any errors so I let it work into the night, and when I woke up I found it showing off a pretty distorted, and absolutely massive stitched pano, in addition to a few system error messages that were effectively screaming for more RAM.

The 14172 pixel wide by 30634 pixel high image is so big, Photoshop is incapable of saving it as a photoshop file, let alone a jpeg. The only way I could feasible save it was a 3.91GB tiff file, that takes 30 minutes to open on my 1ghz ibook.

I'm in the process of downsizing the file to a more manageable 10000px high, but at the rate photoshop is going it may be a couple hours. Until then, here's a screen shot of the monster photo.


2008.01.01
Pilot from the Parkway
22.20.45 - Mark
Somehow I've been in North Carolina for over 5 years and have only really be on the Blue Ridge Parkway once despite being mere miles away. I'll be correcting that in the future. Still sorting out my mess of photos, but for now here's a HDR photo of Pilot Mountain from an overlook on the Parkway in Virginia.


2007.12.29
In over my head
21.40.56 - Mark
Despite my copy of Photoshop resisting work by moving as slow as possible I'm slowly working my way though the mass of photos I've taken this month, and I'm developing a backlog of images I want to put online, and it's going to grow some more when I feel like dealing with photoshop again.

On a similar note I'm getting closer to ordering some large prints (eg bigger, or at least wider, than those 8x10's you pick up at the 1 hour photo booth), in case anyone out there is interested in getting a nice print of one of my photos while kicking a few coins in my direction. Comments are fine, but there's also a contact form on the goodies page



Lovill Creek, Mount Airy
View Medium (3677 x 1024) Suitable for looking at river rocks.
View Massive (9569 x 2665) Suitable for looking at water droplets on river rocks.
2007.12.11
Dear Midwesterners, Sorry
18.46.19 - Mark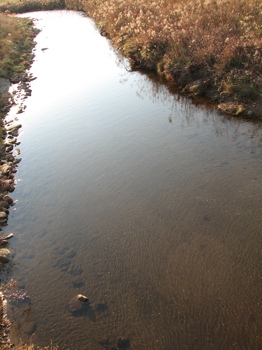 While the Midwest is getting slammed by a winter storm, I've spent the afternoon riding my bike around Mount Airy in shorts and a t-shirt taking photos of things that don't feel like winter. Although I wish winter would arrive in North Carolina. As nice as it is to be riding my bike in mid December, it's also weird. December is supposed to be cold.

I love to take photos in winter. As amazing as fall colors are, there's nothing quite like taking the camera out after a fresh snow, or taking some macro photos of branches and bushes after an ice storm and everything looks like it's encased in glass. Plus the sky never seems clearer than in the dead of winter. Unfortunately, I'm going to have to wait until the new year for much chance at winter photography. There's a 3% chance of a white Christmas (and there's a good chance that's very optimistic), and I suspect that those odds don't improve much the last week of December.
2007.08.27
Burned and lightly salted
00.44.22 - Mark
I've been in NC for 5 years now (almost exactly) but I've somehow never made it to the beach, which is apparently what everyone in NC does. Coming from Iowa large bodies of salt water don't really matter that much and my only experience with the Atlantic ocean up until today could be condensed into it sucks. I had gone on a school sponsored (privately funded) east coast trip in 2000 which included visiting Washington DC, Gettysburg, and other random places with some educational value on the east coast. One of the places the east coast trip went to was Virginia Beach, and of course they checked us into a ocean front hotel. They of course planned on letting us play in the ocean, but for some reason I can't even remember we weren't allowed to go more than knee deep into the water. 93.7 quintillion (I think I did that unit conversion right) gallons of water reduced to little more than a kiddie pool that swallowed a salt truck.

That more or less changed yesterday. While down in Savannah, GA visiting my brother we went to Tybee Island and spent some (limited) time in the water before coming back to NC. We were there right as low tide hit so it could have been a lot more impressive, but I get why NC makes a big deal about going to the beach now. Large bodies of salt water are a whole lot more fun than some pool with a chlorine chemical concoction. Even if I have a sunburn and can use my head as a salt shaker...
2007.05.10
Disc Golf
23.42.53 - Mark
I'm happy, Mount Airy now has a disc golf course - which means I won't have to drive 30-40 minutes to the other public courses (Raven Knob is a bit closer, but technically private and besides I play it frequently during the summers). The new course, installed sometime in the last three weeks, feels short to me, at least when considering the pars, but they're a fun enough 9 holes. I went out today with my youngest brother and Dad, and did alright. I'm rusty but still shot one under, and my brother didn't do too bad for his first time. From what I'm told it was sort of last minute, but if there's enough interest they'll expand it to 18 holes, which would be nice (especially if there's more planing and distance involved with the back nine). My brother and I are already planning on regular excursions

The course is at Westwood Park (google map), just take a right at the entrance and drive to the end of the parking lot, when you're facing the shelter, the course is in the field off to the right. Here are the pars (at least they ones they told me)

| | | | | | | | | | | |
| --- | --- | --- | --- | --- | --- | --- | --- | --- | --- | --- |
| Hole | 1 | 2 | 3 | 4 | 5 | 6 | 7 | 8 | 9 | Total |
| Par | 3 | 4 | 4 | 4 | 5 | 3 | 4 | 3 | 4 | 34 |
2006.06.25
Just say no
10.56.18 - Mark
Since I'm never one to pass up a story about how Mayberry is ruining the wonderful city of Mount Airy. This whole mess involving a coulpe of short sighted idiots trying to build a Don Knotts/Barney Fife statue to compliment our Andy Griffith Statue (which I'm also not a big fan of) is just wrong.

First, TV Land (who paid for the Andy Statue) did not want it to be in Mount Airy, they wanted it to be in Raleigh as the show represented the state and not the city of Mount Airy. The only reason we actually got the Andy statue was because we're the home town of Andy Griffith and he asked TV land to put one here. Lastly this effort is a bunch of fans, the Andy state was given to us by a CBS/Viacom company.

Don Knotts is not related to Mount Airy in any tangable way, and was actually very dedicated to his own hometown in West Virginia. This effort is not part of a fan movement, it is a short sighted attempt at getting a few more tourist dollars out of the Mayberry theme before all of the real fans die off.

Yesterday I was downtown hanging out at a comple of shops (including my new favorite Mac Reseller Cybergear) and very few people in the community, as best as I can tell, want to keep milking the Mayberry Theme. It's a monster that has hit its prime and now that it has, it is very quickly going downhill. In 5 or 10 years these statues will be all but meaningless, and either the community will have moved on to other forms of tourism, taking advantages of the universal themes that we have in this area, such as the natural beauty we're privleged to be surrounded by (see also my posts on Raven Knob) or the fast growing Wine industry.

I'm sorry, but on this issue, I'm with CBS and the Don Knotts' estate. No.