2011.12.01
A DIY Disc Golf Basket
22.55.50 - Mark
A few years ago I really go into disc golf, it's fun and relaxing, but unless I want to bang the discs against trees it makes sense to go to an established course. The baskets are better targets than the trees, and usually you get some decent obstacles. Similar targets can be purchased, however as a being a frugal shopper and as someone who likes making things, I was always a bit drawn to building one myself. There are some people who sell plans online, blogs that post various kludges , as well as Instructables on baskets and youtube videos on how to make disc golf baskets. The two I linked to probably gave me the most information, and to quell my occasional urge to build something I started looking for low cost parts for my - as close to PDGA target standards as possible.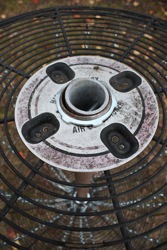 However I've learned some tricks well. The main pipe was to-be scrap when I took down an old fence, and thanks to the make your own basket video, parts of The Iron Giant, and a MAKE post on "Scrap-Fu" a few years ago, and I decided getting a couple of former fan guards from a scrapyard would be cheap and effective (it was). Walking though Lowes Hardware and I collected the 1/4" steel rods and some electrical conduit to act as a collet. The only remaining part, the chains, were the slowest to acquire, because metal chain is expensive. While I was hoping for 2/0 Single link chain, when I found 100 feet of 4/0 single link chain for $30 I ran with it.

Over time other tools need to be collected, a suitable hole saw and time with an angle grinder and a welder. While I know people and places where I can access that equipment, a mild bit of tool-mongering added to a bit of craigslist shopping. Bits and pieces started being assembled, but over Thanksgiving Weekend, I had enough time to put everything together.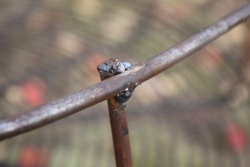 All in all, it was a fun project (and with the left over parts may build a second) and while it may not have the quality of say Innova DISCatcher Pro, with its various hacks, a number of poor welds, and a few little flaws, my basket is fine at catching discs and at about $50 for materials I'm quite happy with my work.
2007.09.19
Wet
23.58.30 - Mark
I really don't like compression fittings, they're a really good example of a technology that doesn't improve on time tested techniques, such as soldering. So after 5 hours of hacksawing, filing, bending, twisting, and hitting on a compression fitting and the pipes I was trying to attach it to I'm simply going to go out and buy some lead free solder and a copper coupling and fix the damned thing in a matter of minutes.
2007.08.17
Trying not to kill electrons
00.25.22 - Mark
So in addition to reacclaimating myself to the real world, I've been dealing with broken electronic devices.

Two weeks ago I somehow managed to kill my camera. While it chose a good day to die on me (last day of camp) it's well established that I'm a lot happier when I have a working digital camera. On the plus side Canon's customer service is amazing. I called last Friday and after not arguing with the [knowledgeable] phone monkey, I had the camera packed up and shipped within 90 minutes of looking up the Canon Support Phone number. I've never had that sort of thing happen when calling tech support. Assuming they don't take forever to fix my camera, I've got another reason to love Canon.

The other dead electronics I've dealt with this week is my 91 Honda Accord's stereo, which has been dead for so long most people who get in it have become accustomed to not even trying to coax it into speaking. Rather than trying to fix the factory head unit I opted to install a new Sony stereo that has an iPod dock connector. I probably had about half a dozen people tell me to get it professionally installed, but in reality all it required was splicing together a dozen wires (I used crimp connectors, but if I was doing it over would solder and heat shrink it) then put it in place of the old stereo. Cosmetically it could look better, but I'd rather have a few cosmetic blemishes than fork over $75 (or more) and have it look a little nicer. Besides, installing it boosted my confidence on working on cars. While I've got no problem ripping into delicate electronics like laptops and iPods, cracking into my car was a little more daunting. Might be the fact that I don't place my life at risk when I use my computer...
2007.04.03
MacGyver CD repair
02.38.50 - Mark
I've heard for years that the best way to fix a scratched CD is to use toothpaste to polish the scratches out of the plastic. Thankfully I haven't actually had to test it out, but when working on an iMac I needed an Mac OS 9.1 CD. The bad part is that I only have one full OS 9.1 CD (plenty of 9.0) and I haven't taken the best possible care of it and its been scratched all to hell. So, out came the toothpaste, and after a couple passes, a couple minor scratches had come out, but not the major ones that were corrupting the disk. So, a quick google search and it turns out Brasso is the best CD scratch remover, so out it comes and after one pass it had done far more than the toothpaste.

I still had to do a couple more passes with the Brasso before the disc was usable (I don't have a photo, but this disc was seriously scratched) but its done the job and saved me $20 (going rate for a OS 9 cd on eBay)
2006.03.08
Through the looking glass
00.14.30 - Mark
I'm starting to bang away at the hardware hacker's recipie box idea, and as I start writing some scripts for it, it occurs to me at how complex the content management problem really is. Much more than this blog engine, where I know the sole user better than anyone else on earth and can design and code according to what's intuitive.

With this bulked up system, there are far more questions to ask and answer. How do we get the user to enter data correctly? What type of entry form is more user friendly - and whats the best way to impliment it? How do we error check all that information? How do we divide that information up? Where it is stored? Does that database scheme make sense? Will I reuse that code? How much, and what will change between calls?

Fun challenge, but it seems like I've fallen though a looking glass, and there's a pair of questions for every answer.
2006.02.10
In Awe
18.06.33 - Mark
I'm simply amazed by some of the stuff people are building, like this guy, who built an autonomous robot, or that anyone can describe installing MythTV as "easy" (I'm fighting with MythTV again, I'm still loosing).
2006.01.20
50,000 Gallons of Fun
21.40.06 - Mark
Some people have some deliciously weird hobbies, and though the wonder of the internet we can all share them.

Like Building 50,000 gallon fish tanks, building Bars out of Books, which would go lovely with some other book projects I've mentioned, building a table out of a pinball playfield, or wilderness engineering (which will be added to my feed collection shortly) I've done some good sized lashing projects (wish I had some photos), but that blog puts some of what I've worked on to shame.

While I'm not all that interested in building a monster fish tank, the book based furniture, table, and the rope and pole engineering are all fun.

Most of the Stuff found via MAKE, Extreme Fishtank, Rope and Pole Engineering, Book Bar, and Pinball Playfield Table

I really need to build something.