2010.09.24
03.00.02 - Mark
Weekly Metapost from September 17th, 2010 to September 24th, 2010

Inside the Secret Science of Packing Material
Tagged : gizmodo shipping technology weird
More information about packing materials than I probably needed to know, but a lot of useful tidbits.
Wallace and Gromit: A Matter of Loaf or Death (2007)
Rated

Dr. Horrible (Paperback)
Rated

2010.09.17
03.00.15 - Mark
Weekly Metapost from September 10th, 2010 to September 17th, 2010

YouTube - Newton OS emulator "Einstein" running on iPhone and iPad
Tagged : apple emulators hacks iphone newton software youtube
When I was a kid, I lusted after Apple Newtons and the eMate 300. When Steve Jobs returned the Newtons were killed, and my only option was to by them used. When they released the iPhones the newton community felt that newtons may reappear. In a way they did, but overall they're vastly different devices. Now however, it's kinda cool to see someone has gotten a Newton emulator working on the iPhone.
2010.09.16
17.40.51 - Mark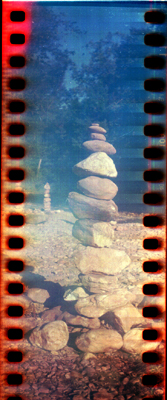 A couple weeks ago, I was bored and was taking another look at an old Kodak Jiffy Six-20, and was, for a while, looking for a way of acquiring some suitable 620 film and a way of getting it recycled. The 620 film is out there, but $10 for a single roll is a more than I'd care to pay for a camera made in the 1930s and certainly hasn't been used in at least 20. However a little side tracking on Google and I stumbled across a a little how to use 35mm film in a Holga 120 page, and posted that link here. Having read that 120 film and 620 film were extremely similar - particularly that 120 film can be re-spun for 620, the idea of cramming a 35mm roll of film into the old Jiffy appealed to me. It would be cheap, I could do it immediately, and, if I could somehow scan the image, could get some neat results.

So I quickly dug around the house and found some old expired, but unused roll that sure enough, could be jammed in. Another hunt for a plastic bound manual, electrical tape and a knife and soon enough I was ready to shoot some photos.


The question was where. At first I felt the yard would be sufficient, but soon chose to ride my bike out and revisit some of my preferred photo walking locations. Within an hour I had spent my roll and took it home. Once it was dark I cobbled together a "darkroom" and stumbled my way though opening the Jiffy, unbuilding my clicker, and re-spooling the film. The next day, I took it into a 1 hour photo lab.

Of all my mistakes, the lab was the biggest. I hadn't spent the time to not have them attempt to print it, nor did I request they did not cut the film into lengths. While I've trusted that lab with digital prints, I suppose it was too much to assume they would look at the exposures themselves. Their equipment was obviously geared for the traditional 35mm frame shots, not near panoramic exposures. The mistake was free however, with useless prints I was allowed to skip the prints and keep the negatives for free.

A week later I met up with a friend to see about using a higher quality film scanner he had acquired for digitizing his medium sized camera negatives. A little playing around, and I was able to "save" a few exposures from expired film, mangeled in processing, and all shot in an antique camera in the hands of a photographer who hasn't really shot film in over 5 years. The technique has some potential.

I think I'll be doing it again.

Photo Left: Stacked
Photo Right: Four Columns
2010.09.03
03.00.11 - Mark
Weekly Metapost from August 27th, 2010 to September 3rd, 2010

DIY PIXAR: Luxo Jr. Lamp
Tagged : DIY instructables Luxo Jr. Make Pixar todo
I am a Pixar fan, and I've mentioned it several times, and I love making things, so making my own Luxo Jr. Lamp is pretty tempting. Even if I wasn't going to, it's always cool to see some Pixar animation become a "real" object.
1 frame every 12 clicks | Flickr - Photo Sharing!
Tagged : attempts camera done film hack howto MAKE photography
An idea I attempted trying on an old Kodak Jiffy Six-20 camera that's been floating around my house unused for years. Pretty clever and a whole lot less expensive than 620 film. Now to see if I can save a couple exposures...
Expelled: No Intelligence Allowed (2008)
Rated

The Book of Eli (2010)
Rated