2007.10.24
18.49.20 - Mark
I've been wanting to play with High Dynamic Range photography for a few months now. Every once in a while I put my Canon S3 into exposure bracketing mode and shoot a few sets, and when I get motivated I try out some software that merges them. At that point I normally get frustrated when I don't get results like I've seen in the HDR flickr group, and then table the idea again.

At least now I'm getting to the point where I'm starting to understand how much more there is to HDR photography than simply taking a series, merging them, and admiring the results. I spend over a couple hours working though HDR tutorials and playing with images in Photoshop last night, but the results I got illustrate the point.



Left: Average exposure from camera. [View Fullsize]
Center: HDR image created with Photoshop CS3's Merge to HDR feature. [View Fullsize]
Right: HDR image created manually in Photoshop CS3 (following this tutorial) [View Fullsize]
The pictures are from
The Cathedral of Saint John the Baptist
in Savannah, GA. I've got a couple more HDR sets from the church, but I may try out some more local scenes first. I think I want to try and match what I can actually see before I use HDR for surreal effects.
2007.10.23
23.54.16 - Mark
I forgot that today was Mole Day, it's not quite as memorable as Pi Day, but more entertaining. The better science teachers in my life were probably igniting fireballs in the school parking lot about 18 hours ago. Much more amusing than watching the movie Pi
00.34.26 - Mark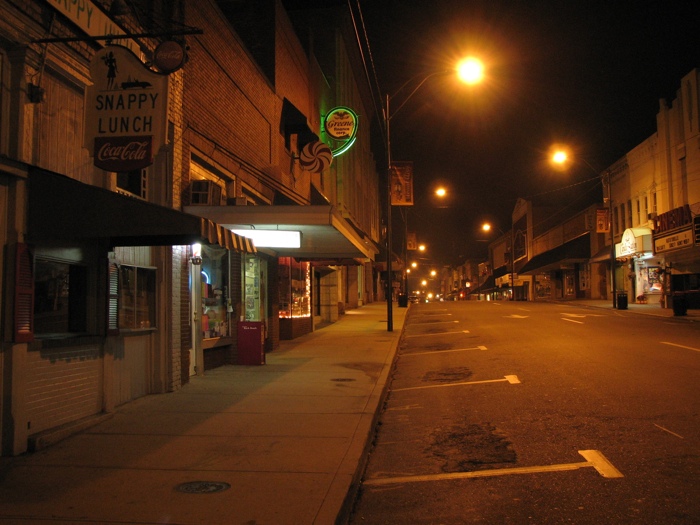 Good Night Mayberry
Here's the other photo I mentioned last week in
Orange Night
. Main Street Mount Airy, looking at Snappy Lunch, Floyd's City Barber Shop, and Opie's Candy Store.
2007.10.22
16.01.11 - Mark
Ignoring some of the advice given in the Better Blogging Session yesterday at Converge South, I'm not going to try and write a great lead in. There's too many great things to say about the event to even attempt to try and cram it into a single paragraph.

I've been going to ConvergeSouth since it's first year, and this year has been the best by far, the only regret I have is not making the effort to go up Friday for the Journalism and Music.


I found the morning alright as a whole, to me Converge South has always been more about the discussion, and not lectures, and the morning just felt like a series of lectures. There were enough good points raised, and enough scraps of conversations to make waking up at 6:30 worthwhile, but I think that a lot of great questions and conversations were lost to the monologues.

It's established that people are sharing their lives online, how they're sharing their kids lives online from conception on, and how we have golden age grandmas getting their life story online with the help of their families. But what's to say this data will last? Elisa Camahort from BlogHer was talking about how the online content being created now will be the source material for documentarians 100 years for now, but last I checked the standard advice is to upgrade your backups formats every 5 years or so - that's a bit of a difference that in past years probably would have started a discussion and prompted questions like who's done this? How do we archive this stuff, how do we record these stories?

Another topic I think got left by the wayside was activism. There's no doubt in my mind that blogs, social networks, and the internet in general has changed the way activists work. It's reasonable to say the internet is producing bigger, louder, and stronger movements than anything created before the web took off in the 90's, but how does the amount of influence compare? 100,000 emails is easier to ignore than 100,000 people at a protest march.

As silly as the group sing-along was last year, maybe that's what's needed to get the audience talking first thing in the morning.


I am glad that someone mentioned the demographics of the audience, and that it did get a group conversation started for a while. One of the great things about Converge South is that it brings in everyone, men and women of different ethnic and social backgrounds. Someone asked why the "missing" group was the twenty-somethings. There were a few of us there, but I think the reason that age group is underrepresented is that blogging and new media is approached differently. The audience at Convergesouth is using higher end tools, Wordpress, Movable type, Typepad, Drupal, etc, and topics they want to cover. People under 30 or so (as a guess), are using free tools like livejournal, xanga, facebook, myspace, and use the same general technology as a journal for a closed network of friends and online acquaintances.


The split sessions after the first break didn't do anything for me. I started the hour in J-School and B-School mainly hoping for some insight on how newspapers and journalism should see themselves in relation to the audience. I saw some promise at the start, one of the panelists started out with the question along the lines of What should we be teaching journalism students about blogs and new media? But by halfway though it didn't seem like they weren't really looking for those answers and I walked out. I don't like walking out on sessions, but between what I saw and this description of the session I think I made the right choice.

The alternative session, Images and Video on the Web wasn't much better. I guess it was pretty focused on what Current TV is and why it's different from youtube. At least that sticks out in my mind more than the few notes I jotted down in my notebook. As I understand it they control it and try to filter for "quality" - they're looking for high production standards and facts, but one of the panelists (I think one of the ones from Current) pointed out that the most compelling video in the last 10 years has been pretty bad quality. Cameraphone video clips, stuff shot in movie mode on a digital camera, maybe some lucky guy who had a home video camera on hand at the right moment. The other thing was that the real power is when you turn it over to the audience and let them rework it.


Lunch brought on some good discussions, nothing really worth commenting on but it provided a good break. Once that was over I went to the Why Most Web Video Stinks. I'm probably echoing the crowd at this point, but it's easily the best session I can remember attending at any Converge South. Tom Lassiter did a great job of balancing being a moderator and being the designated expert. Within the hour we covered everything needed for a good web video, from hardware to scripting and planning to getting good audio and video quality, to editing and publishing. I've posted a few videos and would say I've got intermediate video production skills, so I mainly tried to answer questions and offer tips, but I still picked up a handful of ideas to try out.

Last session I went to was Better Blogging, which had some good tips. Most of them I knew but I sat in and chimed in on some topics. I think that the timing was pretty good on this session. By the end of the day the vibe I was getting is that we're moving beyond the discussions of how do we define what a blogger is, what's this or that technology, and people's obsession with monetization. Those topics still pop up, but they're bullet points rather than chapter headings. The new conversation, and I think more interesting conversation, is "How can I do cool stuff online?", "How do we get other people to do cool stuff too?", and "How do we connect this all together?" If Converge South keeps moving in that direction, and from the wrap up session it sounds like it will, I'll keep looking forward to attending.


After the conference ended there were a number of people loitering around talking. One of the people I talked with was Brian Russell, who organized Podcastercon, and I'm a little disappointed that it sounds dead for now. It had some overlap with Converge South, but brought in a different group of people. Talked with a few other people, but it didn't take long before Jeff Martin suggested regrouping at Natty Greene's on Elm Street, and about 6 of us went over. Beer and drinks until 6 when we broke up to go to dinners. I ended up at the Table 16 dinner, which had an interesting group of people. Upscale place with good food, but next time I'll probably seek out a cheaper dinner. Our table talked for a while and by the time we got out of the restaurant the Film Festival was at least an hour in. The films and vlogs were a mixed bag (true of any film festival) but the event was worth sticking around for. Andy Coon did a great job of putting on the event and had some hilarious films mixed in with some serious stuff. While there wasn't anything I really wanted to get a personal copy of, I've got a handful of ideas kicking around in my head that now need exploring.
2007.10.19
01.14.22 - Mark
I don't need many more reasons to hate Cingular. Lousy coverage, lousy service, and painful RF noise. Chasing down audio problems is not one of my strong points, but I've been hearing loud obnoxious, painful ear piercing noises coming out of my various speakers. While browsing tonight I actually came across my answer on accident. The noise I've been hearing has been Cingular cellphone signals bleeding over into my speakers. Fun.

Apparently it's also enough to completely blow out a speaker, which isn't all that surprising if you've heard that noise and lived to tell about it. Somehow I doubt Cingular would replace that hardware.

Figured out while reading Bunnie Huang's blog (He's the guy that hacked the original xbox), where there's a link to an amusing Cingular/Apple parody video.
2007.10.17
17.31.22 - Mark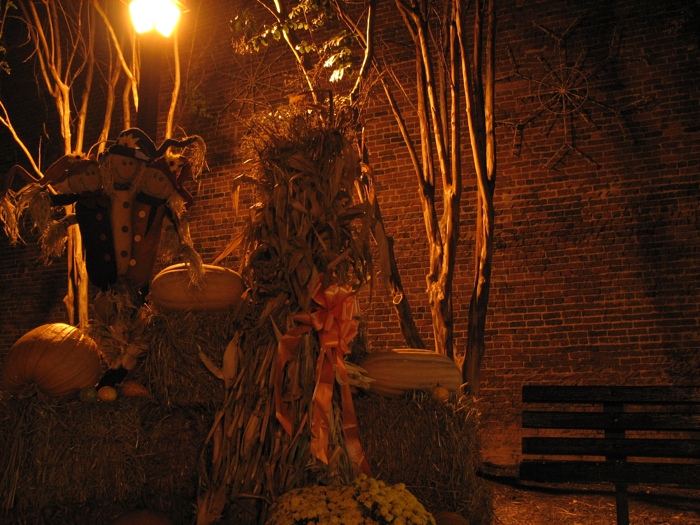 Orange Night - Fall is here
Last night I was the monthly meeting of Mount Airy's Photography Club, I on my way home I drove past a small park at the end of main street, and the lighting and arrangement of stuff looked cool in the orange glow of the street lamp, at least more interesting to me than in broad daylight. So I circled around Main Street, parked at the end of the otherwise deserted street, and grabbed my camera and a tripod and snapped away. I really like manual settings. I couldn't have taken this image with automatic white balance and unadjusted exposures.
I've got some good evening images of Main Street (at the Mayberry end of Main) I'll post later. Mayberry at night has an interesting feel to it.
01.26.59 - Mark
ConvergeSouth is this weekend, and I've enjoyed going to it for the last two years. I'll be there again Saturday, although I'm not actually registered. I misread preregistration closes Tuesday as preregistration closes Thursday, not that I should have been procrastinating in the first place.

Good thing they still invite people to come, it already looks like it's going to be a great event.
2007.10.13
20.32.54 - Mark
I've ranted on DRM before (I may have even started a post like that before), but when it's wasting my money, I tend to get upset. I'm a happy Netflix customer, I've slowed down my watching a lot since I first started but I still like the service. I'd like it more if I could use their watch now feature, but right now I can't. It would be one thing if the software on their end wasn't there yet, but it's not. As Hacking Netflix points out the watch now stuff works just fine on the Mac (I've checked on the Mac, but not the Ubuntu box) It's the fucking DRM that's depriving me use of my Netflix account and the 17 hours of video I could be getting every month.
2007.10.12
17.59.42 - Mark
Sometimes I get tired of the Cult of Al Gore, but there are a lot of things I respect about Gore, and would likely vote for him in an election. Now that he's Won the Nobel Peace Prize for his work on the environment, it would be a good time if he announced his intentions to run as president. The Peace Prize secures his credibility as an international leader, which is what the United States needs in a president right now. If he then got a strong domestic candidate (I like Obama, and he's probably smart enough to do this) to sign on to a ticket, they would have a distinctive edge over other candidates.

As influential as Dick Cheney has been in the Bush administration, I can see this election cycle focusing on both the presidential and vice-presidential candidates. At least I hope it does, VP is too important a position to hand over to just anyone.
2007.10.11
02.34.14 - Mark
Blogging has been light recently, part of it's being lazy, part of it is working on other websites, part of it is some light changes I made to this site last week.

Some of the cooler or more useful items I create here are going to get passed on to a Goodies section. We'll see what direction it takes, but right now it's a mini store for my Raven Knob panoramic. I'm also making my web development a little more visible but linking to my portfolio. I need to update it, but I've got other projects that need more attention
2007.10.05
02.10.11 - Mark
I got around to hanging some of the art I own tonight. The art from right to left: A framed copy of my Raven Knob Panoramic (which I've been selling), one of Troop 109's lithograph prints of Raven Knob by Richard Tumbleston, and a personalized copy of Willard Gayheart's "Raven Knob" print.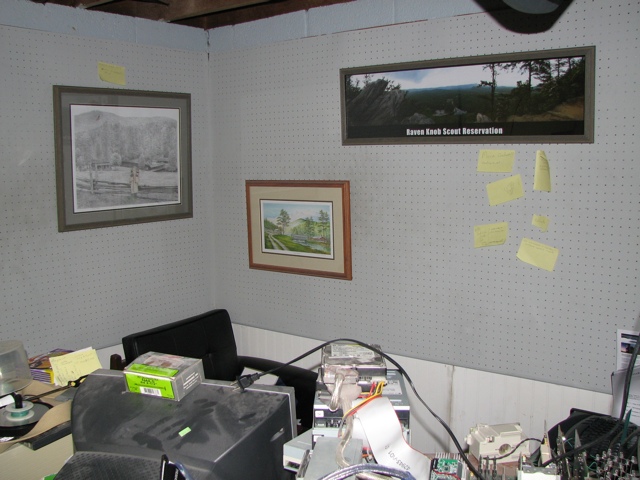 2007.10.03
18.28.34 - Mark
MAKE linked to one of my older hardware hacks today. Always cool to see a spike in traffic for a project page, especially the older ones. It looks like a number of the visiting Makers are exploring other pages too. Kind of wish I'd gotten around to updating those pages some. It's been a year or two since I really touched the homepage.mac.com/g3head stuff
2007.10.02
01.37.02 - Mark
Apple is running another Insomnia Film Festival this year. I thought about entering last year, but I don't qualify this year.

They must have gotten a great response from it last year since they've really scaled it up. They've opened it up to high school students, they seem seem to be promising a lot more publicity, and there's a much larger prize package (5 MacBooks, with copies of Final Cut, Shake, and Logic, as opposed to just software last year)

Can't wait to see what this year's teams produce. They produced some great films last year
2007.10.01
01.08.29 - Mark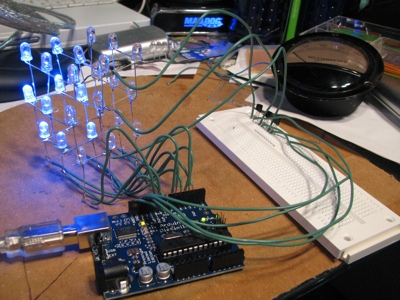 This afternoon / evening, after a great weekend of camping, I finished up the Arduino powered 3x3x3 LED Cube I started on last week. I ended up making a run out to the local Radio Shack to get some transistors since I was too lazy to try and re-purpose some from the junk pile, then ended up walking out of the store with a breadboard and a jumper wire kit. Spent more than I would have liked to but I think it will end up being a sanity preserver.

The way I ended up wiring it is each column of LEDs gets a connection to an output pin of the Arduino board, and each level shares a cathode connection. Each level has a transistor being used as a switch that controls if the circuit is closed.

Now I'm into the programming part of the project. I'm setting up simple animations and I'm slowly exploring the control structures. Arduino is C based, so I'm recognizing a lot of similar syntaxes to PHP, but I'm getting used to the forced camelCasing (which is something I hate)

As I get more ambitious with the programming I think I'm going to try and add some random functions to it and see about connecting a microphone to one of the analog inputs and make it more of a light organ. I want to get a few more animation sequences developed first.