2010.03.31
00.00.03 - Mark
Convert PDF to JPEG on OS X « Le Blog de Maurice
Tagged : Automator pdftojpg programming scripts software tips
Helpful little trick using Automator in OS X to convert PDFs to JPGs.
2010.03.29
23.27.32 - Mark
Last week I posted Inking, part of it my history with screen printing shirts, part as attempting a short timelapse video of preparing the negatives for a few screens on some vellum paper. Aside from my own screw ups, the the DIY Screen Printing Instructable was a good resource I used though the entire project. However if it's your first attempt, don't start with your favorite project.

The first of the four screens I did ended up with a lot of pinholes in the screen's mask after washing it up after exposure. I was also stupid enough to ignore the pinholes and do a test print.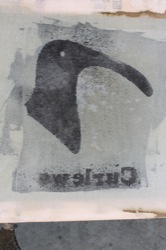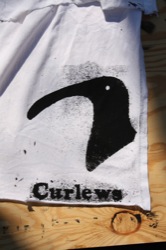 A small art-style paint brush and more of the photo emulsion goo I was more or less able to remove the pinholes with a couple passes. Once it was done I started preparing the other three screens. However these I either spread on the wrong amount of goo and fell though, or the goo had been partially processed with light and didn't expose. In either case I only noticed it after I checked the dried screens, and the holes were too great to bother repairing, so they all got a heavy bleach water wash and a fresh round of photo sensitive emulsion (this sort of screw up and I was extremely pleased with using the homemade mix of Potassium Dichromate and Elmer's Glue instead of buying commercial products.)

The second batch worked and I applied the art, then set off to printing, and learned another lesson (or three).

First don't print them by yourself. In the past, I didn't print more than one or two on my own. I either paid for a company to do the prints or worked with a friend to make the prints. In this case I did 36 prints (9 of each screen), and it would have gone a lot faster if I had an extra set of hands to handle either the fabric or manage the screen and ink.

The other lessons would be a good workplace with good tools. Since I didn't have a table that could be used, and raining like crazy outside, I made the prints on the floor. Works well enough for small runs, but as many prints as I did it wasn't comfortable. Same sort of goes with tools. While the kit I had / made was fine, I needed the ink to dry before I could stack it. Without suitable shelves the "solution" I should have worked on setting up a drying rack or a heat treating system. C'est la vie.

Despite all these problems and lessons, and a couple mistakes on the flags I was printing, all 36 are good enough to use, since the friend who asked me to do all this work was half expecting to loose 5 or 6.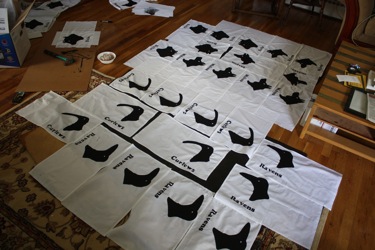 2010.03.26
00.00.03 - Mark
Great News: Vodka Soon Available As Pill - Geekologie
Tagged : alcohol funny news science technology
I learned about these newly developed "vodka pills" technique where alcohol is powdered and packed into pill form off a Wait Wait, Don't tell me episode from December I just listened to (podcast backlog). It's way too tempting to associate these "Vodka Pills" and an old Jetsons cartoons.
Bacon Beer « Grocery Eats
Tagged : alcohol bacon beer food ideas weird
I'm not sure if this is more intriguing or more disturbing drink than Bacon Vodka. [via geekologie]
2010.03.25
00.00.02 - Mark
Self-sorting (sorta) bin - HOME SWEET HOME
Tagged : furniture hardware ideas organization todo workshop
Cleaver idea, not sure if it's the best solution for my (desperate) need to sort assorted workshop supplies to the number I have, but for a smaller collection I'd look at making a sorting drawer like this. [via Dinosaurs and Robots]
2010.03.24
00.00.02 - Mark
YouTube - Wine Bottle Cutting 30 seconds Perfect Edge Resealable GreenPowerScience Bottleneck Guitar Slide
Tagged : glass glass bottle instructions MAKE science todo videos youtube
I've tried several methods of glass bottle cutting, and only had some success with using a glass cutter with rollers. The probable aparently isn't the scoring, it's the heating. I had some luck with a blowtoach and a modified electric can opener, but was batting under .333 for something usable. However, this video, and it's method is perfect. More gentle heating and cooling with boiling and cold water slowly stresses the glass until it breaks. I instantly tried it and all four attempts produced better breaks than the dozens I've tried before. If you want to cut bottles, spent 10 minutes watching this video. [via MAKE]
2010.03.21
00.00.02 - Mark
Will You Survive The Undead Apocalypse? - Features - GameInformer.com
Tagged : fiction flowchart funny humor zombie
Zombie survival/story/plot generating flowchart. [via nerdcore]
2010.03.20
00.00.02 - Mark
Expiration dates mean very little. - By Nadia Arumugam - Slate Magazine
Tagged : articles food ideas law safety security slate
I know I think about the strange safety and security policies our society concocts, but I'll admit that I had not given much though to why and how producers stamp thir packages with "sell by" and "use by" stamps. While I'm not very supprised at it's legal requirements, it makes me think about how I as the consumer (and user) regards the (now questionable) logic behind the "warnings". [via BoingBoing]
2010.03.18
20.34.11 - Mark
A few years ago, one of my brothers bought a screen printing kit, the two of us figured out how to print some t-shirts, and planned on doing more with screen printing. Didn't quite happen. The parts have been reused to projects, but screen printing fell off to the side. The cloth prints since then were either one-off with freezer paper stencils and spray paint (similar to this project), experiments for other techniques, to simply being large enough that a professional lab felt more practical than an attempt at DIY printing on a short time table. However, about two weeks ago a friend asked me about printing some flags.

He'd used professional printers before, but the low number and small size meant it would have been pretty pricy, and while at first I figured stencils and spray paint would work (and it would) the numbers are enough that DIY screen printing would be easier. So I started working on the kit.

Unfortunately parts of it didn't age well. The screen, ink, and tools are in good enough shape, although quite probably not enough, and the photo sensitive emulsion chemicals were either missing, or used. I was also missing the manual. I know, oft ignored, but if you're playing with chemicals its wise to do your research. In this case I turned to Instructables, and landed on the true DIYers screen printing project. While it isn't the most precise article, it's a great guideline, both for people doing it themselves and those who want to save money.

So while I was waiting for the Potassium Dichromate / Elmer's glue photo emulsion to dry onto the screen, I started working on the art. In the past I'd dig up a piece of transparency sheet and use that for the mask, but finding any, and not liking the price I deiced to try vellum paper (in large part due to the DIY screen printer instructable). Which gets me to this video.

Since I'm working off a vector art piece, I wanted to print it on to the vellum. However my printers don't run on cheap ink, so I only printed out the outline, and would fill it in by hand. Right before I started filling it in I pulled out my old point and shoot and set it up for time-lapse.

Nice short and simple video, in many ways very similar to the Pennies video I. [wow, over 4 years ago!] The slight difference is I had the camera set on time lapse, in one shot a minute factory issued mode, so this ends up being choppier than I'd prefer. I'm not sure if I want to blame my lack of (good) camcorder, better knowledge of the CHDK hack for my point and shoots, or the extended lack of a intervalometer controller for my DSLR (be it commercial product, graphing calculator, arduino based project, or a crude but simple 555 electronic circuit)

In any case

Inking (4.4MB 320 x 240 H.264 Quicktime)


This work is licensed under a Creative Commons Attribution-Noncommercial 3.0 License.
2010.03.17
00.00.02 - Mark
Inverse Graphing Calculator
Tagged : fonts geek math technology
When we were kids you'd write try and write words on your basic calculator by entering numbers and look at it upside down. Didn't get the whole alphabet, but we got that when we got graphing calculators (which were oft abused as game systems). However using mathematical expressions as graphed out words is pretty freaking cool. [via nerdcore]
2010.03.13
00.00.03 - Mark
Are Google Maps' Bicycling Directions a Game Changer? | Utility Cycling
Tagged : articles bicycling cycling google google maps maps technology utilitycycling
While this probably should be a link to Google Maps in it's new Bicycling mode, it's easier to link to the Utility Cycling article I learned about it in. While right off the bat I wasn't expecting it to be that applicable for smaller towns, I was supprised to be wrong. Missing a couple walking / bike trails, but even in the small town it manages to avoid some of the hilly and/or bike unfriendly routes.
2010.03.10
00.00.03 - Mark
YouTube - REGEN
Tagged : action animation cgi scifi video youtube
Cool little action / scifi short film. Particularly the animation work, CGI has some great detail and the shots are pretty creative for the story. [via Nerdcore]
2010.03.09
00.00.04 - Mark
The Hurt Locker
Rated

The Taking of Pelham One Two Three (1974)
Rated

2010.03.08
00.00.02 - Mark
Strobeshnik HDD Clock
Tagged : clock DIY electronics hacks hard drive howto MAKE todo
I've seen old hard drives converted into standard 12 and 24 hour analog clock, as well as a nonmoving binary clocks, but this piece looks great, and comes with complete directions for making it yourself (at least if you can make PCBs, read schematics and load the programing onto a microcontroller) [via Hacked Gadgets]
The Minimalist - Yakisoba Is a Very Versatile Dish - NYTimes.com
Tagged : food Mark Bittman New York Times nytimes recipies videos yakisoba
I first learned about Yakisoba dishes in this article last week, finally had a chance to make it today, and it's a pretty good meal (mostly following this version of it). Serves about 4 people.
2010.03.04
02.01.09 - Mark
I've been aware of GREP for years. I sort of remember it as a feature in BBEdit Lite, the great program I really learned HTML with, but always made do with the regular, plain english search and replace commands to fix problems. That stayed true when I finally moved to TextWrangler (after it was released as freeware to fully replace BBEdit Lite).

I also knew GREP or sometimes referred to as Regular Expressions, was in Perl and PHP, saw it on XKCD, both as a comic and as a t-shirt. Probably knew it was available at the command line of OS X and Linux. Those references and bits of knowledge made me aware of it, but it wasn't until earlier this year that I was given a task that I probably could have hacked though it with traditional search and replace, but needed enough changes made that I felt it would probably take less time to learn how to use a bit of regular expressions.


Regular-Expressions.info helped me a lot, but it still took a little longer to figure out than I had guessed. However, it was well worth the effort, over and over the GREP has proven to be very helpful, and while I'm not a master of the syntax, I can do a bit of damage with it in Textwrangler without a cheat sheet.

About two weeks ago, I stepped up to using some grep in a PHP script.

I've been off and on reading Rockwood Comic for years, but it's lack of an RSS feed sort of pushed it back further. The odd thing is I remembered a bit about scraping websites to create RSS feeds. While there are plenty of tools out there that will do the same thing, part of me figured it would be simpler, more precise and up to date, and a fun little challenge to create it myself - at least for that comic site. Plus once it was kicking around in my head, I knew I'd be using GREP in PHP to dig out some of the content. Once I think it's working a bit better I'll think about writing another post on the hack, especially since this post is mostly rambling on about how wonderful a tool GREP is for geeks, and that I created an RSS feed for Rockwood Comic using PHP, GREP, and cron to write the RSS file it, all wrapped up in Feedburner to give it a prettier URL than the sandbox address my code resides at.

00.00.03 - Mark
La Bolleur Mini Golf | Design Milk
Tagged : art engineering games minigolf
While I'm not a die hard mini-golf kinda person, I'd love to try this course. It's an intriguing combination of art and engineering. [ via Dude Craft]