2008.03.31
22.14.58 - Mark
The abortion issue is an ugly one for a lot of reasons, the obvious one is because the core issue is talking about ending the life of a something* that has a potential to be a living, breathing, contributing member of the human race. The topic only gets uglier there when you start looking at the physically disturbing subtopics like how a something* is aborted, the final minutes of a something*'s "life", the psychological trauma of those directly involved, the political maneuvering around the issues, the ethical questions that always get phrased with a steep bias then left unanswered, the history of violence around the subject, and the blatant (often intentional) ignorance of people who talk about this issue.

This last point isn't helped by the fact that both sides use language so carefully selected it puts most marketing departments and spin doctors to shame, which combined with a lack of clear cut definitions of the unloaded language makes it extremely hard to find unbiased information. Add in a heaping pile of religious extremists and you have such an ugly mess that most people won't look at the topic, let alone touch it with a 30 foot pole.

Those who try are usually blasted from the other side, and moderates tend to get yelled at from everyone. This is an old issue (abortion was mentioned in the original Hippocratic oath) but it's become so politically and morally charged the level of discourse has plummeted. Even smart people who love talking about politics and policy want to avoid the topic. It's infuriating before you even attempt to drag politics into the matter.

Just like in "civil" conversation, the abortion issue is a topic politicians don't want to spend time with. Unlike in civil conversation however they have a harder time ignoring it. So rather than holding intelligent debates on the subject they craft utterly useless legislation designed to appease the anti-abortionists (I voted for XYZ bill) without creating a law that dose anything new and only vaguely reinforces things already on the books so they don't piss off the other side. Or, if they're feeling confident (or don't mind being self-serving assholes), craft the language of the bill in a way that everyone who reads the thing knows that it will fail at some other level of government.

There are a lot of people who claim that if we "respect life" the problems of our world will go away. Aside from that fact that this is code for "believe in my god and you'll be saved" many of these people are the same ones who almost instantly called for this country to go to war after 9/11/01, and who don't see a little racism or homophobia as wrong - even when it means some unlucky people get beaten to death by hicks. We don't need to "respect life", we need to be more open minded, push for better communication, less radically religious opinions, and most of all more accepting of others and the decisions they make. Until we all agree to stop using loaded language and stop attempts at legislating according to some moral guidelines written over 2000 years ago, we're not going to find an acceptable solution to a topic that is in despite need of a fair, unbiased position.

* About the "something*": fetus, embryo, baby, and infant are all too often interchangeable terms in the abortion issue, and none of them seem to really do a good job of accurately describing a potential life. I'm tired of the loaded language used by both sides of the argument and in this post I tried to avoid using politically charged terms
2008.03.22
18.59.08 - Mark
We've had a few dozen presidential candidate debates (with a plenty more being scheduled or planned or are simply inevitable) but aside from some questions based on whatever new campaign tactics have popped up since the last "debate" the things are the same old political show and tell, except all show and little told.

I get that the economy is a bit issue, with subtopics like NAFTA and free trade, and China, and tax refunds, and the recession. The War on Terror has been a hot topic since 2002, and once you add immigration and health care you have a pretty stable set of issues that just about any one can find something to cheer or chastise, except it really doesn't tell us much about a candidate, which is probably why they happily blather on about "experience" and who's more "qualified".

Here's a hint, unless you've already been a president of the US, or the governor of a state you have nothing close relevant experience or qualifications. Even then being a Governor doesn't help much - case in point: the current POTUS. So let's cut out this experience and qualified BS and move on to real issues, as many of them as possible. This county has more problems than illegal immigrants, taxes, and a handful of terrorists who "terrorize" us because of our foreign policy decisions (and we're not just talking Iraq).

In no particular order let's have a reasonable talk (preferably multi-partisian) science's influence on policy, technology, education, cost of college, the war on drugs, position on tobacco and alcohol and the legal age, sex education, religion in government, non-existence of viable third parties, election (and specifically electoral college) reform, civil rights, green technology, nuclear energy, sensible energy independence (which is more than "no foreign oil"), transparency in government, lobbyist and PAC reform, abolishing ear marks, how we'll fix our global reputation, our lack of participation in numerous global treaties (like the antilandmine treaty, or the one opposing child slavery, etc), ethics in government, the role of the average citizen in government, gay rights, minority rights, moving past petty social labels (like black, Hispanic, etc), controlling the FCC's influence on content, getting rid of the national debt, whether or not we're taking the right course of action in regards to China, Cuba, Iran, North Korea, how we'll fix our relation or at least get past our difference with the United Nations, this list goes on...

The guilt isn't entirely on the candidates, the news networks no longer want to ask these hard questions, not that the candidates would answer them but if everyone is serious about "change" let's stop playing politics as usual with it's selected and vetted clean cut party line issues and tackle real problems big and small, long standing and dormant to the near future and extremely pressing.

Of course this is only going to get worse as we start getting into congressional and gubernatorial races.
2008.03.17
22.44.26 - Mark
I was shooting photos out at Hanging Rock State Park last week, taking a few panoramic series, a handful of HDR sets, long exposures of waterfalls and similar stuff. I also started experimenting with Vertical Panoramas and sets that involved a little more than just the x-axis. One of the sets I took was coming up to the main rock face of Hanging Rock Mountain itself, and for lack of a wide angle lens (or a DSLR that can take a wide angle lens) I took about 40 photos trying to get the whole mountain. Now not wanting to try and stitch it together myself, last night I opened up the files, told photoshop to stitch them together itself (something I don't do on my regular panoramas) and let it do it's thing.

Now I've already discovered that Photoshop CS3's photomerge function doesn't do vertical merges well on it's own, so I finished up the last few chapters of The Anansi Boys checking to make sure it could handle the set before going to bed. It didn't spit up any errors so I let it work into the night, and when I woke up I found it showing off a pretty distorted, and absolutely massive stitched pano, in addition to a few system error messages that were effectively screaming for more RAM.

The 14172 pixel wide by 30634 pixel high image is so big, Photoshop is incapable of saving it as a photoshop file, let alone a jpeg. The only way I could feasible save it was a 3.91GB tiff file, that takes 30 minutes to open on my 1ghz ibook.

I'm in the process of downsizing the file to a more manageable 10000px high, but at the rate photoshop is going it may be a couple hours. Until then, here's a screen shot of the monster photo.


2008.03.11
19.48.42 - Mark
Two days, two different papers, 3 or 4 published photos (the forth was one I may have taken, but with someone else's camera) all with a "submitted photo" credit which I hate, especially since some of them are published online, but it's better than wrong credit (which one of the paper's did). The reproduction isn't as good as it could be either. Still it's publication which is nice in a way.

All the photos are scouting related but they're good photos for a paper. e.g. They're not line-'em-up-against-a-wall-mugshot type pictures which most people submit to newspapers, well one is but I wasn't in charge of that set up and I at least got something other than a face forward angle. My only real gripe with trying to take photos with the goal of newspaper publication is getting names. As soon as you start taking names people start posing or running away, or think you're with the paper, or think that because you're taking names they'll automatically be in the paper. When I do that it starts becoming work (usually unpaid and unjustified work) and stops being "just fun"

Anyways, here's two of the published photos: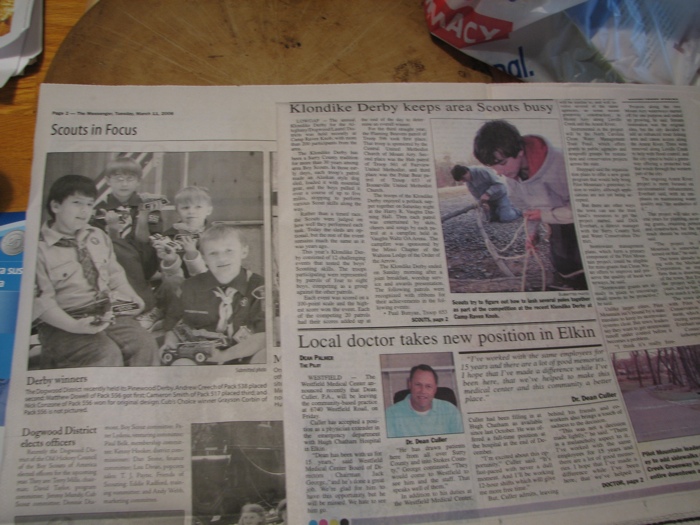 Left: Cub scout Pinewood Derby Winners in Tuesday March 11th's Surry Messenger (page 2).
Right: Boy scouts lashing poles together in Monday, March 10th's Mount Airy News (front page) Large version
2008.03.04
14.59.16 - Mark
It's one thing to wonder why the newspaper industry is dying. It's another thing entirely to wonder why the newspaper industry is dying when a local 5-day daily can print a huge 1/2 page photo as the top half of the front page. Particularly when this half page photo is a week and a half old, poorly composed, no color correction, has a terrible headline, craptacular layout and no accompanying story, and the only information is in a 3 sentence long caption which implies that the photo was taken 3 days ago, not 10. Further more the lazy ass reporter/editor/photographer who "covered" the event was too lazy to stick around to get the conclusion of the event and report on the winners, or even use his 10 day window to do a follow up call.