2010.02.27
00.00.04 - Mark
It begins with a house. « Picture Book Report
Tagged : art dont panic Douglas Adams geek hhgttg scifi
While I've loved Hitchhikers Guide To the Galaxy books, the book covers have never really thrilled me so this little art piece of a HHGttG scene warms me up a little. [via Dude Craft]
CGPortfolio - Raoni Nery - Buzz Lightyear
Tagged : animation art Buzz Lightyear photoshop Toy Story untooned
Untooned art have been floating around for a while, worth1000 even did a contest with the style, but there's a ton of skill in this untooned Buzz Lightyear. [via io9]
2010.02.25
00.00.03 - Mark
Lamp With The Bulb Hanging Upside Down - Hometone
Tagged : furniture ideas lights MAKE photos todo
Cool idea for a desk lamp, with some images showing you how to make one (minus instructions)[via Hometone]
Crawler Town - a set on Flickr
Tagged : art engineering flickr lego photos scifi steampunk
An amazing LEGO creataion. Lovely steampunk, brilliant construction, mindblowing size and detail. [via io9]
2010.02.19
00.00.02 - Mark
Yes Man (2008)
Rated

2010.02.17
00.00.02 - Mark
Is blogging a slog? Some young people think so - Yahoo! News
Tagged : articles blogging changes culture ideas internet news pew yahoo
An article on some Interesting statistics from Pew about how my generation treats blogging these days. Not supprising, but I'll be thinking about my online habbits a bit more... [via Daily Dish, via Whatever]
2010.02.16
00.00.02 - Mark
Snow Tracking - xkcd - A webcomic of romance, sarcasm, math, and language - By Randall Munroe
Tagged : comics funny humor snow weather xkcd
Just delightful. Plus we're about to see another round of snow...
2010.02.14
00.00.02 - Mark
Cool Tools: No-Knead Bread
Tagged : bread cooltools food ideas kk recipies todo
Saw this a while ago, but I'm actually trying it now, and hoping it's worth linking to.
Get Smart (2008)
Rated

2010.02.11
00.00.02 - Mark
9 (2009)
Rated

2010.02.10
01.19.54 - Mark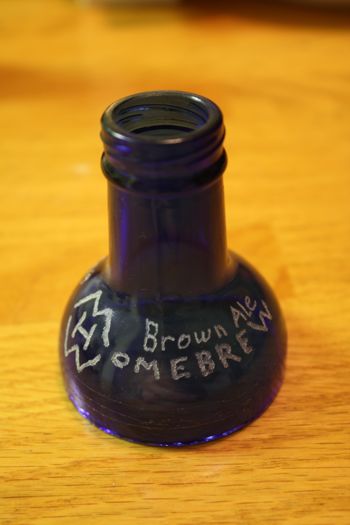 While I still need to improve on cutting panes of glass in less random lines, and cutting glass bottles that don't resemble a bar fight, I've been keeping some of the scraps for tests or side projects. Today I was playing with engraving them with a dremel tool and some diamond tip engraver bits I acquired last week. Nothing special, but a fun little project. However if I do more of it, a dremel flex shaft would be a wise investment.
2010.02.08
00.00.02 - Mark
Robotic Arm Prototype... on Flickr - Photo Sharing!
Tagged : art flickr hackaday hacks hardware metal robotics todo
Interesting attempt at making a robotic hand of sorts using copper pipes and some brass hardware, and may be automated. Another one of those projects I'd almost attempt... [via hack a day]
2010.02.07
00.00.02 - Mark
xkcd - Tensile vs. Shear Strength
Tagged : engineer geek scifi space space elevator xkcd
The scifi geek portion of me that learned about the dream of space elevators thinks this is impossible, they'll be massive columns into the stars. The engineer in me thinks that this could be a true story at one of the current space elevator development contents. The xkcd fan in me loves the comic.
Install Apache/PHP/MySQL on Snow Leopard
Tagged : apache apple code instructions OS X php programming server web
Didn't want to bother with setting up a snadbox area on a server box, or fuss with MAMP on my laptop, so I finally decided to activate the already installed copies of Apache / PHP on my MacBook. Mostly needed it to fix a date bug under 10.6's setup
2010.02.06
00.00.02 - Mark
create and send an email with applescript - AppleScript - Snipplr
Tagged : applescript automation email geek programming
Did want applescript to create and send an email, couldn't get it to record it meyself, and didn't want to spend the time to figure out how to write it manually. (Which isn't a good thing to admit as a geek who does program some things)
2010.02.05
00.00.02 - Mark
Hardwired (2009)
Rated

2010.02.02
22.42.02 - Mark
Last week I learned about an interesting bill called e-Drive [oddly discovered via Hacking Netflix] that was introduced to the national House of Representatives late last December. It's basic pitch is to convert or replace 20,000 US Postal Service's local delivery vehicles into full electric and hybrid electric vehicles.

While it's a little murky having the US government go back to fiscally supporting the USPS to, among other things, help lower the cost of operations, I think that getting this bill passed would further push electric vehicles into our culture, as well as help us learn if it can be practical on a corporate level. Even if it fails at those points, it's helping reduce pollution. I've been told that the USPS uses something like 800 Million Gallons of gasoline each year, which I think translates to about .6% of all the gasoline used in the US. While written out it's not an enormous change, but it's enough to take note. I'm going to think about it some more, but it maybe worth sending a letter to my generally useless congress critter.
00.00.03 - Mark
You Dropped Food on the Floor. Do You Eat It? - San Francisco Restaurants and Dining - SFoodie
Tagged : flowchart food funny geek humor random
Ah, flowcharts with a sence of humor. Little more advanced than the 5 second rule, bit less advanced than human common sence, depending on your opinion on consumption of dinosaurs. [via Laughing Squid]
YouTube - Bad Apple!! - Stop Motion PV
Tagged : animation geek music stopmotion videos youtube
While I think this is stop motion animation, it's a little deeper than that. It's easy enough to figure out how it was made, but it's a good ammount of work. [via Gizmodo, via Dude Craft]
Digital Analogue - Central Station Video
Tagged : animation cameras geek stopmotion videos
An impressive stop motion video of cameras, taken by cameras. If you're serious at all about cameras and photography, check this out [via Dude Craft]
2010.02.01
22.29.36 - Mark
While I still live in a house with a subscription to a satellite TV network, even with an included DVR, I really could do without it. While I was skeptical about the success and value of streaming video when it really started appearing it's grown on me a lot - to the point where I almost only watch streaming videos. I can watch it when I want to, love having to deal with fewer commercials, and being able to rewatch things that have been off the air for years (and some which never made it to DVD) Yes, it's a little hard to watch some things I miss from the plethora of TV stations, but there are solutions to those problems.

For almost all of these streaming videos, I've been tolerant of my MacBook's screen. One person watching a 13" screen from a foot or two away works fine - battery powered and completely portable can even make it favorable. Using a decent 22" LCD desktop screen and a set of speakers and you can make it work for 2, occasionally 3 people. Not the most comfortable, but it works.

So recently I went back and got the Mini-DVI to Video adapter for my MacBook, dug out the Apple remote that came with it, twiddled with some of my cable solution and now enjoy using all these full screen streaming videos on a decent sized TV. Navigating around to find the right video however, has become a bit annoying.

The browser and Finder are work fine when you're at the computer, but if you want to use a remote from across the room control you need to keep it simplified. At one point, Apple's Front Row (which no, doesn't require a remote) along with a plug in called Understudy let you get to Netflix and hulu though FrontRow. It worked, but was a bit of a hack. When Hulu had to start actively preventing people from putting the streaming video onto their TVs, Understudy doesn't work with it anymore. While it still works with Netflix, it's more of a kludge than a useful tool.

Boxee's software, which is sort of like Front Row on steroids. While it's a beta, it's open source, cross platform, and a few weeks ago announced it was releasing a hardware solution at CES. At one point I actually preferred it over Front Row. More power, easier navigation, and no hacks needed to get to some streaming video content providers - including Netflix. It's useful, particularly for navigating around Netflix via remote, but I never really enjoyed it enough to find a way of making the Apple Remote open it in place of Front Row. I also wanted a good way of getting into Hulu over remote.

The only non-browser approach to hulu streams is Hulu Desktop. After they had to block boxee (and other applications) they developed their own desktop player. To their credit it provides better navigation and works with my Apple remote, but it's all it does. No other streams, no messing with local files.

So my question became, how can I get to all these tools by using my Remote. Understudy plugin instantly picked up on Hulu Desktop's presence, and while it's a little buried, I was able to "switch" from Front Row to Hulu, but since it was off the path, and wouldn't open Boxee I turned around to dig. and sure enough it was out there.

Hole in the Ceiling figured it out and posted Front Row plugins to launch several applications including Hulu Desktop and Boxee.

So while there's no single application that lets me watch what I want to controlled by a simple remote, at least I don't have to walk across the room to run one commands.
00.00.02 - Mark
Frost/Nixon
Rated

Dollhouse: The Complete Second Season
Rated