2011.12.30
03.00.02 - Mark
Weekly Metapost from December 23rd, 2011 to December 30th, 2011

Thor (2011)
Rated

2011.12.23
03.00.02 - Mark
Weekly Metapost from December 16th, 2011 to December 23rd, 2011

Around The Corner (1937) How Differential Steering Works - YouTube
Tagged : automobiles cars education engineering history mechinics videos
I'll admit I'm not a full blown car guy, but I take care of my vehicles, and I'm always a sucker for the engineering side of things, so this Chevrolet video on a differentials delighted me for 10 minutes (even if a good cunck of that is pure fluff). I sort of want to find some old tinkertoys and built a model. [via wimp.com]
How to brew beer in a coffee maker, using only materials commonly found on a modestly sized oceanographic research vessel. « Southern Fried Science
Tagged : alcohol articles beer homebrew science
Beer brewing in ounces, rather than in gallons. I already knew coffee machines were capable of moonshine, I never conected them to beer brewing. I sort of doubt I'll bother to brew beer this way, but it's cool to know that I can.[via hackaday]
X-Men: First Class
Rated

Exit Through the Gift Shop (2010)
Rated

2011.12.16
03.00.02 - Mark
Weekly Metapost from December 9th, 2011 to December 16th, 2011

MIT professor draws some of the best lines. [VIDEO]
Tagged : education mit physics random videos wisp
MIT's open course ware is a great project, and when I was studying Physics, and the recordings of Walter Lewin's lectures were informational (by nature) but also pretty entertaining, from the demostrations to in a quirky little way, the zipping raddle noise as he drew a dotted lines on the chalkboard. The demos you'll have to find yourself, but I'm glad I'm not the only one who winds the dotted line drawing facinating.
2011.12.09
03.00.02 - Mark
Weekly Metapost from December 2nd, 2011 to December 9th, 2011

Cello Wars (Star Wars Parody) Lightsaber Duel - Steven Sharp Nelson - YouTube
Tagged : cello music starwars videos youtube
A long time ago (about 10 years ago) I played the cello (poorly), but I once tried to play songs from Star Wars. While I havn't picked up a cello in years, I still love the sounds and versatility, and this is a pleasure to watch.
Cars 2 (2011)
Rated

2011.12.02
03.00.02 - Mark
Weekly Metapost from November 25th, 2011 to December 2nd, 2011

Infographic: Get More Out Of Google | HackCollege
Tagged : google infographic logic search technology
While I've been online old enough to remember the benifits of boolean logic in search queries, not many people are. While my habits faded away as Altavista faded away as Google grew, I can still form complex but precise queries, Google or not. Certainly more than many of my friends could say, so this infographic is a handy refresher for me, and perhaps a decent introduction to the unenlightened.
Oh, Pioneer!
Tagged : nature pictures rustic tumblr websites
While there are things I don't like about tumblrs, I love this collection. The beauties of nature, and the endurance of the rustics, with the occassional glimpse of technology. I love it.
Iron Man Gets the Shakes and Other Superheroic Animated GIFs | Underwire | Wired.com
Tagged : animation articles comics gif wired
It seems like everything needs video, including it seems, comic books. Sort of. While I like these animated gifs, and enjoy the occassional motion comic movie, there's only so much it can improve. Like novels, a well produced comic will let you dream...
2011.12.01
22.55.50 - Mark
A few years ago I really go into disc golf, it's fun and relaxing, but unless I want to bang the discs against trees it makes sense to go to an established course. The baskets are better targets than the trees, and usually you get some decent obstacles. Similar targets can be purchased, however as a being a frugal shopper and as someone who likes making things, I was always a bit drawn to building one myself. There are some people who sell plans online, blogs that post various kludges , as well as Instructables on baskets and youtube videos on how to make disc golf baskets. The two I linked to probably gave me the most information, and to quell my occasional urge to build something I started looking for low cost parts for my - as close to PDGA target standards as possible.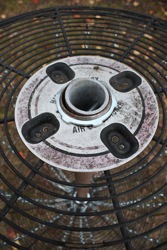 However I've learned some tricks well. The main pipe was to-be scrap when I took down an old fence, and thanks to the make your own basket video, parts of The Iron Giant, and a MAKE post on "Scrap-Fu" a few years ago, and I decided getting a couple of former fan guards from a scrapyard would be cheap and effective (it was). Walking though Lowes Hardware and I collected the 1/4" steel rods and some electrical conduit to act as a collet. The only remaining part, the chains, were the slowest to acquire, because metal chain is expensive. While I was hoping for 2/0 Single link chain, when I found 100 feet of 4/0 single link chain for $30 I ran with it.

Over time other tools need to be collected, a suitable hole saw and time with an angle grinder and a welder. While I know people and places where I can access that equipment, a mild bit of tool-mongering added to a bit of craigslist shopping. Bits and pieces started being assembled, but over Thanksgiving Weekend, I had enough time to put everything together.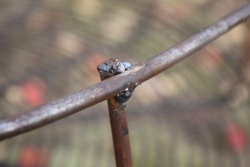 All in all, it was a fun project (and with the left over parts may build a second) and while it may not have the quality of say Innova DISCatcher Pro, with its various hacks, a number of poor welds, and a few little flaws, my basket is fine at catching discs and at about $50 for materials I'm quite happy with my work.