2007.12.29
21.40.56 - Mark
Despite my copy of Photoshop resisting work by moving as slow as possible I'm slowly working my way though the mass of photos I've taken this month, and I'm developing a backlog of images I want to put online, and it's going to grow some more when I feel like dealing with photoshop again.

On a similar note I'm getting closer to ordering some large prints (eg bigger, or at least wider, than those 8x10's you pick up at the 1 hour photo booth), in case anyone out there is interested in getting a nice print of one of my photos while kicking a few coins in my direction. Comments are fine, but there's also a contact form on the goodies page



Lovill Creek, Mount Airy
View Medium (3677 x 1024) Suitable for looking at river rocks.
View Massive (9569 x 2665) Suitable for looking at water droplets on river rocks.
2007.12.28
22.44.00 - Mark
This screenshot is an example of why you should use a tripod when making panoramic photos, but I'm not that good at taking my own advice. With a couple of exceptions most of my panoramic photos have been done by hand, but that's because I don't have a tripod I like that works well when the camera is in portrait mode. The tripod stabilized sets are pretty good about being level or close to it (angles under 2 degrees). My hand held shots tend to drift around 5 degrees, but this one is angled at 11 degrees partially because I'm shooting from above. I'm pretty sure I can save it tho' photoshop is a wonderful tool.


15.52.34 - Mark
It's been a years since I've had to wait on Photoshop for long periods of time to process a single command, but I've wasted an hour waiting on it to just between the save as and resize commands, which is insane since it only took about 90 minutes to stitch together. Maybe that's just a commentary on how large of files I'm working on, or maybe my old ibook g4 needs replaced...
2007.12.25
23.36.09 - Mark
It seems like no matter how long the shopping season gets stretched out, the holidays themselves get shorter, and people loose all perspective of the world. It's worth remembering that every day of the year should be spent doing something neat. Make something, seek out a new experience, help someone, or just make a complete fool out of yourself to make someone smile. No matter your faith or beliefs life is pretty pointless if you go around hating it, yourself, or others.

09.57.14 - Mark
I can get lazy sometimes. When I was out and about taking photos two weeks ago (when it was 70 degrees and sunny) I ran across this bird who has a habit of showing up around the Greenway Trail in Mount Airy, I'm pretty sure it's a Great Blue Heron, but I'm not a bird expert. The herons (there are a few that like the creek) tend to show up when I'm either without a camera or they fly away before I can make a photo. For whatever reason this one wasn't disturbed, and allowed me to watch and record for about 10 minutes before moving on.

It took me a week to get around to editing to find some music I liked for the bird and edit together the video clips and photos I took, and then it's taken me an additional week to getting around to fighting with compression settings and file formats, so after all that time I'm finally getting around to posting the video as a sort of holiday gift. Maybe later I'll get around to adding some sort of flash player so you don't have to download my, anymore large, video files.

The music under my video is "Clouds Fly as I Smile" by SaReGaMa the Artist who released it under a Creative Commons Noncommercial Sampling Plus 1.0 License. My video (like most of my content) is CC Attribution Non-commercial 3.0.

The Bird (158MB 320 x 240 H.264 Quicktime)


This work is licensed under a Creative Commons Attribution-Noncommercial 3.0 License.

Oh yeah, Happy Holidays.
2007.12.23
16.20.24 - Mark
As much as I love taking good photos, and happily spend time tweaking them in Photoshop, the rewards are cut short if you don't share the images. There are lots of ways to do this from in camera viewing to websites, to getting some decent quality prints made. I love this site, but good prints are far more useful. I've still got boxes and boxes of old 3x4 and 4x5 prints, and have walls decorated with enlargements I had made when I entered photography contests (some of which I really need to digitize)

As I've picked up my cameras again, I've started printing again. From at home printing on consumer level hardware - which despite what printer manufactures claim is wicked expensive and gives at best mediocre quality - to instant print kiosks and onwards and upwards to professional photo labs.

The thing is, the "standard" photo sizes are based off the aspect ratio of 35mm film (3:2) while nearly all digital cameras shoot 4:3, and many are starting to adopt 16:9 as a shooting option, if not the native sensor size. Most printing places recognize these and similar ratios (this isn't scientific, but I think the SOL point is is you want something narrower than 2:1), but these machines will refuse to print them correctly, and make stupid assumptions rather than ask the user how to handle each image. In a smallish sample I've had images condensed, expanded, and cropped, and only when I get it manually forced into zooming out is there a chance it will print correctly, and then I had to manually trim half an inch or more of white space off all four edges.

The real sad part is that everyone seems stuck with bad ratios and terrible metrics. The industry seems happy with it's standards and simply suggests digital photographers "plan to crop digital images". Should you find a printer who doesn't mind a different aspect ratio, they hand out DPI numbers that you'll need to meet, except it's hard to translate pixel counts into useful DPI numbers, since it's not the straight 1 to 1 ratio many people claim. Depending on print method and inks used you might have half a dozen dots working to represent the color value of a single pixel.

No wonder you can still buy polaroid 600 film...
2007.12.22
00.48.57 - Mark
My family (and the friends that may as well be) is a mix bag of Religions, from atheists and agnostics to Christians from several denominations and even a would be Jew, and that's just our affiliations - there is a religious tolerance and acceptance and true appreciation for varied faiths that goes much further than intellectual knowledge or passive acknowledgments. Most of us have studied more than one faith - my brothers and I were all brought up in a Methodist Church while attending a Catholic School - and we've all settled on something we believe.

So when Christmas comes around and some extremist "Christian" goes off on ignorant rants on the "True meaning of Christmas" and makes attempts at protecting the Christian faith (The overwhelming majority faith in the United States) by trampling less well represented faiths we have a tendency to step up and defend. I've been doing it a lot this season and there are scattered traces floating around this site.

It's not an easy conversation to keep a conversation and quickly degenerates into lies and misconceptions so deeply rooted it's impossible to correct, then more bigotry, and with an end result of those of a "faith" arguing that if non-Christians don't like Christmas then they shouldn't celebrate it or any other "holy days".

There's a sad commentary in that.

I, as an extremely secular person, have spent most of this evening with friends celebrating the holidays. I've wrapped gifts to put under a decorated Christmas Tree (one nicknamed our heathen tree, and another we're calling the Hanukkah Bush), we've decorated sugar cookies, listened to seasonal music from half a dozen versions of the 12 Days of Christmas to Weird Al's "The Night Santa Went Crazy", we were eating some good food and drank some egg nog. All in all it was a wonderful evening spent with friends and family. It's been true several other nights this week, such as last Monday when we visited a festival of lights in Winston Salem

Yet by some twisted version "Christian" logic, I and a couple others involved, should be barred from such festivities because we weren't Christian. You have to imagine that anyone who would deny other's a good time because of something as trivial as a difference in religious beliefs, must be pretty unsure of their own convictions.
2007.12.20
02.19.43 - Mark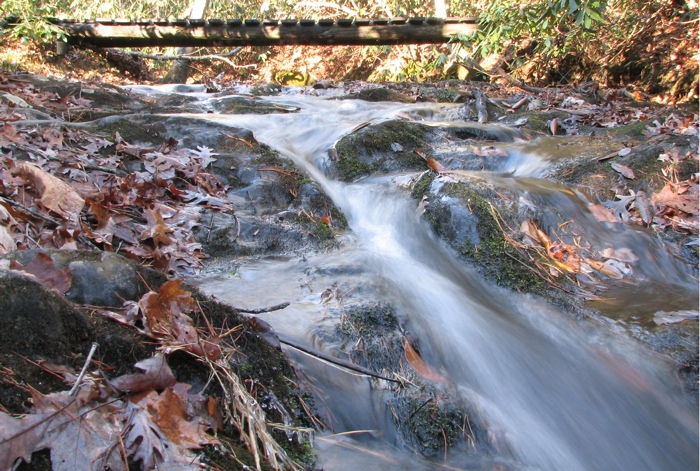 I've been taking a bunch of photos recently, I think over 1000 in 10 days, and enough to start tripping up my install of iPhoto. All of those photos will need sorted and a lot will need some significant post processing of some flavor (there are a number of HDR and panorama sets in that thousand) but I wanted to get this one up. It almost took more time to get photoshop up and running than it did to edit the photo so I don't feel too bad about throwing it up real quick. I'm half lucky the image turned out so well, it's a longish exposure and I was too lazy to use a tripod.
5 extra special bonus points if you can tell me where I took this photo (within ~1km)
2007.12.17
23.38.48 - Mark
I feel like I'm trying to cram two weeks into one right now, and it's not because of the holidays.

We've got a family friend visiting for the week and the plan has been going around the area doing quasi-touristy things, and I'm the main host for a few days. Today the guest and I went out shooting photos in the Mountains more or less until the sun went down (and then some) and then the family unit plus friend went to the Tanglewood Festival of Lights in the Winston Salem area, which while amazing, but it has taken up a large chunk of the day (~5 hours) and I'm typing this while waiting for some pasta to cook. The photography has the added side effect of adding more images and movies to my need to process and want to process queues (expect some new HDRs and Panos)

At the same time as all of this I've got a list of people I need to call for various reasons from tech support to photographs to web work. I though people were supposed to slow down and enjoy the holidays?
2007.12.15
00.56.50 - Mark
In the midst of the Iraq war, a failing economy, and other national issues, our Congress has found one issue so important that they managed to spare the time to recognize it. That issue is The Importance of Christmas (and Christians).

The fact that this bullshit resolution was not only introduced, but passed with 372 votes is fucking terrifying. I know congress critters aren't big on actually reading the things they vote on but surely they're obligated to read the Constitution a time or two. This thing just barely skirts a 1st amendment violation.

I'd try and argue it on points, but if I've learned one thing this holiday season, Christians get extra irrational at Christmas. Instead I'll just lift a paragraph from John Rodgers (excellent) post on the resolution:

... Christianity's been acting kind of needy lately. Like, "crazy girlfriend who suddenly believes you're thinking about how to pack your shit in ways she won't notice and sneak it out to the car, and so perversely thinks the way to keep you from bolting is to demand you tell her she's super pretty every hour, which, ironically, is what actually prompts you into thinking about packing your shit, even though you weren't before but now ..." needy.
2007.12.13
16.35.31 - Mark
If you haven't guessed by now I'm having a lot of fun making panoramic images. I'm starting to move past cool vistas however, and starting to work on composition. This one is on the Greenway Trail that runs next to Lovill Creek in Mount Airy.


11.34.17 - Mark
Mythbuster's take on Plane on a Treadmill was originally slated to air last night (just like the interwebs expected) but at some point in the last couple of moths got pushed back to January 30th, at least according to the show's executive producer. Still someone at Discovery really screwed up, and it doesn't look like they've done a lot to appease the viewers.
2007.12.12
23.23.52 - Mark
Tonight the Discovery Channel royally pissed off the interwebs. It's been hyped for a couple of months that tonight's episode of Mythbusters would feature "Plane on a Tradmill" which has been an internet meme for a couple years. So like the meme before it the internet took hold of the promised mythbusters episode and has been hyping it for a few weeks. Because of that the Discovery channel probably saw a decent ratings boost tonight, followed by a ratings plummet as the myth turned out to be a no-show. There's a pretty nasty backlash going on right now and will probably go on until Discovery coughs up some plausible explanation for axing the myth and starts offering some profuse appologies.

Until then it looks like Wikipedia is getting vandalized (the main mythbusters article and a few related pages are locked for a week - here's a vandalized copy from of the main article after it was locked), the discovery channel message boards look like they're being swamped (10k+ views on the official PoaT missing myth thread in under an hour), and I got goatse'd when I went to the Discovery sponsored Mythbusters wiki.

I guess the internet is testing the myth of "can a large mob of anonymous people remove a Discovery Channel executive from office"
2007.12.11
18.46.19 - Mark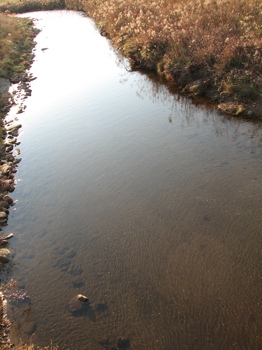 While the Midwest is getting slammed by a winter storm, I've spent the afternoon riding my bike around Mount Airy in shorts and a t-shirt taking photos of things that don't feel like winter. Although I wish winter would arrive in North Carolina. As nice as it is to be riding my bike in mid December, it's also weird. December is supposed to be cold.

I love to take photos in winter. As amazing as fall colors are, there's nothing quite like taking the camera out after a fresh snow, or taking some macro photos of branches and bushes after an ice storm and everything looks like it's encased in glass. Plus the sky never seems clearer than in the dead of winter. Unfortunately, I'm going to have to wait until the new year for much chance at winter photography. There's a 3% chance of a white Christmas (and there's a good chance that's very optimistic), and I suspect that those odds don't improve much the last week of December.
2007.12.10
23.20.20 - Mark
I release almost all of my content (text, photos, videos) under some form of Creative Commons license or something in the same vein if the receiving party isn't familiar with Creative Commons. I do this for two main reasons. One is that I really like seeing people find uses for the things I create. The second is that I feel that current copyright law is better suited to protecting corporation than it is to protecting creators, all while screwing the general public. Creative Commons lets me allow people to expand on my creations while, at least in a legal sense, protecting the rights I really care about like proper attribution and prohibiting commercial uses.

Except... It doesn't seem to be respected. In the last 6 months, I've seen at least four instances where my stuff was used sans credit. One was honest mistake, but two should know better and the last infringement could be called commercial use (plus it was misattribution, not missing attribution). All of the infringements bug me, but at the same time I would have given the OK to credit-less use in the noncommercial stuff, and probably would have only required correct attribution for the commercial use.

I know I don't want to waste time and make myself into an asshole by putting archaic anti-copying code onto my site, and I don't want to plaster copyright notices all over the place but at the same time I want some sort of credit for the content I've created (which is only fair). Something to think about.
2007.12.09
23.28.50 - Mark
Cost of 10 replacement bulbs for a stand of lights : $.97 at Walmart ($.097 per light)
Cost of a strand of 20 lights (plus some extra replacement bulbs) : $1.23 ($.062 per light)
Cost of a strand of 50 lights (plus some extra replacement bulbs) : $2.00 ($.04 per light)

I went with the strand of 20 over the replacement bulbs and transplanted them into the old long strand I was fixing up, but it feels weird from a Maker / Fix it point of view. I'm supporting a culture of throw away goods and the replace it over repair mindset in order to fix something.
2007.12.08
20.38.35 - Mark
I don't know why I didn't post this one back in August closer to when I took it, or when I ran it though noise reduction, but I was reminded of it while talking with a friend the other day. This pre-dawn photo of Raven Knob is one of my favorite pictures period (even if I woke up at 4:30AM to take it) and it's a shame that it's near impossible to make a good print of it, even after noise reduction, but it's still a treat to look at (it's one of the few photos I've slipped into my desktop images folder).

No flash, no lights, just a tripod, a near full moon to my back, and a 15 second exposure.


2007.12.05
10.11.49 - Mark
Today's fun Bible verse Jeremiah 10:2-4

(2)Thus saith the LORD, Learn not the way of the heathen, and be not dismayed at the signs of heaven; for the heathen are dismayed at them.(3)For the customs of the people are vain: for one cutteth a tree out of the forest, the work of the hands of the workman, with the axe.(4)They deck it with silver and with gold; they fasten it with nails and with hammers, that it move not.
In short, God hates Christmas trees. When you really look into it, it's amazing what made it into the Bible.
2007.12.04
13.51.11 - Mark
My RSS feed reading has been on and off for a few months. Part of that is flaky hardware, most of it is the mess of RSS feeds I try and keep up with. Up until this week I've been keeping related feeds together. All the news in one folder, all the blogs in another. It was a tangled mess and my irregular reading left a lot of dead feeds in the system next to some hyperactive feeds reporting hundreds of unread posts. When I was browsing feeds half the time was finding the good feeds with information I wanted.

Last week when 43 Folders posted a tip on organizing feeds by the value of the source rather than the topic I set it aside to use as a guide line for sorting out my RSS mess.

I'm not 100% done with the sort and toss, and I've got a folder filled with broken feeds, but I can already tell the new system is working for me. I'm staying caught up with my low signal to noise ration feeds, nearly caught up with middle of the road feeds, and I'm almost comfortable with ignoring everything I have ranked below that threshold. It feels good to have organized feeds again. Which I suppose means I need to stop putting off some of my planned code updates for this site...
2007.12.03
10.27.13 - Mark
Yesterday my family went Christmas tree hunting. It still feels too early to start celebrating Christmas, but my mom wanted to get the trees yesterday so we drove up to Santa's Delight Christmas Tree Forest in Virginia. The place lets you pick and cut (and drag) your own tree, and picking and cutting down our Christmas tree is an old family tradition going back farther than I can remember. The farm and Virginia is nested in between a few mountain peaks, and is really photogenic so I armed myself with my camera. I took a few good photos, mostly family, but towards the end of our hunting a colorful sunset started forming.

It's probably the mountains, but truly beautiful sunsets are rare in North Carolina, and I've yet to see one that really matches the sunsets we had in Iowa where dirt and debris provided deep rich sunsets. Last night in Virginia however, something was working right, so I turned on exposure bracketing and snapped a few series. I was hoping to get a short HDR panoramic series, but for some reason Canon doesn't allow exposure bracketing when shooting in manual so unless I can work some major photoshop magic I'm not getting a panoramic. I did however get a good single frame set, and after playing with it in photoshop for an hour, I've managed one rich HDR photo from the farm: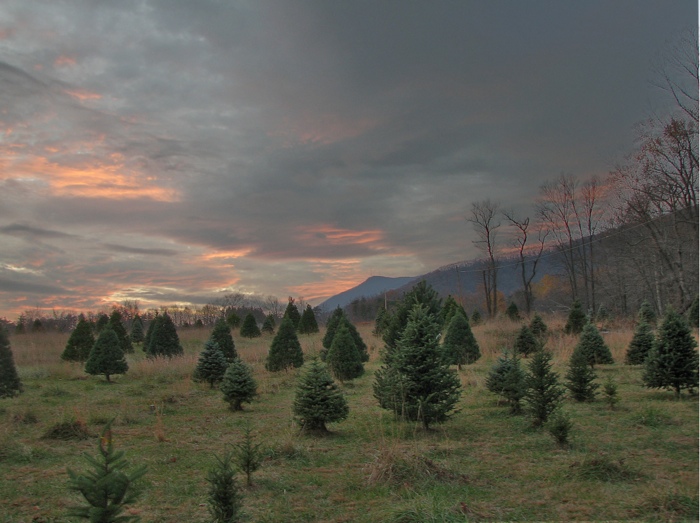 00.29.48 - Mark
Scifi channel has been hyping Tin Man (their big budget overly sponsored miniseries movie thing for the year) since last December, and I haven't been paying much attention to it since the whole "Wizard of Oz" remake thing just wasn't that attracting to me. I'm not a fan of the bright sun shinny fantasy world we see in the 1939 version (which like most people is the only version I'm really familiar with).

However with nothing much else on tonight when it started I turned it on and I'm glad I did. The acting is solid and the writing is enjoyable (even if the revamped scarecrow's lines are a little too good for someone lacking a brain). I love the visual aesthetic of Tin Man - some of it's a little unworldly (hovering cyborgs), but there are huge swatches of steampunk that get backed up with some steampunk character and world elements. Like the Battlestar Galattica reimaging, it's not trying to paint a Utopian picture, it's a darker grittier world where we get to see real problems and how the characters make tought decisions to overcome. However it still throws out referances to the source material that keep you paying close attention (I was reminded of a few when I looked over the wikipedia entry for the original book).

Tin man is a real treat to watch since it's more on par with a major movie production than what you expect from a made-for-TV movie.

My only real complaint with it so far is the CGI. This wouldn't be a problem, except Sci Fi has this horrible habit of getting the cheapest computer generated animations available, as if they dumpster dive at all the major CGI firms and walk away with 10 year old backups that they then hack into new movies. For example the Tornadoes in Tin Man look worse than the ones I remember being in Twister from 1996. Any SciFi channel original picture with a giant killer wave will always look far worse than what was created for The Perfect Storm in 2000. I'm willing to admit that Twister and The Perfect Storm had bigger budgets for special effects, but Moore's Law has had a clear effect on special effects - just look at the problems Hollywood is having with the Uncanny Valley. There's no good reason that the Scifi Channel (whose main audience by definition is geeks) should have shitty visual effects.