2012.02.17
03.00.01 - Mark
Weekly Metapost from February 10th, 2012 to February 17th, 2012

Mooresville School District, a Laptop Success Story - NYTimes.com
Tagged : education future New York Times society technology
It seems like there's a love/hate relationship between school districts and digital classrooms, and I remeber reading about some of the earliest adopters dropping thier projects after minimal results over a few years, however it's nice to see how it's possible to not only excel in digital education, but can do so at lower costs. I think it'll need more than 3 years to prove viable, but it's seems to be going in the right direction.
"Hi I'm An Engineer" by CREATE Film Festival - YouTube
Tagged : engineering life videos youtube
A dilemma every engineer will face at some point. [via adafruit]
» ABC's of Hand Tools
Tagged : animation books education MAKE tools videos
This has been sitting in my digital slushpile for a couple of weeks, so I don't remember the source, but even with as much experiance I've gained with tools, it's amazing how I forget (or simply neglect) some of the basics of tool care. Both the in the old book and the animated short film forms.
Revenge of the Electric Car (2011)
Rated

2012.02.03
03.00.02 - Mark
Weekly Metapost from January 27th, 2012 to February 3rd, 2012

Fritz Goro's Photos: The Art of Science - Photo Gallery - LIFE
Tagged : art LIFE photography science
Science, photography, and news crafted into an art. [via BoingBoing]
2012.01.20
03.00.01 - Mark
Weekly Metapost from January 13th, 2012 to January 20th, 2012

The Page Turner - YouTube
Tagged : comics funny MAKE physics Rube Goldberg videos youtube
Absolutly charming Rube Goldberg Machine, there are plenty out there, but this one feels like it could be a reallife rendering of one of the original comics. [via MAKE]
2012.01.06
03.00.02 - Mark
Weekly Metapost from December 30th, 2011 to January 6th, 2012

Captain America: The First Avenger (2011)
Rated

The Help (2011)
Rated

Unstoppable (2010)
Rated

2011.12.30
03.00.02 - Mark
Weekly Metapost from December 23rd, 2011 to December 30th, 2011

Thor (2011)
Rated

2011.12.23
03.00.02 - Mark
Weekly Metapost from December 16th, 2011 to December 23rd, 2011

Around The Corner (1937) How Differential Steering Works - YouTube
Tagged : automobiles cars education engineering history mechinics videos
I'll admit I'm not a full blown car guy, but I take care of my vehicles, and I'm always a sucker for the engineering side of things, so this Chevrolet video on a differentials delighted me for 10 minutes (even if a good cunck of that is pure fluff). I sort of want to find some old tinkertoys and built a model. [via wimp.com]
How to brew beer in a coffee maker, using only materials commonly found on a modestly sized oceanographic research vessel. « Southern Fried Science
Tagged : alcohol articles beer homebrew science
Beer brewing in ounces, rather than in gallons. I already knew coffee machines were capable of moonshine, I never conected them to beer brewing. I sort of doubt I'll bother to brew beer this way, but it's cool to know that I can.[via hackaday]
X-Men: First Class
Rated

Exit Through the Gift Shop (2010)
Rated

2011.12.16
03.00.02 - Mark
Weekly Metapost from December 9th, 2011 to December 16th, 2011

MIT professor draws some of the best lines. [VIDEO]
Tagged : education mit physics random videos wisp
MIT's open course ware is a great project, and when I was studying Physics, and the recordings of Walter Lewin's lectures were informational (by nature) but also pretty entertaining, from the demostrations to in a quirky little way, the zipping raddle noise as he drew a dotted lines on the chalkboard. The demos you'll have to find yourself, but I'm glad I'm not the only one who winds the dotted line drawing facinating.
2011.12.09
03.00.02 - Mark
Weekly Metapost from December 2nd, 2011 to December 9th, 2011

Cello Wars (Star Wars Parody) Lightsaber Duel - Steven Sharp Nelson - YouTube
Tagged : cello music starwars videos youtube
A long time ago (about 10 years ago) I played the cello (poorly), but I once tried to play songs from Star Wars. While I havn't picked up a cello in years, I still love the sounds and versatility, and this is a pleasure to watch.
Cars 2 (2011)
Rated

2011.12.02
03.00.02 - Mark
Weekly Metapost from November 25th, 2011 to December 2nd, 2011

Infographic: Get More Out Of Google | HackCollege
Tagged : google infographic logic search technology
While I've been online old enough to remember the benifits of boolean logic in search queries, not many people are. While my habits faded away as Altavista faded away as Google grew, I can still form complex but precise queries, Google or not. Certainly more than many of my friends could say, so this infographic is a handy refresher for me, and perhaps a decent introduction to the unenlightened.
Oh, Pioneer!
Tagged : nature pictures rustic tumblr websites
While there are things I don't like about tumblrs, I love this collection. The beauties of nature, and the endurance of the rustics, with the occassional glimpse of technology. I love it.
Iron Man Gets the Shakes and Other Superheroic Animated GIFs | Underwire | Wired.com
Tagged : animation articles comics gif wired
It seems like everything needs video, including it seems, comic books. Sort of. While I like these animated gifs, and enjoy the occassional motion comic movie, there's only so much it can improve. Like novels, a well produced comic will let you dream...
2011.12.01
22.55.50 - Mark
A few years ago I really go into disc golf, it's fun and relaxing, but unless I want to bang the discs against trees it makes sense to go to an established course. The baskets are better targets than the trees, and usually you get some decent obstacles. Similar targets can be purchased, however as a being a frugal shopper and as someone who likes making things, I was always a bit drawn to building one myself. There are some people who sell plans online, blogs that post various kludges , as well as Instructables on baskets and youtube videos on how to make disc golf baskets. The two I linked to probably gave me the most information, and to quell my occasional urge to build something I started looking for low cost parts for my - as close to PDGA target standards as possible.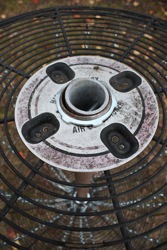 However I've learned some tricks well. The main pipe was to-be scrap when I took down an old fence, and thanks to the make your own basket video, parts of The Iron Giant, and a MAKE post on "Scrap-Fu" a few years ago, and I decided getting a couple of former fan guards from a scrapyard would be cheap and effective (it was). Walking though Lowes Hardware and I collected the 1/4" steel rods and some electrical conduit to act as a collet. The only remaining part, the chains, were the slowest to acquire, because metal chain is expensive. While I was hoping for 2/0 Single link chain, when I found 100 feet of 4/0 single link chain for $30 I ran with it.

Over time other tools need to be collected, a suitable hole saw and time with an angle grinder and a welder. While I know people and places where I can access that equipment, a mild bit of tool-mongering added to a bit of craigslist shopping. Bits and pieces started being assembled, but over Thanksgiving Weekend, I had enough time to put everything together.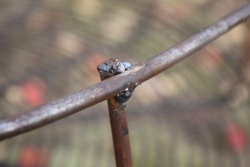 All in all, it was a fun project (and with the left over parts may build a second) and while it may not have the quality of say Innova DISCatcher Pro, with its various hacks, a number of poor welds, and a few little flaws, my basket is fine at catching discs and at about $50 for materials I'm quite happy with my work.
2011.11.25
03.00.02 - Mark
Weekly Metapost from November 18th, 2011 to November 25th, 2011

Source Code (2011)
Rated

2011.11.18
03.00.01 - Mark
Weekly Metapost from November 11th, 2011 to November 18th, 2011

Adobe Touch App Family | Touchscreen tools | Touch apps
Tagged : adobe computers geek software technology
I once felt that iPads (and the subsequent pad computers) were not for me because, at the time, they couldn't handle streaming video, didn't have photoshop, and I wouldn't be able handle programing and arduinos. Well, video was quickly delt with, and Google Andrio plays well enough with Arduinos, and now Adobe has released touch apps to compliment its desktop bound Creative Suite. Between these developments and cloud computing I could almost adobt an iPad or android equivilent. Almost.
2011.11.11
03.00.02 - Mark
Weekly Metapost from November 4th, 2011 to November 11th, 2011

Penn Jillette's 10 Commandments for atheists – USATODAY.com
Tagged : 10 commandments articles beliefs faith Penn Jillette religion USA Today
I'm always a bit annoyed when extremly religious individuals try to argue that to be a "good" person you need to live by the 10 commandments (and usually don't state which set of 10 commandments they go by) I usually won't argue with them, but it my mindset, "good" is defined by your personal beliefs and what your community will accept, not from lists given to you by arbitrarily assigned international organizations. You can take that as you will, but when you boil them down, it's essentially all the same. With that said, I like how Penn Jillette's 10 Commandments for Athiests has been getting some circulation...
2011.11.04
03.00.02 - Mark
Weekly Metapost from October 28th, 2011 to November 4th, 2011

Mickey Mouse Boat Builders - YouTube
Tagged : build cartoons childhood Disney make nostalgia videos youtube
One of the many things that helped me dream of being a builder, maker, invertor, was seeing Mickey Mouse "Boat Builder." As Mickey put it "All you do is put it together"
Missilebreak Outvaders - FREE online game - Jay is Games
Tagged : games mashup
Mashup of Breakout, Space Invaders, and Missle Command. [via Scalzi]
Clive Thompson on Why Kids Can't Search | Magazine
Tagged : article education society truth wired
it's a sad truth that people of my generation know how to "use the internet", yet constantly display an inability to understand and evaluate the information they collect as they pull in their nets. It's sad when people are unable or unwiling to do even a little fact checking - online or off.
Brit boffins print blinking booze bottle labels • The Register
Tagged : beer electronics future register technology
My homebrew beer is mostly unlabeled, mostly because I don't want to disticker my bottles each batch, but I'd probably change my mind if I could print electronics circuits unto the bottles (at least, without spending thousands of dollars to do so). [via adafruit]
Gone in 60 Seconds (1974)
Rated

2011.10.21
03.00.02 - Mark
Weekly Metapost from October 14th, 2011 to October 21st, 2011

TV Fact-Checker: Inoculating House Against Bad Medicine | Underwire | Wired.com
Tagged : entertainment House interviews medicine science tv wired
For the last few seasons of House, I've developed a habit of checking out medical reviews of it at Polite Dissent (who also looks at comics and some other scifi for bad medicine). However, this WIRED interview with one of the medicine advisors is facinating - stores on simple errors he's fixed to one where he couldn't find a solution to a far fetched idea, left it on the fiction side, but later found out there was a more reality than he originally believed.
Conductive Silver Ink from a Ballpoint Pen - YouTube
Tagged : chemistry diy electronics hack instructions labs make todo videos youtube
DIY conductive ink. While I would be fine with buying these pens, I almost want to get some lab equiptment. [via adafruit]
Playa Time Lapse Project
Tagged : burning man hack ideas make photography timelapse todo videos
A Timelapse project, where a DSLR camera took a photo, every 10 minutes, for 5 weeks, in the middle of nowhere. The fact that it's for Burning Man is worth it from the start, but I've been thinking about doing a similar project for a while now, and this is very similar to what I've been considering. While I wasn't aiming for the 10 minute increments, its cool to know my pipe dream is actually feasible.[via PetaPixel]
Jericho Season 3 TP [Paperback]
Rated

2011.10.14
03.00.01 - Mark
Weekly Metapost from October 7th, 2011 to October 14th, 2011

Photojournalism Behind the Scenes [ITA-ENG subs] on Vimeo
Tagged : news photography reality video vimeo
A short presentation on photojournalists and war scenes. It's interesting to me because as a photographer, I know people will act in front of the camera. In an era where we'll quickly write off "fake" images as being photoshopped, it's easy to forget that the whole thing was staged. We may not want to consider that in war photography, but as this presentation shows, even that can be staged - on a regular schedule no less. [via petapixel]
35 Beautifully Animated Photographs a.k.a Cinemagraphs | inspirationfeed.com
Tagged : animations art gif images
I have a love/hate relationship with animated gif files. They used to plauge the world wide web, but as technology (and taste) developed, they've mostly faded away. In doing so the gems are out there. Some are short film length animations whose cousin was a flip book comic you doodled in the 3rd grade, while some, like the one, look like scenes from a movie. I'm sure they're massive, but I wish we had these floating around in the early 90s...
Why Fixers Will Save Our Planet - Fixers - Technology - The Atlantic
Tagged : articles Atlantic fix global ifixit make projects
Things break, and the American culture has a wide spread mentality that if it breaks, replace it. Within our borders it's rare for people like me to enjoy making and fixing things, but in the global scale, there's an argument that those are the people who power the world. The crew behind this article are working on a documantry on the subject, and from the looks of it it will be well done. [via MAKE]
2011.10.09
02.52.30 - Mark
I long time self declared geek, I'm a little surprised I've never really sat down and learned C++. I mean I've played around with a variety of programming languages, and I've had a copy of CodeWarrior for the Mac for a decade or so. So while I remember doing some "Hello World!" and tutorial work on it, I'm only now learning it between I'm taking a college course on it. While a lot of the basics are similar to the PHP and Arduino I already work with, the fact is I'm learning a bit more than I expected.

Specifically, as a happy Mac user, I'm comfortable with banging away in Apple's Xcode. Unfortunately, the course prefers Microsoft's Visual C++ Express, which no, does not play well with WINE like many other Windows apps do. So while I'm quickly picking up on the syntax of C++, defining my own rosetta stone comparing and contrasting the languages I know, I'm also working on the art of cross platform development.

Ten years ago when OS X was new and shiny and Macs still ran PPC processors, cross platform development was pretty rare. Only a few, like Adobe, Blizzard and Bungie would actually make an effort to straddle the fence. It always annoyed me that only the big (or at least Mac based ) companies would go cross platform, after all they were almost all using C, C++, maybe some PASCAL, so why not cross over? Was the Mac really that daunting?

Well, while I still don't considering the Mac daunting, translating even a "common" language can be a gauntlet. While I'm not going to claim to be a programming prodigy, it only took about an hour to read over the requirements and bang out a working program in Xcode. Add another hour to write up the documentation, and it was time to handle it on the Windows side. At which point I spent another 90 minutes trying to figure out what the windows side needed, rereading my code and googling the error codes. In the end I had repeatedly ignored the rather simple solution, one that probably should have been required on the Mac side, but the fact is, the people who manage to port software deserve a lot of respect, especially those who add linux into the mix...
2011.10.07
03.00.02 - Mark
Weekly Metapost from September 30th, 2011 to October 7th, 2011

SF Signal: FLOWCHART: Navigating NPR's Top 100 Science Fiction and Fantasy Books
Tagged : books fiction flowcharts npr scifi
As the title says, a flow chart of NPR's top 100 Scifi/Fantasy books. Not a supprise, I'm on the Scifi and mixed portions of the chart, but I've dabbled on the fantasy side. [via Scalzi]
dy/dan » Blog Archive » Five Lessons On Teaching From Angry Birds That Have Nothing Whatsoever To Do With Parabolas
Tagged : Angry Birds education ideas math physics science video games
As an occassional programer and a currently struggling-though-calculus-based-physics-student, it's not hard to connect the ideas of video games and physics. While it has not been my first cross over point, it's probably one of the only ones that's easy to identify among the general population. That idea is touched on, but there's more depth in how it talks about other ways Angry Birds can be used as an educational tool in physics and mathematics.
2011.09.30
03.00.01 - Mark
Weekly Metapost from September 23rd, 2011 to September 30th, 2011

Retro Muppet Concert Posters | Michael De Pippo
Tagged : art fanart muppets posters retro want
Retro style posters for the Muppet's band Dr. Teeth and the Electric Mayhem [via neatorama]
2011.09.26
19.25.37 - Mark
Tetris, Super Mario Brothers, Minesweeper and Solitaire. Games like have reached a cultural status that's just shy of godliness. Play them or not they are referenced, rebuilt, or outright cloned to the point where if you're using a digital device with a keypad, there's probably some way of installing some version of those classic games. Those also aren't the games I'm writing about.

Rather I'm talking about the obscure off the map video games. Ones I played as a 7 year old kid on an Macintosh IIsi / Quadra 610 and the internet was AOL or CompuServe, not the World Wide Web and HTML. I spent hours playing games so it's no surprise I remember them after nearly 20 years. Many of the ones I downloaded from AOL's Mac Game Section were buried when AOL shut down it's closed community to cater to the need for national ISPs. Even games where the parent company still exists, like Freeverse's Enigma, have drifted off into the ethers be it Apple's move to OS X or the later move to Intel processors (which from the 90's would have been an unimaginable treachery).

Then there are the ones that while not buried, live only from fan support. I've spent weeks of my life playing Ambrosia Software's Escape Velocity (whose registration postcard I still have floating around) and it's later sequels. While the originals are still sold, there's little hope to see them running on a modern mac, but thanks to the fans there's a plug in to at least replay the it's arcs.

As you dig deeper in the history of Mac games, there are a few, from the smaller firms to the larger, where those classic games still exist, and some that are still being developed. One of my all time favorites was Spectre, who could only afford the demo version, as on release it cost something like $60. I know the price dropped over time, but like all games so did my intrest in it. However a few months ago I learned that it had being ported to the iOS, and at $1.99 I instantly paid for it.

Spectre isn't the only one either. Today I learned an old Mac classic, Glider is not only available as freeware for OS X but is being ported to the iOS by it's original author. [via toucharcade]

While I don't play video games as much as I did at a child, I love the fact that not only can I still download and play some of my favorite games on my laptop, but that I can enjoy them on my iPod when I have a spare minute. Plus, if nothing else, I can send a few dollars to the people who's demos, shareware and freeware helped keep me entertained as a child.
---
---